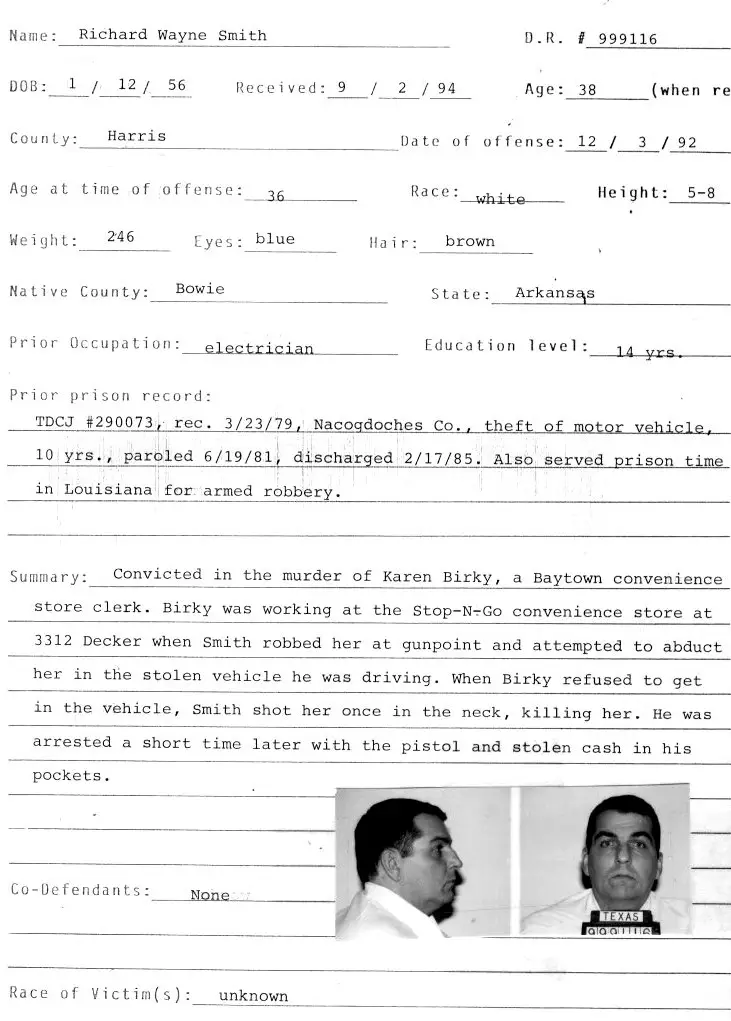 Last Statement:
This offender declined to make a last statement.
Richard Wayne Smith
Age: 43 (36)
Executed: Sept. 21, 1999
Education level: Some college
On Dec. 2, 1992, Smith killed Karen Birky, 38, a special education teacher, during a robbery at the Baytown convenience store were she moonlighted. Smith eventually dropped all appeals, electing for death by injection rather than from hepatitis C he is believed to have contracted from sharing a heroin needle.
---
Richard Wayne SMITH
A five-time loser addicted to drugs and alcohol was sentenced to die by lethal injection for murdering a Baytown convenience store clerk in a robbery that netted him less than $100.
Two people, driving up at that moment, told police they heard Karen scream as the man shot her. He then drove away in a Cherokee, police were told. Patrolman Russell Krutsinger responded to the holdup alarm as the Jeep was leaving, officers said.
"At first, he didn't know what had happened until he saw the witnesses who had gone to Karen's aid," Parker said. "So he didn't stop the Jeep from leaving but had made a note of the license number. He was a few numbers off but was close."
Karen was only able to tell police that she didn't know her attacker before she was taken to Hermann by Life Flight helicopter, Parker said.
Karen, a special-education teacher at Lamar Elementary School where she had worked since October 1991, died about 1:30 a.m. after being flown to Hermann Hospital in Houston.
An HISD spokesman said Karen's family lives in Michigan, and that she was single and had no children. She had been employed by the Stop N Go chain since July 1991 as a night clerk.
When Smith took the stand, he was shown the surveillance photos, acknowledged that the bearded man with the gun resembled him, but then said he didn't remember doing it.
Nor was he fully able to recall details of his 40 arrests and five trips to prison since the 1970s.
He remembered his bad conduct discharge from the Army in 1975 but said his memory was fuzzy about his 1978 arrest in Bossier City, La., for forgery and his 1978 arrest in Nacogdoches for stealing a rental car. Mount said he was arrested against in Santa Cruz, Calif., in December 1978, but Smith said he thought it happened in Missouri.
His testimony also recounted arrests in Nevada for stealing trucks and prison sentences in Louisiana for armed robbery.
---
Texas Executes Killer Diagnosed With Hepatitis C
Los Angeles Times
September 22, 1999
A convicted killer who dropped his appeals so he would be executed before dying of hepatitis C was put to death by injection Tuesday night.
Richard Wayne Smith, 43, killed a Houston special education teacher who was moonlighting as a convenience store clerk in 1992.
Smith decided last year to drop his appeals so he wouldn't die from his advancing hepatitis C, a progressive disease that leads to liver cancer, cirrhosis and liver failure.
When a warden asked Smith whether he had a final statement, he said, "No, sir."
Smith was the 25th person executed in Texas this year and the fourth this month.
Prosecutors said Smith robbed a convenience store where Karen Birky, 38, worked so she could buy supplies for her students. Birky complied with Smith's demand for money before he walked her into the parking lot, shot her in the neck and fled.
Smith is thought to have contracted hepatitis through a shared heroin needle.
---
Richard Wayne Smith, 43, 99-09-21, Texas
Convicted killer Richard Wayne Smith was executed Tuesday evening for the 1992 robbery and slaying of a schoolteacher moonlighting as a store clerk.
Smith, 43, dropped all appeals to his conviction for the Baytown murder of Karen Birky, allowing the state to execute him instead of waiting to die from advancing hepatitis C.
When a warden asked whether he had a final statement, Smith said, "No, sir." With a tear stain glistening under his right eye, Smith licked his lips, closed his eyes and exhaled twice before dying.
Smith was pronounced dead at 6:25 p.m., 8 minutes after the flow of lethal drugs began.
Defense attorney Guy Womack said Smith hadn't wavered from his decision late last year to die. Smith had used a wheelchair since May because of his failing liver.
"When I tried to dissuade him from dropping his appeals he told me, 'Guy, you don't understand that I'll be much happier dead and not suffering. If I win the appeal, what does that mean?'" Womack said.
Smith declined to be interviewed by The Associated Press.
According to prosecutors, Smith is seen on a Dec. 2, 1992, surveillance videotape robbing the convenience store where Ms. Birky, 38, worked so she could buy supplies for her special education students at Lamar Elementary in nearby Houston.
Ms. Birky complied with Smith's demand for money before he apparently walked her into the parking lot. Witnesses testified Smith fired one shot into Ms. Birky's neck and fled in a stolen Jeep Cherokee.
The victim bled to death aboard an emergency helicopter.
Police later that night found the Jeep in the apartment complex of Smith's ex-wife. Smith woke up after sleeping in a nearby car and was arrested in possession of a .32-caliber pistol tied to the killing and three $5 bills traced to the store.
Smith, a Bowie County, Ark., native and Louisiana parolee in and out of prison his entire life, has said he was impaired that night and remembers nothing. Womack believes Smith had a chance at winning an appeal but was intent on dying Tuesday.
Smith's record of crime and drugs dates to a juvenile marijuana-dealing charge. He also was convicted of aggravated burglary, armed robbery, auto theft and forgery before his 1994 capital murder conviction.
"Rickie was a guy who couldn't stop doing dope, and when he did dope he became a very mean man," said Jim Mount, the prosecutor in Smith's case.
Authorities also said they thwarted what appeared to be an escape plan Smith and his then-girlfriend organized while he was waiting for his murder trial.
Smith is thought to have contracted hepatitis through a shared heroin needle. Shirley Cornelius, the assistant Harris County District Attorney who handles death-row appeals, noted that drug abuse was responsible both for his illness and his criminal nature.
"He's a perfect example of drug abuse, both for the health reasons and the sociological reasons," she said prior to Smith's execution.
Smith becomes the 25th condemned inmate to be put to death this year in Texas and the 189th overall since the state resumed capital punishment on Dec. 7, 1982. Texas has carried out 4 executions this month.
(sources: Associated Press & Rick Halperin)