Motive: Revenge, jealousy and to steal the household guns.
Crimes: The murder of Joseph Cleaver, his disabled wife Hilda Cleaver, their son Tom Cleaver, his wife Wendy Cleaver and the family nurse Margaret Murphy at Joseph Cleaver's home - Burgate House, Fordingbridge in the New Forest. They also raped Wendy Cleaver.
Method: The gang entered the house while the family were having their evening meal. They went into the dining room wielding a gun and pickaxe handles and took them upstairs where they tied them up and gagged them. They then searched the house for things to steal, taking a television and video recorder, five guns and some ammunition and other bits and bobs. They were actually looking for a safe, but never found one. They then went upstairs and took it in turns to rape Wendy Cleaver. John Daly, under the instructions of George Stephenson, then turned her onto her front and strangled her with a length of black cloth. They then doused the others with petrol, lit a firelighter and threw it into the room, where they burnt to death.
Sentence: On the 28th October 1987, George Stephenson was sentenced to six life sentences with the recommendation that he not be released for 25 years. John Daly was given seven life sentences - he had pleaded guilty to the rape and robbery, but he was the one who killed Wendy Cleaver. George Daly was found not guilty of murder, but guilty of manslaughter and was sentenced to 22 years imprisonment. The reason for this is that Stephenson had told him they were already dead when he told him to set light to the house, and so Daly did not know that he was killing them when he threw in the lit firelighter.
Interesting facts: George Stephenson and his wife had worked for the Cleavers in July of that year. However, Stephenson's wife left him because he was beating her, and Stephenson was given the sack, as the family did not approve. This is why it was this household that was chosen for the crime.
The gang did not need to break into the house. Due to Stephenson's previous employment, he knew that the Cleavers left the front door key in the porch so that they did not get disturbed whilst having dinner, which they had routinely at 8.00.
Stephenson wanted to steal the guns from Burgate House so that he could use them in an armed robbery of the wages office of a factory in Nuneaton. He knew that the Cleavers had an amount of guns and ammunition and decided to raid their house.
During the robbery the gang ransacked the house looking for things to steal. They were obviously looking for a safe as all the pictures bar one were skew-wiff. There was in fact a safe in the room they set fire to, but they never found it. When the post-mortem of Joseph Cleaver was being carried out, they found £700 cash stashed away in his false leg.
The robbers intended to burn the whole house down, thus hiding the evidence of murder from the investigators. However, the house that they presumed was made with wooden beams had been reinforced with concrete over the years, and so the fire was contained neatly in one room, leaving lots of evidence in the remainder of the house.
Neilsands.plus.com
---
The Cleaver Killings
The cleaner and gardener were horrified. This true crime murder story starts at 10.30 a.m. on September 2nd, 1986, and they had arrived for work as usual at isolated Burgate House, the home of 80-year-old Joseph Cleaver, a retired publisher, and his wife Hilda, a 70-year-old invalid. The house stood in its own 14-acre grounds near Brockenhurst in the New Forest, and smoke was pouring from the upstairs windows.
As they entered the cleaner and gardener saw that the ground-floor rooms had been ransacked. They were met by the Cleavers' poodle, which had been struck on the head and was later found to be so severely injured that it had to be put down.
On going upstairs the cleaner and gardener found the corpse of Wendy, the Cleavers' 46-year-old daughter-in-law, lying half-naked on a bed. The master-bedroom was too hot and smoke-filled to enter, and when the gardener tried to phone the police he found the line had been cut.
He drove with the cleaner to the local police station to raise the alarm, and when officers and firemen went to the house they found its carpets, furniture and curtains had been sprinkled with petrol, and scraps of firelighter littered the floors. Pictures hung awry where intruders had searched in vain for a wall-safe, and Joseph Cleaver's gun cabinet had been emptied.
The trussed, gagged and burned bodies of Mr. and Mrs. Cleaver, their son Tom–who had lost a leg some years earlier in a car crash–and the family's elderly nurse Margaret Murphy were discovered in the gutted master bedroom. An autopsy established that Wendy Cleaver had been raped and strangled.
Checking Joseph Cleaver's correspondence, detectives found a letter from a Bournemouth couple, George and Fiona Stephenson. They had applied for the live-in posts of housekeeper and cook and had been engaged, but had left in August when Mr. Cleaver dismissed Stephenson for drunkenness and beating his wife.
The Stephensons were no longer at the Bournemouth address from which they had written. It turned out to be the home of another couple, and when police went there they found the Cleavers' TV and video.
This was no great surprise. George Stephenson had been jailed several times for offences including burglary, fraud and assaulting a policeman, and a nationwide search was launched for him, his picture appearing on television and in newspapers across the country.
This brought a quick response from him. He phoned the police in Hampshire from Coventry, saying he had seen himself pictured in the Coventry Evening Telegraph as a wanted man, and he was returning to Hampshire to give himself up. He then did so two days later.
Meanwhile the police had learned that he had hired a car in Coventry, and that another man, 25-year-old George Daly, had paid the deposit. Daly and his brother John, 21, were then arrested at their Coventry home.
All three pleaded not guilty to five counts of murder when their trial began at Winchester Crown Court on October 6th, 1987. Stephenson and George Daly also denied rape and robbery, but John Daly admitted both.
The prosecution alleged that Stephenson had planned the raid on Burgate House in revenge for his dismissal.
John Daly had told detectives that after he raped Wendy Cleaver he was joined by Stephenson, who placed a knife and a piece of cloth on the bed. "He didn't say anything, but I knew what they were for–to kill her with. I turned her on to her face, slipped the cloth round her neck and pulled tight. Her face went blue and she died."
George Daly had told the police that while he was loading the plunder from the house into their hired car, Stephenson told him, "They are already dead and I have poured petrol on them."
According to John Daly his brother lit a firelighter and threw it into the master bedroom.
Stephenson claimed he gave himself up to clear his name, but the court was told that before surrendering to the police he spent a day concocting an alibi and giving the Dalys time to hide their plunder.
The trial ended with Stephenson receiving six life sentences for murder and rape. John Daly was given seven life sentences for rape, robbery and five murders, and his brother was acquitted of murder but convicted of manslaughter and jailed for 22 years.
The trio had found only £90 in the house, missing the wall-safe concealed behind a curtain...and £700 hidden in Thomas Cleaver's artificial leg to be safe from muggers.
TrueCrimeLibrary.com
---
Dinner party mass killer fails to get sentence reduced
By Chris Yandell - ThisisHampshire.net
May 17, 2008
IT WAS one of the most shocking crimes committed in Hampshire.
A dinner party ended in horror when handyman George Stephenson massacred the family who had sacked him three weeks earlier.
Five people were murdered at Burgate House, Fordingbridge, in September 1986 in a crime that shocked the nation.
The victims were Joseph and Hilda Cleaver, both 82, their son Thomas, 47, his wife Wendy, 46, and live-in nurse Margaret Murphy, 70.
All five were bound and gagged by Stephenson and his two accomplices.
Wendy Cleaver was tortured and repeatedly raped before being strangled. The other four burned to death after being soaked in petrol and set alight.
Yesterday, Stephenson failed in a High Court bid to have his minimum jail term reduced by ten years.
Stephenson was found guilty in October 1987 of murdering Mr and Mrs Cleaver, their son and Mrs Murphy. He was cleared of murdering Wendy Cleaver but one of his co-defendants was convicted of the killing.
The trial judge ruled that Stephenson should serve 25 years before being considered for parole.
In May 2001 the tariff was increased to 35 years by then Home Secretary Jack Straw. His decision was upheld yesterday by Mr Justice Tugendhat, who rejected arguments by Stephenson's legal team that the figure should revert to 25 years.
The judge described the murders as "sadistic", adding that three of Stephenson's victims were vulnerable because of their age and disability.
Yesterday's ruling means the convicted killer can ask the Parole Board to free him in 2021.
However, he will be released only if the board considers it safe to do so. He will then remain on perpetual "life licence" and will be sent back to prison immediately if he puts a foot wrong.
Stephenson and his co-defendants - brothers George and John Daly - were convicted after a three-week trial.
The court heard that the Cleavers had sacked Stephenson in August 1986 for beating his wife. He subsequently hatched a plot to steal guns and ammunition from Burgate House and use them in a wages snatch in Nuneaton.
Armed with a gun and pickaxe handles, Stephenson and his accomplices burst into the house while the Cleavers and Mrs Murphy were having dinner.
The terrified victims were forced upstairs where they were bound and gagged.
After the murder of Wendy Cleaver, the gang killed the other four victims by dousing them in petrol and setting them alight.
Stephenson was sentenced to six life sentences for murder, rape and robbery, and John Daly was handed seven life sentences after being convicted of the same offences. George Daly was cleared of murder but sentenced to 22 years for rape, robbery and manslaughter.
No one wanted to buy Burgate House in the wake of the horrific crimes committed there and the house of horror was eventually demolished.
---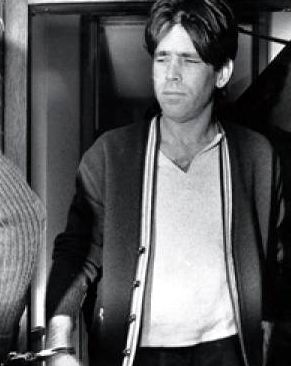 George Stephenson, 1986.