ST. CLAIR, MICHAEL DALE, DOB 1-15-57, was sentenced to death September 14, 1998 for Murder in Bullitt County.
On October 6, 1991, in Bullitt County, Kentucky State Police was dispatched to a shooting incident on I-65 between Senora and Glendale and found an abandoned truck, which belonged to the victim.
On October 8, officers responded to a scene of a body being discovered in Bullitt County off of Old Boston Road. On December 19, 1991 Michael St. Clair was arrested for the murder of Frances C. Bradey who was shot with a pistol. St. Clair also received a second death sentence for capital kidnapping from the Hardin Circuit Court on February 20, 2001.
---
Michael St. Clair
This killer escaped from an Oklahoma jail where he was awaiting trial for two murders. He carjacked a man in Colorado for his truck and then shot the man. He then traveled to a Bullitt County rest-stop on October 6, 1991, where he carjacked Frank Brady. He took Brady to an isolated area where he handcuffed him and then shot him twice, killing him. He then returned to the reststop where he burned Brady's car and shot at a state policeman while being apprehended.
Victim:
Frank Brady
---
Five time convicted murderer has death sentenced reversed again
By Adrianna Hopkins - WHAS11.com
April 22, 2010
Michael Dale St. Clair calls himself the "$5 million man," referring to how much taxpayer money has been spent on his trials.
St. Clair was in jail in Oklahoma, on two murder convictions, when he escaped and killed three more people, including Frances Brady.
The Supreme Court overturned his death sentence saying, the trial court incorrectly instructed the jury.
It is a major blow to the Brady family, that was blindsided by tragedy not once, but twice.
"We always lived by his words, 'do the right thing' and 'don't give up,'" Melanie Brady Drury said .
It's the motto of Melanie Brady Drury's father, Frances Brady, who was kidnapped in Hardin County and murdered in Bullitt County when she was 31 years old. That was 19 years ago.
Michael Dale St. Clair, the man convicted in her father's case, and twice sentenced to death, has successfully appealed both decisions, avoiding execution. Melanie calls it a mockery of her father's death.
"It's kind of the name of the game at this point. It's always change it's always upset, it's always something else has been thrown into it - a technicality," Drury said.
Her 75 year old mother, Merle, says she's hopes she lives long enough to see this through.
"I am ready and willing to go through another trial in Hardin County and another sentencing phase in Bullitt County," Merle said during a phone interview with WHAS 11 News.
In an interview with The News and Enterprise, St. Clair said, "Since May 11, 1995 I've been housed in Kentucky at the taxpayers' expense, hee ha. Now, here it is 2010, April 12, and I AM NOT DEAD."
St. Clair says he's innocent.
He's been convicted of four other murders and will spend the rest of his life in prison. But Melanie calls him a psychopathic murderer
"How many chances has he gotten? How many chances did my dad get to escape him?"
"I have not lost faith. If I hadn't had faith in God I probably wouldn't be sitting here today," Merle said.
And for Melanie's family, lightning struck twice.
Three years after her father's murder, her youngest sister Melisa disappeared in Orlando, Florida.
"We know what happened to Melisa, we just can't find her," Melanie said.
She says her father's murder and her sister's disappearance have left open wounds in her soul that won't heal until there's justice for both.
Though for two decades, she's waited for the death penalty to stick to St. Clair, and for authorities to find her sister, she won't give up. She says her father wouldn't want her to.
"I can hear those words. All 6 feet 4 of him and in that voice. Don't give up and don't be a quitter. I'm bound by that. That's his legacy."
Melanie says she and authorities in Florida have searched for her sister numerous times over the years and are coordinating another search for this spring.
A hearing for another trial for Michael Dale st. Clair is scheduled for the first Monday in May.
---
Judge denies killer's request----St. Clair asked Waller to withdraw from resentencing
The Courier-Journal
Apr. 12, 2005
Convicted murderer and death-row inmate Michael Dale St. Clair, who is scheduled to be resentenced this summer, tried without success yesterday to have Bullitt Circuit Judge Thomas Waller remove himself from the case.
Steve Mirkin, St. Clair's attorney, argued that Waller might not preside impartially over the August resentencing because he sentenced St. Clair to death in 1998.
But in denying the request, Waller said that he will have no difficulty in being fair to St. Clair.
St. Clair was convicted of the 1991 killing of Frank Brady, a Hardin County distillery worker. St. Clair killed him after escaping from an Oklahoma prison with another inmate and going on a cross-country crime rampage.
St. Clair kidnapped Brady at an Interstate 65 rest area, drove him into a wooded area of Bullitt County and shot him twice. St. Clair was captured about 3 months later at a relative's home in Texas.
Last year the Kentucky Supreme Court threw out St. Clair's death sentence because Waller had not informed the jury that life without parole was one of its options. In the same ruling, the court upheld St. Clair's murder conviction.
Yesterday Waller said he has no animosity toward St. Clair, who in a January hearing accused the judge of being an alcoholic. Waller thanked St. Clair for his concern but said he does not drink alcohol.
Yesterday, Mirkin declined to say whether he would appeal Waller's refusal to step aside.
Assistant Attorney General David Smith, who is prosecuting the case, argued that Waller shouldn't recuse himself just because he presided over St. Clair's trial and first sentencing.
St. Clair also has been convicted of 4 murders in Oklahoma and is accused of one in New Mexico. Prosecutors in New Mexico have not brought St. Clair to trial, deeming it irrelevant because he was already on death row in Kentucky.
A new jury, which could recommend the death penalty, will have to be seated for St. Clair's August resentencing. Waller has scheduled several weeks for the hearing because defense attorneys and prosecutors will have to present much of their evidence again.
The sentencing hearing will draw heightened security at the Bullitt County Judicial Center. Extra sheriff's deputies, state troopers and officials from the state Administrative Office of the Courts are on hand any time St. Clair makes a courthouse appearance.
"In my mind, a gentleman on death row has absolutely nothing to lose," Chief Deputy Sheriff Jim McAuliffe said of the precautionary measures. "And it's our job to protect the judges, the court workers and the citizens."
At yesterday's hearing, officers from the Administrative Office of the Courts screened everyone entering the building with a metal detector, which is not normally the case at the courthouse.
3 officers escorted St. Clair, whose hands and feet were shackled, into the courtroom. Other officers were positioned throughout the building and in the parking lot.
---
Michael St. Clair Timeline
Thenewsenterprise.com
July 1991: St. Clair is convicted of murdering his uncle and a man he hired to kill his uncle.
Sept. 19, 1991: St. Clair and Dennis Gene Reese overpower a guard in a Bryant County, Okla., jail. They steal the jailer's truck and travel to Achille, Okla., where they allegedly steal a truck and a gun. Police find the truck in Dallas and believe the men traveled from there to Denver.
Sept. 27, 1991: Police find the body of paramedic Timothy Keeling in New Mexico, shot to death one day after he disappeared from Denver. Reese and St. Clair are suspected in the crime.
Oct. 6, 1991: Keeling's truck is found burning near Sonora. A witness reported seeing a Ford Ranger leave the scene of the fire. Shots were fired at KSP Trooper Herbert Bennett after he stopped a Ford Ranger on Interstate 65 near Glendale. The truck later was found and determined to be owned by Bardstown resident Frank Brady. Brady was kidnapped from a Sonora truck stop and killed later that day along rural Old Boston Road, in Bullitt County, police say. The pair are believed to have split up after Brady's death.
Dec. 19, 1991: St. Clair is captured in Oklahoma and charged with Brady's murder. Reese is captured in Nevada.
1994: Reese pleads guilty to killing Brady and is sentenced to life imprisonment.
Sept. 10, 1998: A Bullitt County jury convicts St. Clair of Brady's murder.
Sept. 11, 1998: St. Clair sentenced to death in Bullitt County.
December 2000: Kidnapping trial begins in Hardin County.
Feb. 1, 2001: St. Clair is convicted in Hardin County of kidnapping Brady.
Feb. 7, 2001: The jury recommends a death sentence for the kidnapping conviction.
2004: Kentucky Supreme Court overturns Bullitt County death sentence and Hardin County conviction of St. Clair. Orders resentencing in Bullitt for murder conviction and a retrial in Hardin County.
Oct. 11, 2004: The first of 16 hearings leading up to St. Clair's re-sentencing in Bullitt County.
Aug. 16, 2005: The resentencing phase for the Bullitt County murder conviction begins.
Sept. 30, 2005: St. Clair again sentenced to death for Brady's murder.
January-February 2007: Retrial in Hardin County on kidnapping charge is postponed as St. Clair is given a new attorney. Vince Yustas later was appointed as St. Clair's counsel.
Jan. 9, 2008: Retrial for the 1991 kidnapping of Frank Brady scheduled to begin in Hardin Circuit Court.
Between Jan. 2008 and June 1, 2009: Trial is delayed.
June 8, 2009: Opening statements followed by mistrial in Hardin County.
June 29, 2009: Judge Steven Ryan removes St. Clair trial from Aug. 4 docket.
---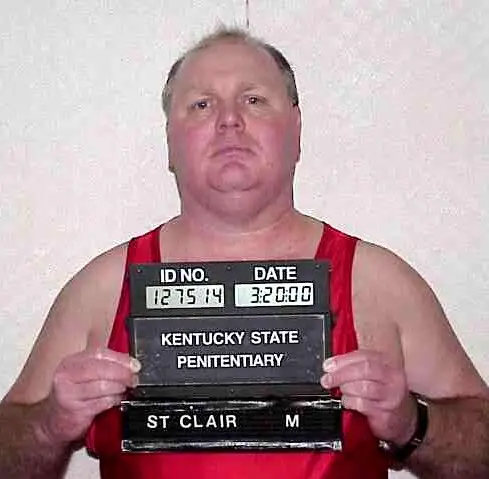 Michael Dale St. Clair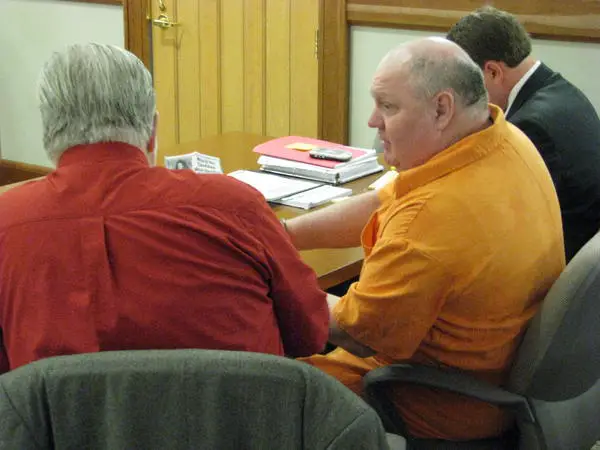 Michael Dale St. Clair (right) shows his co-counsel, Vince Yustas, a newspaper article.