Charles Smith was convicted of murder and sentenced to death in Allen County in 1983. In 1989, the Indiana Supreme Court reversed his conviction and sentence due to ineffective assistance of trial and appellate counsel. On retrial, Smith, who had come within three days of being executed, was acquitted on all counts.
---
SMITH, CHARLES # 23
OFF DEATH ROW SINCE 12-13-89
DOB: 10-10-1953
DOC#: 10440 Black Male
Allen County Superior Court
Judge Alfred W. Moellering
Prosecutor: Gregory L. Fumarolo, James P. Posey
Defense: Theodore D. Wilson
Date of Murder: December 10, 1982
Victim(s): Carmine Zink W/F/20 (No relationship to Smith)
Method of Murder: shooting with .32 handgun
Summary: Smith left in a car one night accompanied by Phillip Lee and Briddie Johnson. They stopped to let Smith pick up a .32 handgun and agreed to stake out a local restaurant for likely robbery victims.
They went to The Elegant Farmer in Ft. Wayne, parked the car in the lot, and waited. Brenda Chandler and Carmine Zink arrived to attend a Christmas party at the restaurant.
Smith and Johnson left the car and with stockings over their heads confronted Chandler and Zink, intent on taking their purses. Smith seized Zink, put her in a headlock, and put the .32 handgun to her head. Johnson was struggling with Chandler, who heard a single gunshot. Smith and Johnson fled. Zink lay on the ground dead as a result of a single gunshot to the head.
Lee testified at trial under an agreement with the State and confirmed the above scenario.
Conviction: Murder, Felony-Murder, Habitual Offender (trifurcated trial)
Sentencing: October 18, 1983 (Death Sentence)
Aggravating Circumstances: b (1) Robbery
Mitigating Circumstances: None
On remand, the State withdrew its Application for Death Sentence, and added a count of Robbery (Class A Felony). A jury was selected in Marion County for retrial in Allen County. After 8 days of trial and 9 hours of deliberations, the jury found Charles Smith NOT GUILTY of all charges (Murder, Felony-Murder, Robbery). Allen County Superior Court, Judge John F. Surbeck, Jr..
---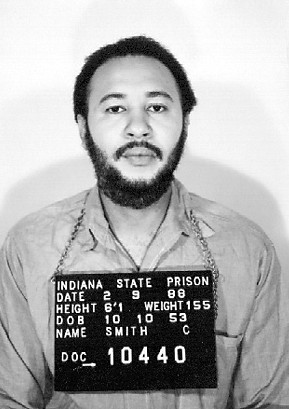 Charles Smith