Patrick Henry Sherrill (November 13, 1941 – August 20, 1986) was a United States Postal Service employee who, on August 20, 1986 in Edmond, Oklahoma, killed 14 employees with two .45 caliber pistols at his work place before turning one of the guns on himself and committing suicide. Six other employees were wounded. Security expert Gavin de Becker said that postal authorities ignored numerous signs of Sherrill's unstable and hostile attitude.
Sherrill was a relief carrier who would work routes on different days. He was excellent in making deliveries and frequently delivered mail earlier than customers anticipated. On the afternoon of Aug. 19, 1986, Sherrill was reprimanded by two supervisors in a glassed-in office over personal matters unrelated to the profession.
On the afternoon before the killings, he approached a female clerk who had been kind to him (while most people ignored him or hassled him) and asked her if she was coming to work the next day. She replied, "Of course." He told her she should stay home.
He began with one of the two supervisors who had spoken to him the previous day; the other supervisor had, for the first time ever, overslept and was an hour late to work, by which time the shootings were already underway. The second victim was Mike Rockne, grandson of Notre Dame football coach Knute Rockne. Fourteen people died during the attack, and six others were wounded. Some of the wounded survived because they played dead. The incident lasted between 15 and 20 minutes.
The incident is credited with inspiring the American phrase "going postal".
Sherrill's victims
Patricia Ann Chambers, 41, part-time clerk
Judy Stephens Denney, 41, part-time clerk
Richard C. Esser Jr., 38, supervisor
Patricia A. Gabbard, 47, clerk
Jonna Gragert Hamilton, 30, clerk
Patty Jean Husband, 48, supervisor
Betty Ann Jarred, 34, clerk
William F. Miller, 30, rural carrier
Kenneth W. Morey, 49, rural carrier
Leroy Orrin Phillips, 42, rural carrier
Jerry Ralph Pyle, 51, rural carrier
Paul Michael Rockne, 33, letter carrier
Thomas Wade Shader Jr., 31, part-time clerk
Patti Lou Welch, 27, clerk
Wikipedia.org
---
Gunman kill 14, self in Oklahoma
Philadelphia Daily News
August 20, 1986
A postal worker about to be fired from his job turned the Edmond, Okla., post office into a scene of carnage this morning, using three guns to kill 14 fellow workers and wound six others before killing himself.
Most of the victims were gunned down as they sat or stood at their work stations. One died in the parking lot behind the building, apparently shot down as he tried to flee.
---
Dazed survivors tearfully hug families, friends
Philadelphia Daily News
August 20, 1986
Dazed postal employees tearfully hugged co-workers and family in the Edmond Post Office parking lot today, thanking God that they had managed to escape a co-worker's handgun rampage that resulted in 15 deaths.
Police say Pat Sherrill, 44, a part-time worker facing dismissal, walked into the post office about 7 a.m. and opened fire on workers sorting through the mail to prepare for their morning routes.
---
Colleagues describe gunman as a quiet, angry man
Phikladelphia Inquirer
August 21, 1986
As horrible as yesterday's deadly gunfire was, some of the gunman's colleagues at the post office said they were "not surprised" by his actions.
A loner who talked of Vietnam at length, though he apparently never served there. A quiet man who seemed to be brimming with pent-up anger. A sometimes peeping Tom whose neighbors called him "crazy Pat." A man who always thought that the laughter of neighborhood children was directed at him.
---
Horror over, dazed workers return
Philadelphia Daily News
August 21, 1986
A score of postal workers, pale and shaken but showing remarkable determination, quietly filed into the post office here today to take up their jobs where 14 of their co-workers were shot to death yesterday by an employee who then killed himself.
"I don't know what to expect when I get in there," said Debbie Coons, 32, a rural delivery carrier. "I feel scared."
---
Killer took to hobbies, kept people at distance
The Boston Globe
August 22, 1986
EDMOND, Okla. -- Patrick Henry Sherrill had many interests during his 44 years, but he had few friends.
Although he was widely described as a "loner," interviews with a few of those people who encountered him recently indicate that, in his own passive, awkward way, Sherrill may have attempted to establish some closer relationships.
---
8 victims of Okla. massacre are buried
The Boston Globe
August 24, 1986
EDMOND, Okla. -- Eight more burials were held yesterday for victims of a silent killer who took two pistols to work at the Edmond post office and killed 14 coworkers before turning a gun on himself.
"We've experienced pain, haven't we? You bet we have," Rev. Finley Tinnin said at the funeral of Patty J. Husband, a five-year postal employee.
---
Oklahoma killer of 14 buried in family plot
The Boston Globe
August 25, 1986
WATONGA, Okla. -- Patrick Henry Sherrill, who killed 14 Postal Service co- workers and wounded six others before committing suicide, was buried yesterday in a family plot in his home town.
Sherrill, 44, was cremated and his ashes buried at the gravesite of his parents in a brief, private service attended by 25 friends and relatives.
---
"Crazy Pat's" revenge, a postman kills 14 co-workers in Oklahoma
Patrick Henry Sherrill was a mediocre postman. After 16 months as a part-time letter carrier for the post office in Edmond, Okla. (pop. 47,000), Sherrill was still receiving complaints from his managers about misdirected mail and tardy performance. Last week, after two supervisors reprimanded him, Sherrill told a local steward for the American Postal Workers Union that he was being mistreated. "I gotta get out of here," he said.
Instead, the angry mailman returned the next morning with a vengeance. At about 7 a.m. he strode into the post office in his blue uniform, toting three pistols and ammunition in a mailbag slung over his shoulder. Without a word, he gunned down Richard Esser, one of the supervisors who had criticized him, and fellow Postman Mike Rockne, grandson of the famous Notre Dame football coach Knute Rockne.
The gunman then chased a group of fleeing employees through a side exit, shooting one man, who later died in the parking lot. Bolting several doors, he sought out workers cowering under tables and in cubicles, killing three people in one work station, five in another. Debbie Smith was sorting letters when the shooting started. "I froze. I couldn't run. He came to shoot the clerks in the box section next to mine. I just knew I was next." But as she hid, Sherrill passed her by and opened fire on the next section. As Smith ran for the front door, she said, "I could hear all the clerks screaming as they were shot." Another employee escaped by locking herself in a vault where stamps are kept. Two other survivors hid in a broom closet.
Minutes after the shooting started, police arrived outside the post office. For 45 minutes they tried to communicate with the gunman by telephone and bullhorn. There was no response. When an Edmond SWAT team finally stormed the building at 8:30 a.m., they found Sherrill's body amid the carnage. After killing 14 people and wounding six, he had pumped a bullet into his own head.
It was the third worst mass murder in U.S. history, and like its two more grisly predecessors, it took place in a setting as ordinary and familiar as any in American life. Twenty years ago this month, Charles Whitman climbed a tower on the University of Texas campus at Austin and gunned down 14 people. The bloodiest rampage by a lone gunman on a single day was waged by James Oliver Huberty, who murdered 21 victims, many of them children, in a McDonald's restaurant in San Ysidro, Calif., in 1984. In the past two decades, random mass slayings have become increasingly common in the U.S. It is a phenomenon peculiar to the late 20th century: a single twisted soul / slaughtering near or total strangers, acting on a vague, incomprehensible motive. Like so many other mass murderers, serial killers and assassins, Sherrill, 44, was described as a quiet loner. He was unmarried and apparently had no close friends, although he was a ham-radio nut who made calls as far away as Australia. After his mother's death in 1978, he continued to live in the modest white frame house they had shared in Oklahoma City, 13 miles south of Edmond. An ex-Marine and expert marksman, he served in the Air National Guard as a handgun instructor; two of the weapons he used for his rampage were taken from the National Guard armory.
Over the years Sherrill had worked as an electronics technician and radio-store salesman, but he had never held a job for very long. Around the neighborhood he was known as a Peeping Tom. "Everybody hated him," says Neighbor Gerald Cash. "He'd prowl around at night, looking in people's windows." Children taunted him with nicknames like "Crazy Pat," and Sherrill would often chase them in a rage.
Last week citizens of Edmond, one of Oklahoma's most prosperous communities, tried to console one another in the aftermath of the senseless horror. Still shaken, postal employees returned to the office the morning after the tragedy. The brown linoleum floor had been freshly cleaned and waxed. Wreaths and baskets of flowers decorated the building and grounds. Along their routes, letter carriers found flowers and notes of condolence in mailboxes. Read one: "We cry with you, we pray for you, we care about you, our friends."
---
A man who was pushed too far
Patrick Henry Sherrill, like his fiery revolutionary namesake, was a patriotic American.
After lettering in three sports in high school, he joined the Marine Corps and became a weapons expert. Following an Honorable Discharge, he joined the Oklahoma Air National Guard. Never marrying, he lived at home with his ailing mother and spent his spare time contacting fellow ham radio operators.
In l985 Patrick Henry scored high on a United States Postal Service entrance examination and was hired as a letter carrier for the Edmond, Oklahoma post office. He worked hard and passed the tough 90 day probationary period. Proud of his job, proud of his uniform, and proud to be a public servant, Patrick Henry could not understand why his superiors were never satisfied. The harder he worked, the more they expected from him. He was giving 100 percent and they wanted more. There was nothing left to give them but blood.
On August 19, 1986, two supervisors, Bill Bland and Richard Esser, Jr., escorted Patrick Henry into an office and took turns giving him a verbal beating. It was all a well-rehearsed act. They knew Patrick Henry was an excellent worker and figured that a reprimand would motivate him to work even harder. Supervisors were evaluated by how much mail they moved and upper management did not care how they did it. An employee who was "running scared" could be a considerable asset towards motivating the other workers. Mr. Bland was in especially good form this day and ended his harague with a threat to fire Patrick Henry if his performance did not improve.
Patrick Henry left the office a visibly shaken man. That afternoon he phoned union headquarters to ask about a transfer to maintenance. The answer was not encouraging. Driving home, Patrick Henry began to get angry. He knew he was a better letter carrier than most of his co-workers. In high school football, the Marine Corps, and the Postal Service he had always given his best. Now he was going to be fired. It wasn't supposed to end this way in America.
On August 20, 1986, Patrick Henry made his last sacrifice to the system he believed in. Stern-faced and sober, all anger drained from his body and replaced by a determination to do what he knew to be necessary, he dressed in his best summer blue uniform, placed two .45 Colt government-issue semi-automatics, a .22 caliber pistol, and ammunition in his mailbag and drove to work as usual at 6:45 AM.
Entering the large, new brick post office, Patrick Henry strode towards Supervisor Esser. The .45 caliber Colt Model 1911-A1 was a weapon that required concentration. Thumbing off the two safeties, Patrick Henry lifted the weapon from his satchel and pointed it at the ceiling, reaching across with his other hand to pull back the slide and jack a round into the chamber. Coming closer, almost to point-blank range, he extended his arm until his elbow locked and slowly brought it down while he sighted across the barrel. Being careful to squeeze, not jerk, the trigger, he applied the five pounds of pull necessary to fire the weapon.
It discharged with a blast that sounded more like a shotgun than a pistol. Supervisor Esser was leveled by the tremendous impact of the flat-nosed slug as it tore a gaping hole through his body. The recoil knocked Patrick Henry's hand upward. As he lowered it again, he aimed at nearby postman Mike Rockne. Too stunned to flee, he too was gunned down.
Everyone either hid or fled towards the exits. Patrick Henry chased several of his co-workers through a side entrance and shot one, then shut and bolted the door. His victim, mortally wounded, managed to crawl to the parking lot before collapsing from loss of blood.
Methodically going from exit to exit, Patrick Henry began to seal the building. While securing the doors, he noted the location of those who had failed to escape. He started toward the lobby entrance, but had to stop to reload. Seven bullets to each magazine, one in the chamber. It took less than a minute.
Systematically searching the workroom floor, he flushed several employees who were hiding in gurneys or under letter cases. He envisioned a target on their upper torsos and seldom missed his mark. Working fast and efficiently, he took less than five minutes to slaughter everyone in the large work area at the rear of the building. Two undiscovered supervisors who cowered in a broom closet would later sardonically admire the speed and skill with which he performed his grisly task.
All that remained were a few clerks and some office personnel in the front of the building. Most had already fled through the open lobby entrance. Patrick Henry strode past several clerks and shot several others. Not everyone deserved to die.
Having traveled in a circle through the building, Patrick Henry was once again in front of the body of Supervisor Esser. Less than 50 bullets had killed 14 employees and wounded seven in less than 15 minutes. As he stood staring at the carnage, his concentration gave way to a feeling of revulsion.
Would Supervisor Esser now concede that he had worked hard enough? There was only one way to find out. Patrick Henry raised the pistol to his head, sobbed, and squeezed off one final round.
When the body count was tallied, it became the third largest mass murder by a lone gunman in United States history. Publicly the Postal Service feigned shock and outrage, but privately they had expected it for quite some time. Incidents of violence were on the increase and two supervisors had been killed in Atlanta the previous year. In the next three years there would be 355 reported (undoubtedly many went unreported) by workers on supervisors and 183 by bosses on workers. Few of these would ever become public knowledge.
Nothing could be allowed to disrupt the flow of mail. The gore was mopped from the brown linoleum floor and Edmond's post office was open for business as usual the next day. Dick Carleton, general manager for the Oklahoma division of the Postal Service, countered charges of worker abuse by saying, "If there were so many problems, would you have everyone showing up for work on the day after a tragedy?" Bill Shockey, Edmond's former postmaster, commented that everyone who came to work "performed like champions." Although Supervisor Bland originally admitted to police that he had threatened Patrick Henry with dismissal, the Postal Service told the press that he had merely been "counseled".
Psychiatrists who had never met Patrick Henry or visited Oklahoma attributed his behavior to "factitious posttraumatic stress disorder", a fancy term for self-induced battle fatigue. By 1986 many negative articles had been printed in the United States about the problems of Vietnam-era veterans. They had lost the war and were rapidly becoming the scapegoats of a society suffering from moral decay. In contrast "shell-shocked" veterans of previous wars had been the recipients of respect and understanding from a grateful nation.
"Crazy Pat" became the Postal Service's official party line explaining the incident. Postal inspectors circulated stories about "Crazy Pat" dressed in fatigues, peeping in neighborhood windows. He had once rode solo on a bicycle built for two and someone remembered that he had smiled too much at his twentieth high school reunion. By proving his insanity, the Postal Service sought to avoid any question of its own sanity. A one time neighbor, Charles Thigpen, commented that everyone wanted "quick answers. And since Pat's not alive to defend himself, they don't have to be the right answers."
---
One man's massacre
Patrick Sherrill entered the post office from the employee parking lot, on the east side of the building, a few minutes before seven o'clock on that muggy morning of August 20, 1986, carrying his mail delivery satchel over his left shoulder, and a pistol in his right hand.
He stepped inside where more than 50 employees toiled at sorting mail and various other tasks. One of them, Mike Bigler, spotted Sherrill as he approached a table where Mike Rockne stood chatting with his friend, supervisor Rick Esser. Bigler recalled it: "I was at my case [work station]. I heard some popping like firecrackers. I thought it was a practical joke to scare employees, so I kept working. My friend Mike was standing behind his own case." When the noise started, Bigler said, some of the people rushed outside. Neither Esser nor Rockne made it. "Mike [Rockne] fell to the floor and I could see he was lying in a pool of blood." Esser dropped next to him.
Horrified, Bigler headed toward an exit. "I was fifty or sixty feet from it and was shot in the back ... felt a stinging sensation. I just played dead. Sherrill kept walking around several times ... just went around shooting methodically, saying nothing. Some of the clerks were huddled in the post-office box area. He went up to them and shot seven rounds and they were all screaming."
Darrell Fesler reeled as he saw what was happening. "I heard a gunshot, and hid behind some big boxes. I looked up and saw a man shooting a gun. He shot Mike Bigler and then just turned in a circle shooting at random. He went towards the front lobby shooting and we ran out the back. He followed, still firing, and then returned inside."
Bleeding profusely from the back wound, Bigler saw his opportunity to sprint out the door when Sherrill disappeared from view. As a precaution, he put his hands over his head in the surrender position just in case the police had arrived outside. He didn't want to be shot again, by friendly fire.
Inside, someone had yelled, "He's got a gun!" That alarm would be remembered by many of the employees who paid scant attention when the first popping noises began. One of the mail carriers Gene Black remembered:
Crack - crack, and then crack again. I was jolted from my concentration. It sounded like plastic letter trays falling to the floor. I turned to look and heard the footsteps of people running across the hard tile floor.

"Get out - get out of here - he's shooting a gun, " I heard someone yell. I saw Steve Vick fall to the floor clutching his stomach. He was in the row of cases close to the supervisor's desk. Others run to help him. Crack - crack the gun sounded again. I heard more shouting and people running - and then more screams.

"Run, get out, he's got a gun!" someone yelled. My heart pounded loudly in my ears as confusion gripped me. I couldn't move. Someone grabbed my arm and pulled me down the aisle.

"Run," he said. "He's killing people over there.
The gunfire sounded to some like firecrackers, and to others, such as Larrie Parrish, "like someone slapping a tray against the floor repeatedly." Parrish, too, quickly realized it was not someone "just fooling around" and instinctively crouched low. A woman "crawled under my case. Then I thought maybe it was dry-run practice to see how we'd react to a holdup, like a drill. I got under the case and asked her what was going on. She didn't know."
Several employees scurried out the east door where Sherrill had entered. The gunman swiveled from his position near the fallen bodies of Rockne and Esser, and followed the panic stricken runners. As Sherrill stepped out, he sprayed the area with another fusillade of bullets.
Jerry Pyle, the senior carrier, had made it to the parking lot. As he tried to seek protection close to his old Volkswagen, a slug dropped him in his tracks. He became the third person to die that morning.
Sherrill reversed his direction again, reentered the post office work area, and walked past the bodies of Esser and Rockne.
Hubert Hammond, like many others, at first thought he was hearing some practical joker throwing firecrackers. But, " . . . all of a sudden, everyone panicked. At that time I was at station C-13. I took a step out to see what was the confusion. I saw Pat Sherrill walking towards C-9 (William Nimmo) and shoot him twice. Then he turned toward me and lifted his gun at me, but didn't shoot. By then I was running with my back to him, to the front office. As I got out, I heard a lot of shooting inside." Hammond saw Nimmo fall, critically wounded.
Gene Black remembered:
. . . running hard through the row of sorting cases. Fear gripping my mind and body. I ran to escape the flying bullets, from the fear of pain, from the fear of sudden death. He could be right behind me. I couldn't turn around and look.

I ran to the superintendent's office, on the north wall, slipping and almost falling as I turned to run up the aisle to the front. The doorway to the front counter appeared and I told myself to jump. The counter looked as tall as the building itself.

I sailed over the counter and crashed down on the other side, feeling other bodies moving with me. I got up and ran through the open double doors into the lobby. Frantically, I shoved open the first set of glass doors; they crashed against the outer doors as they swung back toward me. I ran outside, then down the front sidewalk to the public parking lot, running until I felt free of the building.

I turned and saw Phil Crabtree and Larry Wilson half-carrying, half-dragging Bill Nimmo out the doors I had just run through. Nimmo was holding his side with his left hand, his legs doubled back underneath him. His blue shirt was red with blood and his face showed the intense pain from his wound. Crabtree opened the back door of a car parked at the front of the building. Then they forced Nimmo's nearly limp body into the backseat of the car.

Go with him," Crabtree said, pushing Wilson into the car. It drove through the empty parking lot and disappeared around the corner of the building.
"A loud bang" startled Diane Mason, who had peered through a glass partition the previous day and seen Sherrill being reprimanded. "I thought someone had dropped a tray of mail, as we often do, which makes the same sound.... Then I heard screams so I hid behind my tub of mail. I got down on the floor and curled up in the smallest ball I could. I heard more shots and smelled gunpowder. I was praying to God that when he got to me, he'd kill me quick and it wouldn't hum But when I heard the shots getting farther away, I ran to the front windows area, rolled over the counter, and out the front lobby door which is always unlocked."
Stepping past his first two victims, Sherrill headed to the southwest sector where employees in three rectangular bays had been stuffing mail into the backside of post office boxes.
Clerks Nancy Limbecker and Becky Davis heard their supervisor, Patty Husband, who'd been promoted just one month before, yell, "Get down!" Husband crouched in the far southwest bay along with Betty Jarred, who had been looking forward to her third wedding anniversary, and Thomas Shader, the bicycler.
Sherrill marched toward the bay and turned to face the trio. Employee Debbie Smith remembered: "The supervisor yelled to get down. I was trying to hide in the second box section ... Pat Sherrill was dressed in his postal uniform [and] went to the first box section. I heard Patty Husband say, 'No, Pat, No!' And then he shot the gun . . ."
Husband, Jarred, and Shader died in spreading pools of crimson, all three sprawled on the hard tile floor
Near section 2, Debbie Smith prayed that she wouldn't be next. "I saw him walk on past with the gun and go to the next section. I heard him shoot ... and a woman scream."
Smith knew that several terrified employees were seeking shelter in the adjacent post office box bay. "In that section," she said, "were Pat Chambers, and a new lady named Judy, Patti Welch, Patricia, and I'm not sure who else. I crawled around the boxes and I heard him empty his gun, but I couldn't see him. I froze. I couldn't run. He came to shoot the clerks in the box section next to mine. I just knew I was next. I ran for the front door and got out of there." Smith's escape was miraculous. For some reason, after Sherrill slaughtered the three victims in the first bay, he strode right past the spot where Smith crouched in fear and stopped at the next section, closed on three sides like a small room trapping more terrified workers.
As Smith accurately recalled, Patty Chambers was in there, along with four others seeking safety. Chambers would never see her husband and two children again. Nor would "the new lady named Judy," get out alive; Judy Denney, the platinum blonde from Georgia whose husband had brought her to the safety of Edmond after a postal worker named Steven Brownlee had killed two people in the Atlanta Main Post Office. In addition to Patty Chambers, two more women fearfully huddled in the cubicle. Patricia Gabbard, who had worked for the USPS only five months and newlywed Patti Welch. Jonna Gragert Hamilton, cornered in terror, would never again visit her horse, Cinnamon.
Patrick Sherrill ended the dreams of all five women with a hail of deadly fire from the .45-caliber semiautomatic pistol he wielded. He slaughtered them with cold merciless cruelty before turning left and striding toward the north side of the big work area.
Employee Peggy Gibson also narrowly missed being killed. "I heard gunshots and stepped out from my case ... Someone yelled to get down. I saw a man with a gun. There was one person [Gene Bray] between me and the man with the gun. He got shot and was lying on the floor. I hid under my case and behind the parcel tub. I ran to the back doors [found locked] ... then ran to the side door and outside." The bullet that struck Bray in the back penetrated his right kidney.
Richard Tompkins recalled, "I ran around behind some rural carrier cases trying to hide. When it got quiet I headed for the back door and saw Gene Bray lying on the floor in a pool of blood ... The shooting started again toward the front of the post office, so I went to the back and got a door open. I headed across the parking lot for an apartment building to try to raise someone." Unable to find help, Tompkins flagged down a passing motorist and asked for a ride to the police station.
As Sherrill approached the office at the north wall, he encountered Ken Morey, the upbeat rural mail carrier. Sherrill leveled the .45 and ended the life of Morey four weeks before his 50th birthday.
Tracy Sanchez watched in horror. "I was at my case near the break room [northeast comer of building] and I heard a series of bangs. I looked across the room and saw people yelling and falling on the floor. Then Sherrill walked by with a gun, shooting people ... He walked right past me and I ran to the back door, but it was locked. Another man tried to get out with me. We ran back and there was a storage closet nearby. We hid in there, but we couldn't lock it so we turned the light off and stayed quiet. Sherrill stood by our door and kept emptying his shells and reloading his gun - about three times. Each time we could hear him walk around the room shooting, over and over. People begged him and he would yell at them and shoot them several times. Then, finally, it got quiet. But we stayed hidden until we heard the police."
With Ken Morey lying dead on the hard tile floor, Sherrill turned east, toward the coffee break room in the corner. Halfway there, he found William Miller. Just that morning, Miller had passed around a plate of his wife's marvelous cookies to coworkers. Patrick Sherrill didn't care. He blasted Miller's life away with no more compassion than he'd shown in spraying Mace in the face of a fenced-in dog.
Postal workers sometimes refer to each other by their delivery routes, rather than names. Elizabeth Hilchey, when nervously reporting her experience that morning, used this technique. "I heard gunshots. At first, I thought it was a joke, until I saw City 4 fall on the ground, bleeding. I could smell gunpowder. I heard several shots and people falling and moaning. When it became quiet for a few minutes, I decided to get out because I knew he would probably kill me, too. I ran for the back door with Route 5, Joe, Route 6, Vernon, and jumped in the car with Route 20. He drove us to the police station. Once there we were told the police already knew. I never saw Sherrill's face, just his legs as he walked around shooting people."
Larry Wilson recalled making an effort to stop Sherrill's mad slaughter. He said, "I kicked the gun out of Pat's hand but he recovered it and started shooting again."
As the seconds ticked by like hours, Sherrill continued his destructive path, at last heading toward the break room in the northeast corner. He stepped in and found Leroy Phillips. Sherrill ended his life in a burst from his .45 semiautomatic, making a total of 14 dead victims, 13 scattered throughout the interior of the post office and one outside on the pavement near his Volkswagen.
Police cruisers and ambulances swarmed Broadway and the parking lots. Those workers who had escaped dragged the wounded to safety. Six employees, William Nimmo, Gene Bray, Michael Bigler, Steve Vick, Judy Walker, and Joyce Ingram were rushed to the hospital for emergency care. Though some were badly wounded, they would all survive. Gene Black remembered:
I stood on the front sidewalk with a few other employees and watched as two policemen ran toward the post office. One positioned himself near the front door. The other ran to the southeast corner of the building near the loading docks, then dodged to the front of my mail truck. He crouched down and peered out.

"Help me, help me, I'm shot, " someone shouted.

Gene Bray stumbled down the loading dock stairs, his uniform shirt covered in blood. He staggered about 30 feet from the steps, stumbled, and collapsed over a low brick wall on the south lawn.

I rushed toward him at a dead run, desperate, wanting to help him. Others followed behind me, but the closer we got to his motionless body, the stronger my fear became that my friend was dying.

The policeman crouched beside my mail truck waved his hands and shouted, "Get back! Get back!"

Four of my colleagues, friends, spurred by the need to help our wounded, possible dying buddy, paid no attention to the well-intentioned warning.

We snatched Gene Bray's limp body from the blood soaked lawn as if he were a small child. Hoisting him up, Mark Lumin, Phil Crabtree, Ken Lobdell and I ran for safety. We were not being heroic; we were damned scared for Gene. We carried him face down, the way we found him, each of us taking an arm or a leg. As we ran, I could see on his shirt the mass of blood from the wound in his back that now splattered on our uniforms.

Finally reaching the front sidewalk again, we were met by two AmCare paramedics. We gently lowered our colleague to the concrete as the excited paramedics pushed us aside. "Oh, God, don't let Gene die, " I said. "Do something for him.
The Edmond Police Department had been swamped with reports by telephone calls, by people running into the station only two blocks from the post office, and with patrol cars flagged down by terrified employees who had escaped the carnage.
As they converged on the brick building, they saw bleeding victims being helped by coworkers on the lawn and in the parking lot. Several of the workers reported that a tall, bald man inside was shooting up the place and killing people. Many of them knew his name, Patrick Sherrill.
With weapons drawn, officers cautiously advanced toward the doors, mostly to assure the killer didn't escape or to help victims who fled. The police would wait for the arrival of the SWAT team to invade the interior.
One officer reported, "When I arrived at the post office, I saw one man drenched in blood lying on the grass with emergency fire department employees attempting to carry him to the southwest corner where the ambulance was parked. I also saw another postal employee standing by the emergency vehicles being treated and that his shirt was drenched in blood."
Joined by several other officers, he helped surround the building, taking a post near a brick wall at the south side. "We were there approximately thirty seconds when a blonde female came running out of one of the back doors with a white male [Mike Bigler]. Bigler showed us that he had been shot in the back and stated that the man doing the shooting was Patrick Sherrill.
"A couple of minutes later, we saw [through the windows] a subject inside the post office walk up and bar the back doors, look out the windows for an instant, then disappear from view. The man was bald-headed and there was blood on his forehead." With his attention riveted on the windows, the officer saw the bald man pacing back and forth for several minutes, then vanish again. "Approximately thirty seconds after he walked away [from view], at approximately 0715 to 0720, 1 heard the distinct sound of a muffled gunshot." Silence ensued and no more movement was observed. The SWAT team arrived, and rushed inside. "We stayed in position guarding the south doors until we were told that the SWAT team had made entry and found the suspect dead, an apparent suicide." Gene Black remembered:
Someone called my name from close range and I saw Mike Bigler stumbling towards me. I ran to him and took his arm. He groaned as I tried to support him and help him to where the medics were working. As he lay on the sidewalk, I could see the blood seeping from a hole in his shirt.

I glanced for another paramedic and saw Steve Vick standing nearby, looking dazed, pale, and about to fall. He, too, was covered with blood. I hurried to help him to the sidewalk. The paramedic ripped his shirt away to get at the large bleeding hole in the right side of Vick's abdomen. He'd turned white with shock and passed out.

No one was attending Mike Bigler's wounds. In a panic, I asked "Where in hell are more medics? Is this all the damned help we're going to get?" I knew I was ranting and raving out of control, but my friends were dying here on the sidewalk.

Someone grabbed me by the arm and said, "It'll be okay man. It'll be okay. They're coming."

I pulled away and knelt beside Mike Bigler. I heard him sobbing and praying, " . . . By His stripes I am healed, by His stripes I am healed...

Brakes screamed behind me as another AmCare unit of paramedics pulled up.
Black remembered he was left to stand across the street from the post office and watch helplessly. He says:
Uniformed and plain-clothes officers walked around the building carrying shotguns and rifles. Cameramen took pictures as news reporters pried details from anyone who would speak. Two AmCare units waited to receive more wounded. Helicopters circled above as officers spoke into walkie-talkies, trying to develop a strategy for invading the building to bring out the killer.

The survivors were asked to gather at the nearby City Council chambers. Many stood in small groups outside, some crying, others looking dazed Family members of the employees had also been asked to assemble. An officer requested everyone to come inside to fill out a police report.

A crowd of dazed, confused people funneled through the doorway. Officials handed out forms and we did our best to fill them out. The crowd milled around in the hot, stuffy area, not knowing what to do. Some stepped out for some fresh air.

A city official and his associates arrived He requested everyone go back inside for a roll call. "When I call out the names of the fatalities, I would like for their family members to please come to the front of the chambers. We have counselors available to talk with each one of you."

"Oh, God!" said someone next to me.

I was speechless. How could they say that with the friends and families listening?

One by one the victims' names were called. A wail of emotional pain sprang from someone in the crowd. The sound of crying in the chamber grew louder and louder, like shock waves rippling through the room, as each name of a fallen loved one was called. Many families cried out in horror, some collapsed and had to be helped to the front.

"Ah, man, how can they do this?" I said.

The room started to close in on me. I headed for the exit, pushing and shoving until I was finally outside. I leaned against the bed of a pickup, gasping for air. My head reeled from anguish and disbelief as tears ran down my face.
Seven men died.
Seven women died.
Six employees were seriously wounded.
Patrick Henry Sherrill made himself the 15th fatality in the Edmond post office on August 20, 1986.
If Sherrill's main target had been the supervisor who suspended him, fate had interceded in Bill Bland's behalf. He had slept late that morning and was not present during the massacre.
---
Patrick Henry Sherrill
For the most part, post office employees in Edmond maintained a convivial relationship among the workplace family, with one major exception. Patrick Henry Sherrill set himself apart like a hermit uncle, generally refusing to socialize or even linger a few moments for friendly conversation. Aloof and sometimes rude, he ignored attempts to include him in coffee break chatter or the exchange of cordial greetings. With few exceptions, his personal life at home wasn't much different, characterized mostly by odd and reclusive behavior. At age 44, the ex-Marine had few friends and a strange reputation.
No one could reliably say when Sherrill's problems first started. Life began for him in the tiny hamlet of Watonga, 60 miles northwest of Oklahoma City, on November 13, 1941, three weeks and three days before the U.S. entered World War II. Sherrill had an older brother and sister. The family owned a marginally profitable farm and operated a small café in town. They sold everything and moved to Oklahoma City in the mid1950s.
It can be traumatic for a teenager to make the transition from farm life to an urban existence, and Sherrill may have begun his inward withdrawal at that Point. When he enrolled at Harding High School in Oklahoma City, his grades were barely passable. A yearbook photo portrays a young man who still had a country-boy appearance, with a long oval face, protruding ears and a shy grin. It didn't help that he was already balding. Sherrill was already slightly taller than his peers, and as farm work had given him muscular strength, he turned to athletics. Even though he earned a letter in football, team sports didn't appeal to Sherrill, a trait which would stay with him permanently. He preferred track and field where he could perform as an individual. The teenager tried out throwing a discus and apparently felt a strong desire to succeed with it. He borrowed one of the circular, metal-rimmed wooden plates from school, took it home, and practiced at night. The efforts earned him another school letter, as did his skill in wrestling. For the first time in his life, Sherrill could feel equal to his peers. He may not have been able to impress authority figures in the classroom or socially, but in the sports arena Sherrill could hold his own, and coaches gave him the approval he needed. One of them later recalled that the young man seemed to be "a normal teenager" who didn't cause any trouble.
Sherrill's parents, the coach had heard, were "older people" when he was born and that "the father passed away while Patrick was in his teens." One of the youth's few friends would remember that Sherrill was troubled by what he regarded as a family secret. Finally, he confided the problem to his pal. His father, Sherrill whispered, was mentally ill. With a pained expression, the teenager continued, "I'm never going to get married, cause I don't want to pass on those bad genes to any kids."
In his junior year, Sherrill noticed a pretty young coed but couldn't seem to attract her attention. Years later, he succeeded in making his presence known to her in a most unwelcome way.
He graduated from Harding High School in June 1959, the same month conservative U.S. Postmaster General Arthur E. Summerfield declared Lady Chatterly's Lover, by English novelist D.H. Lawrence, too racy to be sent through the United States mail.
That fall, Sherrill enrolled at Oklahoma University on a wrestling scholarship and posed in a group photograph printed in the 1960 yearbook. It pictured several young men who resided in the Lincoln House dormitory on the campus periphery. All of them wore expressions of relaxed confidence except Sherrill, who seemed out of place. He dropped out of school that same year.
On January 15, 1964, while the nation still mourned the assassination of President John F. Kennedy, Patrick Sherrill enlisted in the U.S. Marine Corps. In boot camp, where young
"gyrenes" learn the skills of warfare, Sherrill qualified as an "expert" with an M-14 rifle. He seemed to adapt fairly well to military life despite a tendency to resent those who exercised authority over him.
In later years, it would be rumored that Sherrill had served in Vietnam, a reputation he did nothing to dispel, but actually, he spent most of his Marine Corps tour in Camp Lejeune, North Carolina. When it came time for him to requalify on the rifle range, he dropped down two steps from the top classification of "expert" to "marksman." It didn't seem to bother him, though, because he earned an "expert" medal with a pistol.
Other than the badges for firearms qualifications, Sherrill earned no medals, ribbons, or awards. His general behavior record was clean, showing no disciplinary actions against him. Four days after Christmas 1966, after serving almost three years, he received a general discharge under honorable conditions, one step down from an honorable discharge.
Perhaps Sherrill had forgotten the difficulties he'd encountered in civilian life. Once again, he couldn't seem to settle into a career or hold any long-term jobs. Instead, he enrolled at Edmond's Central State University in mid 1967 taking general education classes. Directionless, he couldn't seem to make up his mind about a major. If a course didn't excite him, Sherrill would simply drop out and enter a new one. He received grades on the low end of the scale, winding up with a string of "Ds" and "Fs." Without ever earning a degree, he dropped out for the final time in the spring of 1970.
In those unsettled student years, he lived with his mother in a modest white frame house on Northwest 27th Street, a working class sector of Oklahoma City. An old school chum who dropped in periodically thought Sherrill had a "short fuse," and hated to see him yell at his mother. But relatives later insisted that he gave her attentive care.
The same fragmented pattern of indecision and unrest marking his academic record also influenced Sherrill's employment history. For long periods of time, he simply ignored the responsibility of working, choosing instead to live on his mother's limited income. One of the few jobs he held in the mid70s came as the result of a government program making federal dollars available for municipalities to hire needed technicians. Sherrill served a short stint, October 1974 to July 1975, as an electronics technician repairing traffic lights in Oklahoma City. His supervisor thought "he was kind of an eccentric person ... kind of strange."
After he resigned, Sherrill again spent time lounging around home and operating his ham radio set. On the airwaves, he met another ham who was a member of the Oklahoma Air National Guard at Will Rogers Air Base (now Will Rogers World Airport). The man convinced Sherrill to take a trip to the recruiting office. Sherrill bicycled the 10 miles out to the air base several times before the military unit accepted him in 1976. A female civilian employee of the 219th E-I Squadron encountered Sherrill several times while he was attempting to enlist, and periodically afterwards. She formed some distinct ideas about him, later saying, "I just got the impression, you know, he's a weird guy.... He always struck me as one of those men that, you know, peeped in windows and molested little kids." Asked what gave her that impression, she replied, "Just his mannerisms. The way he would look. He's the first man ever in my life - and I have dealt with men all my life and worked with them - that I felt like I was nude standing there talking to him. Or sitting there." She commented that she had told her male associates, "Don't leave me in the building by myself with him."
She thought he was "Guard bumming" which meant an unemployed person just hanging around the military unit because he had nothing else to do. She was right about the unemployment. But through military reserve contacts, Sherrill managed to land a job as a civilian maintenance employee at Tinker Air Force Base in the southeast quadrant of Oklahoma City.
Visitors to the tidy home Sherrill shared with his mother always remarked about the neatness of the house's interior. But that ceased in 1977 when Sherrill's mother retreated from the real world, her abilities ravaged by Alzheimer's disease. By the end of the year, she needed full-time care at a nursing home. The few remaining callers at the house were appalled at how it became increasingly cluttered. Sherrill's longstanding interest in ham radio grew to major proportions during that period. He spent everything he could spare on related electronics gear and appliances. Using his skill and equipment, he volunteered his free services to the emergency operations center of the American Red Cross. As he acquired a vast array of gadgets, the house, garage, and yard filled with boxes of tubes, wires, microphones, and receivers. Five unsightly radio antennas towered over the roof like aluminum skeletons. Soon, the yard sprouted with empty cable reels and discarded, rusting junk. Piles of magazines, including Penthouse, Playboy, and paramilitary publications, took up space inside the house. Neighbors labeled Sherrill a "pack rat."
When his mother died in 1978, Sherrill continued to occupy the home, and let it fall into even worse disrepair.
Even though he had a small income from her insurance, Sherrill found it necessary to seek work again after being dismissed at Tinker Air Force base. He landed a job at a radio store as an installer and technician. Eight months into his tenure, a senior coworker made an innocent mistake that infuriated Sherrill. When a customer asked for assistance, the older employee nodded toward Sherrill and suggested that the "young man over there" would help. Glaring in anger, Sherrill snapped out loud, "I have a given name and it's. Patrick Sherrill." With that, he stalked out of the store and never returned.
Years later, the store manager would say, "I turned around and the customer was gone. So was Pat." Asked about Sherrill' s personality, he recalled, "I had no real problems with him except when he quit for such a ridiculous reason. [I think] he was just a lonely man..."
That same year, Sherrill found another job with the Federal Aviation Administration (FAA) as a file clerk. One coworker who knew nothing about his previous background figured that Sherrill must have been in the military because he always stood ramrod straight, walked as if he was marching, and wore shiny army-style shoes. The colleague commented that Sherrill never seemed violent, angry, or even upset. The only troubling thing about him was a whispered rumor that he had "exposed himself " to a young female temporary employee.
The rumor was heard by Herb Cardwell, an FAA. manager who was also an avid ham radio operator. Cardwell gave little credence to the rumor, but still considered Sherrill an "odd duck," who was "hard to talk to." If anyone attempted conversation, Sherrill would either respond with some arrogant remark, or "act like he was out in space somewhere." Something that later stood out in Cardwell's mind was Sherrill's out-of-style clothing with "pants people wore back in the 'fifties." A common interest in ham radio was the only bond between the two men. Cardwell said that he did respect Sherrill, whose operator code was N5PS, for consistently observing the rules of ham radio while on the air, refraining from cursing or injecting commercial messages into the traffic. But in face-to-face conversations, Sherrill often seemed "arrogant and bull-headed." One afternoon, while exchanging some thoughts about their mutual hobby, Sherrill asked several technical questions. Each time Cardwell tried to answer, Sherrill would interrupt with, "I know that." After three repetitions of the rude conduct, Cardwell gave up and kept his distance thereafter.
Sherrill made it difficult when he showed up at Cardwell's home one evening, just before dinnertime. Cardwell stepped outside, making it clear that he had no intentions of inviting the impromptu visitor to stay for the evening meal. They discussed ham radio, on the porch, for 30 minutes. Finally, Sherrill left.
In Cardwell's duties as an investigator of airplane accidents, he had another strange experience with Sherrill. When a small plane crashed in northern Oklahoma City on a weekend, Sherrill immediately radioed and asked Cardwell if he planned to visit the site and investigate the accident. Cardwell said no, someone else had drawn the duty. Sherrill announced that he was going to go and have a look. Cardwell all but ordered Sherrill to stay away. He later heard that Sherrill had ignored his advice and showed up at the scene, where officials had to shoo him away.
Another FAA employee remembered Sherrill for allegedly sexually harassing women in the office. He said Sherrill never showed any violent behavior and was "real quiet." But he recalled that women complained about Sherrill because he was always "staring" at them and "rubbed up against them" near the file drawers. Sherrill was fired because he had cornered a woman in the elevator and "wouldn't let her out."
Something about military life must have appealed to Sherrill. After serving six years with the Oklahoma Air National Guard, he dropped out then immediately joined the U.S. Air Force Reserve in August 1982, where he became part of the 507th Tactical Fighter Group. The regular meetings, drills, and periods of active duty gave him not only a sense of identity, but filled in the large gaps of idle time in his life.
Most of his days had been spent with his newest activity, bicycling, or spending endless hours at the console of his ham radio. The bike became his major mode of transportation and his primary physical recreation. He informally joined group tours, usually uninvited, such as the annual "Freewill" tour in which members pedal across the entire state of Oklahoma. Sherrill showed up without the necessary provisions or the required sleeping bag. One of the club officers provided him with a blanket. At the overnight camp sites, Sherrill crawled under a trailer to use as shelter while he slept.
It is quite probable that, in his bicycling activities, Sherrill ran across another enthusiast during that period. Edmond USPS employee Thomas Shader belonged to the Oklahoma Bicycle Society, and spent a great deal of his spare time touring the country astride his state-of-the-art bike. If they ever did ride in the same group, no one could recall either man ever mentioning it.
Sherrill's first real attempt to tackle long term employment, other than his Air Force Reserve activities, came in 1982 when he applied at the USPS. The postal service put him on the payroll, but it lasted only 89 days. Hired in Oklahoma City as a "multiple position" letter sorter, Sherrill was accepted on the condition that he qualify for the job by demonstrating competent performance and by passing certain tests within 90 days. He fell short on both levels, threw up his hands in disgust and resigned a day before the three-month deadline. A coworker later recalled that Sherrill hadn't created any serious problems in the workplace, but was "strange, kind of eccentric."
When he found himself again needing a source of income, he turned to the Oklahoma City Chapter of the American Cancer Society in March 1984, and filled a position in the stockroom. It probably helped that his sister, who lived in Edmond, was the organization's director of professional services. Even with her sponsorship, the job lasted only five months. Sherrill complained that he needed to earn more than the minimum wages they paid, so he left in September.
With the 507th Air Reserves, Sherrill attended an extensive training course at Lackland Air Force Base near San Antonio, Texas, to become a firearms instructor. According to an officer stationed there, the school is one of the finest available for instructor development courses in small arms training. Shaking his head in disbelief, the officer said he had observed Sherrill in the classroom and on the firing range and could not understand how he could have successfully completed it. Sherrill, he said, was nonproductive in the classroom and would make a poor firearms instructor, seeming smart enough but often acting "slow." His demeanor, the officer said, was such that people did not want to associate with him or help him. The rumor circulated that Sherrill was homosexual, but the officer saw nothing to substantiate it. In any case, he said, he wouldn't want Sherrill to babysit any kids.
Other personality characteristics in Sherrill bothered the officer as well, prompting his comment that Sherrill was the type of individual one wouldn't want to humiliate or push too far "as he might knock your head off."
Despite the officer's personal opinions, he acknowledged watching Sherrill shoot a .45 pistol at the air range on a drill weekend, and said the man was "an excellent shot."
A classmate at the firearms training saw a different Patrick Sherrill in several respects. Vincent Stubbs was assigned to quarters in the same barracks with Sherrill and 40 other class members during the nine-week course. He became one of the few people to befriend Sherrill. The two men ate their meals together and toured San Antonio during off duty hours. They would later keep in touch by mail. Stubbs described his 42-year-old buddy as an "overweight bachelor who always expressed concern that he was going nowhere," and whose main interests in life were guns, ham radio, and bicycling. Sherrill, he said, was very intelligent, understood electronics, and "was the most precise person" he'd ever known.
During the rigorous training, Stubbs said, they were taught how to handle and shoot almost every kind of weapon. Sherrill, he thought, was an excellent shot whose favorite handgun was the .45 automatic. For some reason, Stubbs recalled, Sherrill disliked one of the female instructors and took every opportunity to give her a hard time.
Described by most people as uncommunicative and reticent, Sherrill opened up to Stubbs. He spoke of his college years, his experiences on the wrestling team, and his time in the Marine Corps. He even mentioned a girlfriend who sang with him in a church choir. Sherrill read a lot, Stubbs said, usually picking "good books." Stubbs was particularly impressed with Sherrill's choice of reading material each night before going to sleep: the Holy Bible.
Sherrill's home life on Northwest 27th Street sometimes seemed relatively normal, but periodically took on some bizarre twists. One of his neighbors stated that as far as she could tell, no one could get along with Sherrill. Louise Eastman, who lived on the same block for years, said that in her opinion, "He was a nosy kind of guy, always wanting to know what everyone else was doing."
In one instance, she recalled, some kids were trying to sell candy door-to-door. They stood at her entry making their childish pitch, when Sherrill walked up the street and asked what they were saying. "None of your business," Eastman told him.
"Do you know who I am?" Sherrill demanded.
"Yes, I know who you are. Now get off my property and get away from my house," Eastman ordered. Sherrill stared intently at her, but backed away into the street when Eastman stepped off her porch in his direction.
Eastman remembered that Sherrill would take late-night strolls in the neighborhood, pacing furtively up and down the sidewalks in the darkness and making frequent stops to stare into unshaded windows. Sometimes, he would turn up the paths leading to front porches and edge toward the houses, to get a closer look. When Eastman's mother made overnight visits, she'd see Sherrill peeping in. She told her daughter that if he ever came close enough, she would throw cold water in his face. Several of the residents called the police over a period of time, but no one ever saw Sherrill arrested. Eastman heard some talk about Sherrill using a telescope after that to make his nocturnal observations. Asked if she thought Sherrill was a violent man, Eastman pondered the question for a few moments, and said she had actually seen nothing in his personality to suggest violence, but that he could give a very "hard stare" when angered.
The occupant of another house on Sherrill's street corroborated the accounts of his peering into his neighbors' homes.
"Pat would stand out on the street and look in windows." When the police were summoned, she said, they did nothing "because Sherrill was only looking and never tried to break in a house." Troubled by his persistent peeping, she bought an air conditioner so she could keep windows and drapes closed at night.
Except for a homely pit bulldog he acquired, Sherrill lived alone. He usually kept the fierce-looking pooch in the house, but one day it escaped outside and immediately attacked a smaller terrier next door. Sherrill heard the growling scuffle, and rushed out just in time to see his neighbor kicking at the pit bull in an attempt to separate them. A witness reported that Sherrill became furious and loudly berated the terrier owner. When the animals were finally pulled apart, the badly injured small dog required treatment from a veterinarian. The pet healed, but the relationship between its owner and Patrick Sherrill didn't.
The cute classmate Sherrill had watched at Harding High School showed up in his life again. Long after graduating and getting married, she moved into Sherrill's neighborhood. She was there only a short time when she began receiving obscene phone calls. The voice sounded familiar, and she soon connected it to the strange young man from her school days who "had an older-looking face because he was already starting to go bald." The next time she heard the caller spewing obscenities, she calmly said, "Pat, quit calling me." The unwelcome telephone intrusions came to a screeching halt.
The folks on 27th Street agreed that Sherrill was more of a nuisance than a danger. They said he never really did anything spectacular or violent. The children liked to taunt him and call him "Crazy Pat," which stemmed from his paranoid accusations that they were always laughing at him. He'd catch sight of a group of kids giggling, and charge over to the parents' house demanding they put a stop to it. But they just humored him, and the children found it great fun to laugh, run, and taunt him from a safe distance. No one wanted to make Sherrill too angry at close range. Standing six feet tall, and weighing nearly 200 pounds, Sherrill's appearance discouraged the thought of physical confrontation.
In October 1984, Sherrill ended his tour with the Air Force Reserve. Within days, he telephoned the woman who'd been so wary of him during his previous six years with the Oklahoma Air National Guard, the same one who felt naked when he looked at her. Sherrill asked her advice about his reenlisting. She didn't want to encourage him, but suggested he contact the appropriate officials. Shortly after that, an officer approached her to solicit her opinion about accepting Sherrill. She answered, "You can do what you want to, but, you know, I wouldn't accept him ... Do what you think's best."
The officer took a chance, and Sherrill became a member of the 137th Squadron as a combat arms instructor, with the rank of sergeant.
Not long after rejoining the National Guard, Sherrill accepted an invitation to try out for the post's marksmanship team. Another member recalled meeting him at an indoor practice range. In a courteous manner, Sergeant Sherrill offered him some pointers about accurate shooting which the member thought was good advice. Sherrill asked him about weapons issuing procedures for the marksmanship team. The member passed on what he knew about obtaining permission, checking out the guns, how to get ammunition, and the importance of keeping the weapon secured at home.
The following spring, April 1985, Sherrill decided to give the USPS another try. He applied in Edmond, utilizing the extra points routinely awarded by the USPS to help veterans qualify, and passed the written and physical examinations. He was not given a psychological exam, despite the peculiar behavior seen during his former short stint in Oklahoma City. Sherrill joined the Edmond force as a part-time letter carrier in April. "Parttime" in the post office isn't what it sounds like. The classification means simply that the employee works for an hourly wage, not an annual salary and is not guaranteed certain working hours. Because of the high volume of mail funneling through the Edmond facility, which employed about 100 people, Sherrill was able to put in the normal 40 hours each week. With some overtime, he earned approximately $13,000 in his first year.
Initially, Sherrill's performance seemed adequate, but his social skills continued in the same negative mode. He just didn't seem to mix well with colleagues, other employees, or supervisors. As he struggled through the summer, the problem festered beneath the surface.
In August, Sherrill ran into his old military pal, Vincent Stubbs, during two weeks of active duty with the Air National Guard at McChord Air Force Base near Tacoma, Washington. Stubbs and his family invited Sherrill to tour the Seattle area with them and later join them for dinner at the home of some relatives. Sherrill seemed deeply grateful, saying, "No one has done this for me before.
Alone with Stubbs, Sherrill spoke proudly of his USPS job, but said that he was unhappy about the way he was being treated, and didn't like being forced to stay in one place sorting mail for long periods of time.
Upon parting, the two old buddies made promises to get together again. They never would. Vincent Stubbs would one day say about Sherrill, "Pat was the loneliest man I have ever known."
Back on the job in Edmond, more friction developed. In October, Bill Bland, Supervisor of Mails and Delivery, signed a letter, which was handed to Sherrill, informing him that he was suspended for seven calendar days. The reason stated was, "Failure to discharge your assigned duties conscientiously and effectively." It stated:
On September 19, 1985, you did fail to protect mail entrusted to your care, as evidenced by the fact you left two trays of mail and three parcel post items unattended, overnight, at 601 Vista Lane. Your failure to discharge your assigned duties conscientiously and effectively resulted in a one day delay in delivery of approximately 500 pieces of mail which had been entrusted to your care.
Five months later, Bill Bland issued another letter, this time suspending Sherrill for 14 calendar days:
On March 31, 1986, you acted in a very unprofessional manner by telling a customer ... that you did not need her help in finding the apartment mail boxes and did not care if the tenants received mail or not. The customer reported this incident ... [and] stated that you were very rude to her, adding that she was only trying to help you find your way around the complex.

... you again acted in this manner ... The customer reported by phone and by customer complaint form ... that you sprayed his dog with dog spray. The dog was and is behind a 5 foot fence with a locked gate. When questioned about the incident you admitted that you have walked past him many times in the past and was [sic] fully aware of the dog's presence behind the fence. You also stated that you had just received a new can of dog spray and was [sic) not sure it would work but decided to use it on this dog anyway. You also asked the customer when questioned by him about the incident [sic] if he wanted his mail delivered or not.

This type of service seems consistent with you [sic] past performance evidenced by a suspension given you on October 2, 1985 and several discussions and a letter of warning. This type of behavior will not and cannot be tolerated.
Sherrill confided to a longtime friend that he'd been suspended for spraying a dog with Mace. Asked if the dog had attacked him, Sherrill admitted that it hadn't, but it had growled and barked at him the day before. At that time, Sherrill had tried to spray the intimidating animal, but the propellant hadn't worked. He obtained a new can and when he came to the dog's yard, he leaned over a fence, aimed the nozzle, and sent out a stinging mist to "test the can and see if it worked." Unfortunately for Sherrill, the resident witnessed the whole thing and reported it to postal management.
When confronted, Sherrill admitted what he'd done. But after management suspended him, he told his friend that the supervisors were "making book" on him. That meant, he explained, they were accumulating every infraction, no matter how minor, in an effort to get rid of him. To one of his few close friends, Sherrill complained that his supervisor was timing him on his route on the days when he had heavy loads of mail to deliver, and timing a female carrier on the same route when the load was light. "He didn't appear to be too upset, but Pat never did appear upset over anything."
Through it all, Sherrill maintained his middle-of-the-road demeanor, showing no extremes in behavior or emotion. One associate said, "You'd never know what was going on inside his head
Some of the mail carriers, including Sherrill, liked to stop in at the Christian Nursing Home in Edmond for lunch or a glass of lemonade. An employee there described Sherrill as friendly, personable, and quite pleasant. He'd often speak to one of the nurses. "Not a great conversationalist," she would later say about him, but if she kidded him about the shorts he wore with the summer uniform, he'd "kid right back."
On April 5th, Sherrill checked out a Colt .45-caliber semiautomatic pistol from the Air National Guard marksmanship unit. The privilege of keeping such weapons at home was limited to members of the team.
The Air National Guard took Sherrill to England for two weeks of active duty in late July 1986. He told an officer that he was "really getting hassled" by the postal service managers about his request for a military leave, and emphasized his need for the documents verifying that he was, indeed, serving with his Guard unit in England. The officer assured him there would be no problem.
When the group arrived in a town not far from London, Sherrill had expected to be lodged with another unit member in civilian quarters, but found himself billeted alone in an onbase single room. Disappointed, he requested a change to offpost facilities, which required two people per room. An attempt to accommodate him failed because no one could be found who would double up with Sherrill.
One of the unit members would later discuss the trip and his interaction with Sherrill: "I can recall a conversation very vividly that we had in England. Several of us ... were planning a trip to London through American Express ... I personally asked if he would like to go with us, and he said no, he was going to ride around the countryside and get a firsthand look at the local culture. He said they were having difficulty staying busy; there wasn't work for them to do. They had to go to a [weapon firing] range away from our base ... I said, 'Please try to stay busy or at least be out of uniform so that you are not conspicuous.' He did, thereafter."
Asked if Sherrill seemed angry or moody, the member said no, and that he seemed to be a pleasant person who was usually smiling.
Upon the unit's return to Oklahoma in early August, one of Sherrill's relatives heard his views of the duty in England. "He expressed disappointment in the trip, calling it unsuccessful and placing blame on his commanding officer. He said the C.O. had them doing menial, trivial tasks and that he restricted their free time for sightseeing off base." Sherrill seemed at first to enjoy his Guard involvement, the relative said, especially his participation in the marksmanship team. In recent months, though, his interest appeared to diminish and he stopped talking about the team members and competition. More often, he spoke of his problems at the post office, focusing often on two supervisors who he thought were trying to get rid of him. He'd been criticized for misdelivering mail, but rationalized that it wasn't his fault, that the mail hadn't been properly pre-sorted. According to the relative, Sherrill said that only one of his customers complained about his deliveries, a woman in a mobile home park who was hostile toward him for an unknown reason. His boss, he complained, was going overboard in meting out disciplinary actions. Sherrill said he wanted to transfer to another job with the Postal Service, perhaps to the maintenance crew or something more technical than delivering mail.
Shortly after returning from England, Sherrill checked out a second pistol, a Remington .45-caliber semiautomatic, from the chief of the Air National Guard marksmanship team. On the next weekend, before practicing with the group, he picked up his authorized 200 rounds of ammunition.
The humidity of August days in Central Oklahoma can be oppressive. It was that way on Tuesday afternoon, August 19th, in Edmond. The air conditioning inside the brick post office building labored to keep the atmosphere comfortable. One of the employees glanced up from her work and could see through the glass panel of the supervisor's office where another kind of heat shot up to danger levels. "I saw one of our uniformed mail carriers, Pat Sherrill ... with supervisors Rick Esser and Bill Bland. Although I could not hear, it was obvious that Pat Sherrill was being reprimanded. I could see the look on his face which struck me as being very strange, eerie."
A mail carrier also watched the glass-enclosed conflict. "When I returned from my route about one o'clock P.M., . . . Pat Sherrill was in the supervisor's office.... Bland and Esser were talking to him with the door closed. It appeared he was being reprimanded."
A third coworker would recall a conversation she had with Sherrill a week earlier on August 12th. "I was alone with Patrick in the break room. He was angry at management over some annual leave he had to account for. He said Bland didn't think he [Sherrill] was much to worry about, but he'd be sorry. I said we all knew he [Pat] had been having trouble with management. He said they'll be sorry and everyone would know."
---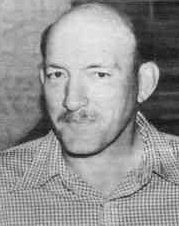 Patrick Henry Sherrill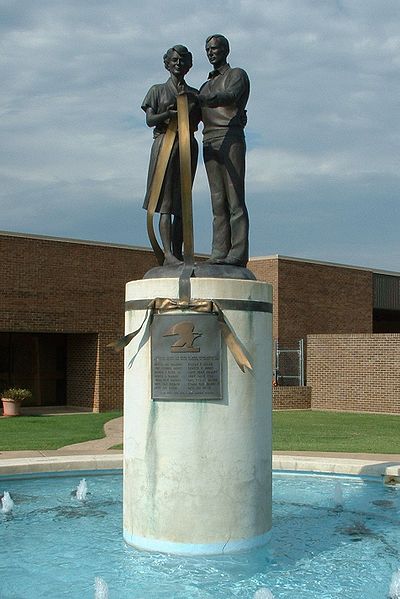 Memorial of the August 20, 1986 post office killing spree that left 15 dead,
including the shooter. Edmond, OK.