The Hunt Goes On For Killer
Waseca lake bottom searched in rare display that investigation into Larson murder continues
By Robb Murray - Free Press Staff Writer
Wednesday, August 25, 1999
WASECA - The search hasn't died down. Nor has the determination to find the killer.
That's why even though it's been four months since Cally Jo Larson was found stabbed to death and hanging in her home and no one has been arrested, authorities acting on a tip last week searched the bottom of Waseca's Loon Lake.
Police won't say what they were looking for or whether they found anything, but they said the tip was very specific in telling authorities where to search and what they might find.
The search area was a few blocks down the road from Larson's house, said Waseca Police Chief Jim Staloch. A dive team from the Le Sueur County Sheriff's Department spent all day Aug. 17 searching a 150-square-foot area.
"I think it showed the community that we're still investigating and we're still working on it," Staloch said. "We still have two [Bureau of Criminal Apprehension] agents full time and two of my staff still dedicated to this investigation."
Larson, 12, was found dead in her home April 20. Her 17-year-old sister found the body. Cally was killed by a stab wound to the chest and was hanging by her neck. Her body was partially nude when it was found and she had been sexually assaulted. Police said her attacker probably broke into the home before Larson returned from school.
During the first few weeks of the investigation, the Waseca Municipal Building was inundated with law enforcement officers from around the state arriving to aid the investigation, and with media arriving to cover it. Police followed up on more than 3,000 leads and interviewed more than 1,000 people.
Eventually, as weeks went on without an arrest, activity in Waseca died down. But Staloch said the investigation has maintained momentum.
A few months ago a man named Donald Blom was arrested on kid-napping charges in connection with the abduction of Moose Lake con-venience store clerk Katie Poirer. When it was learned a week later that Blom had been in Waseca around the time Larson was killed, Waseca investigators quickly zeroed in on Blom as a suspect.
But other than the fact that Blom made several trips to Waseca with his wife to visit his wife's relatives, Staloch said there is no physical evidence to link Blom to the killing.
Blom remains, however, among a small pool of individuals investigators have not been able to exclude as suspects.
And Staloch said authorities still haven't located several vehicles seen near Larson's home on the day of killing, including a black pickup truck, nor have they found the truck's driver, a man depicted in a composite sketch released three weeks after the murder.
Two weeks ago, investigators asked Mankato police to follow up on several leads. The investigation was also featured recently in a regional intelligence bulletin circulated among law enforcement agencies. And whenever an officer, conducts a traffic stop, the potential always exists that the driver is Larson's killer.
"If our patrol officers make a stop and find a pervert, we check him out," Staloch said, adding that sev-eral leads have developed over the past few months simply from officers or secretaries remembering individuals with sordid pasts.
But last week's water search was the first time in months that signs of the investigation were publicly visible. Although it wasn't his intention, Staloch said he's glad people were able to see that his investigators continue to hunt down Cally Jo's killer.
He also hopes the exposure can jar the memory of someone who may have seen something near Cally Jo's house April 20.
"What we've found out during the course of this investigation is that people may have seen something, but because they believe it's not relevant, they don't say anything," Staloch said. "We want people to know even at this late date that if they've seen something, even if they don't think its unusual, it is relevant.
"We're going to be working on this as long as it takes and we believe there's people out there who have seen something and can provide us with direction and insight."
---
Murder That Changed Waseca Forever
Residents want to move on, but many are still afraid to be home alone
By Robb Murray - Free Press Staff Writer
September 3, 1999
WASECA - Ask anyone who lives there about life in Waseca and they'll tell you that even though things are slowly getting back to normal, nothing will be the same in their small town until Cally Jo Larson's killer is caught.
That includes the heightened sense of optimism that used to accompany the first days of a new school year.
"From some standpoints, it was a pretty normal beginning," said Waseca Junior High Principal William Allaire on Wednesday, the first day of classes at Cally Jo's school. "But it definitely was different. There's still worry, and a mild depression."
When Waseca students left their classrooms for the summer in June, they began their three-month vacation facing this reality: The man who broke into 12-year-old Cally Jo's home, raped her, plunged a knife into her chest and left her hanging by a rope was still at large and possibly living among them. And nothing has happened in the investigation to make them think he's going to be caught any time soon.
That reality made for a summer where few kids walked alone, some sought counseling, and community members looked for ways to ease the fears of their children.
"What we're hearing is the kids are afraid to baby-sit, afraid to sleep in their own rooms, and they're afraid to come home after school," said Ron Koble, the Waseca Police Department's liaison to the school district. "I haven't seen that the fear has subsided. The kids are aware that this person is still out there."
With the onset of school comes the onset of a concept that was worrisome enough without the fact that a child had been killed: students going home to empty houses.
"During summer, it's easier for parents to send a kid over to a neighbor's or find something else for them to do," Koble said. "With what happened to Cally, it's going to renew fears that she went home to an empty house too."
Cally Jo was found dead in her home April 20. Her 17-year-old sister found her body. Police said the home showed signs of forced entry and noted several items had been stolen, including some coins. No other details of the crime have been released.
Susan Shaffer, a Mankato psychologist, has seen some of the fears firsthand.
Shaffer spent several hours this summer counseling Waseca students, some of whom were friends with Cally Jo. She says many of them believe that what happened to Cally Jo can happen to them.
"We have a whole group of kids who have not slept in their own beds since Cally Jo was killed," Shaffer said. "Some are double, triple and quadruple checking the locks on their houses, some won't let their siblings out of their sight, some kids are panicking when they don't know where their mom or dad is."
Those fears are to be expected.
Said Shaffer, "These are typical reactions to an extraordinarily horrifying event."
Shaffer said the reactions are textbook examples of post-traumatic stress disorder. But she's also seeing some reactions that point to more serious problems.
Some have reported actually seeing Cally Jo, including one child who asked his mother to move away from a mirror so Cally Jo could use it brush her hair. Others say they are waiting for Cally Jo to reveal the killer's identity during a dream, and some express remorse that it wasn't they who were killed instead of Cally Jo.
"That's high risk," Shaffer said, "and it needs to be addressed."
In addition to professional help, the community has responded with ways to show support.
During the week of Sept. 13-17, a group called Join Hands Waseca will conduct an event called Stand Out for Safety. More than 100 women wearing pink hats are expected to come out of their homes and stand at bus stops when buses drop students off.
The gesture aims to be symbolic in that Cally Jo's final living moments were spent walking a block and a half from her bus stop to her home. It also aims to be practical in that the group recognizes children's fears.
"Some people are saying, 'Let's move on, let's get over it.' But there are some kids who are very fearful and don't want to go home alone after school," said Barb Penny, organizer of Join Hands Waseca. "It's hard to assure kids when, in fact, that's what happened to Cally Jo. She went home and someone was inside it."
School officials knew there still would be some students who hadn't gotten over the emotional issues brought on by Cally Jo's death.
For that reason, Allaire announced at an assembly that students who need a counselor for any reason can see one, and they shouldn't feel afraid or embarrassed to ask for help.
While it's too early to tell if students will take him up on his offer, Allaire believes students still think about what happened to Cally Jo, and the fears so obvious in the school hallways last spring still exist.
"There's still someone among us who has taken the life of one of our kids," Allaire said.
The police investigation, meanwhile, continues, but with a fraction of the manpower that characterized its first two months.
Two agents from the Minnesota Bureau of Criminal Apprehension still are on the case, but their presence is no longer full time. Most of the work now is being done by two Waseca police officers.
Waseca Police Chief Jim Staloch said the department has addressed the fact that the investigation cannot continue forever. The department has established a plan to pull resources when tips stop coming in and leads dry up.
Staloch said he thought a month ago that by now they'd have implemented that plan. But as long as there are leads to follow, he'll continue to dedicate resources to finding the killer.
He also said his department has publicly offered to help residents set up neighborhood watch groups. Given the circumstances around Cally Jo's death, Staloch said a neighborhood watch group could have made the difference.
"I'm a little surprised that people haven't gone after those," Staloch said. "We're going to promote them and market them more and see what happens."
Penny agreed.
"I was at an event where [Cally Jo's aunt] from Minneapolis spoke and her best advice was to be a snoopy neighbor," Penny said. "Watch your neighbor's routines, watch what car they drive, delight in snoopy neighbors."
For parents of students afraid to go home after school, police say there is no shortage of school or community activities.
Koble said parents often turn to institutions to take the leadership role in getting kids involved. But institutions can only do so much. It is up to parents to take an active role in their children's after-school lives.
"That's something that needs some work," Koble said. "The number of programs are immense. If you really try, you'll find something."
---
Jury To Convene In Larson Case
No one has been arrested in the death of the 12-year-old Wasecan
By Robb Murray - Free Press Staff Writer
Tusday, June 6, 2000
WASECA - A grand jury will convene June 27 in Waseca County to hear evidence in the Cally Jo Larson homicide case, authorities announced Monday.
Although no one has been arrested in the 12-year-old's death, the prime suspect in the case is already behind bars.
Lorenzo Sanchez, 28, was convicted last month for a string of house burglaries and was sentenced to four years in prison. Even though investigators won't officially confirm Sanchez' status as the prime suspect, they've said unofficially for several months that he has been the focus of their investigation.
In a statement issued Monday, authorities said: "Individuals are often not charged or arrested before a grand jury convenes if a suspect or suspects are already incarcerated."
Cally Jo was found dead in her home April 20, 1999 , an hour and a half after she was dropped off by her school bus. The Waseca City Hall building turned into a hub of activity in the weeks following as dozens of law enforcement officials from around the state converged on Waseca to help the investigation.
Thousands of leads were followed and hundreds of people were interviewed, but the case didn't get a break until Feb. 18 when Waseca police officer Kris Markeson saw Sanchez walking around a residential area that had been hit hard by burglaries. He arrested Sanzhez after finding him with a long screwdriver, which police consider a burglary tool.
How he became a suspect is unclear, but officials said property found at his Waseca home links him to the killing. One official said a compact disc case found at his home may have been Cally Jo's. Other reports say the collectible coins reported missing from the Larson home after the killing were found in Sanchez' home. Neither report has been confirmed officially.
In the weeks following Sanchez' arrest, it appeared something else was going on other than a burglary investigation. His bail, $160,000, was huge for a burglar. He was jailed in Rochester instead of Waseca because Rochester 's jail is more secure. And authorities, after they'd filed charges and linked him to more than a dozen burglaries, refused to release his jail booking photograph, saying that "doing so would hinder the investigation."
Also, in March, his attorney declined to comment on whether he was being investigated for any other crimes in Waseca County . And Sanchez is now in the Oak Park Heights prison, the most secure prison in the state. He has a history of drug and property crimes in Texas , but has no history of violent crime.
What happens next in the case is determined by the 23 men and women of Waseca County who will sit on the grand jury. They'll hear all the evidence presented by prosecutors and decide if it's enough to proceed with prosecution.
The grand jury can indict someone for the killing on first- or second-degree murder, but given the facts of this case - and the rare instances in which grand juries are convened - this grand jury most likely will be asked to return a first-degree murder indictment.
In Minnesota , prosecutors aren't allowed to simply charge someone with first-degree murder. Only a grand jury indictment can do that. Also, Cally Jo was found sexually assaulted. If someone commits a murder in the process of a sexual assault, prosecutors can pursue a first-degree murder indictment.
Once it's heard the evidence, the grand jury has as long as it needs to reach a decision. The results of that decision, which probably would come within a few days of hearing the evidence, wouldn't be unveiled until the initial court appearance of the person indicted.
Upon the request of Waseca County Attorney Larry Collins, this case will be prosecuted by the Minnesota Attorney General's Office.
In complex cases such as this where DNA will be the key evidence, smaller counties routinely ask for state assistance because the attorney general's prosecutors have more experience dealing with it. They also have more experience dealing with high-profile cases.
During the past few years, several local cases have been prosecuted by the Attorney General's Office, including the case of Thomas Rhodes, the Mankato man who was convicted of killing his wife on a family vacation in Spicer, and the case of Eddy Flores, who was convicted of murdering a man in Windom. Both cases involved complex DNA evidence.
---
Sanchez To Challenge Arrest
November 11, 2000
WASECA - An old issue will dominate Lorenzo Sanchez' new case in court this week as the man indicted for the murder of 12-year-old Cally Jo Larson makes his first important court appearance in Waseca.
The Waseca County Courthouse is booked all week for a hearing to litigate pre-trial issues. The most contentious: Sanchez' arrest. It will be the second time his attorneys will challenge an arrest they say was unconstitutional and initiated by nothing more than a police officer's hunch.
Sanchez' attorneys also have requested the trial be moved out of Waseca County because of pre-trial publicity, a move prosecutors say they won't contest. Prosecutors acknowledge the case has generated more media coverage than any in recent memory in southern Minnesota.
Attorneys also will argue over whether complex DNA evidence can be admitted and whether medical records subpoenaed from a Texas prison can be released to prosecutors.
They hope Texas prison doctors, who reportedly examine prisoners upon incarceration, noted the existence of small beads Sanchez had implanted under the skin on his penis. If they did, the records will establish Sanchez had the implants before the murder. The medical examiner who performed Cally Jo's autopsy said damage done during the rape was worse than normal, and that such implants could have been the difference.
Cally Jo was found dead in her home April 20, 1999 , less than two hours after she walked home from her school bus. She had been stabbed in the chest, sexually assaulted and left hanging by her neck. A 14-month investigation resulted in Sanchez' indictment in July.
The key issue is the arrest. And if Sanchez' attorneys can convince Judge Lawrence Collins the arrest was illegal, the case against Sanchez would be effectively over because the arrest preceded a series of events that make up the bulk of the case against him.
Waseca police officer Kris Markeson was on patrol in a Waseca neighborhood Feb. 19, 2000 . He was told to look for suspicious activity in an area hit hard by burglaries.
When he saw Sanchez walking down the street, he approached him. Markeson asked him a few questions and Sanchez' answers seemed, Markeson said, suspicious. Markeson searched Sanchez, found a screwdriver and placed him under arrest for possession of burglary tools. There also was an active warrant out for Sanchez' arrest stemming from a Steele County drunken-driving case.
Sanchez' hearing this week is scheduled to begin at 9 a.m. Tuesday and is open to the public.
---
Sanchez: I Wasn't Told Of My Rights
Defendant in murder case says he was never told he could contact Mexican officials for advice
By Robb Murray - Free Press Staff Writer
Thursday, December 07, 2000
WASECA - Lorenzo Sanchez says authorities violated his rights by not specifically telling him - a Mexican citizen - that he had a right to contact Mexican officials for legal advice.
Prosecutors say it would have been impossible for Sanchez, who has been arrested several times for crimes in two states and represented in previous cases by the attorneys he has now, to not have been told at some point about his rights.
Wednesday's court hearing, where Sanchez stands accused of killing 12-year-old Cally Jo Larson on April 20, 1999, centered on this debate and a legal concept called the Vienna Convention.
A provision of the Vienna Convention requires arresting authorities to notify a foreign citizen of the right to seek help or legal advice from the consulate of their native country. In this case, Sanchez' attorneys say Waseca police should have told Sanchez of his right to call the Mexican Consulate office in the United States.
But authorities say they never knew, even though Sanchez spoke limited English, that Sanchez was a citizen of Mexico. He told authorities on several occasions he was from Texas. He even produced a Texas identification card and birth certificate to prove it.
It wasn't until later - weeks after Sanchez claimed in statements to authorities that he was a U.S. citizen - that they obtained his true identity.
The National Association of Criminal Defense Lawyers says the Vienna Convention, by allowing foreigners access to consulate officials, helps "guard against the possible mistreatment of prisoners, and to facilitate the presentation of an effective legal defense by those possibly facing serious charges in a language they don't understand under a legal system with which they are unfamiliar."
Sanchez testified Wednesday with the help of an interpreter. He said he knew he had certain rights, but that authorities never gave him an opportunity to use a phone and never provided him with the phone number or address of the Mexican consulate. His first attempt to contact the consulate came, he said, after an another inmate in the Olmsted County Jail gave him the phone number.
Judge Lawrence Collins decided to delay ruling on whether Sanchez' Vienna Convention rights were violated until Sanchez and his attorneys decide whether to appeal an issue brought up Tuesday. Collins ruled against Sanchez Tuesday in a request to challenge Sanchez' original arrest on his burglary case. That arrest led to the discovery of evidence that made Sanchez the prime suspect in the murder.
Even though another judge already ruled the original arrest was legal, Sanchez wanted to revisit the issue during this trial. Collins denied that request, and now Sanchez and his attorneys are expected to appeal. If they do, they'll have to seek a writ of Mandamus from the appeal court ordering Collins to allow them to again argue the arrest issue. Such requests are typically handled much quicker than the months-long appeals process most cases go through.
Cally Jo was found dead in her home April 20, 1999, less than two hours after walking home from her school bus. She had been sexually assaulted, stabbed in the chest and left hanging by her neck.
The case was moving slowly until Sanchez was arrested in February. After pleading guilty to a string of burglaries, he was sentenced to four months in prison in May. Then in July, a grand jury indicted him for first-degree murder.
After suffering a loss of sorts on Tuesday when they were told they couldn't revisit the burglary arrest issue, Sanchez and his attorneys won a pair of minor victories Wednesday.
Several months ago the two sides argued over their exchange of evidence. Prosecutors were willing to disclose their DNA evidence but insisted on charging Sanchez' defense team several thousand dollars to cover photocopying costs. Sanchez challenged that, and on Wednesday Collins ruled in his favor.
Said Collins, "the conditions attached ... were so prohibitive as to be tantamount to a denial of data."
Collins ordered the parties to arrange funding so that a DNA expert hired by the defense could travel cross country to inspect the data and reproduce only the documents necessary to the defense.
On another issue, prosecutors withdrew a request to inspect medical records from the Texas prison where Sanchez served a three-year term. They had hoped a prison medical official would have noted the existence of bead-like implants in Sanchez' genitalia, implants that could have worsened the severity of the injuries done to Cally Jo's body. Prosecutors hoped the Texas prison notation on the implants would establish Sanchez had the implants prior to the murder.
In lieu of that documentation, though, prosecutors now say they will use witness testimony to achieve the same result.
Collins set a trial date of March 7.
---
Illegal alien admits slaying child
A man admitted in court Monday that he killed 12- year- old Cally Jo Larson when she arrived home from school as he was burglarizing her family's Waseca home in April 1999.
In a surprise guilty plea, Lorenzo Sanchez chose a chance at parole in 30 years rather than face a March 27 trial that could have put him behind bars for the rest of his life. A phony Texas identification card (Sanchez is an illegal immigrant [alien] from Mexico) may have led to Cally Jo's murder.
Sanchez told District Court Judge Lawrence Collins that he burglarized the Larson home and left, then realized he had misplaced his ID card. He returned to the house and was looking for the card when Cally Jo arrived home from school.
---
Sanchez pleads guilty in murder of 12-year-old Cally Jo Larson
Star Tribune
Mon Mar 5 2001
Waseca, Minnesota
Lorenzo Sanchez pleaded guilty today to one count of premeditated first-degree murder in the 1999 killing of 12-year-old Cally Jo Larson. Sentencing is scheduled for Tuesday morning; Sanchez will receive a life sentence, which means he will not be eligible for parole for 30 years. Members of Cally Jo's family are expected to speak in court.
---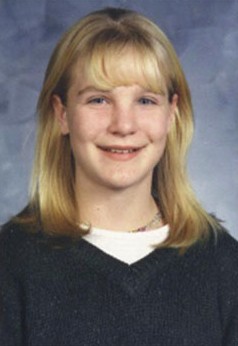 The victim, Cally Jo Larson, 12.