John C. Salvi III (March 2, 1972 – November 29, 1996) was an anti-abortion terrorist and a convicted murderer. He carried out fatal terrorist attacks on two Planned Parenthood reproductive health clinics in Brookline, Massachusetts, on December 30, 1994. These were the subject of intense media coverage. In the second attack security guard Richard Seron returned fire. Salvi then dropped a bag containing a second gun and 700 rounds of ammunition and fled. Police were able to identify him from a gun shop receipt in the abandoned bag.
John Salvi was captured in Norfolk Virginia, after another abortion clinic shooting. On March 19, 1996, he was found guilty of murdering receptionists Lee Ann Nichols and Shannon Lowney. Despite claims of schizophrenia, he was convicted in both killings.
The shooting at the Hillcrest abortion clinic, in Norfolk Virginia, was also an abortion clinic picketed by Donald Spitz, a known supporter of anti-abortion terrorism. It was reported by the Boston Globe that Salvi had Spitz's name and unlisted phone number on his person at the time of his arrest. Salvi was seen as a hero by some anti-abortionists in Norfolk, Virginia. Spitz was never charged in connection with Salvi's activities.
Salvi was found dead in his prison cell on November 29, 1996. The official report states that Salvi's death was a suicide. This was a source of some controversy, as other reports claim he was found with his hands and feet tied together, with cotton shoved in his mouth and a bag placed and tied with a shoelace over his head. His lawyers are quoted as saying that his body showed marks of having been beaten before his death.
During Salvi's trial, the defense argued that Salvi suffered from schizophrenia. Several expert witnesses testified that Salvi exhibited schizophrenic behavior and was not competent to stand trial. John's mother Anne Marie Salvi testified that her son had told her that he, "was the thief on the cross with Jesus".
The prosecution brought forth Dr. Joel Haycock, who spent eleven days with Salvi out of his sixty days under observation at Bridgewater State Hospital. Dr. Haycock claims Salvi purposefully chose not to give a narrative of the events of December 30, 1994. Dr. Haycock concludes Salvi has no mental disease and is competent to stand trial. In further cross examination, the defense brings forth accounts of Salvi telling his parents, "...the mafia and KKK are out to get me". Salvi was found competent to stand trial and was found guilty.
Salvi's conviction was ultimately overturned by the sentencing judge. Judge Barbara Dortch-Okara invoked the legal principle that a conviction may not stand if the accused dies before his appeals are exhausted.
John Salvi was a conspiracy theorist: "Shortly after his arrest he released a handwritten note alleging conspiracies of freemasons, conspiracies to manipulate paper currency, and conspiracies against Catholics. ... He has talked about the Vatican printing its own currency and a specific conspiracy of the Ku Klux Klan, the Freemasons, and the Mob."
Wikipedia.org
---
Salvi Convicted of Murder in Shootings
By Christopher B. Daly - The Washington Post
March 19, 1996
John C. Salvi III, the troubled young man who went on a shooting rampage at two suburban abortion clinics, was found guilty of murder today and sentenced to life in prison without parole.
Despite his lawyers' attempts to prove him insane, a jury convicted Salvi, 24, of all charges against him: two counts of first-degree murder and five counts of armed assault with intent to murder, all arising from his Dec. 30, 1994, attacks on the two clinics. He was taken quickly to state prison.
The attacks were the worst violence against abortion clinics in U.S. history and capped a decade of assaults on abortion clinics and their staffs across the country. A federal grand jury in Alexandria, Va., probing the violence concluded in January that there was no nationwide conspiracy to commit violence against abortion clinics or their personnel.
The verdicts against Salvi brought an emotional climax to a lengthy trial with more than 100 witnesses over six weeks in Norfolk County Superior Court. Salvi remained characteristically aloof, staring ahead and rarely blinking.
Cries of anguish were heard in court from the families of the victims -- Shannon Lowney, 25, and Lee Ann Nichols, 38. Their parents, brothers, sisters, fiances and friends wept, as they have many times during the trial.
Salvi shot the two women and wounded five other people during his attack on the clinics in the Boston suburb of Brookline. Witnesses testified during the trial that he had shouted, "This is what you get! You should pray the rosary!" as he fired 10 bullets into Nichols. Salvi was arrested the next day in Norfolk, Va., after he began shooting at an abortion clinic there.
Just before sentencing, Salvi, whom several defense psychiatrists called a paranoid schizophrenic, got his long-sought chance to address the court. He showed no remorse and continued to request the chance to give interviews to the news media to discuss his views about a purported anti-Catholic conspiracy.
"As you know, I haven't pled guilty though I am against abortion," Salvi said. "My position is pro-welfare state, pro-Catholic labor union and, basically, pro-life."
Moments later, Judge Barbara Dortch-Okara authorized the clerk to read out the sentences. Salvi was ordered to serve two consecutive life prison terms, followed by 18 to 20 years for the assault convictions. Massachusetts does not have a death penalty. Under state law, a first-degree murder conviction sparks an automatic appeal.
Nicki Nichols Gamble, the president of Planned Parenthood of Massachusetts, which operates one of the clinics attacked by Salvi, said the verdict "will help to de-escalate the climate of fear and violence that has surrounded the services we provide."
"Justice was done," said Mark Nichols, a brother of Lee Ann Nichols. His mother, Ruth Ann Nichols, was allowed to deliver a victim impact statement to the court. "Without hesitation, I hope you have sheer misery every day of your life, as you have brought all the families," she said, addressing Salvi. "I request and hope that every December 30th they put you in solitary confinement."
Salvi's lead defense attorney, J.W. Carney Jr., indicated his appeal will be based in part on the judge's refusal to allow Salvi to testify. In the closing moments of the trial, Carney had asserted Salvi's right to testify, but tried to limit the areas in which the prosecution could cross-examine him, so the judge turned him down.
At trial, Carney acknowledged in his opening statement that Salvi had fired the fatal shots, and he declined to challenge any of the prosecution's witnesses. Instead, the defense lawyer claimed that Salvi was a "sick, sick young man" who used careful tactics and foresight in pursuit of a delusional plan. Carney had sought a verdict of not guilty by reason of insanity, which would have placed Salvi in a state mental hospital until a judge ruled that he was no longer a threat.
Assistant District Attorney John Kivlan portrayed Salvi as a cunning antiabortion zealot, a "terrorist" who plotted the murders, then evaded an elaborate police manhunt.
Kivlan showed that Salvi purchased a .22-caliber Sturm Ruger semiautomatic rifle, and customized it with a folding stock and pistol grip. Near his home in Hampton, N.H., Salvi purchased 1,000 hollow-tip bullets, designed to maximize injuries to human victims.
Although the prosecution presented evidence that Salvi had attended meetings of antiabortion groups and had many pamphlets against abortion, the trial never showed that Salvi had any links to the organized antiabortion movement.
---
An Armed Fanatic Raises the Stakes
By Michael D. Lemonick; Edward Barnes; Jenifer Mattos and Rod Paul - Time.com
January 9, 1995
By all accounts, the somberly clad man acted cool and composed as he stepped up to the front desk at an abortion clinic on Beacon Street in Brookline, Massachusetts. "Is this Planned Parenthood?" he asked. Receptionist Shannon Lowney, 25, replied that it was, whereupon the man took a .22-cal. semiautomatic rifle from a black bag and shot her dead. Then he sprayed the room with gunfire and left.
Ten minutes later, the grisly scene was replayed, almost step by step, at Preterm Health Services, less than two miles away. Again the man police identified as John C. Salvi III, a 22-year-old hairdresser from Hampton, New Hampshire, made sure he was in the right place. Again he fatally shot the receptionist -- Leanne Nichols, 38 -- and again he kept on shooting. It was only when a security guard returned fire that the rifleman dropped his bag and fled. Yet even in retreat, he kept his composure. Says Angel Rodriguez, who witnessed the shooter's escape: "He was completely calm and took his time. He kept the gun low on his hip and ran backwards, firing at least five shots. He was trying to scare people, and it worked."
Salvi moved quickly in the direction of Brookline's Cleveland Circle. Within hours, police had identified him through a gun-shop receipt in the bag he had left behind. And on Saturday, even as local, state and federal law-enforcement officials were mounting a multistate manhunt for the 5 ft. 11 in. curly-haired fugitive, there came reports of another, nonfatal shooting at the Hillcrest Clinic in Norfolk, Virginia. The suspect, arrested shortly thereafter, was John Salvi.
The final toll in the two-day shooting spree was two dead and five wounded. Were it not for security guard Richard Seron's quick reflexes, the casualties could have been much higher: Salvi's abandoned satchel also contained a second gun and 700 rounds of ammunition.
Salvi's rampage brought to five the number of abortion-clinic killings nationwide in the past two years. There have also been countless lesser acts of violence against abortion providers and their patients, including verbal and physical harassment, assaults and fire bombings. Government officials and activists on both sides of the contentious abortion issue were quick to condemn the killings. "You don't use murder to solve the problem of other murder. It is heresy," said the Rev. Flip Benham, director of the antiabortion group Operation Rescue. Said Eleanor Smeal, president of the Fund for the Feminist Majority: "While there are two sides to the issue of abortion, there are no two sides to the issue of shooting people for their opinions.
So far, there is no evidence formally linking Salvi with a particular antiabortion group. He had reportedly been seen demonstrating outside the Boston clinics, but aside from the picture of a fetus he had plastered on his pickup truck (his boss made him remove it), there was little to distinguish him from the vehement but otherwise nonviolent protesters who make up the vast majority of the movement. People who know Salvi say he often acted oddly. Says Karen Harris, who attended the Portsmouth (New Hampshire) Beauty School with the suspect: "He never showed emotion. He always had a straight face. But the main thing was how he would stare at people. He'd just stare and stare and wouldn't look away." Doreen Potter, manager of the Eccentric Beauty Salon, where Salvi worked as a trainee, recalls that he flew into a rage a week before the shootings when she told him he couldn't cut a client's hair. After the incident, she says, "this guy looked like he was ready to go off."
But even if Salvi lacked ties to the more aggressive antiabortion organizations, some pro-choice advocates suspect that a conspiracy to commit violence does exist. And even if it does not, they say, the propaganda some antiabortion groups put out can incite attacks. Paul Hill, currently under a death sentence for a double murder at a Pensacola, Florida, clinic last summer, publicly advocates the doctrine of "justifiable homicide" against abortionists. A manual issued by a shadowy group known as the Army of God was found buried in the backyard of Shelley Shannon, now serving 10 years for wounding Wichita, Kansas, physician George Tiller in 1993. The pamphlet celebrates the murder that year of a Pensacola abortion doctor, gives instructions on how to handle explosives and offers such advice as: "If terminally ill, use your final months to torch clinics; by the time the authorities identify you . . . you will have gone to your reward."
In response to the rising tide of antiabortion violence over the past several years, President Clinton last May signed into law the Freedom of Access to Clinic Entrances (FACE) Act, prohibiting anyone from using force, threats or physical obstruction to injure, intimidate or interfere with a person trying to enter or leave an abortion clinic. Immediately after the Pensacola murders last summer, Attorney General Janet Reno created the Clinic Violence Task Force to determine whether there was a conspiracy against abortion clinics. At about that time, U.S. marshals were deployed to guard nearly two dozen clinics. By fall, however, the contingent of marshals was cut drastically on the grounds that the threat had abated.
Abortion activists deny that is so. Says Smeal: "As of today, there has not been one arrest for death threats, yet there are known extremists who are making these threats against doctors and clinics. We're not talking about the entire right-to-life movement. But for there to be so many threats, and for there to be so few arrests, it has to be a weak investigation."
Attorney General Reno says there is only so much her department can do. But a Planned Parenthood spokesman insists the Beacon Street clinic had been receiving more threats than usual over the past month -- perhaps because it is one of 20 facilities around the country testing RU-486, the so-called French abortion pill. Some Beacon Street clinic workers claim they had asked the local Justice Department office to supply protection -- a charge the U.S. Attorney would not discuss.
With Salvi in custody, any threat he might pose is over. But how many others like him are out there, waiting to act? If it wasn't already clear to law- enforcement officials, abortion-rights activists and clinic workers, it should now be tragically evident that the safeguards that exist to protect a woman's right to abortion are not enough.
---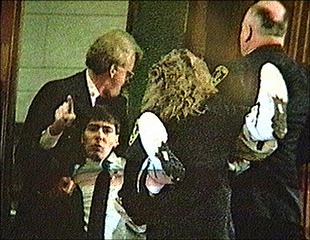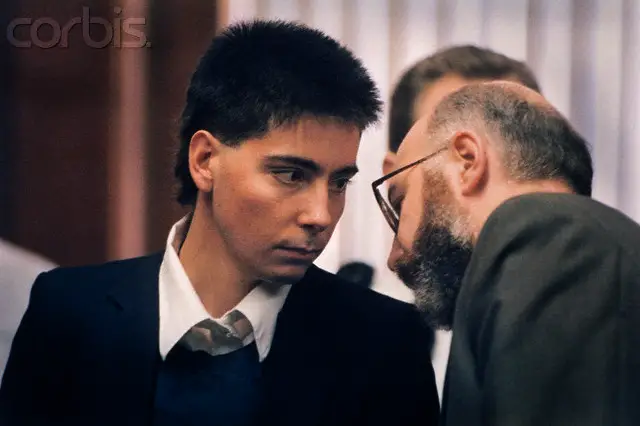 John C. Salvi III