Name: Paul Stephen Osbourne
Age: 36 yrs
State: QLD- Formerly of Wurtulla (Sunshine Coast)
Sentence: Sentenced in Feb 1997 to 2 life jail terms.
Other: REPEAT OFFENDER. Pleaded guilty to bashing/ raping/ murdering 2 QLD schoolgirls (Leanne Oliver, Patricia Leedie). Osbourne had been down at the beach when he recognised the girl's from a barbeque he had attended at that day. After going for a swim with the girls he then attacked them. He then left the beach leaving his wallet at the scene, which aided in his arrest. Prior conviction in 1985 for attacking/ sexually assaulting/ attempting to strangle a women (aged 19yrs) in Brisbane/ sentenced to 6yrs jail/ 3yrs 10 months non parole.
Mako.org.au
---
Child Murderer Jailed For Life
Herald Sun
February 25, 1997
A man jailed for two life terms yesterday for the rape and murder of two girls is a repeat offender who made the same mistake twice.
Paul Stephen Osborne, 28, a factory hand, left his wallet behind after raping and murdering Leanne Marie Oliver, 10, and Patricia Sophia Leedie, 8, at Warana Beach on Queensland's Sunshine Coast on October 29, 1995.
A decade earlier he left personal papers in a bag at the crime scene after sexually attacking and attempting to strangle a woman, 18, in Brisbane.
Osborne, of Wurtulla, on the Sunshine Coast, received a six-year jail sentence for the 1985 attack and served three years and 10 months behind bars.
Yesterday, a Queensland Supreme Court sentenced him to two life terms for the brutal bashing murder of the two girls, plus 18 years for each rape.
Justice Glen Williams said he believed Osborne, who pleaded guilty to all charges, should never be released.
Osborne became the prime suspect for the murders when he left his wallet, containing identification, in the sand near the girls' bodies.
Reports tendered during an appeal against his 1985 conviction revealed that attack was committed when he was drunk. This was also the case for the double murder.
Prosecutor Jeff Hunter said yesterday Osbome had consumed about 12 stubbies of full-strength beer and smoked marijuana at a barbecue held by a workmate who lived next door to the Oliver home at Warana on the afternoon of the murders.
That same afternoon, Patricia and Leanne were last seen by their families when Leanne lied to her brother, saying she had their mother's permission to go door-knocking in the neighborhood with Patricia to look for odd jobs.
Mr Hunter said Osborne left the barbecue with his de facto wife about 4pm but she lost him after he lagged behind while they walked to their home in a neighboring suburb.
Mr Hunter said that about this time a woman walking her dogs in the area was speaking with the girls when Osborne called out to Patricia. They were then all seen at the beach together by several witnesses.
Initially, Osborne denied involvement in the killings.
It was only when he realised police had found his wallet near the bodies that he broke down.
Mr Hunter said osborne confessed but claimed he could not remember much about the attack.
Asked by police why he killed the girls, he said- "I don't know. I don't know whether I blacked out or went crazy."
He claimed he could only remember seeing the girls on the beach and said that as he was leaving they came up behind him to give him his wallet because he'd left it in the sand.
He said he had no idea why he started bashing the girls- who "seemed pretty nice"- with tree branches.
Justice Williams said the role of alcohol and marijuana in the murders should be considered by those seeking to legalise cannabis.
Outside court, Leanne's father, Alby Oliver, who found the girls' bodies in sand dunes, said he was satisfied with the sentence.
"But one thing I am not happy about is that he (Osborne) is still alive," he said.
The court earlier heard how Mr Oliver suffered psychiatric problems as a result of the murders.
It heard his marriage with Leanne's mother, Diane, was on the verge of separation and he found it difficult to comprehend Leanne's death.
---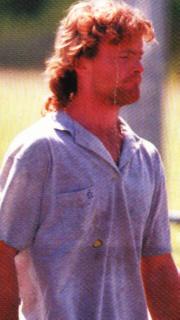 Paul Stephen Osborne