Joe Morgan (10 April 1929 – 9 November 1993) is most notable for being "the Godfather" of the Mexican Mafia. Despite his Croatian roots he eventually became a highly influential member of the prison gang and played a very instrumental part in the organizing and legitimizing of the Mexican Mafia.
Early life
Morgan was born in San Pedro, CA to an American father and Croatian mother. He was raised by his Catholic Croatian mother and grew up in a Hispanic neighborhood in Los Angeles. In the late 1930s he joined what was believed to be the first Maravilla street gang.
Prison time
In 1946, Morgan beat to death the husband of his 32-year-old girlfriend, and buried the body in a shallow grave. While he was awaiting trial, he escaped using the identification papers of a fellow inmate awaiting transfer to a forestry camp. He was recaptured and sentenced to 9 years at San Quentin State Prison. He is the youngest person to ever be sent to San Quentin. He was only 17 at the time.
In 1955 he was called in as a witness in a trial that involved the death of another inmate who was released on parole; instead, he led 11 inmates in a jailbreak from Los Angeles County Jail. He fled to Utah in 1976 and was captured a year later, with charges that included trafficking firearms, which resulted in a five-year sentence; 2 hours later, he was caught in possession of heroin, so the court gave him a sentence of 2 to 10 years behind bars.
The first prison gang street execution in Los Angeles was committed by the Mexican Mafia in 1971. Responsible for the murder was the gang member of Croatian Catholic descent Joe "Pegleg" Morgan. Morgan was well respected within the ranks of the Mexican Mafia and became a high ranking member. His connections with cocaine and heroin suppliers in Mexico helped pave the foundation for the Mexican Mafia's narcotics distribution throughout California.
Morgan spent his last few living days at Corcoran Prison hospital suffering from liver cancer.
American Me
In 1992, the film American Me was released, which was based on the history of the Mexican Mafia. A principal supporting character is J.D. (played by William Forsythe), a white Mafia member who has an artificial leg. Edward James Olmos (the movie's writer/director/star) attempted to visit Morgan in hopes that he would gain his approval of the movie. Morgan refused to see him and filed a lawsuit against Edward James Olmos and Universal Studios based on the inaccuracies shown in the film.
It has been alleged that at least two people were killed as a result of this film including former Mexican Mafia members and affiliates who had served as advisers during the making of the movie. It later came out that one of these people was also involved in prostitution and drug activity. It is speculation that these people were killed as a result of their role in the making of the movie.
He died of cancer on 9 November 1993.
Wikipedia.org
---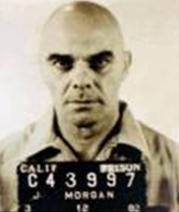 Joe "Pegleg" Morgan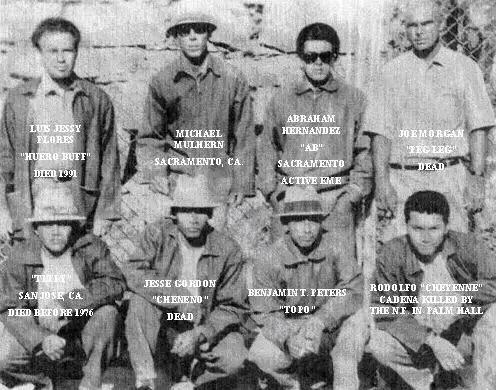 Mexican Mafia