MINNICK, WILLIAM A. # 13 & # 40
OFF DEATH ROW SINCE 08-22-00
DOB: 08-21-1963
DOC#: 13150 White Male
Clay County Circuit Court
Judge Ernest E. Yelton
Venued from Putnam County
Prosecutor: Delbert H. Brewer, Fritz D. Modesitt
Defense: Woodrow S. Nasser
Date of Murder: October 26, 1981
Victim(s): Martha Payne W/F/24 (Acquaintance of Minnick)
Method of Murder: stabbing with knife
Summary: James D. Payne returned to his home in Greencastle and found the body of his wife, Martha, on the bedroom floor. She had been raped, anally sodomized, and stabbed in the shoulder/back area, which caused her death. There were also ligature marks on her neck, and burns on her ankles indicating an attempt at electrocution.
Among other things, a jugful of coins was taken. Minnick's car was observed in the area near the time of death. When confronted, Minnick admitted being at the victim's home earlier in the day, but only to ask if she needed work done.
A more incriminating statement made later, was admitted at the first trial in violation of Edwards / Miranda, and was the basis for reversal on appeal. A hair on an electrical wire recovered from Minnick's car matched those of the victim. Minnick was found in possession of coins and broken glass inside a shaving kit. His girlfriend testified that Minnick told her that "Ace" killed the woman, but that he had raped her.
Conviction: Murder, Rape, Robbery; Directed Verdict of Not Guilty on CDC
Sentencing: June 10, 1982 (Death Sentence)
Aggravating Circumstances: b (1) Robbery, Rape
Mitigating Circumstances: 18 years old at the time of the murder
Direct Appeal:
Minnick v. State, 467 N.E.2d 754 (Ind. September 7, 1984)
Conviction Reversed 5-0 DP Vacated 5-0
(Confession improperly admitted in violation of Edwards / Miranda)
Givan Opinion; Debruler, Prentice, Pivarnik, Hunter concur.
Indiana v. Minnick, 105 S. Ct. 3512 (1985) (Cert. denied)
On Remand:
Trial was venued to Lawrence County and Minnick was again convicted of Murder, Rape (A Felony), and Robbery (A Felony) and sentenced to death by Lawrence Circuit Court Judge Linda Chezem on 10-16-85, despite a jury recommendation against death.
Direct Appeal:
Minnick v. State, 544 N.E.2d 471 (Ind. October 2, 1989)
Conviction Affirmed 5-0 DP Affirmed 3-2
Givan Opinion; Shepard, Pivarnik concur; Debruler, Dickson dissent.
Judge Overrides Jury Recommendation against DP
Habeas:
Petition filed; Judge Allen Sharp (stayed pending outcome of PCR).
PCR:
PCR Petition filed 06-03-92. PCR denied 06-13-95 by Judge Richard D. McIntyre.
Minnick v. State, 698 N.E.2d 745 (Ind. 1998) (Appeal of PCR denial by Judge Richard McIntyre)
Affirmed 4-1. Dickson Opinion; Shepard, Selby, Boehm concur. Sullivan dissents.
Minnick v. State, 705 N.E.2d 179 (Ind. 1999) (Rehearing denied 4-1)
Minnick v. Indiana, 120 S.Ct. 501 (1999) (Cert. denied).
07-28-04 The Indiana Supreme Court remanded William Minnick's case back to the Lawrence Circuit Court, authorizing the filing of a successive post-conviction relief petition, to consider arguments for resentencing in light of Saylor v. State. The post-conviction court was directed to first determine competency.
12-01-04 Lawrence Circuit Court Judge Richard D. McIntyre, Sr. granted PCR. (Judge originally sentenced Minnick to death over the recommendation of the jury against imposition of death penalty. Under Saylor v. State the death sentence was "inappropriate," since under current statute, Judge must sentence in accordance with jury verdict. The parties agreed that Minnick was not competent at this time. At resentencing, Minnick faces a maximum of 160 years imprisonment, but it has been continued until such time as the trial court finds him competent following treatment by the FSSA Division of Mental Health.
Habeas:
Petition for Writ of Habeas Corpus filed 09-08-99 in U.S. District Court, Northern District of Indiana.
Granted as to death sentence 08-22-00 by U.S. District Court Judge Allen Sharp.
Minnick v. Anderson, 151 F.Supp.2d 1015 (N.D. Ind. August 22, 2000).
(Granting Habeas Writ as to death sentence only, conditioned upon resentencing to "imprisonment during his natural life without parole." - Imposition of death sentence in the face of a contrary jury recommendation violated equal protection clause)
03-25-02, 03-26-02, 04-10-02 Sanity Hearing as Ordered by 7th Circuit U.S. Court of Appeals.
04-24-02 Guardian Ad Litem appointed for Minnick
07-01-02 7th Circuit U.S. Court of Appeals relieves lawyers of authority to represent Minnick
08-25-04 Petitioner's Motion to Stay Proceedings granted (to pursue state PCR)
AWAITING RESENTENCING IN THE LAWRENCE COUNTY CIRCUIT COURT.
ClarkProsecutor.org
---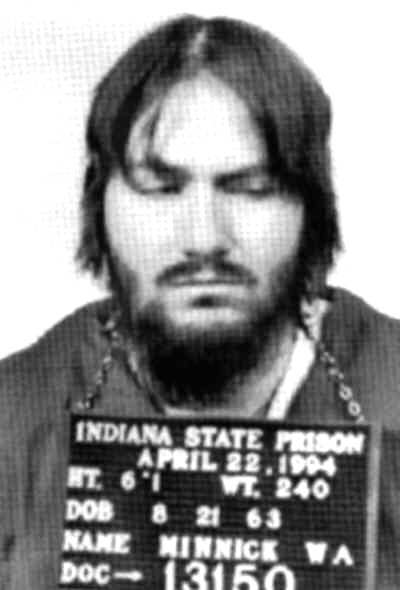 William Minnick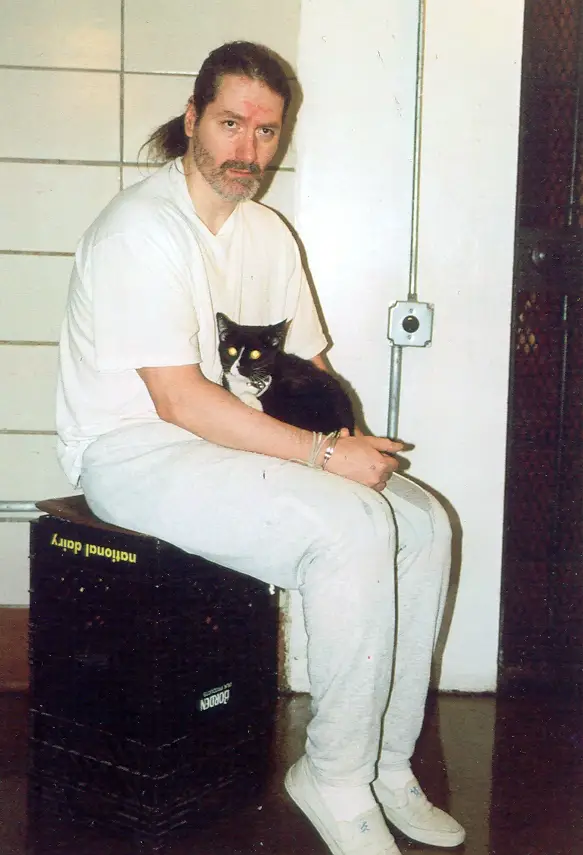 William Minnick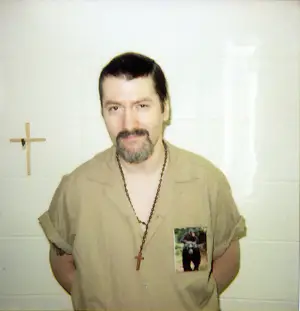 William Minnick