Milos Milos (Serbian: Miloš Milošević) (July 1, 1941 – January 30, 1966) was a Hollywood actor, a stunt double and bodyguard of actor Alain Delon.
Early days
In the 1950s Milos Milos and his friend Stevan Markovic were involved in a streetfight in Belgrade. They met Alain Delon, who was filming a movie in Belgrade. Alain Delon hired Milos Milos and Stevan Markovic as bodyguards. Milos Milos later moved to Hollywood, California.
Hollywood
As a young Hollywood actor Milos is best known for his performance as a Soviet naval officer in the 1966 comedy The Russians Are Coming, the Russians Are Coming and for his titular role in the 1965 Esperanto horror movie, Incubus.
Death
In 1965, Barbara Ann Thomason (stage name Carolyn Mitchell) began an affair with Milos. The two were found dead in Mickey Rooney's Los Angeles house in 1966. The American official inquiry stated that Milos had shot Thomason with Rooney's chrome-plated .38 caliber revolver and then committed suicide.
The official inquiry provoked rumors and doubts that they were actually both murdered in revenge for having an affair.
---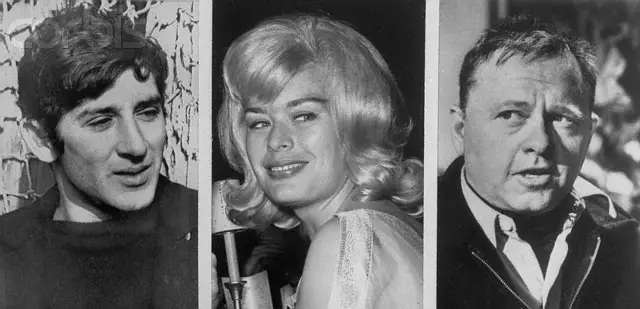 Barbara Ann Thomason Rooney (center), estranged wife of actor Mickey Rooney (right) was found shot to death with her Yugoslav boyfriend, Milos Milosevic (left) at the Rooney home in Los Angeles.