Jury recommends death sentences for Meece
Lexington Herald-Leader
September 18, 2006
A Lexington man should be put to death for murdering three members of an Adair County family in 1993, a jury decided tonight.
William Harry Meece, 33, will join 37 men on Kentucky's Death Row if Circuit Judge James G. Weddle follows the jury's recommendation. Weddle scheduled sentencing for Oct. 20.
Meece once again denied committing the crime and one of his attorney's urged the jury to have mercy on him. But after deliberating for almost three hours, the jury recommended three death sentences for Meece -- one for each victim -- in the murders of Columbia veterinarian Joseph Wellnitz, 50; his wife, Elizabeth, 40; and their son Dennis, 20. The three were each shot several times at their farmhouse in Adair County in February 1993.
It has taken so long for Meece to go to trial because state police didn't receive information required to make an arrest in the case for nearly a decade.
Meece showed little emotion when Weddle read the jury's recommendation, but his mother kept her face buried in her hands.
The prosecutor, Commonwealth's Attorney Brian Wright, said he was pleased with the decision, and a friend of the slain family later hugged former state police officers Roy Wheat and Dennis Benningfield, who investigated the case, saying 'thank you.'
One of Meece's attorneys, Vincent Yustas, said he would immediately start looking into appeal issues.
Testimony today included bringing up Meece's difficult childhood as his attorneys attempted to ward off a death sentence.
His mother left his father because he was violent, so Meece never knew him. When Meece was less than a year old, his unstable mother left him with his grandmother and disappeared, eventually signing papers for the grandmother to adopt the boy.
'I'm legally his sister, biologically his mother,' Jan Meece testified, showing the tangled nature of Meece's youth.
After Meece's grandmother died when he was 12, his mother -- who was growing increasingly paranoid -- moved with him from Florida to Lexington but assumed an identity as his sister for 15 years. She kept Meece out of school for a time and discouraged him from talking to people, which she said made him a loner.
Years later, she would be diagnosed with mental and emotional problems. She has heard at least one voice in her head most of her life and sometimes more, urging her to kill people, Jan Meece said.
She said she thinks Meece also hears voices, but won't admit it.
Meece dropped out of Henry Clay High School but later got his GED and attended Lexington Community College and the University of Kentucky.
He held a variety of jobs in Lexington, working at fast-food restaurants, lawn-care and pest-exterminating businesses and as a taxi driver and bank courier. He is the divorced father of three.
One of Meece's attorneys, Jon Hieneman, told jurors the testimony about Meece's dysfunctional childhood was not presented as an excuse, but rather to give a better understanding of his background.
The record shows that Meece is a loving father, a hard worker and has been respectful in prison, Hieneman said in his closing argument.
He urged jurors to show mercy by recommending a sentence for Meece of life without parole for at least 25 years, saying that would accomplish the goal of deterrence.
'I ask that you do not impose a sentence that kills Bill Meece,' Hieneman said. 'I ask that you be merciful in this case, even if it's not deserved.'
But Wright said if there was ever a crime that called for a death sentence, it was the calculated murders of the Wellnitz family.
Meece planned the crime -- even putting together a calendar -- and then invaded the sanctity of the Wellnitz home while the victims slept, Wright said.
When the first barrage of shots didn't kill Dennis Wellnitz, Meece reloaded and pumped three more shots into his back and the back of his head, Wright said.
Greed motivated the savagery, Wright said. The Wellnitzes' daughter Meg, who was attending LCC with Meece at the time of the murders, got $300,000 after her parents were killed. Meece said in one statement he was to get a share of the money.
Meg Wellnitz, whose last name is now Appleton, pleaded guilty to helping plan the crime -- Meece said she gave him a key to the house -- and is serving life without parole for at least 25 years.
Wright also told jurors Meece was convicted in Lexington of agreeing to take $2,000 to kill a man in 2002. He is serving 12 years in that case.
'William Harry Meece is a dangerous individual. He is an individual who is willing to accept money to kill people . . . in a cold-blooded, calculated manner,' Wright told jurors. 'William Harry Meece is deserving of the ultimate penalty.'
---
2 indicted 10 years after triple killing
Daughter Charged In Slaying of Family Got Sizable Estate
Herald-Leader
March 1, 2003
Joseph Wellnitz said in his will he had the "greatest love and affection" for his daughter, Meg, but she repaid him with murder, a grand jury has charged. 10 years and 1 day after Wellnitz, his wife Beth and son Dennis were gunned down at their farmhouse near Columbia, Kentucky State Police arrested Margaret Anne "Meg" Wellnitz Appleton and William Harry Meece in the grisly killings.
On Thursday, a grand jury in Adair County indicted Appleton, 28, of Lexington and Meece, 30, on charges of plotting with each other to kill and rob Appleton's family on Feb. 26, 1993. The indictment indicates Meece pulled the trigger while Appleton "solicited, commanded or engaged in a conspiracy" with him.
Appleton -- who got a sizable inheritance after the killings -- was charged with 3 counts of complicity to commit murder and 1 count each of complicity to commit robbery and burglary. Meece was indicted on 3 counts of murder; 3 counts of complicity to commit murder; 1 count each of 1st-degree robbery and 1st-degree burglary; and 1 count each of complicity in robbery and burglary.
If convicted, the 2 would be eligible for the death penalty because the crime involved multiple murders and aggravating circumstances, such as robbery. Commonwealth's Attorney Brian Wright plans to seek the death penalty unless something unforeseen develops in the case.
"It certainly is a capital case and deserving of capital treatment in the prosecution," Wright said yesterday.
Police would not discuss details of the case yesterday, such as whether Appleton was present when her family was killed and what led to a break in the case 10 years after the murders.
It is unusual to have an arrest in a case so old. The investigation flagged at times, but police kept after it and got new information within the past few months, said Detective Ricky Underwood and Sgt. Dennis Benningfield. "We don't give up," Benningfield said. Police tried several times in recent months to interview Appleton, Underwood said, but she avoided talking to officers, refusing to return calls or saying she needed to talk to a lawyer first.
When police showed up at her door at 6:30 p.m. Thursday with an arrest warrant, "She was surprised, to say the least," Underwood said. Appleton has long denied any involvement in the murders. She was being held yesterday without bond in the Adair County jail.
Police arrested Meece at the Fayette County Detention Center, where he was being held on a charge that he agreed to kill someone last year for $2,000. State police arrested him in November after he allegedly took a $500 down payment on the murder, but before any killing took place.
When he was arrested last year, Meece, a former UK student, said he earned $300 a week and owed $14,000, including $10,000 in student loans. In his divorce 3 years ago, Meece, a father of 3, said he was a taxi driver and lawn-care specialist. His estranged wife charged that he raped her on Christmas Eve 1999, but the charge was later dismissed. The next year, Meece was robbed at gunpoint of cash, a cell phone and an automatic pistol.
The 1993 killings, on a bleak winter night, caused a great deal of concern in Adair County. Joseph Wellnitz, a veterinarian, was killed downstairs, apparently as he tried to escape or go for a gun. Beth Wellnitz, 40, who managed their clinic, was killed in an upstairs bedroom. Dennis Wellnitz, a 20-year-old student at Somerset Community College, was shot in his room down the hall.
Each had been shot several times. At the time, police said they found more than 10 casings from 9mm bullets. There was no forced entry or any sign of a struggle, and robbery at first didn't appear to be a motive. To many people the killings appeared random, and so even more frightening.
The Wellnitzes married in Lexington in 1979, and moved 2 years later to Adair County to open the clinic. They were well-known and liked in the farming area. Wellnitz treated animals even if the owners hadn't paid. And Dana King said that, when she was a little girl, Beth Wellnitz thrilled her by inviting her to help wash a pony. "They were just wonderful," said King. King kept going back to do odd jobs. She and her husband Steve King, a veterinarian, now own the clinic, where there is a patched bullet hole in the door where a round strayed the night of the killings. Within a year after the murders, Appleton was involved in a legal fight over more than $500,000 in insurance money.
Joseph Wellnitz's will left his estate to his wife, Beth, unless she died with him. In that case, the estate went to Mary Preston of Lexington, Beth's mother, with instructions to provide for Dennis and Meg. The 2 were Beth Wellnitz's children from a prior marriage, but had taken their stepfather's name.
A few months after the murders, Meg Wellnitz Appleton sued Mutual Life Insurance Co. of New York to try to collect the insurance money. The company balked, saying she was a suspect in the killings. And Eric Wellnitz, Joseph Wellnitz's son from a prior marriage, also sued to get a share of the money. Court records show the case was settled in April 1994, with $518,000 going to a law firm to disperse to Appleton and her half-brother. Court files don't say how much each got, but Eric Wellnitz later said he got only a small amount.
In Appleton's 1997 divorce, her estranged husband said she had a trust fund worth $190,000 and that relatives gave her thousands of dollars in gifts. There was little information yesterday on what Appleton had been doing the past few years. A woman at her house declined comment, as did her uncle, Louisville veterinarian William Wellnitz. Appleton was a student at Lexington Community College at the time of the murders and later attended the University of Kentucky for 2 months, but school records don't indicate what she studied or that she got a degree, said spokeswoman Mary Margaret Colliver.
Court records indicate she married Randall Ryan Appleton in 1995, but the 2 divorced in 1997. They had a son who was 5 months old in mid-1997. Friends of the slain family said yesterday they were glad there had been arrests in the decade-old killings, though it hurt that the little girl they used to know was accused. Cindy Litteral, who worked at Wellnitz's clinic for 13 years and has kept a scrapbook on the case, said the arrests were an answered prayer. But, she said, "You was hoping it would be a stranger. It hurts to know, if they did do this, that someone could be that cold-hearted to their own family."
---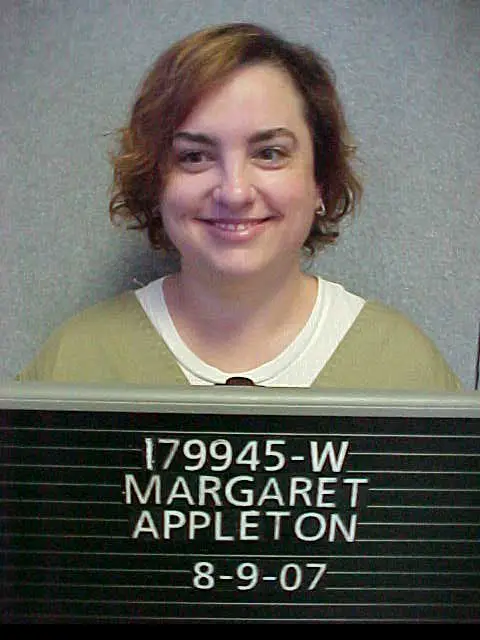 Margaret Anne Wellnitz Appleton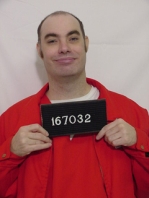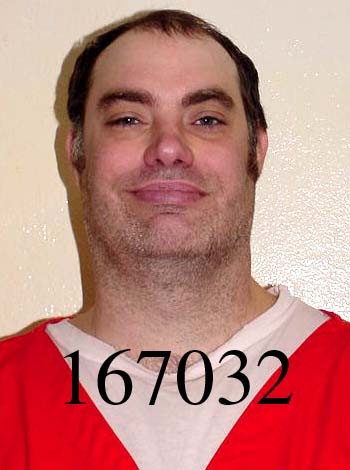 William Harry Meece