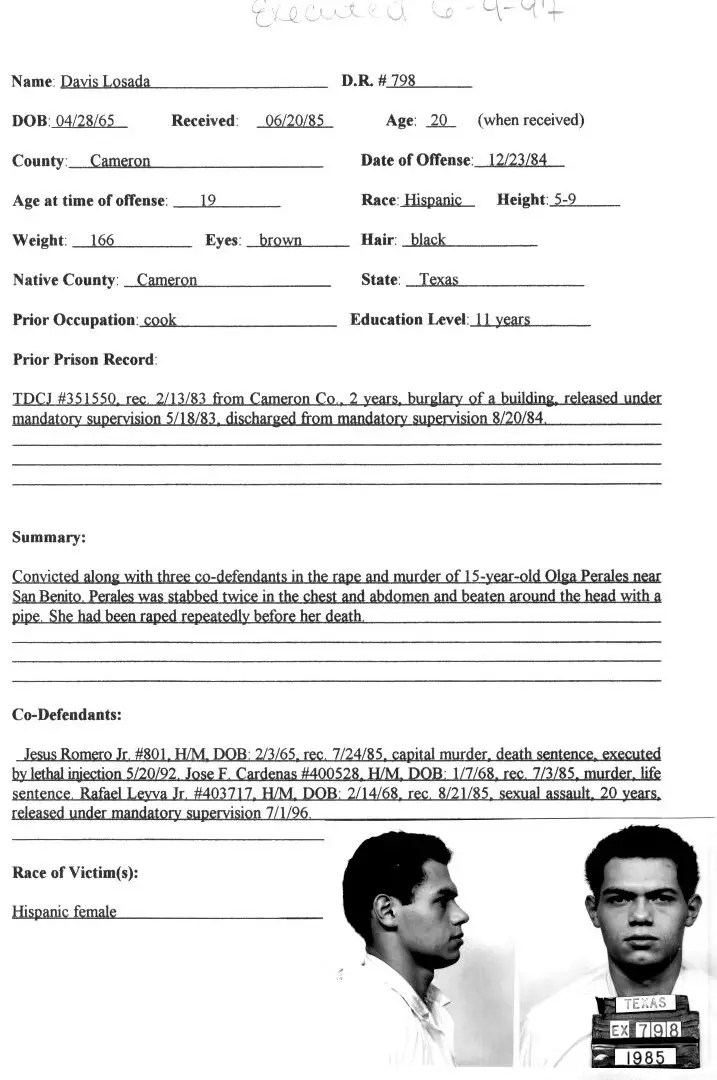 Date of Execution:
June 4, 1997
Offender:
Davis, Losada #798
Last Statement:
Yes, I do.

If it matters to anyone, I did not kill Olga.

Brian, thank you for caring.

Dee Dee, you have been a good sister to all of us.

Ana and Chico (not sure of name he said), trust in God.

I will always love you, Lynn. I will always love you.

O.K., Warden.


Davis Losada
Executed: June 4, 1997
Convicted along with three co-defendants in the rape and murder of 15-year-old Olga Perales near San Benito. Perales was stabbed twice in the chest and abdomen and beaten around the head with a pipe. She had been raped repeatedly before her death.
---
Davis Losada
In the late night hours of Dec. 23, 1984, four teenage males savagely took the life of a 15-year-old girl from San Benito, Texas when they brutally raped and murdered her.
Davis Losada, 19 years old at the time of the murder, was the oldest of the four teens who were convicted of beating, raping and murdering Olga Lydia Perales. Perales's naked body was found in a brushy area between San Benito and Harlingen, Texas on Christmas Eve with two stab wounds to the chest. She also had a fractured skull from being struck 20 to 30 times on the head and abdomen with a table leg.
Perales' wet clothes were found in a river near where she was murdered. The knife and table leg used to beat and stab her were found in the wooded area near her body.
The four males picked up Perales from a party after they had been drinking beer and smoking marijuana. Autopsies reported that the two stab wounds, one that Losada was proven to have inflicted, did not cause Perales to die, but did show intent to kill her.
In early January 1985, Rafael Leyva Jr., 17, confessed to his involvement in Perales's murder to his parole officer for fear of conviction. Leyva's juvenile attorney at the time, Horatio Barrera, negotiated a plea bargain for him. In return for testimony against the other three, Leyva would serve only 20 years on charges of aggravated sexual assault. With this information, Losada was arrested on Jan. 13, 1985.
The lead trial prosecutor in Losada's case, Mervyn Mosbacker, said police suspected Losada was involved in Perales's murder but could not have cracked the case without Leyva's testimony.
Jose Luis Peña was Leyva's first attorney appointed by 197th District Judge Darrell Hester at Leyva's arraignment April 2, 1985. A week later, Peña was switched from representing Leyva to representing Losada. In a statement of facts from Peña in August of that same year, he wrote that he was switched to represent Losada because the court was going to keep Barrera to be Leyva's adult felony attorney. Although Hester knew Peña had already conversed with Leyva about events of the murder and who was involved, he proceeded to have Peña represent Losada.
In an interview from his office in McAllen, Texas, one of Losada's appeals attorneys Joseph Connors III said that Losada was kept on the case because he was a new attorney and was already familiar with the details of the case.
Connors said Pena never voiced that his representing Losada was a conflict of interest due to having represented Leyva beforehand and having received information of Losada's involvement from Leyva. Connors said that Pena believed attorney-client privilege lasted until the client's death and it was not until after Connors was Losada's appeals attorney, that Connors said Peña disclosed information that said he was not able to fairly represent Losada.
"I told attorney Connors that I felt my attorney-client relationship with Rafael Leyva no longer existed since I am not an attorney anymore," Pena wrote in his statement of facts. "My representation of Rafael Leyva was brief but detrimental to the petitioner [Losada]. Should another trial be set, I would assure a different and favorable result for the petitioner."
Pena was disbarred May 1994 on charges unrelated to Losada's case.
Losada's trial began on June 14, 1985 and lasted through June 18, 1985. Losada did not testify on his own behalf. In less than an hour, on June 19, 1985, Losada, 20, was convicted of capital murder and sentenced to death.
Losada's first appeal to the Court of Criminal Appeals of Texas was heard in October of 1986. His death sentence was not revoked.
Losada appealed his death sentence several time, the last one to the Fifth U.S. Circuit Court of Appeals on May 1, 1996. Losada was denied on all accounts.
Texas's first double execution in 21 and a half years occurred Wednesday, June 4, 1997 when Losada was executed just over an hour after convicted murderer, Dorsie Johnson-Bey. Both were executed by injection.
Losada, 32, declined his last meal and was pronounced dead at 7:30 p.m. with five of his relatives looking on. His death was the twentieth execution in Texas in 1997, equaling a single year record set in 1935. In a brief statement, Losada thanked his sister for being, "a good sister to all of us." He urged his family to trust in God and proclaimed, "If it matters to anyone, I did not kill Olga."
---
The facts
Jesus ROMERO, Petitioner-Appellee, Cross-Appellant,
v.
James A. LYNAUGH, Director, Texas Department of Corrections,
Respondent-Appellant Cross-Appellee.
Jesus Romero's role in the rape and slaying of Olga Lydia Perales are set out in the opinion of the Court of Criminal Appeals:
[Romero], along with Jose Cardenas, Davis Losada and Rafael Leyva were indicted for the offense of capital murder of the victim, a fifteen-year-old junior high student in San Benito. Said offense was alleged to have occurred on December 23, 1984.
Codefendant Leyva, who was sixteen years of age at the time, went to his juvenile probation officer on January 8, 1985 and reported the instant offense. Texas Ranger Bruce Casteel, District Attorney Alvarado and an attorney for Leyva, Horacio Berrera (who continued to represent Leyva) were summoned. Leyva made a statement at that time about the offense in which he admitted his presence at the offense but denied any other involvement.
At trial Leyva testified on behalf of the State. The testimony of Leyva at trial reflected the following.
A party, which was attended by the deceased, was held at Ray Amaya's house in San Benito on the night in question. Cardenas, Losada and [Romero] approached Leyva in downtown San Benito in Cardenas' car and invited him to go to a party with them.
Prior to arrival at Amaya's house they went "cruising" for about an hour during which time all of them were drinking beer and smoking marijuana. Upon arrival at Amaya's house it was discovered that the party had broken up and only Amaya and the deceased were present. The deceased came out and "started going to the car slowly ... all of a sudden Jesse [Romero] pushed the girl [the deceased] inside the car." Cardenas was in the driver's seat and [Romero] pushed the deceased into the passenger side of the front seat. "Jesse [Romero] was holding the girl's head down.... He was holding it with the right hand on her head pushing to her knees ... he was telling her just to keep quiet." The testimony of Leyva reflects that they drove to a place beside the lake called La Piedra. During that time [Romero] was holding the deceased's head down and telling her to be quiet. The deceased was asking to "leave her alone" and "take her home." Davis Losada first had sex with the deceased. Davis put "a knife to her neck ... and she got on 'four' giving Davis a blow job ... the girl was saying to take her home and just to leave her alone and Davis was telling her to shut up and if she didn't shut up something was going to happen to her, and the girl was kind of like weeping ..."
[Romero] "unzipped his pants and got inside the car while the girl was on 'four,' and still gave Davis the blow job, he got in through the back and started having sex with her." After [Romero] finished, Leyva "started having sex with her in the back." The deceased continued to ask to be taken home and Cardenas removed a pipe from the car that "looked like a baseball bat." A discussion ensued as to whether the deceased would tell anyone and the deceased insisted that she would keep quiet and say nothing.
Leyva testified that he told the others that she would keep quiet and they kept telling him "That's no good. She's going to say something and we are going to get in trouble." Cardenas handed Leyva the pipe and Leyva hit the girl on the forehead with the pipe. The deceased did not fall down and [Romero] grabbed the pipe out of Leyva's hand and "started hitting the girl ... he was hitting her head with both hands on the pipe." The deceased fell to the ground after [Romero] hit her the second time and after she fell to the ground Romero hit her "three or four or five times at the most." The girl stopped making noise after [Romero] "finished hitting her." Someone else hit her "three or four times." Leyva then observed Cardenas hitting the girl "with both hands on the pipe." "Jesse [Romero] was giggling while he was hitting the girl." Losada told Leyva to "grab the girl." Losada and [Romero] "both came at me with knives." [Romero] then observed the girl move and Losada said "Just to make sure she's dead, I'll stab her." Losada again told Leyva to drag the girl into the bushes and after dragging her "halfway," Davis told [Romero] "to give me a hand" and "my [sic] and Jesse [Romero] dragged the girl way back in the bushes." [Romero] with a knife in his hand told Leyva "Stab her or I'll stab you." Leyva stabbed the girl "from the waist to her chest" and gave the knife back to [Romero].
Leyva and his three companions returned to the car and they left the scene and Losada said, "We all did it, you know. Everybody had a part in it." Losada threw the knife "into some canal." [Romero] then handed his knife to Losada so he could throw it out. Cardenas stopped on a bridge and Losada threw the girl's clothes out. Leyva was instructed by Losada to not tell anyone that they were together. The remaining three were going to say "all we know is that we dropped the girl off at the Azteca." Losada warned Leyva "Just keep your mouth shut and if you don't the same thing is going to happen to you."
[Romero] made a written confession, the following portions of which were admitted into evidence.
Omitting the warning and formal parts, the confession recites:
The party started to break up around 11:00 or 11:30 p.m. We left in Joe's [Cardenas] car. Joe was driving. Davis [Losada] and Rafa [Leyva] were in the back seat. We drove out to what is known as La Piedra and drove down a narrow road from a bigger road for approximately one city block in distance. Davis, with the knife in one hand, forced [deceased] to make out with him, Rafa made out with her, then Joe made out with her. Davis got a pipe and started hitting [deceased] about the head. Rafa hit her also. Joe did hit her. Afterwards, [deceased] was laying there and Davis stabbed her. After Davis stabbed her Rafa got a hold of one leg and I got a hold of the other leg and we pulled her into the bushes. I don't know what happened to the pipe and didn't see it anymore when we left the area.
When we left the area Joe was driving. Rafa and I were in the back seat, and Davis was in the front passenger side. As we traveled down a dirt road, Davis got rid of the knife that was used to stab [deceased] and also got rid of another knife. He did this by throwing the knives out the window. We then traveled some more and we then stopped on a small bridge that goes over a drainage ditch there by the overpass that is close to the Valley Buick Company located just southeast of San Benito. When we stopped there Davis gave Rafa some other items and Rafa threw those out in the drainage ditch also.
Rafa was dropped off first by the Bertha Cavazos School.
"I have been shown two photos by Investigator Joe Alvarado of the District Attorney's Office and I have identified both pictures as being # 1, that of [deceased], the way we left her that night there in the bushes. Photo # 2 is the way we left [deceased] after Rafa and I dragged her into the bushes. I have initialed, dated, and placed the time on both photos."
A search of [Romero's] residence resulted in the recovery of a man's "blooded underwear" at the bottom of a garbage bag. Raul Guajardo, a chemist with the Department of Public Safety, testified his analysis revealed that human blood was on the sides of the underwear. The findings were consistent with either Type A or Type AB. Blood samples from the deceased and [Romero] were both type A. Blood samples of the three codefendants showed all of them to be type O.