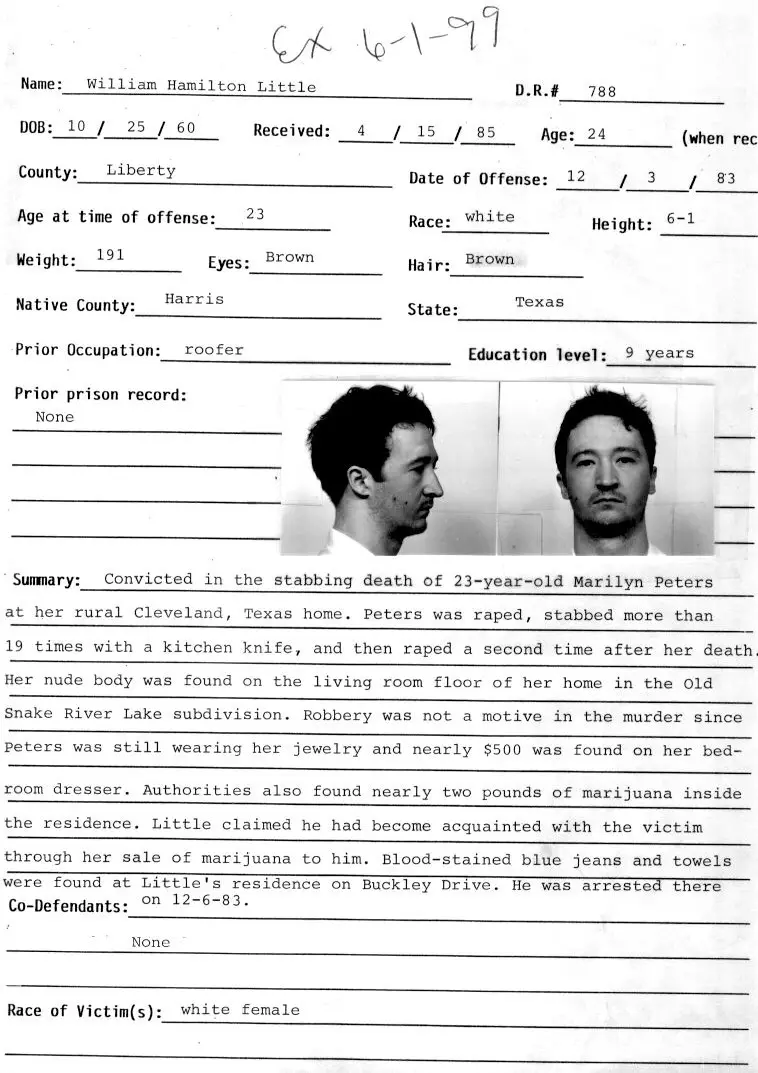 Last Statement:
This offender declined to make a last statement.


Texas Attorney General
Media Advisory
Tuesday, June 1, 1999
AUSTIN - Texas Attorney General John Cornyn offers the following information on William Hamilton Little who is scheduled to be executed after 6 p.m., Tuesday, June 1, 1999.
FACTS OF THE CRIME
On the morning of December 3, 1983, Michael John Rammel found the body of Marilyn Peter in her home. He and Pat Faulkner arrived to install her clothes dryer. After installing the dryer, Rammel went to the front door where he found blood on the doorjamb. Rammel knocked on the door and entered after he heard a baby crying. He found Peter's small son crying on top of the kitchen counter. There was blood all over the kitchen and living room areas. The body of Marilyn Peter was lying in the living room, with numerous stab wounds on virtually all areas of her body. Robert Dunn, the police investigator also described the scene of the murder in like manner, although in greater detail.
[Little] was arrested at his place of residence on another, unrelated charge during the early morning hours of December 6, 1983. During interrogation at the police station following his arrest, [Little] gave a written statement which later was introduced at his trial. The State introduced an edited version of the confession, and [Little] introduced the balance under the rule of completeness.
In the statement [Little] admitted he went to the home of Marilyn Peter on the night of her murder, that he had sexual intercourse with her, and that he killed Peter with a butcher knife which was in her apartment. [Little] claimed in the portion of the statement he introduced that the sexual intercourse with Peter was consensual. He further claimed that he killed her only after she attacked him with the knife, which he took away from her, and after she repeatedly attacked him while he kept her away by stabbing her.
Glenn Wesley Harwell testified as to the events which took place in the company of [Little] on the night of December 2, 1983, hours before the murder of Peter. He was in the company of [Little] while at "The Game Room," a recreation facility located in the Old Snake River Subdivision in which both [Little] and Peter lived.
During this night at "The Game Room," [Little] consumed beer and marihuana, and Harwell was of the opinion that [Little] became intoxicated over the course of the evening. Harwell related that [Little] was "talking crazy" during the evening, and that [Little] had claimed to have scalped people and cut them up when he lived in New York. According to Harwell, [Little] was carrying a knife that night, and had tried to start fights with both strangers and friends.
In the part of the statement offered by [Little] he stated that he had gone to the deceased's home on the night or morning of the date of the alleged offense; that she had invited him into the house and offered to smoke a joint of marijuana with him, that they had engaged in sexual intercourse with her consent; that later they argued about the deceased's refusal to "turn me onto some weed;" that the deceased came at him with a butcher knife; and that he took the knife away from her and used it to repel her repeated attacks upon him. On the way home he threw the knife off a bridge into the water.
There was evidence offered as to the condition of the deceased's house which clearly indicated quite a struggle took place. There was blood all over the living room and kitchen and on a space heater and on a high chair which was broken. Other evidence indicated this was not the condition of the house an hour or so before the alleged offense. Dr. Espinola, who conducted the autopsy on the deceased, testified she died from five stab wounds in the chest, that she had been choked, that there were other lacerations, wounds, and bruises, and that a mark on the deceased's neck could have been from contact with the high chair.
PROCEDURAL HISTORY
In February 1984, Little was indicted in the 253rd Judicial District Court of Liberty County, Texas, for the instant capital murder. Little was tried before a jury upon a plea of not guilty, and on April 3, 1985, the jury found him guilty of the capital offense. On April 5, 1985, following a separate punishment hearing, the jury answered affirmatively the three special sentencing issues.
Little appealed his conviction and sentence to the Texas Court of Criminal Appeals, which affirmed on March 23, 1988, and denied rehearing on April 27, 1988. The United States Supreme Court denied Little's petition for writ of certiorari on October 31, 1988. Little then filed an application for state writ of habeas corpus.
On May 24, 1989, the Court of Criminal Appeals denied relief. Little promptly proceeded into federal court by filing a petition for federal writ of habeas corpus with the United States District Court for the Eastern District of Texas, Beaumont Division. The federal district court denied relief on February 19, 1998. On December 10, 1998, the United States Court of Appeals for the Fifth Circuit denied Little's request for a certificate of probable cause to appeal. Little then filed a petition for writ of certiorari to the United States Supreme Court which was denied on May 17, 1999.
PRIOR CRIMINAL HISTORY
At the punishment phase of trial, the State introduced evidence of Little's prior convictions for involuntary manslaughter and assault. Little's probation officer testified that Little violated the terms of probation imposed in connection with the involuntary manslaughter conviction and absconded rather than comply with the probation condition of residence at a halfway house for drug rehabilitation. Katherine Singletary testified that Little assaulted her as she worked as a desk clerk at the Driftwood Motel in Galveston, Texas; Little grabbed her, threw her to the floor, began dragging her toward stairs leading to his room, and choked her saying, "I like to watch people die."
Little was also connected to three unadjudicated burglaries. Leo Keys, who was Little's neighbor in Baytown, Texas, for twelve years, described Little's attempted burglary of his home. Little was also observed furtively entering and then leaving the house of his cousin, Opal Allen, on the day the house was burglarized, at a time when no one was home. When Allen questioned him about the burglary, Little brandished a knife and asked if she thought he did it. O.C. Jones, a resident of the Old Snake River Subdivision, testified that his home was burglarized and identified three macrame owls as property taken during the burglary. Law enforcement officials recovered the owls from Little's residence. Nine witnesses testified that Little's reputation for being a peaceful and law-abiding citizen was bad.
DRUGS AND/OR ALCOHOL
There was evidence of alcohol and drug use in connection with the offense.
---
William Hamilton Little, 38, 99-06-01, Texas
In Huntsville, a ninth-grade dropout who worked as a roofer was executed Tuesday night for the rape, stabbing and strangling of a Liberty County woman more than 15 years ago.
William Hamilton Little, 38, was condemned for the Dec. 3, 1983 murder of 23-year-old Marilyn Peter at her home in a rural area near Cleveland, about 30 miles northeast of Houston.
Five of Ms. Peter's friends and relatives watched through a death chamber window as he was put to death.
"Although we feel that nothing can justify the loss of our loved one, we are grateful in knowing that William Little will never be able to kill and destroy another innocent life,'' her family said in a prepared statement.
Little was pronounced dead at 6:20 p.m., eight minutes after the lethal dose began flowing, officials said.
The inmate had no formal final statement, but told prison officials before the drugs were administered that he didn't want to cause any problems.
"I've been jealous of people who preceded me, they got to go home and I had to remain,'' he said.
After declining to make a formal statement, Little closed his eyes, took a couple of deep breaths and gasped.
The U.S. Supreme Court two weeks ago refused to review his case, upholding rulings of other federal courts and clearing the way for the lethal injection, the 13th of the year in Texas.
Authorities said the woman had been raped, stabbed more than 19 times, then raped again after she was dead. Her body was found later in the day by two workmen who were supposed to install a clothes dryer at her home.
The workmen entered after they spotted blood on a door jamb and heard a child crying. Inside they discovered the victim's 2-year-old son on a kitchen counter. The child was not injured but the room was covered with blood and Ms. Peter's ravaged body was on the floor in the living room.
"It was a very gory situation,'' Liberty County District Attorney Mike Little, who prosecuted the case, said Tuesday. "No question in my mind, I think this is one of the cases the death penalty is made for.
"Certainly in my opinion and in the jury's opinion, he earned the death penalty and he deserves what he gets,'' added Little, who is not related to the prisoner.
Witnesses remembered William Little drinking and smoking marijuana the night before the murder, pulling a knife and trying to start fights and bragging about scalping and dismembering people.
A witness identified Little as a man spotted in the doorway of Ms. Peter's home the night of the slaying. Police found blood-stained jeans and towels at his home.
"There was a handprint on the inside of the door of her residence in blood that we were able to match up to his hand,'' the prosecutor said. "The bloody handprint on the door was certainly pretty powerful evidence.''
In a confession, Little told authorities he knew the victim because she had sold him marijuana. About two pounds of the illegal drug were found at her home by police. He also told police he killed Ms. Peter but contended the sex was consensual.
"The autopsy revealed it was a rape beyond any question,'' the district attorney said.
Little had a history of drug use and of using a knife in burglaries, was on probation at the time of his arrest for involuntary manslaughter and had been ordered to a halfway house for drug rehabilitation but refused to comply.
He was one of two men who confessed to the crime but an indictment against the second man was dropped after it was determined he was mentally incompetent. During Little's appeals, a federal judge ordered DNA testing which eliminated the second man as a suspect but confirmed the likelihood that Little was the killer.
In one of the more extensive final meal requests by a condemned Texas inmate, Little asked for 15 slices of cheese, three fried eggs, three slices of buttered toast, two hamburger patties with cheese, half a tomato, one sliced onion, french fries with salad dressing, a half pound of crispy fried bacon, one quart of chocolate milk and one pint of fresh strawberries.