Fresno resident, Vasily Petrovich Losev, 45, killed his three young sons, set their apartment on fire and then killed himself in a nearby vacant lot.
Losev and his wife had separated about six months ago after a 14-year marriage, relatives said. They had joint custody of the boys -- Alexi, 9, Alexander, 6, and Peter, 2. The boys' mother, Galena Loseva, was coming to pick up the children when the fire began.
Family members claim Losev knew his wife was coming for the children, so he killed the boys and then set the fire shortly before she was to arrive. "We all know Vasily did it," said Vera Lyubov, one of Galena Loseva's five sisters. "And he wanted her to see it, too."
---
Father Kills His 3 Sons, Sets Home on Fire Then Slays Self, Police Say
Los Angeles Times
January 25, 1999
FRESNO — A trail of blood led to a man who police believe killed himself after murdering his three young sons and setting their apartment on fire, officials said Sunday.
Bloodstains on a nearby chain-link fence and sidewalk marked the path to the body of Vasily Petrovich Losev, 45. He was found in a grassy lot Saturday, police said.
Nearly six hours earlier, the bodies of his three sons--Alexi, 9, Alexander, 6, and Peter, 2--were found in their apartment after the fire that consumed it was extinguished about 6:15 p.m. Friday.
The boys' mother, Galena Loseva, who is separated from her husband, was coming to pick up the children when the fire began. Family members said Losev knew his wife was coming for the children, so he killed the boys and then set the fire shortly before she was to arrive.
Police did not say how Losev's wounds were inflicted.
---
10 years later visiting memories
January 23, 2009
Galina Messmer knelt on the grass at Clovis Cemetery to clear leaves from the gravesite of her three murdered children.
A prayerful woman, Messmer, 46, spoke softly but not, at this moment, to pray. She spoke to her children.
Messmer, the former Galina Loseva, a Russian immigrant, placed red, white and peach-colored roses with white angel's breath in the gravesite vases. Then she stood and softly sang a Russian song to her young children with a perfect, if untrained, vibrato.
She translated moments later:
"Here on this earth, I'm always tired, and my soul is swimming in a sea of vanity. Only I know that a special future waits for me in heaven when He wipes away my tears and I never experience any pain, death or suffering and separation."
Ten years ago, on Jan. 22, 1999, Messmer's first husband, a man who had abused her and their children, was despondent about their 8-month separation. In the Russian tradition, Galina's married last name was derived from his -- Vasiliy Petrovich Losev.
Losev, 45, begged and pleaded with her to let him return, but she and their boys had been through enough. She refused, and on Jan. 19, a Fresno court decreed that the two would have joint custody of the three boys, Alexi, 9, Alexander, 6, and Peter, 2, even though, Messmer remembers, she had warned the judge that this man was dangerously unstable. She had obtained a restraining order against him.
Messmer speaks English with a distinct, lyrical Russian accent.
"My husband call and call. Maybe drinking. Could be dangerous. I tell the judge that. He violates judge order. He say, 'Do you forgive me? Why you don't love me? Give me another chance.' "
She tells him it will take more time for him to prove that he can change.
Her husband says, "There's no more time."
"I asked him," Messmer said, " 'What do you mean?' And he said nothing."
His silence told her all she needed to know.
On Jan. 21 and 22, Vasiliy "called every minute," Messmer said. "I dream he going to kill me."
"My children stay with him this week. Every Friday, we change kids."
She told him she needed to talk with her children. He refused several times.
Messmer called her children's school and learned that they had been absent for days.
"I run to school," Messmer said. "I call my sister. Sister call police to check on kids."
A police officer visits her husband's apartment to ask why the children missed school for three days. The officer sees Alexi and Alexander. Peter, the 2-year-old, is sleeping. Their father tells the officer the children missed school because they have colds.
When Messmer learned about that police visit, she recalls this week, "I had something in my stomach. School keeps them safe."
The feeling in her stomach was fear, and she knew they would have been safe at school.
She sums up the worst news she had feared from that moment: "Police are there at 3 p.m. My kids die at 5:50."
Tim Heinrichs, a brother-in-law, "took me to street. It's blocked. Helicopters. Fire, police."
Messmer can't come near the McKinley Avenue apartment house to reach her husband's first-floor home and her children.
"I see fire from children's bedroom. Tim grab me. 'Wait.' Camera in my face. I want to check my children. It's like eternity.
" 'I'm sorry. Everybody inside is dead.' "
"I want to die," Messmer recalls. "I collapse."
She's told that two of the dead are children, but a third may be an adult. That may be Vasiliy, she hopes, and at least one of "my precious children" may have survived at school.
No, the possible adult is, in fact, Alexi.
"Police tell me all three. He cut their throat," Messmer says. "He cut their wrist, and he put them on fire. Can't find husband."
Police look for her husband and soon find his bloody body. He has killed himself, likely using the same knife he used to kill the boys, police said.
"I am numb," Messmer remembers. "Tears, shock, like knife inside you feels so bad like bomb inside you.
"I not believe I never going to see them."
Meeting a pen pal
On the other side of the country, Peter Messmer, 47, is grieving over the sudden death of his wife, Elsie, on Jan. 17 from a heart attack. How, he wonders, can he raise their children alone -- Eva, 11, Steven, 9, Joshua, 6, and Jesse, 4.
Galina's sister, Nadia Anisimov, attended a small Baptist Church in Apalachin, N.Y., with Peter Messmer, and began engineering a letter-writing friendship between the two.
Peter Messmer wrote the first letter, sight unseen, on March 25, 1999. He and Galina became mutually consoling pen pals in grief.
Another of Galina's sisters, Lubov Heinrichs, translated their letters between Russian and English.
A few months later, Galina visited Anisimov. She was introduced to Peter Messmer, but she returned to Fresno and to her children's gravesite.
One day at their markers, she heard "a soft spiritual voice":
"My child, do not be sad. Your boys are safe with me. No one will ever hurt them again."
She heard Alexi: "Mama, don't cry. We are so happy now."
She felt a wave of peace.
She remembers going for solace to the Rev. G.L. Johnson at Peoples Church. She remembers people telling her she was like Job in the Old Testament. And she says today that, like Job, she found her life restored by God after a most bitter trial.
Finally, Galina decided to visit Anisimov and her family again in New York. Anisimov and
Peter Messmer welcomed Galina at JFK International Airport in New York. She stayed with her sister, and makes clear today that her old Russian Baptist morality ruled.
Peter Messmer worked on his dairy farm 90 minutes away in Interlaken, N.Y.
After she returned home, there were visits back and forth between Fresno and New York. Friendship turned to something more.
At her children's gravesite on Valentine's Day 2000, Galina and Peter were together. Peter acted on inspiration.
"It was a beautiful, sunny day. The sun was in her eyes. There in the sunshine I proposed to her."
He put two hands to her cheeks, and asked directly: Would she be his wife?
"Sure," she said, a big grin on her face, that Russian lilt to the word "Sure."
They were married on March 25.
Faith and a second life
Galina Messmer returned this week from New York on the 10th anniversary of an indescribably painful tragedy to remember and, remarkably, to rejoice. She rejoices in God and a second life that God brought her.
She doesn't understand how God works. She says nobody can. But she has absolute faith that whatever happened followed God's plan and that she and her murdered children will be reunited in heaven forever.
She observed a private ceremony Thursday at the gravesite.
She spoke about ultimate evil, suffering and new life. She is the mother now of Peter's children, Eva, 20, Steven, 18, Joshua, 15, and Jesse, 13.
"It is hard to understand," Jesse says, "hard to relate."
He enjoys his new mother.
"She is funny," Jesse says. "She thinks a lot of things are funny. She's very joyful, and that sums it up."
She is also strict with her new children in the old Russian custom, Messmer said.
She has moved from Old Russia, born in St. Petersburg, to Fresno and now to upper New York state, a dairy farm and serene pastoral beauty.
"I believe that God grab me, put me in new place," she said. "Money was gone. Peter love I never, ever experience before.
"I so grateful for his love, to be loved and see how wonderful this life can be after horrible tragedy -- if you believe in God."
---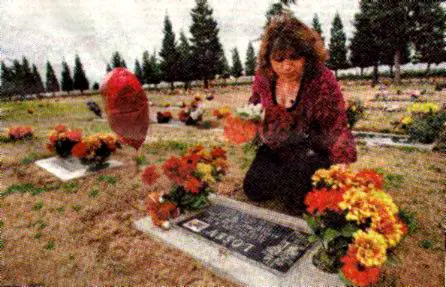 Mother of slain children visits Clovis graves ten years after the tragedy