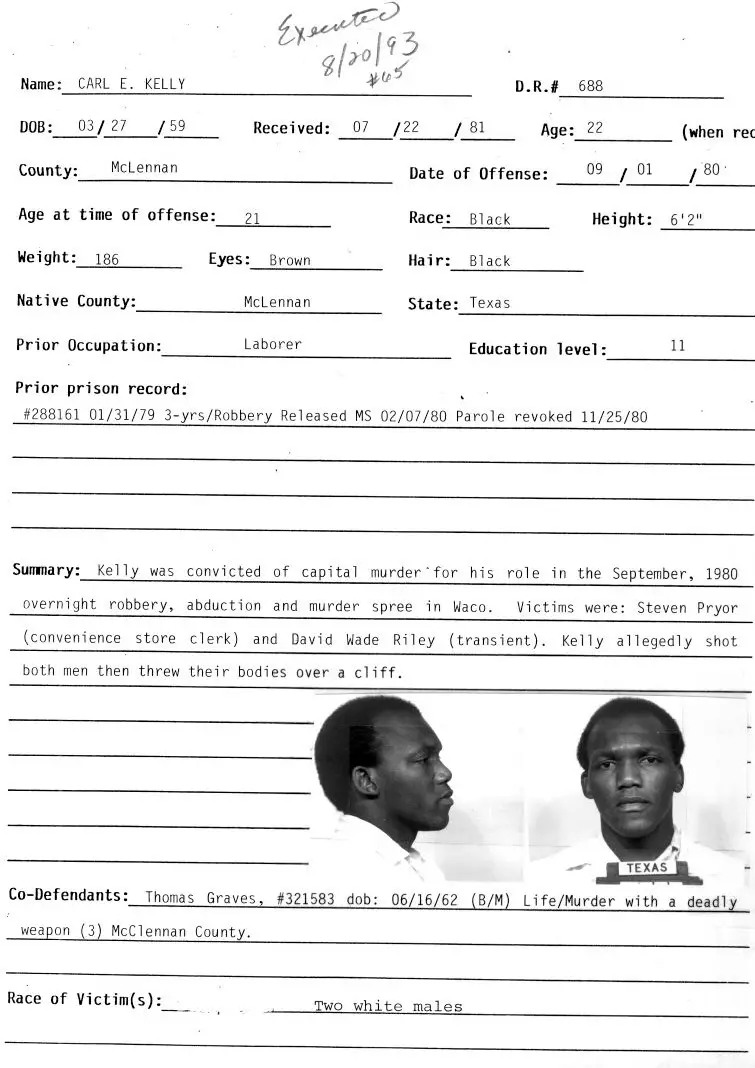 Date of Execution:
August 20, 1993
Offender:
Carl Kelly #688
Last Statement:
I'm an African warrior, born to breathe, and born to die.
Carl Eugene Kelly was convicted and sentenced to death at only 22 years of age after he and accomplice, Thomas Graves, robbed a 7-Eleven in Waco, Texas, and killed two young men on September 2, 1980.
After stealing $30 for drugs, Kelly and Graves abducted the store clerk, Steven Pryor, stole his car and drove him out to Cameron Park. They shot him several times then threw his body off a 60-foot cliff. David Riley, a transient who was asleep in Pryor's car, was also killed.
Kelly went back to the 7-Eleven to get his car, and later meet up with Graves to split the money. The police were already on the scene talking to two witnesses and taking fingerprints. They questioned Kelly about the whereabouts of the store clerk, and if he had been in the store that night.
While Kelly was being questioned, Grave's was in Pryor's car driving north until police pulled him over outside of Hillsboro. Police found Kelly's wallet in the car, bloodstains, and personal belongings of Riley's.
With that evidence, the police arrested the two that day. Graves pleaded guilty to the murders and received a life sentence. Kelly also confessed to the killings, but refused the plea bargain. Instead, Kelly chose to go on trial where he was convicted of capital murder, and then sentenced to death.
In one statement Kelly confessed that he shot at one of the victims, but later denied it, and claimed that it was Graves who fired the fatal shots. He did confess to being at the scene and throwing the bodies off the cliff.
Tim Madigan, a reporter who spent 16 months with Kelly said that when he described his crime, he did so like it was just a trip to the grocery store. Kelly told Madigan that it was the drugs that made him do it. "I wish I wouldn't have been there, but you can't change that…I feel like I shouldn't be executed for something that I didn't do."
After his conviction, Kelly spent the next 12 years waiting his execution. The efforts of his lawyers were successful at delaying it through the appeals process. Appeals were made that Kelly hadn't intended on participating in the killings with Graves, that evidence used in the trial were seized illegally, and that he was on drugs at the time of the crime that affected his judgement.
Other attempts at appeals included pointing out Kelly's low IQ, that his father physically abused him, and his young age. All attempts for a stay of execution to save Kelly, a high school dropout with a drug problem and a criminal record, failed.
Kelly was executed by lethal injection on August 22, 1993 at 12:22 a.m. Charles L. Brown, the former assistant director for public information, witnessed the execution. "My job was to witness many executions, it was not because I was so pro capital punishment," Brown said. "I didn't really pay that much attention to them."
---
862 F.2d 1126
Carl Eugene KELLY, Petitioner-Appellant,
v.
James A. LYNAUGH, Director, Texas Department of Corrections,
Respondent- Appellee.
No. 87-1520.
United States Court of Appeals,
Fifth Circuit.
Dec. 22, 1988.
Sentenced to death by the State of Texas, Carl Eugene Kelly seeks federal relief in this, his first request for federal habeas. The United States District Court granted the State's motion for summary judgment and denied the writ. We affirm.
* A
Carl Eugene Kelly was convicted of the capital murder of Steven Pryor, a convenience store clerk in Waco, Texas. The jury found Kelly guilty on June 4, 1981, and the next day answered affirmatively the special interrogatories submitted pursuant to article 37.071 of the Texas Code of Criminal Procedure.
The Texas Court of Criminal Appeals affirmed Kelly's conviction and sentence on April 25, 1984. Rehearing was denied, and the United States Supreme Court denied certiorari. Kelly v. State, 669 S.W.2d 720 (Tex.Crim.App.) (en banc), reh'g. denied, (May 23, 1984), cert. denied, 469 U.S. 963, 105 S.Ct. 362, 83 L.Ed.2d 298 (1984).
Kelly was scheduled to be executed before sunrise on February 25, 1985. On February 6, 1985, he filed an application for writ of habeas corpus with the Texas courts. See Tex. Crim. Proc. Code Ann. art. 11.01-.64 (Vernon 1977 & Supp. 1988). The Texas Court of Criminal Appeals denied the writ application and a motion for stay of execution. Ex parte Kelly, Application No. 14,711, slip op. (Tex.Crim.App. Jan 11, 1985). Kelly has exhausted his state remedies.
Kelly sought a writ of habeas corpus and a stay of his execution from the federal courts. Four days later, on February 19, 1985, he obtained a stay from the United States District Court for the Western District of Texas. Nearly twenty-eight months later, the district court granted the State's motion for summary judgment and denied Kelly's petition for writ of habeas corpus. In the meantime, no new execution date has been set by the state.
B
The facts before the jury were summarized by the Texas Court of Criminal Appeals as follows:
The evidence reveals that on September 2, 1980, the victims, Steven Pryor and David Wade Riley, a transient found asleep in Pryor's 1980 brown Camaro automobile, were kidnapped from the convenience store where Pryor was employed at approximately 4:15 a.m. and taken to Cameron Park where they were both murdered.
Diana Player, an acquaintance of Pryor's and a regular customer at the store, testified she saw "three black males" escort the victim to his car outside the store and watched the victim drive toward Cameron Park. Player was soon joined at the unattended convenience store by Ed Torres, an off-duty policeman, who telephoned police to report the missing attendant.
Shortly thereafter and before police arrived, Dewey Verona, a regular customer of Pryor's, arrived at the site and, at trial, testified he saw a man get out of the victim's car which had pulled up across the street from the store, dropped the man off and then departed.
Verona testified he followed the man's path with his eyes and only "lost contact with him for a few minutes" until the same man approached the group and asked for assistance in starting his stalled automobile parked near the store.
The three witnesses and two police officers called to the scene testified that the man who requested assistance (later identified as the appellant) appeared to have blood on his shirt, his arm and his two-toned shoes. When police officers questioned the appellant about the blood, he replied that he had gotten into a fight earlier that evening.
Upon asking for identification, appellant replied that he had none. Police officers characterized appellant as "belligerent" and testified appellant was found in the store, which had been sealed off to the public, twice after previously being asked to leave. While in the store, appellant asked the investigator dusting for fingerprints whether he had found any and quickly told the officer that he had been in the store earlier "buying a slurpee" and wished to purchase another. After working on his stalled vehicle, appellant subsequently left the convenience store area.
An All-Points-Bulletin was issued for the victim's 1980 Camaro which was later stopped at approximately 6 a.m. by police officers outside Hillsboro. The driver, Thomas Graves, was arrested and a search of the car followed. Items retrieved in the trunk of the car included the appellant's billfold; two revolvers; a green canvas sack which contained money; a backpack which contained clothes and prescription bottles in the name of David Wade Riley; and blood-stained towels.
Blood stains were found on the door and floormat of the automobile. Limestone dust found on the floorboard of the car was the clue that led police officers to Cameron Park where the bodies were found at the bottom of a cliff in the park area. Upon discovering the appellant's billfold in the trunk of the victim's car, an arrest warrant was issued. At approximately 10:00 a.m. appellant was arrested at his place of employment.
Kelly v. State, 669 S.W.2d at 721-22.
II
* Kelly first argues that his right against self-incrimination was denied when his right to terminate questioning was not scrupulously honored. Kelly relies on Michigan v. Mosley, 423 U.S. 96, 96 S.Ct. 321, 46 L.Ed.2d 313 (1975), in which the Supreme Court concluded "that the admissibility of statements obtained after the person in custody has decided to remain silent depends under Miranda on whether his 'right to cut off questioning' was 'scrupulously honored.' " Id. at 104, 96 S.Ct. at 326.
Waco police first questioned Kelly at the station house on September 2, 1980, shortly after taking him before a justice of the peace who at 10:57 a.m. gave him Miranda warnings. Kelly answered "no" when asked if he wanted to talk. Questioning stopped and Kelly was taken to the city jail.
Officer Bobby Luedke removed Kelley from the jail at 4:00 p.m. that same afternoon. The police told Kelly of the charges against him and gave Miranda warnings. When Kelly refused to answer questions, the questioning stopped, and he was returned to jail.
Officer Luedke next removed Kelly from jail that same evening somewhere between 8:30 and 10:00 p.m. to conduct a gun powder residue test. Luedke told Kelly that Kelly's co-defendant, Thomas Graves, had given a statement implicating Kelly. Kelly indicated a willingness to talk if he was shown Graves' signature at the bottom of a statement.
After seeing the signature, and without new Miranda warnings, Kelly orally confessed. When the confession was reduced to writing, the Miranda warnings were stated at the top of the first page. Immediately below the Miranda warnings was the phrase "I understand my rights as set out in this warning and knowing what they are I freely and voluntarily, without being forced or compelled by promises, threats, or persuasion, waive these rights...."
Miranda should not be "read to create a per se proscription of indefinite duration upon any further questioning by any police officer on any subject, once the person in custody has indicated a desire to remain silent." Mosley, 423 U.S. at 102-03, 96 S.Ct. at 326. The circumstances of each case determine whether the right to cut off questioning was scrupulously honored.
In Mosley, the police stopped the interrogation upon the defendant's request. Questioning resumed after more than two hours had passed, with a new set of Miranda warnings, and only about a crime that had not been the subject of the first interrogation. Id. at 105-06, 96 S.Ct. at 327. The Supreme Court concluded that the right to terminate questioning had been scrupulously honored.
We found that the right to end questioning had not been scrupulously honored in United States v. Hernandez, 574 F.2d 1362 (5th Cir.1978). After arrest, Hernandez was given Miranda warnings and declined to make a statement. Questioning stopped. Police then kept Hernandez in a police wagon for approximately five hours, even though the station was only minutes away.
Upon arrival at the station at 5:00 a.m., Hernandez was again informed of his rights and again declined to talk. The police nevertheless interrogated him "at least two, and perhaps three times more" and Hernandez gave a statement within 45 minutes after arriving at the station. Id. at 1365. "It [was] patently obvious that the police ignored [his] repeated invocation of his right to remain silent." Id. at 1369.
We find here that the police scrupulously honored Kelly's decision to terminate questioning, despite Kelly's attempts to characterize his situation as being more like Hernandez than like Mosley. First, interrogations ceased immediately each time Kelly expressed a desire to remain silent.
Second, the police did not repeatedly interrogate Kelly as occurred in Hernandez; rather, the efforts to question Kelly were spread over seven to twelve hours. See United States v. Corral-Martinez, 592 F.2d 263, 267 (5th Cir.1979) (second interrogation given four and a half hours after first).
Third, oral warnings were administered twice and written warnings once. Even had no written warning been given, it would be difficult to conclude that Kelly had forgotten his Miranda rights. See Evans v. McCotter, 790 F.2d 1232, 1238 (5th Cir.), cert. denied, 479 U.S. 922, 107 S.Ct. 327, 93 L.Ed.2d 300 (1986); see also Stumes v. Solem, 752 F.2d 317, 321 (8th Cir.) (finding that failure to give Miranda warnings before second interview did not establish Mosley violation), cert. denied, 471 U.S. 1067, 105 S.Ct. 2145, 85 L.Ed.2d 502 (1985).
Finally, it is not decisive that the interrogations covered the same crime. See Jackson v. Wyrick, 730 F.2d 1177, 1180 (8th Cir.) ("Although each of the interrogations concerned the murder of the prison guard, this factor alone is not sufficient to find a violation of ... Miranda rights under Mosley."), cert. denied, 469 U.S. 849, 105 S.Ct. 167, 83 L.Ed.2d 102 (1984). In short, nothing in the record indicates that the police "persist[ed] in repeated efforts to wear down [Kelly's] resistance and made him change his mind." Mosley, 423 U.S. at 105-06, 96 S.Ct. at 327. Instead, the record indicates only that Kelly's right to cut off questioning was scrupulously honored.
B
We also reject Kelly's related contention that he did not voluntarily waive his right to remain silent. The state trial court found that Kelly "voluntarily waived the rights of which he was advised." This finding is supported by the record and entitled to a presumption of correctness under 28 U.S.C. Sec. 2254(d).
III
Kelly next argues that his trial counsel was ineffective in two respects. First, counsel failed to object to the trial court's failure to instruct the jury to disregard "the illegally obtained evidence," presumably his confession.
The trial court, however, instructed the jury regarding voluntariness in compliance with the Texas Criminal Code. The court instructed the jury that to consider the confession it had to find both that the confession was given voluntarily and that Kelly had waived his rights voluntarily.
Second, counsel allegedly was ineffective in failing to request a charge on mitigation of punishment due to voluntary intoxication. Of course, to succeed Kelly must demonstrate prejudice from his counsel's failure to object. See Strickland v. Washington, 466 U.S. 668, 104 S.Ct. 2052, 2064, 80 L.Ed.2d 674 (1984). He fails to show such prejudice.
In a supplemental brief, Kelly's counsel "acknowledges that there exists little evidence in this case which could be classified as mitigating," and points out that this type of mitigating evidence can be a "double-edged sword ... [that] creates a sense of fear in the jury as often as it creates a sense of sympathy." We agree. This is a classic example of a judgment call by trial counsel and we are pointed to nothing to suggest that it was otherwise. See Strickland, 104 S.Ct at 2065; see also Millard v. Lynaugh, 810 F.2d 1403, 1410 (5th Cir.) (citing Strickland), cert. denied, --- U.S. ----, 108 S.Ct. 122, 98 L.Ed.2d 81 (1987).
Nor was the district court required to hold an evidentiary hearing to determine whether trial counsel's failure to request a charge on mitigation was due to ineffectiveness.
The law in this circuit is clear: to be entitled to a hearing on ineffectiveness, a habeas petitioner must allege facts which, if proved, would overcome the presumptions that trial counsel is effective and that trial conduct is the product of reasoned strategy decisions.
Taylor v. Maggio, 727 F.2d 341, 349 (5th Cir.1984). Kelly has not alleged such facts, and we decline to require an evidentiary hearing on his claim of ineffective assistance of counsel. See Baldwin v. Blackburn, 653 F.2d 942, 947 (5th Cir. Unit A 1981).
Kelly also alleges his appellate counsel was ineffective because he failed to raise the admissibility of the confession on appeal. Again, however, Kelly fails to meet the Strickland standard. Kelly suffered no prejudice because the en banc Texas Court of Criminal Appeals specifically reviewed the confession issue. Ex parte Kelly, Application No. 14,711, slip op. (Tex.Crim.App. Jan. 11, 1985).
IV
Kelly also attacks the constitutionality of Texas' capital punishment scheme, urging that it is flawed because the jury is prevented from considering mitigating evidence except on the issues of the deliberateness of the murder and the probability of future dangerousness.
Until recently, the constitutionality of the Texas capital punishment scheme was a settled matter. See Jurek v. Texas, 428 U.S. 262, 96 S.Ct. 2950, 49 L.Ed.2d 929 (1976); see also Lockett v. Ohio, 438 U.S. 586, 607, 98 S.Ct. 2954, 2966, 57 L.Ed.2d 973 (1978) (Burger, C.J.). However, in Franklin v. Lynaugh, --- U.S. ----, 108 S.Ct. 2320, 101 L.Ed.2d 155 (1988), prior law was called into question when only four justices joined the plurality opinion reaffirming Jurek. Justice O'Connor's concurrence affirmed the constitutionality of the Texas scheme as related to the mitigating evidence before the Court in Franklin, but the opinion rested on grounds suggesting that different mitigating circumstances might warrant a different result.
Since Justice O'Connor's concurrence presents the narrower of the two positions attracting the majority required for affirmance, we take it as the rule of Franklin, at least until the Court speaks more clearly. The test used by the concurrence is described in the following passage:
If ... petitioner had introduced mitigating evidence about his background or character or the circumstances of the crime that was not relevant to the special verdict questions, or that had relevance to the defendant's moral culpability beyond the scope of the special verdict questions, the jury instructions would have provided the jury with no vehicle for expressing its "reasoned moral response" to that evidence. If this were such a case, then we would have to decide whether the jury's inability to give effect to that evidence amounted to an Eighth Amendment violation.
Franklin, 108 S.Ct. at 2333 (O'Connor, J., concurring). The opinion concludes, however, that the mitigating evidence introduced by Franklin, his discipline record while in custody, could be given mitigating effect by the jury in answering the question regarding future dangerousness. Id.
Kelly only points specifically to one item of potentially mitigating evidence in his case. In the guilt phase of the trial, Kelly's confession was introduced which indicated that he had taken drugs sometime prior to the murders. Kelly's counsel did not emphasize this fact in the sentencing phase. Even if this evidence of voluntary intoxication is considered mitigating, it could clearly be given full effect by the jury in deciding whether Kelly acted deliberately. We have already held that Kelly's counsel was not ineffective for failing to request a charge on mitigation due to voluntary intoxication.
Kelly argues that more mitigating evidence was not offered because at the time of trial no instructions regarding the mitigating effect of the evidence could have been obtained. Since much mitigating evidence can be a "double-edged sword," creating fear in the jury as well as sympathy, Kelly contends that his trial counsel made a rational choice to withhold such evidence without specific instructions to the jury regarding its mitigating impact.
As examples of such "double-edged" evidence, Kelly points to a defendant's poor childhood characterized by abuse or neglect, his history of drug use, or his diminished mental capacity. Kelly has not previously made this argument. The state makes no contention that Kelly has failed to exhaust his state remedies and we do not rest on this point. However, we nonetheless decline to consider the argument here because it was not made to the federal district court.
V
* Kelly also attacks the constitution of the jury. He argues that Aron Foster was excluded for cause contrary to Witherspoon v. Illinois, 391 U.S. 510, 88 S.Ct. 1770, 20 L.Ed.2d 776 (1968). A state can exclude for cause those who made unmistakably clear (1) that they would automatically vote against the imposition of capital punishment without regard to any evidence that might be developed at the trial of the case before them, or (2) that their attitude toward the death penalty would prevent them from making an impartial decision as to the defendant's guilt.
Id. at 522-23 n. 21, 88 S.Ct. at 1777 n. 21 (emphasis in original). We now look to whether the juror's views would " 'prevent or substantially impair the performance of his duties as a juror in accordance with his instructions and his oath.' " Wainwright v. Witt, 469 U.S. 412, 424, 105 S.Ct. 844, 852, 83 L.Ed.2d 841 (1985) (quoting Adams v. Texas, 448 U.S. 38, 45, 100 S.Ct. 2521, 2526, 65 L.Ed.2d 581 (1980)); see also Woolls v. McCotter, 798 F.2d 695, 699 (5th Cir.1986) (following Wainwright). The trial court's decision to exclude the juror is presumed correct under 28 U.S.C. Sec. 2254(d). See Wainwright v. Witt, 469 U.S. at 426-29, 105 S.Ct. at 853-55; see also Woolls, 798 F.2d at 699 (applying Sec. 2254(d) standard).
Kelly must adduce "clear and convincing evidence" that the state court's factual determination was erroneous. See Wainwright, 469 U.S. at 435, 105 S.Ct. at 858. He has failed to do so. We are persuaded that Mr. Foster properly was excused; the record makes it plain. See Wicker v. McCotter, 783 F.2d 487, 493 (5th Cir.), cert. denied, 478 U.S. 1010, 106 S.Ct. 3310, 92 L.Ed.2d 723 (1986).B
Kelly next argues that the jury was unconstitutionally conviction-prone and did not reflect the "contemporary standards of decency" required by the Constitution. The Supreme Court has rejected this argument, finding that the removal for cause of "Witherspoon-excludables" did not violate a constitutional right to an impartial jury. See Lockhart v. McCree, 476 U.S. 162, 106 S.Ct. 1758, 1770, 90 L.Ed.2d 137 (1986); see also Brogdon v. Blackburn, 790 F.2d 1164, 1169 (5th Cir.1986) (deciding that Lockhart foreclosed such a claim), cert. denied, 481 U.S. 1042, 107 S.Ct. 1985, 95 L.Ed.2d 824 (1987). Nor do death-qualified juries violate the fair cross-section requirement. See Lockhart, 106 S.Ct. at 1766; see also Wicker v. McCotter, 783 F.2d at 493-94 (rejecting unfair bias and fair cross-representation arguments). Finally, Kelly provides no case law to support his "contemporary standards of decency" contention.
VI
Kelly finally launches a general attack on the death penalty. He argues the Texas death penalty scheme has been applied in an arbitrary and capricious manner since 1973 and that it was applied in Kelly's case in an arbitrary and invidious manner. This is not argument but rhetoric, for Kelly provides no facts or studies to support his allegation. We reject it.
Kelly argues that Texas applies the death penalty in a racially discriminatory fashion, but does not establish "that the decisionmakers in his case acted with discriminatory purpose." McCleskey v. Kemp, 481 U.S. 279, 107 S.Ct. 1756, 1766, 95 L.Ed.2d 262 (1987).
Kelly next asserts that the death penalty has no penological justification. However, "it is settled that the death penalty may, as a general rule, be imposed on individuals for capital murder who themselves killed, attempted to kill, or intended that a killing take place." See Evans v. McCotter, 790 F.2d 1232, 1243 (5th Cir.), cert. denied, 479 U.S. 922, 107 S.Ct. 327, 93 L.Ed.2d 300 (1986); see also Tison v. Arizona, 481 U.S. 137, 107 S.Ct. 1676, 1688, 95 L.Ed.2d 127 (1987) (stating that death penalty may be used on defendant whose mental state was one of reckless indifference to human life).
Finally, Kelly argues against lethal injection as a method of execution, arguing that it is cruel and unusual punishment, especially when administered by an unqualified person. Again, we already have rejected this argument. See Woolls, 798 F.2d at 698.
JOHNSON, J., concurs in the judgment.
*****