Lester Kills On Top
No A027079
...Montana State Prison
...Deer Lodge, Montana
| | |
| --- | --- |
| ...Year of Birth | 1962 |
| ...Marital Status | single |
| ...Children | unknown |
| ...Date of offense | October 17, 1987 |
| ...Sentenced to death | June 24, 1988 |
| ...Status | sentence reduced from the death penalty to two life sentences with no parole.. |
Shortly after midnight on October 17, 1987, two brothers, Lester & Vern Kills On Top, entered a bar in Miles City Montana. With them were two women, Diane Bull Coming & Doretta Four Bear. When another patron, John Martin Etchemendy, complained he could not find his car, the four offered to help. With Etchemendy in their car, they drove away from the bar.
At some point the four decided to assault & rob the victim. They forced Etchemendy to disrobe & climb into the trunk of the car. At 5AM Four Bear left the group, but another friend, Lavonne Quiroz, joined it. The group drove south to Gillette, Wyoming, arriving there in the afternoon. While Vern & Quiroz went to a bar, Lester & Bull Coming drove out of town. They stopped, & according to Diane's testimony, Lester beat Etchemendy to death with a pipe. They abandoned the body in a rural area 20 miles south of Gillette.
Once the Blackfoot, Crow, Sioux & Assiniboine roamed Montana's plains. When white settlers invaded the area in the 19th century, the Cheyenne became embroiled in wars to defend their territory. By the late 20th, only about 2000 northern Cheyenne were left. They live on the Tongue River reservation, located in the southeastern part of Montana. This story is about two of them, Lester & Vern Kills On Top, full-blooded, enrolled members of the northern Cheyenne tribe.
Access to Lester was closely guarded by a lawyer in Washington state. A long list of restrictions had been faxed to us, including a prohibition against recording our conversation with him. We set about convincing the officer in charge to remove Lester's handcuffs. But once they were off, Lester became uncomfortable. He had not sat with civilians in a long time; freedom made him nervous.
Lester's disposition was delicate, so his attorneys had asked us not to talk about his crime. We skirted around it, taking care not to upset or depress him. Lester cannot read or watch TV: his attention wanders. We were told he paces constantly inside his minuscule cell, a caged soul.
Although Lester now fervently embraces Christianity, studying the Bible in prison, he was educated in Native American lore. Named Strange Owl by his grandfather, he speaks & reads Cheyenne. But like many Indians today, Lester had had alcoholic parents, & had been shuttled back & forth among several foster families, both on & off the reservation.
Because the Kills On Top brothers committed part of their crime off the reservation & part on Indian territory, the murder of John Martin Etchemendy became a question of jurisdiction. With Etchemendy in the trunk of their car, the men drove around southern Montana & northern Wyoming, cut through the reservation, & crossed the border. There was therefore a great deal of legal maneuvering over where they should be tried: in Wyoming or Montana, in federal court or state court. Because Lester had murdered a member of the white majority on majority land, the majority took over & punished him according to majority law.
In mid-1995, the Montana Independent Record carried the headline "Convict's Death Sentence Overturned." The state supreme court had ordered a resentencing for Lester Kills On Top. His lawyer had convinced the Montana Supreme Court that the state had withheld evidence that might have undermined her credibility. Lester was off death row.
Fotojones.com


---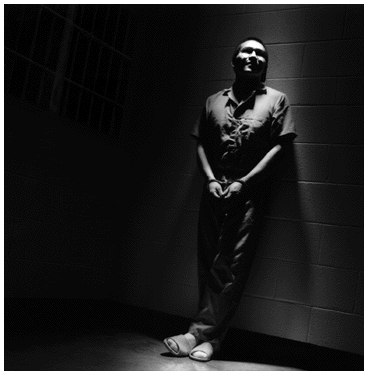 Lester Kills On Top