Masahiro Kanagawa (金川 真大, Kanagawa Masahiro, born 1983) is a Japanese man who went on a stabbing spree in the city of Tsuchiura on March 23, 2008, which left a 27-year-old man dead and seven others wounded. Police arrested Kanagawa, then 24, who was wanted in an earlier slaying of a 72-year-old man. The man told the investigators that he "just wanted to kill anyone".
The suspect, who carried two knives, stabbed the 27-year-old man to death and hurt at least seven others, while the victims were walking along a short hallway connecting a railway station. The 27-year-old died as he was being rushed to a nearby hospital.
Police said that Kanagawa liked games and that he hid out in Akihabara while escaping. A part of mass media claimed that he murdered people under the influence of Ninja Gaiden Dragon Sword. He reportedly sought capital punishment. Tomohiro Kato, who committed the Akihabara massacre, is alleged to have posted a message which referred to his case.
The Mito District Court sentenced him to death on December 18, 2009.
---
Japanese man sentenced to death for stabbing spree
AsiaOne.com
Fri, Dec 18, 2009
TOKYO, Dec 18, 2009 (AFP) - A Japanese man was sentenced to death Friday for killing two people and wounding seven in knife attacks last year.
Masahiro Kanagawa, 26, stabbed to death one man and days later claimed his other victims in a knifing spree outside a shopping centre near Tokyo.
Kanagawa said he wanted to be executed for his crimes.
"The crime is evil... he killed and injured other people because he wanted to die," said Mito District Court presiding judge Shinichi Suzushima, according to a public broadcast report.
The judge said the death penalty, demanded by prosecutors, was "unavoidable" after ruling that Kanagawa was mentally fit.
The defendant had pleaded guilty to murder and other charges and told the court he welcomed the death penalty.
Kanagawa was put on the police most wanted list over the murder of a man in Tsuchiura, east of Tokyo, in March 2008.
Four days later he went on a stabbing spree outside a shopping mall, killing another man and injuring seven others. The victims were strangers to him.
Japan, which executed seven convicts this year, is the only major industrial nation other than the United States to impose the death penalty. Capital punishment is overwhelmingly supported by the public in Japan, which has one of the world's lowest crime rates.
---
Suspect in stabbing spree sought death sentence
THE ASAHI SHIMBUN
April 14, 2008
MITO, Ibaraki Prefecture--An unemployed man was rearrested Sunday over a stabbing rampage last month that was apparently committed in connection with the suspect's own death wish, police said.
Ibaraki prefectural police rearrested Masahiro Kanagawa, 24, on Sunday on suspicion of murdering a company employee and attempting to murder seven others in and around JR Arakawaoki Station in Tsuchiura last month.
Kanagawa had already been arrested over a separate murder four days before the March 23 stabbing spree.
"I couldn't kill myself because it would be too painful," police quoted Kanagawa as saying. "I thought that I could receive the death sentence if I murdered a number of people."
According to the investigation, Kanagawa fatally stabbed Takahiro Yamagami, a 27-year-old employee, in the neck with a kitchen knife at a supermarket around 11 a.m. on March 23. The supermarket is adjacent to Arakawaoki Station.
Kanagawa also attempted to murder seven others in and around the station by stabbing at their necks and shoulders, police said.
Despite a team of plainclothes investigators on the lookout for Kanagawa, he arrived at the station by train unnoticed and then committed the stabbing spree with a clear intent to kill, police said.
"(When I arrived,) I thought that I would kill seven or eight people," Kanagawa has told police.
Police had been searching for Kanagawa after Yoshikazu Miura, 72, was stabbed in front of his house in Tsuchiura on March 19. Kanagawa became a suspect after his bicycle was found near the scene.
Kanagawa, who has admitted he killed Miura, did not know the elderly man.
According to police, Kanagawa also considered killing his younger sister or attacking a local elementary school he had attended.
Kanagawa quit his part-time job at a convenience store in January. He then bought a kitchen knife and a survival knife, and wrote "death" on a wall in his room with a red pen.
The Mito District Public Prosecutors Office conducted a basic examination on Kanagawa's mental condition and found that he could be held responsible for his actions.
---
Stabbing spree kills one, injures seven
Wanted man goes wild at mall in Ibaraki
The Japan Times
Monday, March 24, 2008
MITO, Ibaraki Pref. (Kyodo) A man wanted by police for murder went on a stabbing spree outside a shopping mall in Tsuchiura, Ibaraki Prefecture, on Sunday, killing one man and injuring seven other people, police said.
Ibaraki Prefectural Police arrested Masahiro Kanagawa, 24, near the scene shortly after the attack. Kanagawa had been placed on the wanted list Friday on suspicion of fatally stabbing 72-year-old Tsuchiura resident Yoshikazu Miura on Wednesday. Kanagawa was initially arrested on suspicion of murdering Miura.
The police said they will pursue charges of murder and attempted murder in connection with the eight stabbings, which took place in the area around JR Arakawaoki Station on the Joban Line.
Among the victims of Sunday's rampage was 27-year-old Takahiro Yamakami of Ami, who died after being taken to a hospital.
The other seven include a 62-year-old woman and an 18-year-old male student who were seriously wounded, and three other men and a woman between 16 and 60, including a 29-year-old police officer from Tsuchiura police station, whose wounds are not life-threatening.
The police received a call about the stabbing spree at around 11 a.m. and another one from Kanagawa himself, who was calling from an unmanned police box.
"I did it," he told them.
Officers overpowered Kanagawa in front of the police box, which is about 200 meters from the train station. He was armed with a kitchen knife and a survival knife.
The suspect told investigators after his arrest that he "wanted to kill people," and that he didn't care who they were.
The rampage took place even though eight police officers had been posted around the station following Wednesday's murder, the police said, expressing regret for failing to prevent the attack.
According to police and witnesses, Kanagawa stabbed five people near the station's ticket gate while walking from the west exit to the east exit, which leads to a narrow corridor to the mall. He then attacked two more on the path before fatally stabbing Yamakami just outside the entrance.
"I saw a young man collapsed, with a pool of blood around his head," said the manager of a nearby cell phone shop "I can't believe this is happening in such a quiet town," he said.
A female employee at a nearby beauty salon said: "Four or five ambulances were here. I don't know what's going on here."
In Wednesday's slaying, Miura was allegedly stabbed once in the neck in front his house and died later in a hospital, the police said.
The police put Kanagawa on the wanted list Friday after discovering his bicycle at the crime scene and traces of Miura's blood on clothes seized from his home.
Police described Kanagawa as an lonely, unemployed man who likes games and is not good at communicating with others. The day after he was put on the wanted list, Kanagawa made a trip to Tokyo's electronics and game mecca of Akihabara, police said.
He lives with his parents, two sisters and a brother in Tsuchiura, they said. One of his schoolmates said Kanagawa didn't have many friends and did not go out very often and would suddenly get angry after losing games.
He worked at a local convenience store sometimes, but didn't have many other jobs, he said.
---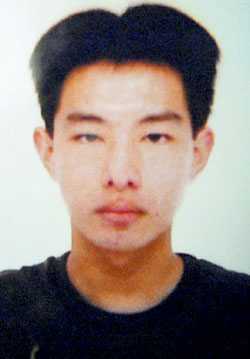 Masahiro Kanagawa