Arthur Hutchinson, a petty criminal who also had a history of violence, Hutchinson gatecrashed a wedding reception at the home of a Sheffield solicitor in 1983. He stabbed to death the bride's mother, father and brother, before raping her sister at knifepoint. A palm print on a bottle of champagne helped lead police to him. He was jailed in 1984.
---
Arthur Hutchinson (born Hartlepool, County Durham, England, on 19 February 1941) is an English murderer and rapist who committed three murders and a rape in 1983. He is currently incarcerated, serving a sentence of life imprisonment.
All of Hutchinson's murders and the rape were carried out during one combined attack on a family who had celebrated the marriage of one of their daughters on the previous day. Neither the victims of the attack nor their assailant had ever met each other before.
In 1983, 28-year-old Richard Laitner was stabbed to death by Hutchinson in his bedroom in the South Sheffield suburb of Dore. His father, solicitor Basil Laitner, went upstairs to investigate the noise and was then stabbed to death by Hutchinson. Hutchinson then went downstairs and stabbed Avril (Basil's wife) twenty-six times. She died from her wounds. Returning upstairs, Hutchinson then attacked Nicola, the youngest of the Laitners' daughters, repeatedly raping her. The previous afternoon the family had enjoyed the wedding reception of the other Laitner daughter, Suzanne, who was away on her honeymoon when the crimes occurred.
Hutchinson was 42 years old when the crimes were committed. His palm print, left on a bottle of champagne (from the earlier wedding reception) led police to him. He was subsequently arrested, tried, convicted and received a mandatory sentence of life imprisonment in 1984.
The trial judge recommended a minimum term of 18 years, which could have seen Hutchinson paroled in 2002, but at least one subsequent Home Secretary is known to have issued Hutchinson with a whole life tariff (thereby making it extremely unlikely that he will ever be released) and in May 2008 he failed in a High Court appeal for his whole life tariff to be quashed.
Wikipedia.org
---
Arthur Hutchinson (born Hartlepool, County Durham, England, in 1941) is a notorious British murderer, serving life sentences for stabbing to death three members of the same family at their home following a wedding reception.
The Laitner massacre
On October 23rd 1983, Suzanne Laitner got married and a reception was held afterwards at the family home in Dore, a suburb of Sheffield, South Yorkshire. The reception was attended by the close families of the bride and groom as well as numerous friends, and the couple set off on their honeymoon at the end of the day before the guests dispersed.
Remaining at the house were the bride's 28 year brother, Richard Laitner; her sister Nicola; and her parents Basil, a partner in a local firm of solicitors, and Avril, a doctor.
Richard Laitner subsequently went upstairs and a confrontation began in his bedroom which led to him being stabbed to death. The intruder then inflicted several fatal knife wounds on Basil Laitner, who had come upstairs to investigate the noise, before going downstairs and stabbing Avril Laitner 26 times. Returning upstairs, he went to Nicola Laitner's room and raped her numerous times at knifepoint before fleeing. Nicola Laitner immediately raised the alarm.
Quick identification
Police launched a wholehearted search for Hutchinson, identifying him publicly as their suspect after matching a handprint found on a champagne bottle with a print on his criminal file. Hutchinson was previously known to the police for petty thefts and violence, and he was already on the run after escaping from custody during an appearance before a magistrates court in Selby, North Yorkshire on a rape charge. He had previous convictions for indecent assault, unlawful sexual intercourse and fraud.
An appeal was made to help locate Hutchinson, who it was believed had fled back to his native north east, although ten police forces throughout the north and midlands were briefed to search for him. Fewer than two weeks after the killings, he was arrested in a field near Hartlepool, County Durham, after being spotted trying to call his mother from a telephone box. Hutchinson tried and failed to stab himself when he was apprehended.
Hutchinson already had a leg injury, which he had sustained during his escape from Selby Magistrates Court. He was immediately taken to hospital for treatment, and then into police custody for questioning, before being charged with three counts of murder and one of rape.
The trial
On September 4th 1984, Hutchinson went on trial at Durham Crown Court and claimed in his evidence that he was not at the house at the time of the killings, trying instead to implicate a journalist from the Sunday Mirror newspaper. Hutchinson also said in court that he knew of the Laitner family and their address after meeting Nicola Laitner in a bar, and she had told him in innocence where she lived. Local gossip later strengthened this claim after the trial, but it was entirely false.
The forensic evidence of the palm print, along with blood group matches and a bite mark from a piece of cheese was overwhelming evidence against Hutchinson and after a ten-day trial, during which time the jury became the first ever to see an entire scene-of-crime video shot by the police, he was found guilty and sentenced to life imprisonment.
Outrage was expressed by representatives of Rape Crisis, a national organisation which counselled and assisted rape victims, after reporting restrictions were lifted at the outset of the trial, allowing media organisations to identify Nicola Laitner by name as a rape victim. She had been due to give evidence about the attack on her by Hutchinson - and indeed did so - but legal arguments were made, and accepted, to solve the problematic issue of her anonymity when it was common knowledge from the initial reports of the massacre that Hutchinson had also committed an act of rape on a further family member.
Representations were made which submitted that maintaining Nicola Laitner's anonymity would have also necessitated keeping the names of the three murder victims - her parents and brother - out of the trial; something deemed to be a legally pointless exercise as the case had attracted considerable public interest and their identities had been widely publicised and were widely known.
Aftermath
Hutchinson was denied compassionate release to attend his father's funeral in 1985 and subsequently lost an appeal against all of his convictions. He remains in prison to this day and was on the published list of prisoners issued with a whole life tariff, ensuring that he would never be released alive.
However, a European Court of Human Rights judgement decided that such tariffs were unlawful and as a consequence, all prisoners served with such tariffs reverted to the original recommended periods of incarceration from their trial judges.
The judge in Hutchinson's case, Mr Justice McNeill, recommended a tariff of 18 years, but the Home Secretary of the time, Leon Brittan, later extended this to a whole life tariff. Hutchinson, now a pensioner, has long served his original recommended term of incarceration set by his trial judge, but he remains in prison and it is likely he will be there until he dies.
The Laitner house was sold in 1984 and the firm of solicitors which Basil Laitner co-partnered and bore his surname was bought out and the name changed. It is believed that Nicola Laitner (and her sister Suzanne, who had gone on honeymoon and not been caught up in the attack) both assumed new identities and left Sheffield.
---
Triple killer will die in prison
BBC News
Friday, 16 May 2008
A convicted killer who murdered the parents and brother of a bride hours after her wedding will die in prison after a judge rejected his appeal bid.
Arthur Hutchinson was given a life sentence for stabbing to death Basil Laitner, wife Avril and son Richard at their home in Dore, Sheffield.
Reviewing the case a High Court judge ruled the 66-year-old must remain in prison for life for his 1984 crimes.
He is one a small number of UK killers with a "life means life" tariff.
Hartlepool-born Hutchinson, then 42 years old and not known to the Laitner family, committed the murders at the family home hours after they had hosted the wedding reception of their daughter Suzanne.
'Whole life'
After killing three members of the family, Hutchinson raped the Laitner's other daughter, aged 18 at the time. He was convicted of this charge at the murder trial.
At the trial the judge recommended a minimum jail term of 18 years but qualified it by saying it was "a genuine life case".
At Friday's hearing Hutchinson's solicitors argued that a "whole life" tariff violated his human rights.
But Mr Justice Tugendhat told the court he agreed with the Home Secretary's decision that Hutchinson must die in prison.
And he refused to allow the appeal to go any further.
Justice Tugendhat added: "There is no reason at all for departing from the decision of the home secretary."
At the time of the killings Hutchinson was on the run from police for another rape.
---
Arthur Hutchinson will die in prison
By Sam Beattie - Evening Gazette
October 7, 2008
A MULTIPLE murderer who butchered three members of the same family has been told he will die behind bars.
Arthur Hutchinson - who gained notoriety on Teesside as The Fox - killed solicitor Basil Laitner, his doctor wife Avril, and their son, Richard, just hours after their elder daughter Suzanne's wedding in 1983.
He left their mutilated bodies in pools of blood and subjected their other daughter, Nicola, then 18, to a barbaric rape at knifepoint.
But as the full horror of the massacre unfolded, The Fox - so named after bragging about his "cunning" on tapes found by police - went to ground.
Less than a month before, he had become a wanted man after escaping from court where he was on remand for rape.
It was only after a manhunt across nine northern counties that he was finally brought to justice.
Hutchinson, now 67, denied the killings at the time and challenged his life sentence at the Court of Appeal in London yesterday.
But his bid for freedom was shattered when the court's three judges told him his crimes were so deranged, life must mean life. All three described his case as the most heinous they had ever dealt with.
Earlier this year, High Court judge Mr Justice Tugendhat reviewed the original tariff of 18 years and ruled that the triple-killer must never be set free. Judges yesterday denied Hutchinson permission to appeal.
Lord Justice Dyson, sitting with Mr Justice Henriques and Mr Justice Openshaw, said there was "no substance" in Hutchinson's application.
He said: "This was a truly shocking case. In the experience of all three members of this court we can say that none of us is aware of a case of greater gravity or more heinous than this case.
"In our judgment Mr Justice Tugendhat was plainly correct in saying that this applicant should spend the rest of his life in custody without prospect of release."
Hutchinson, formerly of Kelso Grove, in Hartlepool, systematically massacred members of the Laitner family in their Sheffield home a quarter of a century ago. The only survivor at the house, their daughter Nicola, was raped by Hutchinson in her bedroom as he held a knife to her throat - and then had to face him again when she took to the witness box to testify against him.
At the time the court took the unusual step of allowing her to be named, due to the massive public interest.
Before the Laitner murders, Hutchinson had spent five-and-a-half years in jail for trying to shoot his half-brother.
But his time behind bars did nothing to quench his thirst for violence.
Basil Laitner was found in his pyjamas lying face down at the top of the stairs. Mrs Laitner, who had tried to fend off her killer, lay in a puddle of blood on her bedroom floor. And Richard Laitner, also in his pyjamas, was discovered half on and half off the bed.
Police made a video recording of the scene as evidence. Murder squad detectives were so sickened by Hutchinson's acts, the officer leading the investigation told the Gazette it was the worst case he had worked on.
How the killer was captured
A CHILLING message sneered on to an audio tape that soothed his twisted ego - but proved vital in securing his fate.
A manhunt that spanned 39 days and nine counties - but ended a stone's throw from his home.
A dangerous loner who committed the most horrendous crime known to man - but ended up sacrificing his freedom just to see his mother.
Many have tried to glean some sort of insight into Arthur Hutchinson's mind after he ended three lives and ruined a fourth on October 23, 1983. Few have even come close.
And a quarter of a century on, top judges are still so disturbed by the lethal enigma that is Hutchinson, they have reiterated: "You must die in jail".
Hutchinson's unnerving spate as one of Britain's most wanted men began when, already on the run for rape, he crept into the Laitners' house for what is thought to have been a botched armed robbery.
After slaughtering Basil, 59, Avril, 55, and Richard Laitner, 28, and raping Nicola with a sharp knife pressed at her throat, he disappeared into the night.
Just three days after her ordeal, sole survivor Nicola gave such an uncanny description of Hutchinson to a newspaper artist, detectives recognised him immediately.
The hunt was on. But by now, Hutchinson had crossed the county border and was hiding out in Worksop. Apparently moving around in disguise, Hutchinson darted between guesthouses and pubs in the North - Barnsley, Nottinghamshire, Manchester, York, Scarborough.
Sgt Tom Walton, who was helping with the manhunt, told the Gazette at the time: "This man is on the run and we believe he is quite clearly capable of killing if cornered."
Despite all his hot-footing, the police were closing in - officers reckoned they were rarely more than a day off his heels.
Nursing a gash to his leg, caused by a close encounter with barbed wire during his court escape, and increasingly paranoid that police would shoot him on sight, Hutchinson could feel the net closing.
So he sought sanctuary with the one woman he had always loved and had always been loved by - his mum, Louise Reardon, who lived in Hartlepool. But cops leapfrogged him, throwing up roadblocks around Teesside.
And thanks to a tip-off, dog handlers spotted him near a farm just outside Hartlepool. He was cornered and arrested in a turnip field.
By now, police had also found an audio tape at one of his squats in Darlington on which he bragged about his escape from custody, saying he was "also nicknamed The Fox because of my cunning ways."
In a stunt that eerily echoed the taunts sent by Yorkshire Ripper hoaxer, Wearside Jack - real name John Humble - just a handful of years prior, he goaded cops about the Lainter murders.
He said: "I'm making no comment on the triple killings, let the police do what they want. I'm saying nowt."
But it was the jury of six men and six women who ultimately decided that. Defended by the same solicitor who represented the Yorkshire Ripper, Peter Sutcliffe, Hutchinson always maintained his innocence.
He was found guilty on September 14, 1984. Hutchinson had risked - then lost - his freedom to visit his mum who initially stood by her son, on one occasion spending £125 in cab fares to see him in prison.
Then, following his conviction, the 79-year-old vowed never to see him again, saying: "I never could believe before now that Arthur could be so violent and thought that everything about the case was a pack of lies. I believed him."
Chilling words...
HUTCHINSON introduces himself on an audio tape and says he is nicknamed The Fox - "because of my cunning ways".
Describing his escape from court, he says: "I hurled myself through an upper window, crashing into a barbed wire net, ripping my leg to pieces."
He says he ran, barely stopping for four miles before collapsing.
"I stopped in the bushes for hours then I see the helicopter hunt. So I dragged myself into the gutter, crawled along the gutter and forced myself into bramble bushes and stayed there till it got dark."
He says he spent four nights on the run, surviving on dandelions and roots before going to hospital in Doncaster.
"Trousers were at this stage covered in blood but I kept on going. I got my treatment, left and walked another three to four miles back into the wilderness. You just have to keep continuing sometimes.
"I just had to live day by day but I won't give in. I'll never give in - even when they shoot me, else finish me off."
Hooking up a transistor, he listened in to police searches for him, he boasts. "Like playing cat and mouse - or should I say fox on the trot?" Hutchinson laughs.
"I'm making no comment on the triple killings - let the police do what they want. I'm saying nowt.
"They knew I was finished but makes no difference whether they shoot me for this or anything else. If they think I'm dangerous, let them think that. Maybe I am, maybe I'm not. I'm still free and that's the main thing.
"However crackers I might be, I've walked past them several times and they haven't even noticed me. Like I say, I'm a master of disguise," he says, laughing again.
---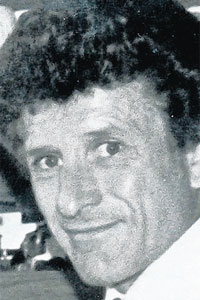 Arthur Hutchinson