Karl Hulten was born in Sweden in 1922. His family emigrated to the United States and grew up in Massachusetts. After leaving school he worked as a grocery clerk, driver and mechanic.
After the bombing of Pearl Harbor, Hulten joined the United States Army. He was trained as a paratrooper and in 1944 he was sent to England to take part in the D-Day invasion of Europe. Hulten did not like the idea and deserted, taking with him a large military truck.
On 3rd October 1944, Hulten met Elizabeth Jones, a eighteen-year-old Welsh striptease dancer. On their first date they ended up using Hulten's truck to knock a young girl from her bike and stealing her handbag. The following day they gave a lift to a woman carrying two heavy suitcases. After stopping the car Hulten attacked the woman with an iron bar and then dumped her body in a river.
On 6th October the couple hailed a hire car on Hammersmith Broadway. When they reached a deserted stretch of road they asked the taxi driver to stop. Hulten then shot the driver in the head and stole his money and car. The following day they spent the money at White City dog track.
Jones now told Hulten she would like a fur coat. On 8th October they parked the stolen hire car outside Berkeley Hotel while they waited for a woman to emerge wearing a fur coat. Eventually Jones chose a white ermine coat worn by a woman leaving the hotel. Hulten attacked the woman but before he could get the coat a policeman arrived on the scene. Hulten managed to escape and drive off in his car. However, the following morning, Hulten was arrested as he got into the stolen hire car.
There was great public interest in the case of the GI gangster and his striptease dancer. The public was deeply shocked by the degree of violence the couple had used during their crime spree and it came as no surprise when both Karl Hulten and Elizabeth Jones were found guilty of murder and sentenced to death. Hulten was executed at Pentonville Prison on 8th March 1945 but Jones was reprieved at the last moment and was released in May 1954.
Spartacus.schoolnet.co.uk
---
The cleft chin murder was a killing which occurred as part of a string of crimes during 1944, and referred to in George Orwell's essay "Decline of the English Murder". It became known as the "cleft chin murder" because the murder victim, a taxi driver, had a cleft chin.
History
On 3 October 1944, an eighteen-year-old Welsh waitress called Elizabeth Jones met an American army deserter called Karl Hulten in a tea shop. The friendship only lasted six days. During that time they knocked over and killed a nurse cycling along a country lane and robbed her, picked up a hitchhiker, knocked her unconscious, robbed her, and then threw her into a river to drown (though she survived), and finally murdered a taxi driver named George Edward Heath. They robbed Heath of £8, which they spent at the races the next day.
Both were dreamers — Jones dreamed of "doing something exciting," and fantasized about being a stripper, whereas Hulten described himself as an officer and as a Chicago gangster, both of which were false.
Jones was born in Neath, Wales, in 1926. At the age of thirteen she ran away from home and eventually she was sent to an approved school because she was considered to be "beyond parental control."
Hulten was born in Sweden in 1922 and had enlisted after the Attack on Pearl Harbor. Initially Hulten had stolen an army truck, which he eventually abandoned, but kept the murdered taxi driver's car. After spending the taxi driver's £8, Elizabeth announced she wanted a fur coat. Hulten attacked a woman in the street and tried to snatch her coat, but the police came and Hulten only just managed to escape, which he did in the stolen car.
He was eventually caught because the car was still in his possession. In the meantime Jones had gone to the police and admitted to the crimes, to ease her conscience. During the trial they implicated each other. They were both found guilty of murdering Heath, but Hulten was hanged, at Pentonville Prison on 8 March 1945, whereas Jones was reprieved and released in May 1954. Her subsequent fate is unknown.
The reprieve caused some controversy, because many people considered the crimes to be cowardly, and in a war-torn England where everyone was pulling together to face a common enemy, almost treasonous. "SHE SHOULD HANG" was graffitied in several places in Jones's home town.
A film, Chicago Joe and the Showgirl was made in 1990, based on the story, directed by Bernard Rose, written by David Yallop, and starring Emily Lloyd, Kiefer Sutherland, and Patsy Kensit.
Wikipedia.org
---
Jones, Elizabeth Maud & Hulten, Karl
Elizabeth Maud Jones was born in South Wales on 5th July 1926. When she was only sixteen she married a soldier who was ten years older than her. He had lost his temper with her and hit her on their wedding day and not wishing to give him another opportunity she had left him.
In January 1943 she moved to London and, after doing a variety of jobs as barmaid, usherette and waitress, she became a striptease dancer using the stage name Georgina Grayson. In the spring of 1944 she lost her job and only had her separation allowance from her husband to live on.
On the afternoon of Tuesday, 3rd October 1944, she was sitting in a small cafe in Queen Caroline Street, Hammersmith Broadway, with a friend named Len Bexley. She was introduced to Hulten by Bexley and she was impressed with the man who called himself 'Ricky' and told her that her was a lieutenant in the American Army. This was a lie as 22-year-old Hulten was really only a Private and had been absent without leave from his paratroop regiment for six weeks. They seem to hit it off and when they all left the cafe Hulten and Jones walked off together. Hulten asked Jones if she would care to go out later that day and she agreed.
Elizabeth turned up for their date at the Broadway cinema at 11.30pm, as arranged, but there was no sign of Hulten. Thinking she had been stood up she started to return to her rented room in King Street when a two an a half ton truck pulled up in front of her. It was driven by Hulten. She climbed into the truck and they drove off. As they chatted she told him that she would like to do something exciting, like being 'a gun moll' as they did in the States. Hulten then decided it was time to tell her of his real background, he explained to her that the truck was stolen, as was the pistol that he showed her. When they got to Reading they drove past a girl on a bicycle and stopped a little way down the road. As the girl cycled past Hulten pushed her off her bike. The girl jumped up and ran off leaving her bike and her purse behind. Hulten grabbed the girl's purse that hung from the handlebars and getting back into the lorry they drove back to London where he dropped Jones off in King Street around 5am. This introduction to a life of crime had netted them a few shillings and some clothing coupons.
On the Thursday, 5th October, Hulten called for Jones around 5.30pm and they went out for a meal followed by a visit to the Gaumont cinema in Hammersmith. When they left the cinema, around 8.45pm, they went to a cafe and then got into the truck and set off for Reading again. They probably intended to rob a public house near Sonning, but called the plan off and drove back to Marble Arch. Jones suggested to Hulten that they should hold-up the driver of a taxi. They followed a cab out to Cricklewood and, having forced the taxi to stop, threatened the driver with the gun. The fact that the taxi had a passenger in the back unnerved Hulten and they fled back towards Marble Arch.
In the Edgware Road they picked up a young girl who was trying to get to Paddington to catch a train to Reading. They offered to run her there. Faking a flat tyre near Runnymede Park they got the girl to turn her back on Hulten who hit her with an iron bar and half-strangled her. They rifled her pockets and dumped her by the edge of a stream. This attack netted them about five shillings. They returned to King Street and stayed there until 3pm, when Hulten left arranging to meet Jones later that evening.
At about 11pm Hulten turned up and the pair decided to again try and rob a taxi. They hailed a Ford V8 private hire car in Hammersmith Road. It was driven by 34-year-old George Heath. He agreed to take them to Chiswick roundabout. When they got there Hulten told the driver to pull over so they could get out. Once he had stopped Hulten shot Heath in the back, the bullet lodging in his spine and paralysing him. Heath was moved into the passenger seat and Hulten started driving. With no regard for the mans suffering Elizabeth searched the man's pockets as they drove, finding Heath's wallet, watch, cigarette case, loose change and one or two other items. Some letters, cheque book, photos and coupons were thrown out of the window.
Heath died from his wound within fifteen minutes. They drove out towards Staines where they dumped his body in a ditch before driving back to London. They abandoned the car in a cinema car park, after having wiped it clean of fingerprints. They then went to the Black and White cafe, where they ate, before returning to Jones' room feeling very pleased with themselves.
The body was found later that morning at about 9am by a fireman returning home from the night shift. The items that had been thrown out of the car window had been found earlier by an electrician's apprentice. It didn't take the police long to identify Heath and to realise that his car was missing. A description of the car and its registration number, RD 8955, was circulated to all police stations.
That day Hulten went out and sold Heath's watch for £5 and a couple of other items they had taken for eight shillings. They passed the day in a pub and went to the greyhound races at the White City Stadium. On the Sunday evening, 8th October, they spent most of the night driving around in the Ford and parked up the car behind an air-raid shelter at about 7.30am.
That evening, around ten past eight, the car was found by a policeman on the beat, PC William Walters. He telephoned Hammersmith police station and was soon joined by Inspector Read and a sergeant in a police car. As the car had been carefully parked the police felt there was a chance that the culprit may come back. All three waited, keeping watch on the car.
At 9pm their hunch paid off and they saw Hulten get into the car. Inspector Read ran over and grabbed him by the arm. Helped by the other officers Hulten was dragged from the car and searched. The Remington automatic used to kill Heath was found in his trouser pocket. He was taken to Hammersmith police station where he told them he was 2nd Lt Richard Allen, 501 Parachute Regiment, US Army.
A law passed in 1944 required that no American serviceman should be tried in a British court and an American CID officer, Lt Robert Earl de Mott, interviewed Hulten at 3am. He quickly established his true identity and that Hulten was a deserter. Hulten's story was that he had found the car abandoned near Newbury. He was taken to the American CID headquarters in Piccadilly where he elaborated his story and told them that he had spent the Friday with Elizabeth Jones. She was picked up the next morning and the police took a statement from her before releasing her.
That evening the police again went to King Street to interview Jones. This time she confessed and implicated Hulten, saying that he had led her astray. The American authorities waived its rights on the Visiting Forces Act, allowing Hulten to be tried in a British court. They both appeared before Mr Justice Charles at the Old Bailey on Tuesday 16th January 1945. Their trial took six days and they were found guilty and were sentenced to death.
Elizabeth Jones, aka Georgina Grayson took the sentence badly and had to be dragged screaming to the cells. They both appealed but these were dismissed in February. Two days before she was due to go to the gallows, Jones was reprieved. Hulten was not so lucky and on 8th March 1945, he was hanged at Pentonville Prison by Alberth Pierrepoint. His date with death occured just five days after his twenty-third birthday. Jones served nine years and was released on licence in January 1954.
Real-crime.co.uk
---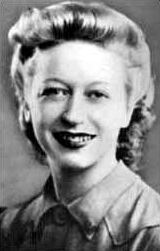 Elizabeth Jones served nine years and was released on licence in January 1954.
The victim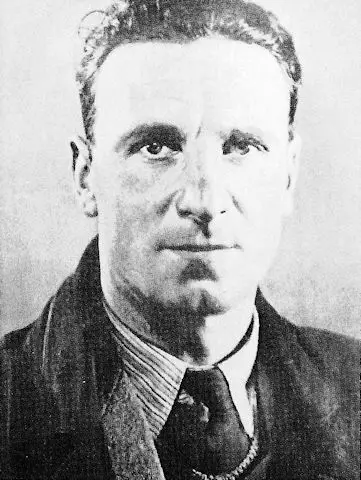 George Edward Heath, 34.