'El Boy' arrested by Mexican authorities [for Texas triple murder]
The Brownsville Herald
March 25, 2008
Hernandez wanted in connection with capitol murder of three teens
A near decade old cold triple-homicide case heated up Monday afternoon when Mexican authorities arrested 25-year-old Ricardo "Ricky" Hernandez, wanted by Brownsville police for the alleged capital murder of three teens.
Hernandez, also known as "El Boy," is accused of shooting 14-year-old Jason Sexton and 18-year-olds Roberto Moreno and Ricardo Mata with a 9mm pistol on April 25, 1998, on Minnesota Road, according to Herald archives.
Police Chief Carlos Garcia confirmed Monday afternoon that he was contacted by Mexican authorities regarding Hernandez's arrest.
Hernandez was then handed over to local authorities at 8:25 p.m. Monday night at the B&M International Bridge.
"That's the person that we've been after for close to 10 years," said Garcia.
Garcia said that Hernandez would under go fingerprinting identification as well through photo line-ups, to ensure positive identification.
Hernandez will also be charged with unlawful flight to avoid prosecution, a federal charge, Garcia said.
Sexton was a student at Oliveira Middle School, Moreno and Mata were students at Hanna High School.
Shortly after the killing of the three teens, police detectives said the boys were found shot dead on Minnesota Road inside a white Chevrolet Camaro. They also reported that Hernandez killed them in an attempted failed robbery and fled to Matamoros. He had been on the run since.
Hernandez traveled in a Ford Mustang with then-18-year-old Christopher Carrera while they raced the Camaro occupied by the three boys down Billy Mitchell Boulevard, according to Herald archives.
Carrera was sentenced in January 2004 to 15 years in prison for his participation in the triple murder.
The boys then drove up to the Mustang and asked Carrera and Hernandez if they had any marijuana for sell. Both told the boys to drive into Minnesota Road.
Hernandez's last known address here was at 1195 Chilton St., according to the Brownsville Crime Stoppers Web site.
Hernandez was 16 and a student at Perkins's Middle School when he allegedly killed the three boys.
---
Man pleads guilty to three murders, sentenced to 35 years
TheMonitor.com
January 7, 2011
Ricardo "Ricky" Hernandez was 15 when he shot and killed three Brownsville teenagers in 1998.
Now — at age 28, after hiding out for a decade in Matamoros and then being sent to the U.S. nearly three years ago by Mexican authorities — he has pleaded guilty to the crimes.
He was sentenced Friday to 35 years in prison for each of the three murders. The sentences are to run concurrently.
Hernandez — who reportedly was harbored by the Gulf Cartel during his decade on the run — appeared Friday before 138th state District Court Judge Arturo C. Nelson, where he pleaded guilty to killing Jason Sexton, 14; Roberto Moreno, 18; and Ricardo Mata, 18, on April 25, 1998.
The three teenagers were shot and left for dead on Minnesota Road in a remote area of Brownsville.
Asked how he wanted to plea, Hernandez replied, "Guilty."
He said he was pleading guilty because he had committed the crime.
His plea seemed to bring little comfort to the slain teenagers' families, who say they still do not know why their boys were killed. They sat in the courtroom, staring at Hernandez, the man they say changed their lives forever.
"You killed my father. You killed him by taking away his grandson," Irma Moreno, Robert's mother, told Hernandez in court. "He died a little every day after that. He could not come to grips, because you took his baby away."
On that fatal April night, Sexton, Moreno and Mata were riding in a Chevrolet Camaro, drag racing on Billy Mitchell Road against Hernandez and Christopher Carrera, who were in a Ford Mustang.
After racing, the two groups met up. Sexton, Moreno and Mata asked Hernandez if he knew where they could get some beer. For reasons that are not clear, they all drove to Minnesota Road, where the teens were killed.
"You are a murderer. ... You will always be the piece of (expletive) that ripped out my heart and killed my brother," Annette Recio angrily told Hernandez in open court.
Mata and Moreno were found lying near Moreno's Camaro; Sexton was found in a small ditch a few yards away, according to police reports. Sexton was shot six times, apparently while trying to flee.
"Right now, I don't think you feel any remorse for what you did," Sexton's mother, Sheryl, told Hernandez quietly. "I don't know what any 14-year-old could say or do to make someone shoot him six times and take his life."
Authorities still do not know the motive for the murders. Some speculate it was a botched robbery.
"There is nothing we can be sure of," said Assistant District Attorney Peter Gilman. "Some say that Ricky just wanted to rob them of $10 or something like that, but we don't know for sure what the deal is."
"STILL NO JUSTICE"
Irma Moreno was quick to say she is not satisfied with the punishment handed down to the man who killed her son. She isn't even sure a life sentence would serve as justice. And she does not think highly of the legal system.
"It sucks. We are not celebrities … we got the (expletive) end of the deal," Moreno said, wiping away tears. "My son is gone, the son that I carried for nine months. The son I raised for 18 years.
"What (Hernandez) did was a very heinous crime. He took three very beautiful boys that shouldn't have been killed."
Cameron County District Attorney Armando R. Villalobos said he understands their disappointment but his office had little evidence in the case and the witnesses either are now dead or hiding in Mexico. There was no way to guarantee a conviction had the case gone to trial, he said.
"The parents had their sons massacred, so there is nothing that we can do that is ever going to change that or bring them back," Villalobos said. "We have no ill feelings, nothing but understanding, for what the parents are going through."
Hernandez and Carrera each claimed the other had shot the teenagers, the district attorney said.
"All we really had was the Carrera family, who has given us various stories. One day (Carrera) would tell us that Ricky did this, and then another day he would say he wasn't going to testify against Ricky, so we had a very difficult time getting ready for this trial," Villalobos said.
He said his office will send information that links Hernandez to a Mexican drug cartel to the Texas Department of Criminal Justice in an attempt to ensure that Hernandez serves the entire term of his sentence without parole.
Carrera, 30, plead guilty to the murders in January 2004 and received a 15-year prison sentence, in exchange for his willingness to testify against Hernandez.
CARTEL PROTECTION
After the murders, Hernandez fled to Mexico, where he remained for about 10 years, reportedly under the protection of the Gulf Cartel.
"That is why we suspect he was able to stay in Matamoros so long without being turned over," Villalobos said.
Authorities received information from confidential sources that links Hernandez with the Gulf Cartel, once headed by Osiel Cárdenas Guillén.
Cárdenas Guillén, 43, is serving a 25-year sentence in a U.S. federal penitentiary for conspiracy to traffic drugs, money laundering, and threatening to assault and murder U.S. federal agents.
Although the district attorney's office has nothing on paper, and nothing that would stand up in court, Villalobos said he believes that when Cárdenas Guillén was given his plea deal of 25 years, part of the agreement was that Hernandez would be turned over to U.S. authorities.
"We have a lot of ancillary evidence as to what his (Hernandez's) membership was, and we are going to provide that ancillary evidence to TDC in hopes they will classify him as a security threat," Villalobos said.
Should officials of the Texas Department of Criminal Justice accept the district attorney's paperwork, officials could force Hernandez to serve his entire sentence with no chance for parole.
---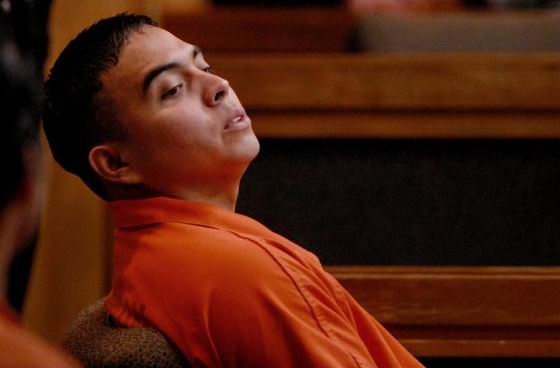 Ricardo "Ricky" Hernandez at his trial