Jury calls for death for killer of Pittsburg cop
LiveLeak.com
September 12, 2007
A Contra Costa County jury opted for the death penalty today for an Antioch man who fatally shot a Pittsburg police officer in 2005 after robbing a bank.
Alexander Hamilton, 20, showed no reaction when the verdict was read in the Martinez courtroom of Superior Court Judge Laurel Brady, who will formally sentence him Nov. 2.
But Kim Kupferer, one of his attorneys, cried and dabbed at her eyes with a tissue, as did many relatives of slain Officer Larry Lasater, 35, of Pacheco.
About a dozen Pittsburg police officers, including Chief Aaron Davis, were in court wearing buttons with pictures of Lasater at various times of his life. They were joined by Lasater's widow, Jo Ann, mother, Phyllis Loya, and other relatives.
Jurors deliberated less than a day before reaching their decision. The same jury convicted Hamilton of first-degree murder and robbery Aug. 13 for killing Lasater.
The defense will argue at the November hearing that Hamilton should be sentenced instead to life in prison without the possibility of parole.
Outside court, Jo Ann Lasater hugged prosecutor Harold Jewett. "Justice was done today," Jewett told her.
"The jury came to the right decision," she said in an interview. "We appreciate their time and effort." Still, she said, "it just doesn't change things."
Loya said, "I think how my son lived is more important than how he died. My son lived with a profound sense of duty and honor."
She said the verdict was "borne of justice," echoing a phrase the prosecutor used during his closing argument to the jury.
"Alexander Hamilton destroyed our lives," Loya said. Asked if she had anything to say to her son's killer, she replied, "I think Mr. Hamilton has to answer to God. He doesn't have to answer to me."
Davis said the verdict doesn't bring Lasater back, but sends a "very strong message to the community and thugs like Hamilton."
Lasater had been with the Pittsburg Police Department three years when he was shot to death April 23, 2005, as he chased Hamilton and Andrew Moffett. The men had just robbed a Wells Fargo branch in a Raley's supermarket in Pittsburg.
The two crashed a stolen getaway car and hid along the Delta de Anza Regional Trail. Lasater came across Moffett in a field but didn't see Hamilton lying in the brush and armed with a 9mm Glock semiautomatic pistol.
Hamilton fired four shots, with the first hitting the officer in the neck.
"He gets bushwhacked," Jewett said during his closing argument. "He gets ambushed, literally and figuratively. (Hamilton) shot him, and he shot him again when he was down."
Hamilton was convicted of first-degree murder, several counts of robbery, enhancements for firing a weapon and special circumstances for murdering a police officer, murder during the commission of a robbery and lying in wait. He was also convicted of two counts of attempted murder for shooting at two other police officers.
Moffett, 20, was convicted of similar crimes but is not eligible for the death penalty because he was 17 at the time. He is scheduled to be sentenced Oct. 12 and faces life in prison.
---
Guilty Verdicts In East Bay Cop Killing
Ktvu.com
August 14, 2007
Jurors found two Antioch men guilty Monday of first-degree murder for the fatal shooting of Pittsburg police Officer Larry Lasater in April 2005.
Alexander Hamilton and Andrew Moffett, both 20, were also found guilty of three counts of second-degree robbery, one count of car theft and multiple firearms and special circumstance enhancements, including killing a police officer in the commission of a robbery and knowingly killing a police officer while he was carrying out his duties.
Hamilton was also found guilty of two counts of attempted murder for firing at two police officers who went to Lasater's aid. Jurors also found true the special circumstances charge that Hamilton intentionally killed Lasater by lying in wait, findings that could bring him the death penalty.
The penalty phase of the trial will begin Monday.
Moffett, who was 17 at the time of the murder, is not eligible for the death penalty. He is scheduled to be sentenced on Oct. 12.
The charges stem from a series of crimes that began on the afternoon of April 23, 2005 when Hamilton and Moffett asked a friend to steal a car for them.
In the stolen car, the two teens went to the Raley's supermarket in Pittsburg and robbed it and a Wells Fargo branch bank inside it at gunpoint.
As they were fleeing the supermarket, they crashed the stolen getaway car and took off on foot toward the Delta De Anza trail, which is where Lasater caught up to them.
Moffett jumped a fence and kept running, but Hamilton, who was hiding in the bushes, fired at Lasater, dropping him to the ground.
When two police officers went to help Lasater, Hamilton fired again. According to prosecutor Harold Jewett, Hamilton kept firing until he ran out of bullets and was forced to surrender.
Antioch police caught Moffett a short time later.
The Martinez courtroom was packed today with members of Lasater's family and members of the Pittsburg Police Department. Several of the defendants' family members attended as well, including Moffett's mother, who began sobbing as the clerk read the verdicts.
"My son didn't kill nobody. He didn't kill nobody," Moffett's mother said as she slammed out of the courtroom.
As Moffett was being taken away in handcuffs, he nodded at relatives and then exhaled sharply at Lasater's family and colleagues.
Outside the courtroom, Lasater's mother Phyllis Loya said she wanted to thank the jury "for their hard work and attentiveness." She also thanked everyone who supported her family through the trial.
"Larry had two families - his blood family and his law enforcement family," Loya said.
---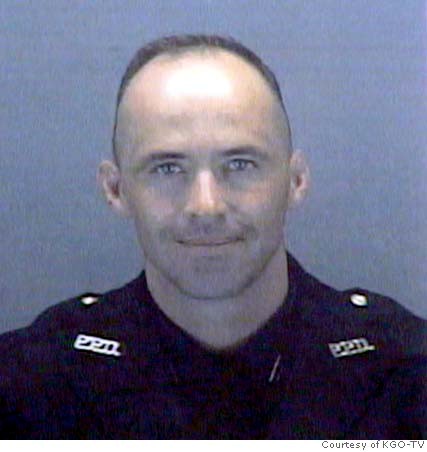 Larry Lasater shot to death.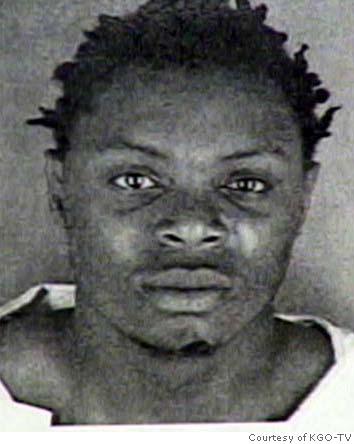 Alexander Hamilton