On 22 December 2000, convicted killer Marvin Gray claimed responsibility for 23 slayings and threatened in open court to kill two more - his own public defenders. "The first chance I get I'm going to do something real bad to one of them," 46, told Denver County Court Judge Robert Patterson. "If I get a chance, I will try to kill one of them. I've killed 23 people, and I'd like to make that 24 and 25."
Denver police Detective David Neil said that over the past month and a half Gray has confessed to 15 murders during interviews at police headquarters prompting Denver authorities to file two murder charges against Gray. "I don't have any reason to disbelieve him as yet," Neil said.
Gray has a long and violent criminal history, including the 1975 shooting and wounding of South San Francisco's police chief during a conference in Denver; the 1982 stabbing death of Jolene Sue Gardner, the 21-year-old girlfriend of a friend of Gray; and the rapes of two fellow prison inmates. He also stood trial in connection with the beating death of another prisoner in a holding cell but was acquitted.
Gray was in court for his preliminary hearing on the September 15, 1975, Denver slaying of Joseph Didier, 26, a crime that happened the same day he shot the South San Francisco chief.
In a videotaped confession played in court Gray -- who told the court his life ws a "waste of taxpayer money" -- said he had been working at a downtown hotel when he stole a handgun from a guest room. He said he was "out running around" a few days later when he saw a man (Didier) walking across a parking lot headed for his car. He said he asked the man for a light, but the man said he didn't have one. Gray said he then demanded money from the man. After the man gave him some cash, Gray said he shot him in the chest to eliminate a witness. The second homicide filed against him stems from the 1992 killing of Joseph Soliz, 51, who died when two men burst into his west Denver house and opened fire.
On July 1992, Gray stole a truck and robbed a woman at gunpoint in Denver. On 1993 he was convicted of aggravated robbery and sentenced to life in prison as a habitual criminal.
Lying on a table and being executed by lethal injection would be a "hell of a lot better than what I did to some of my victims," he said. Neil said many people are wondering why Gray has come forward. "He has indicated to me that obviously he is locked down 23 hours a day. He has no control over his destiny. His life, as he sees it right now, is that concrete cell," Neil said. "The only thing I can foresee is that if one of these jurisdictions - whether it be us or one of the others in Colorado or one of them from outside Colorado - finds him guilty and gives him the death penalty.
Mayhem.net
---
Marvin Gray
Marvin Gray was convicted of the 1975 murder of Joseph Didier in Denver on June 5, 2001. Gray, 46 at the time of his conviction, shot Didier during a robbery after the victim had left his bank job. While only Gray's second murder conviction, he is now serving three life sentences. The unremorseful killer has confessed to over forty killings and police claim polygraph tests have tentatively confimed his likely involvement in over twenty.
Until the true scope of Gray's crimes are known, there is little doubt he will attempt to stay in the public eye with his various antics and outbursts. During the Didier trial Gray was forced to represent himself after repeated threats against his own lawyers. He has been forcefully removed from the courtroom for unruly behavior and threatening to hurt others in the court, a frightening thought considering Gray is so physically strong that he has to be restrained with leg irons. On his wrists.
Gray is fond of the occasional interview, using them to boost his killer image. He has claimed to be a "natural born murderer", and says that "all I think about is killing people". He has also stated his desire to be put to death, forcing authorities to fear he may kill again in prison in order to achive that goal.
---
Marvin's Guardians
The guards knew better than to turn their backs on Marvin Gray, but they did it anyway
By Karen Bowers - WestWord.com
Thursday, Nov 16 2000
Under ordinary circumstances, what happened October 30 inside holding cell No. 4 at the Denver County Courthouse would have been just that -- ordinary. One inmate has words with another, a scuffle ensues, blood is spilled, a deputy intercedes, the fight's over. What sets this particular fracas apart is that it involved Marvin Gray, and Gray is far from ordinary: The last time somebody put him in a cell with another inmate, it cost the state $70,000.
At 6' 11" and 275 pounds, Gray is a lumbering hulk of trouble. Colored from head to foot in tattoos, this onetime Department of Corrections state weightlifting champ revels in his ability to beat, bully, conquer and rape anyone who comes across his path. "What I've done would make a grown man sit straight up in bed at night and break out in a cold sweat," he once boasted.
Gray's already spent about half his life behind bars. He's done time for robbery and assault, and in 1985 he was convicted of second-degree murder in the stabbing death of a woman found along the banks of Cherry Creek. In 1987, while he was doing time for murder, Gray was charged with his first prison rape. Paroled on the murder charge in 1991, he skipped town. The following year he was arrested for armed robbery. The conviction in that case was enough to have him declared a habitual offender, which means life in prison. In Gray's case, the judge gave him three life sentences.
Some guys can't make it on the outside. Gray is one of them.
Some guys can't make it on the inside. Gray is one of those, too.
In November 1992, Gray was charged with killing a fellow inmate. He was in a holding cell at the federal courthouse in Denver when he recognized the man, whom Gray believed to be an informant in a drug case. Gray, however, was acquitted. Denver police lieutenant Jon Priest says it's his understanding that a jury believed the guards shared culpability simply for placing Gray in a cell with the informant.
Despite Gray's record, state prison officials apparently didn't see anything wrong with double-bunking him with other inmates, and in July 1993, Gray beat, knocked unconscious and raped his 27-year-old cellmate. Less than a week later, Gray was assigned yet another roomie, whom he choked into near-unconsciousness, then sexually assaulted, too. Gray was then sent to the Colorado State Penitentiary, where he was locked down for 23 hours a day.
But one of Gray's rape victims struck back in October 1993, filing suit against five prison officials, claiming they'd put his life in danger by placing him in a cell with a known sexual offender. The case slogged through the courts until this past spring, when the state agreed to pay the victim $70,000. Although the state didn't admit liability, the payment was based on claims that DOC officials showed callous indifference when they placed the victim in a cell with Gray ("In the Hole," June 15).
Gray was subsequently classified as "ad-seg" (or "administrative segregation"), meaning he should never be placed in a cell with anyone else. When such prisoners are moved, they are supposed to be in leg shackles, handcuffs and belly chains. When they are transported, they ride in vans with an armed "chase team" following behind. And their transport files are supposed to contain in-depth information so that the receiving institution knows how to handle them, says Alsion Morgan, director of public affairs for the DOC.
But when Gray went to Denver for a sentence reconsideration hearing October 30, the DOC didn't bring him up from Caņon City. For some reason, the job fell to the Denver Sheriff's Department, Morgan says. "Maybe it had to do with how fast [the Denver court] needed him. Maybe they picked him up because they had to get someone else, too."
Transport files are not required in such instances, nor was one provided to the sheriff's deputies who picked up Gray, Morgan says.
But deputies did know to be careful with Gray, confirms sheriff's spokesman Sergeant Darryle Brown. Gray was brought to Denver and placed in the county jail in a solitary cell. All precautions were taken while he remained in that facility. But when Gray was moved from the jail to the courthouse, "I think that's where the mixup occurred as to where he was housed," Brown says. "He went over there, and somehow the wires got crossed."
Gray was put in a cell with a man named James Gilbertson, who is awaiting trial in a case involving sexual assault on a child. According to deputies, Gray "started beating [Gilbertson] by throwing him to the ground and then punched him numerous times before the suspect was ordered off the victim." Gilbertson, an incident report said, suffered a bloody nose and a cut under his right eye "which will require stitches." Gray was charged with third-degree assault. He's asked for a jury trial.
Attorney David Lane, who represented one of Gray's rape victims in the suit against the state, thinks Gilbertson should sue. "Marvin Gray seems to be a raping, killing machine," Lane says. "Everybody in the world is on notice that Marvin Gray should not be housed with anyone else."
Sheriff's officials wouldn't comment on the incident, they said, because it is "still under investigation." But whether Gray will get his day in court is questionable. At a November 6 hearing on the assault, sheriff's deputies asked that Gray remain in a holding cell rather than being brought to the courtroom. "The last time he was up here, he smashed another person's head against the wall," the deputy explained. A plea of "not guilty" was entered on Gray's behalf.
Whatever happens, deputies will now have Gray as their guest for a while: Last week he copped to an unsolved 1975 murder of a man in Denver. Joseph Didier was shot in his car in the fall of 1975 after an apparent robbery on Larimer Street. The confession means Gray will remain here -- in lockdown -- until prosecutors decide whether to file charges.
Lane thinks that by admitting to another murder, Gray is looking for a way out. The hard way out. "I think he wants to get a death penalty," he says. "I do believe that's what he's looking for."
---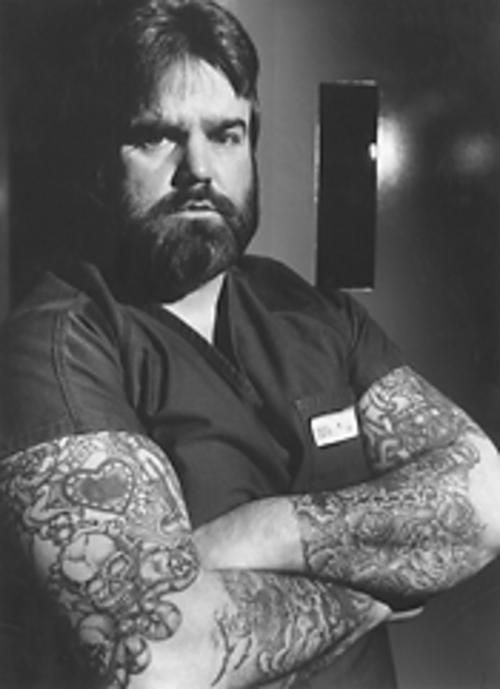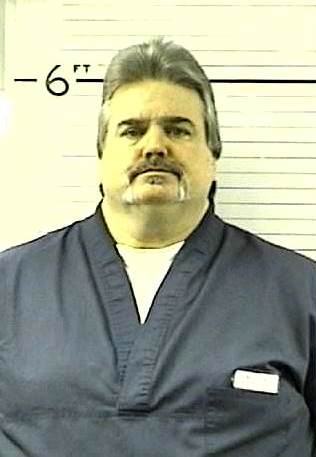 Marvin Gray