New Zealand's worst mass murderer. In November 13, 1990, David slaughtered 13 people during a 24-hour rampage in the hamlet of Aramoana, a tiny seaside settlement in the province of Otago, near Dunedin in the South Island.
He was finally shot dead by police.
---
The Aramoana Massacre
On November 13th, 1990, residents of the small seaside town of Aramoana awoke to a horrific nightmare. One of the town's residents, in a deranged state, had decided to take his fury out on the people around him. With his rifle he ran riot through the village, shooting helpless individuals whom fate had put in his path. By the time he was shot some 34 hours later, 12 people would have been executed.
David Gray was a recluse, whom his neighbours thought odd, but harmless.
He was an avid reader of warfare, weaponry and survivalist literature who had amassed a cache of firearms and ammunition. His mental and physical state in the six months prior to the tragedy had deteriorated rapidly although this was only appreciated in hindsight. He lived in a small crib in Aramoana and was on the unemployment benefit.
His paranoia and fanatical ideas finally came to a head on 13th November.
At around 8 pm Gray and his next door neighbour, Garry Holden, were heard arguing. Rifle shots were heard and Gray entered the Holdens' residence where he shot at Chiquita Holden (Garry's daughter) wounding her. Chiquita ran out of the house to raise the alarm. She discovered her father's body face down in the yard. She fled to friend Julie Ann Bryson's house. Mrs Bryson rang 111 and then took Chiquita in her van back to her house knowing Chiquita's sister, Jasmine, and Julie Ann Bryson's daughter, Rewa, were there still, having hidden when Gray shot at Chiquita.
The Holden's house was on fire and Gray was standing outside. He fired on the pair as they passed by in the van. The local men in the town were alerted to the fire and came to see what was going on. Most will never forget the sight of Gray with a balaclava rolled up over his head and a rifle in his hands as he took shots at any moving targets. Vanessa Percy was gunned down as she ran screaming down the street. Gray then shot and killed two boys, Leo and Dion Percy. Their sister, Stacey, suffered severe wounds to her abdomen. All three children were in the back of their father's ute on their way home, when their father had seen the fire. Ross Percy, their father, and Alec Tali were shot and killed near the ute.
Gray entered the Jamieson residence and killed locals Vic Crimp and Tim Jamieson. Jimmy Dickson was killed as he looked for his dog and his wife who went looking for him watched in horror as David Gray shot Chris Cole who was out walking. She managed to crawl for help but unfortunately help had come too late. Chris Cole died in hospital.
Sergeant Stewart Guthrie, from Port Chalmers police, and Russell Anderson, the local Fire Chief, with sirens blazing and an ambulance following, approached Aramoana. Fire engines were on alert and had to remain a certain distance away until the gunman was put under restraint. They split up and began to take in the dreadful scene and to locate Gray. During this time Sergeant Stewart Guthrie was shot and killed by Gray.
The Armed Offenders Squad had been called in and they surrounded Aramoana. All care had to be used as Gray had a high powered rifle with telescopic sights and was shooting at anything that moved. They moved slowly and when the dawn came up the next day the realisation started to hit New Zealanders of what was taking place. In the dark, early the next morning, many brave police officers slowly moved in. Gray was still at large and after claiming thirteen victims had to be considered one of our worst murderers of all time.
In Bill O'Brien's book, "Aramoana - The True Story" he describes the many heroic acts that the police and residents performed. An anti terrorist unit was in the area helping to co-ordinate the scene. One by one the squad entered and searched houses still not finding Gray. Finally he was located and after tear gas was thrown in, he came out of the house shooting, yelling "Kill Me". Five shots hit Gray and he was killed. The siege was finally over.
This had taken 34 hours and the dedication of the police and Armed Offenders squad, a number of whom received Gallantry Awards from the Queen.
Rewa Bryson and Jasmine Holden's bodies were found in the burnt out Holden home. Thirteen people lost their lives and a town lost it's peace and serenity. David Gray is now believed to have been schizophrenic or otherwise mentally disordered - but for whatever reason, he became one of New Zealand's most horrific mass murderers.
Crime.co.nz
---
The Aramoana massacre was a mass murder that occurred on 13 November 1990 in the small seaside township of Aramoana, New Zealand. Resident David Gray, a 33-year-old unemployed man, began indiscriminately shooting people in the township with a scoped semi-automatic rifle, after a verbal dispute with his next-door neighbour. He shot neighbours and a family visiting the township, killing thirteen people, including local police Sergeant Stewart Guthrie, first responder to the reports of a shooting.
After a careful house-by-house search the next day, police officers led by the Special Tactics Group located Gray and shot him dead as he came out of a house firing from the hip (media reporting at the time called the group by the pre-1990 name, the Anti Terrorist Squad). It is the deadliest criminal shooting in New Zealand history.
Timeline of events
Spree
The massacre began on 13 November at 7.30 pm when Gray confronted neighbour Garry Holden about one of Holden's daughters wandering onto his property. After the confrontation, Gray went into his house, retrieved a Norinco AK-47 assault rifle, walked outside and shot Holden dead.
Nearby were three young girls: Holden's two daughters, Chiquita and Jasmine, and his girlfriend Julie's adopted daughter, Rewa. The girls ran into Holden's house as Gray walked onto Holden's property. He quickly found Chiquita and shot her through her left arm and chest, the bullet lodging in her abdomen.
The wounded girl fled past her father's body to the nearby house of Julie Ann Bryson, while Gray set the Holden house on fire. Bryson, realising that Rewa and Jasmine were still in the Holden house, drove her van there with Chiquita in an attempt to save the girls. Gray shot at the van as it passed the house, which was by now ablaze.
Gray started shooting indiscriminately, targeting a utility vehicle full of locals who had seen the Holden house burning and stopped to help. He first shot Vanessa Percy as she ran down the street in terror, then killed two young boys, Leo Wilson and Dion Percy. The boys' sister Stacey, received severe wounds to her abdomen.[7] Ross Percy, the children's father, who had been driving them home after a day fishing when they saw the fire, was the next to die, followed by Aleki Tali, who had also been with them fishing that day. Gray then entered the home of Tim Jamieson, killing him and another elderly local, former Green Island mayor Vic Crimp.
The next victim was James Dickson, who was looking for his dog, Patch. Helen Dickson, James's mother, and neighbour Chris Cole went into the road to see what the noise was. Gray shot at both of them, wounding Cole and forcing Helen to dive for cover. Helen, who had recently had a hip replacement and was unable to walk without assistance, pulled herself along on her stomach using her arms and feet in a ditch to get inside and phone for help. She then crawled back to Cole to tell him help was coming.
After waiting for some time, Helen again crawled back to her house and phoned 111 emergency. By this stage it was getting dark and the dispatcher advised her to stay inside. Helen later received the George Medal for bravery. Help arrived too late for Cole, who died in hospital.
First responders
The first police officer to arrive was Sergeant Stewart Guthrie, officer in charge of Port Chalmers police station and an NCO in the Armed Offenders Squad (AOS). He came armed with a .38 Smith & Wesson police revolver (New Zealand police ordinarily do not carry firearms) and enlisted the help of Constable Russell Anderson, who had arrived a short time earlier with the fire service. He armed Anderson with a rifle belonging to a resident. With darkness approaching, the pair moved through the township to Gray's house, where Guthrie deployed the constable to cover the front while he moved to cover the more dangerous rear of the house. A detective and two constables arrived, starting the first step of the "cordon, contain, appeal" standard police strategy for armed offenders. Guthrie observed Gray and relayed his movements inside the house to police headquarters.
After some time he lost sight of the gunman, and advised the detective to warn everyone to be alert. Anderson spotted Gray coming out the front of his property and issued a challenge, at which the gunman retreated quickly, passing through the rear of his property. Taking cover in the sand dunes of a neighbouring crib, Guthrie encountered Gray coming out of the darkness. Yelling at the gunman to surrender, he fired a warning shot. Gray shouted, "Don't shoot!", leading Guthrie to believe he was surrendering. However, Gray suddenly fired several times, one shot striking Guthrie in the head, killing him instantly.
Minutes later the Dunedin branch of the AOS began to arrive and sealed off the township with a roadblock about 250 metres along the only road out of Aramoana, securing it with an armoured car. AOS units from Christchurch, Timaru and Invercargill were called in for support. The situation was considered dangerous as Gray had a scoped rifle, making him potentially accurate at long range.
Special Tactics Group
Commissioner of Police John Jamieson authorised the Special Tactics Group (STG), the specialist counter terrorist unit, to travel to Dunedin and locate Gray, group members were in Christchurch, Wellington and Auckland. Unable to get transport with the Air Force, the group caught the early morning business flight on the 14th. They took Heckler & Koch MP5 submachine guns, encountering some problems taking firearms on a commercial aircraft. Also on the flight were Minister of Police John Banks, the Commissioner, and Julie Holden, who described Aramoana to the STG. A large number of reporters met the flight on arrival at Dunedin. A bus took the STG to Port Chalmers, which was choked with vehicles, where residents from Aramoana briefed the group about the township and Gray.
STG members took a reconnaissance flight over the township in an Air Force Iroquois. The Air Force crew had flown in to Dunedin early in the morning from Haast having been called out for the third day in a row - directly from two previous search and rescue missions in the mountains of New Zealands Southern Alps. The helicopter initially flew high as it had no armour from small arms fire; Gray had shot at a private news helicopter earlier that morning. After the initial reconnaissance flight the STG moved out as two squads and met up with the Timaru AOS, who were holding positions. The group received fire orders: "if he has a firearm, he is to be shot". Meanwhile, Gray had entered a crib, eaten a small meal and gone to sleep.
The STG went first to Gray's house, passing bodies on the street. After clearing neighbouring houses they put a stun grenade into Gray's, blowing out the windows, followed by tear gas. Kicking down the door, they discovered it was empty. The group then worked down the road, checking each house, a squad on either side of the street. The STG called up the AOS, with members from Wanganui, Palmerston North, Napier, and New Plymouth, to their backs. The group discovered Sergeant Guthrie's revolver in a garden, and a woman who had been hiding under a table for more than twenty hours.
After a long day searching from house to house, the STG checked a crib with a broken window on the north-eastern side of the township. The crib had large hedges on both sides, and a fibrolite shed at the rear. The group spotted Gray briefly at a window, and a battle ensued. Police put a stun grenade through a window, but it bounced off a mattress that Gray had placed as a barricade and landed back near police. Police fired teargas into the crib. Gray began shooting not at police but through the fibrolite shed. The STG opened fire, both sides shooting for two minutes, Gray walking around inside firing randomly. A stray bullet that passed through the crib struck an STG officer in the ankle. As soon as the shooting errupted, the Air Force Iroquois took up position overhead to help ensure Gray could not escape into nearby bushes in the fading light of the approaching second night.
At around 5.50 pm, Gray ran out of the house, shooting from the hip and shouting "Kill me! Fucking kill me!" He took several steps before being struck and knocked down by STG gunfire. Gray was hit five times: in the eye, neck, chest and twice in the groin. Even with these injuries, he struggled fiercely against police, breaking free of plastic handcuffs before being re-handcuffed, while berating police for not having killed him.
Ambulance officers treated him at the scene by providing him oxygen, but he died where he fell at 6:10 pm.
Inside the crib police found a .22 Winchester rifle fitted with a silencer, an air rifle, hundreds of rounds of .22 ammunition, and approximately 100 rounds of .223 ammunition. Gray was carrying a .22 Remington rifle as well as the .223 Norinco when he was shot. Police had fired between 50 and 60 shots, and at least 150 police officers were involved in the operation.
Rewa Bryson and Jasmine Holden's charred bodies were found in what remained of the Holden family home. Fourteen people including Gray were dead.
Perpetrator
The perpetrator of the massacre was 33-year-old David Malcolm Gray (November 20, 1956 – November 14, 1990), an unemployed resident of Aramoana. Gray was born in Dunedin, New Zealand, and was raised in Port Chalmers. His father, David Francis, worked in a manufacturing company and his mother, Mary Elizabeth, was a machinist. He had two siblings, sister Joan and brother Barry.
Gray attended Port Chalmers Primary School, and later enrolled at the Otago Boys' High School from 1971 to 1973, where he was a mid-stream student. A former classmate stated Gray was quiet and unassuming, but that "there was nothing frightening about him then". Those who knew Gray remembered him as having been a loner since primary school. He had worked occasionally as a farmhand but had been unemployed for a few years before 1990.
He had lost both his parents — his father in 1978, and his mother in 1985. His sister said the death of their mother deeply affected David, and prompted him to move from Port Chalmers to the Gray family holiday home in Aramoana.
Gray was a regular customer at Galaxy Books and Records in Dunedin. Bill Brosnan, the store owner, knew him for seven years and said he was a fan of military books and Soldier of Fortune magazine. In January 1990, Gray threatened an assistant of the bookshop with what appeared to be a shotgun in a cardboard box, and Brosnan served him with a trespass notice in February.
His sister said he was an animal lover; locals said this was a source of conflict with his next-door neighbour Garry Holden, whose pets kept dying.
Casualties
Killed
Rewa Ariki Bryson, 11, friend of Jasmine
Simon Christopher "Chris" Cole, 62
Victor James "Vic" Crimp, 71
James Alexander "Jim" Dickson, 45
Sergeant Stewart Graeme "Stu" Guthrie, 41, Port Chalmers police officer
Garry John Holden, 38
Jasmine Amber Holden, 11, daughter of Garry Holden
Magnus "Tim" Jamieson, 69
Ross James Percy, 42
Vanessa Grace Percy, 26, wife of Ross Percy
Dion Raymond Jack Percy, 6, son of Ross and Vanessa Percy
Aleki Tali, 41
Leo Wilson, 6
Wounded
Stacey Percy, 4, daughter of Ross and Vanessa Percy
Chiquita Holden, 9, daughter of Garry Holden
Stephen Vaughan, Wellington police officer
Causes
Gray's mental and physical state worsened in the months leading up to the attack. There was some evidence of a progressive decline in his mental state before the shootings, as he alienated his few friends. On the morning of 13 November he travelled into Dunedin city, and visited a bank where he objected angrily to a NZ$2.00 bank fee for a cheque. He then went to Elio's Gun Shop, placing a $100 deposit on a gun he intended to collect the next week. At the Continental Coffee Bar he was served a cold pie, became confrontational, and threatened the owners, "I'll be back, I'm going to get you. I'll blow you away." when asked to leave.
Aftermath
Three days after the incident Gray's house at 27 Muri Street in Aramoana was deliberately set on fire and burnt to the ground. The Port Chalmers Fire Brigade attended and doused surrounding vegetation to prevent the fire spreading; around fifty residents watched it burn. Gray's relatives asked any investigation of arson be stopped, when contacted by police.
The massacre is the most deadly criminal shooting rampage in New Zealand's history. It sparked lengthy debate about gun control, as Gray's primary weapon was a Military-Style Semi-Automatic rifle, with a similar appearance to and internal mechanism based on the Russian AK-47. The incident indirectly resulted in an amendment to New Zealand's firearms regulations in 1992, tightening gun control. Many of the officers involved received gallantry awards, Sergeant Guthrie receiving a posthumous George Cross. A memorial to the victims was erected in the township.
Cultural Influence
Books
At least two non-fiction books have been written about the shootings: Tragedy at Aramoana by journalist Paul Bensemann,[30] and Aramoana: Twenty-two hours of terror by police officer Bill O'Brien.[31] There are chapters devoted to the shootings in Gordon Johnston's history of the settlement, Journey to Aramoana - His Story,[32] and Confessions from the front line by STG leader Murray Forbes.
Film and television
A movie based on the massacre, Out of the Blue, directed by Robert Sarkies, premiered at the Toronto International Film Festival on September 12, 2006.
The production faced some opposition from some citizens in Aramoana. However, eventually the community allowed some scenes to be shot in the township. They agreed to the making of the movie only if the title was not Aramoana and if they were to see the movie beforehand.
Music
The Mutton Birds refer obliquely to the massacre in the song A Thing Well Made on their self-titled debut album. The song is narrated by a man who owns a sporting goods store in Christchurch. As the song closes he describes his work for the day, which involves sending "one of those AK-47s for some collector down the line." Dunedin band The Chills more directly address the Aramoana incident in the song "Strange Case" from the 1992 album Soft Bomb.
Wikipedia.org
---
Loner guns down 11
Village attacker slain by Polica
San Jose Mercury News
November 14, 1990
A man described as a "loner" upset by the recent death of his mother was fatally wounded by police today after gunning down 11 people, wiping out almost half the population of a seaside village.
New Zealand's worst massacre began Tuesday night when 33-year-old David Malcolm Gray set fire to a neighbor's house in the South Island village of Aramoana and began shooting people who came to help.
---
New Zealand police kill man who massacred 11
The Boston Globe
November 14, 1990
DUNEDIN, New Zealand -- In a tiny seaside village, police today fatally wounded a gunman who they said killed at least 11 people in a shooting rampage that was New Zealand's worst massacre, officials said.
Police said 33-year-old David Malcolm Gray, who had fled to a house on the village's northern edge after being driven from his own, had been shot in the chest and ankle, and also suffered a head wound.
---
Stunned New Zealanders ponder bloody rampage that left 12 dead
The Philadelphia Enquirer
November 15, 1990
"How many David Grays are there out there?" a stunned shopowner wondered today, echoing widespread fears after a gunman killed 11 people in New Zealand's worst massacre.
Gray, an unemployed loner, killed nearly a quarter of the population of the tiny seaside community of Aramoana Tuesday night and yesterday. He was shot dead by an anti-terrorist squad.
---
Twenty-three hours of hell
Higher body count feared from siege
November 15, 1990
The seaside township of Aramoana will begin a full count of it's dead this morning after 23 hours of terror at the hands of a lone gunman.
Twelve people, including the gunman, David Malcolm Grey, were last night officially listed as dead after Grey went berserk with what are believed to have been two high-powered rifles and a revolver. But police in the small Otago resort were last night talking about "14 bodies", with a number of other victims seriously injured.
Three members from Port Chalmers family are among the dead. A fourth, aged 4, lies critically ill in Dunedin Hospital with shotgun wounds to her stomach. The Otago peninsula township was sealed behind a police cordon last night as a house-to-house search was made to try to determine the full extent of Aramoana's 23-hour ordeal.
Wounded
The Commissioner of Police, Mr. John Jamieson, said the town would remain cordoned off last night, but residents should be allowed to return to their homes today. The only three names officially released of the dead are Leo Wilson, aged 6, of Port Chalmers, Simon Christopher Cole, 61, of Aramoana, and Sergeant Stewart Guthrie, 41, of Port Chalmers. Police said the names of the other dead would not be released until all relatives had been informed.
They said the gunman's high-powered rifle had been found, but it's type had not been identified. Three people - including a police officer wounded in the final shootout - are known to have been injured in the shooting. A Dunedin Hospital spokesman said last night that Stacey Percy, 4, of Port Chalmers, was in intensive care but stable condition. The name of the policeman has not been released but his injures are not serious, although he was expected to remain in hospital overnight.
Among those still reported missing in Aramoana late last night was the former mayor of Green Island, Mr. Vic Crimp. Mr. Crimp, 71, had not been seen since 7.30 pm on Tuesday when he went to check on Gray's neighbours. His wife, Dorothy, 74, said she had fears for her husband's safety.
"The dog and I are just sitting here watching the gate and waiting for father to come home.
Neighbours
The worst criminal massacre in New Zealand's history began about 7.30 pm on Tuesday when Gray began firing indiscriminately in the village. Residents suggested Gray harboured a grudge against his neighbour, Mr. Garry Holden. Gray is believed to have set fire to Mr. Holden's house, burning it to the ground, before setting off on his rampage.
Sergeant Guthrie, whose body was found in sand dunes yesterday afternoon, was one of the first police officers on the scene on Tuesday night.
Gray's rampage continued into the night, shots being fired at random until after midnight. Bodies littered the town's main street and the front yards of houses as police were unable to retrieve the dead for fear of becoming targets. Dawn yesterday was greeted with a volley of shots fired at a police helicopter which had just arrived at the town.
Evacuation
Gray was not sighted for some hours, and an uneasy siege continued throughout the day, armed police progressively moving into position before storming Gray's house at 4.10 pm, throwing smoke grenades and tear gas.
The house was empty, and police fanned out throughout the township, finally centering on a house at the other end of the village. As they moved through the town, other police evacuated residents who had sheltered in their houses since the shooting began. Bodies were also recovered.
Mr. Jamieson said Gray opened fire on police as they approached just before 6 pm, wounding one officer in the ankle. Police returned fire, wounding Gray in the chest and head. He died about 20 minutes later while receiving medical care.
Last night the village was nearly deserted, with most of the grieving residents being cared for by friends and relatives in Port Chalmers and Dunedin.
---
Killer a loner fascinated by weapons
David Malcolm Gray shunned human contact and always dressed like an Army commando, say Aramoana residents.
The local boy who turned mass murderer had a fascination for weapons and military magazines, and was regarded by his neighbours as "different" and "strange". A Muri St resident, Laura Young, who lived next door to the 33-year-old Gray, said his manner always left her feeling uncomfortable. Her mother had warned her to stay away from the quiet man who kept to himself.
"No one really liked him... just didn't have much to do with him."
Quiet chap
Gray was often seen wandering about the small township, but never sought company. Jason Percy of Port Chalmers, whose aunt, uncle and niece were slain by the gunman, said he had often seen Gray when visiting Aramoana.
"He always kept to himself. I don't think anyone really knew him well." Mr Percy said. "He'd just walk up and down the street all the time, and if you were on the same side, he would cross over before he reached you."
The man, widely regarding as a "very quiet chap." was not known to have a police record or a history of violence. But Dunedin bookshop owner Bill Brosnan reported Gray to the police this year after Gray threatened his staff. Indeed, when Mr Brosnan first heard that an unnamed gunman had gone on a shooting rampage, he immediately said "that's Dave Gray." Mr Brosnan had known Gray for eight years and said he had seen him mentally decline. He was a loner who felt he had been dealt a raw deal by life and had a "massive chip on the shoulder."
Gray had come into his shop about once a fortnight for eight years to buy second-hand militaria and soldier of fortune magazines. He also had an interest in whole-earth material.
Carried shotgun
"I seem to have had more dealings with him than anyone else." Mr Brosnan said. He always had a conversation with Gray and seemed to be able to "jolly" him along.
Late last year or early this year Gray twice came into Mr Brosnan's shop to fight a staff member who had apparently rubbed him up the wrong way. On the second occasion Gray carried a shotgun or a high-powered rifle and put it on a desk. He wanted to fight the shop employee, said Mr Brosnan, and "made it clear" the gun was there for back-up.
Mother dead
Mr Brosnan said Gray got stranger over the years. He told Mr Brosnan he had Tapanui flu and said several times that his neighbour and the neighbour's daughter had given it to him.
Gray's mental state is believed to have rapidly deteriorated after his mother, with whom he lived, died earlier this year. Just last week he wrote to a Christchurch gun dealer asking if he could buy a magazine for an AK-47 assault rifle. He also wanted to know the cost of a .22 rifle and some ammunition. The manager of the Gun City shop, Mr John Tipple, thought the letter was a work of an idiot. Last night, after Gray's murderous escapade ended, Mr Tipple translated the letter differently.
"At first I thought it showed someone with low intelligence, I think, when reading it again, It shows Gray as a highly unstable man. He was an unfit and improper person to have any firearm."
---
Screaming gunman asks police to kill him
"Kill me, kill me," David Gray screamed shortly before he was felled by police bullets.
The New Zealand Herald
November 15, 1990
Detective Chief Inspector Peter Robinson said fellow officers who were at the scene of Gray's death in Mokai St told him the Aramoana mass murderer grasped for his weapon even after being felled by bullet wounds in the area of his right eye and chest. Mr Robinson said in Dunedin last night that Gray actively remonstrated with police for not killing him outright during the 15 minutes it took him to die. "His actions were not those of a rational person." he said.
After being shot Gray was still able to speak and had repeatedly asked to be killed. As soon as Gray fell to the ground and was physically restrained, the anti-terrorist squad members who shot him fastened their catches.
Assistant Commissioner Peter Wiersma said Gray had a .223 Norinco semiautomatic assault rifle (AK47 lookalike) and a .22 Remington rifle with him at the Mokai St home. A police .38 revolver, a Suire .22 rifle and a .303 rifle with fixed bayonet were found at Gray's home on Tuesday night. On Wednesday afternoon when a police team cleared Gray's house after the use of teargas a .22 Winchester rifle fitted with a silencer, an air rifle, hundreds of rounds of .223 ammunition were recovered.
Assistant Commissioner Wiersma, who headed the investigation, confirmed Mr Garry Holden's burned-out house beside the Gray home were those of the two missing children Rewa Bryson and Jasmine Holden, both aged 11.
---
An unforgettable date with death
Police anti-terrorist squad leader Mike Kyne remembers the life and death confrontation with David Gray as if it were yesterday.
He and his team of Rob Barlass, Tim Ashton and Peter McCarthy had been systematically clearing cribs looking for gray when they were fired on.
"When he first started firing, for a fraction of a second the look on the other guys' faces was 'what the hell's happening'?" recalled Kyne, now a security and risk management consultant.
Moments earlier, police had got into position, not knowing if Gray was there, and threw a tear gas cannister through the window. But Gray had barricaded the window with a mattress and it bounced back near McCarthy's feet.
As McCarthy crept closer to try again, Gray opened fire. "we couldn't move. We were stuffed. To feel the noise of high-powered bullets coming at you is an awesome sound. It's a sound that has got death written all over it.
"We were totally exposed. I still can't believe how we weren't hit."
"We couldn't see Gray, he was inside. All I could see were the yellow curtains. To this day I can remember the patterns. I felt very relaxed but the thought my mind that I was going to die and there was nothing I could do about it."
Kyne said he expected to lose two or three men that day. "It was a sniper's paradise. We knew he was somewhere in the settlement and that he could fire at us at any time. You're waiting for that shot to come. The tension was incredible."
When Gray began firing, the squad went into auto pilot, says Kyne. Barlass began laying more tear gas and Ashton and McCarthy moved closer to the set of French doors gray would emerge from seconds later swinging his semi-automatic from side to side, firing wildly, and screaming "kill me, fucking, kill me".
Recalls Kyne: "There was this constant hail of bullets. It was incredible. It was all happening so quick and he was only metres away from all of us. I didn't know whether to stand high or low.
"The immediate danger wasn't to me, it was to the two guys (Ashton and McCarthy). He was firing on an angle and then he swung towards them. He was pulling the trigger as fast as he could."
As Gray was hit by fire, he continued to advance until his legs buckled and he collapsed. But the fight was not over.
Gray, an emaciated 57kg at the time, had taken bullets through the eye which had spiraled through his brain and exited out his neck, and bullets to the chest, but he was full of adrenalin and broke out of the plastic handcuffs the police had put on him as he lay wounded. He died soon after.
"The mood was pretty calm and one of relief. In the heat of the battle our adrenalin was bloody amazing too. We had to check each other to see if we'd been injured."
"We saw the psychologist, went back to the hotel where we were staying, stripped off our gear which was covered in blood (after the struggle to handcuff Gray) and had a shower. We had a few beers at the hotel, talked amongst ourselves about what had happened and then went to bed. We were exhausted."
Ashton now teaches outdoor recreation at a Christchurch high school. McCarthy and Barlass are still in the police.
---
Timeline
7:30 pm
House belonging to Garry Holden catches fire. Neighbour Dorothy Crimp hears gunshots in the area. Residents attending the fire are shot at.
7:50 pm
Fire brigade alerted, but unable to enter area.
8:30 pm
Injured young girl taken to Dunedin Hospital by ambulance.
9:15 pm
A 61-year-old man brought out of Te Ngaru with gunshot wounds to the abdomen.
9:30 pm
Residents evacuated from their homes.
9:40 pm
Armed police reinforcements called to the area. Police search for gunman but cannot find him in the dark. Six-year-old boy pronounced dead by police.
12:30 am
Police say gunman has not fired a shot for three hours.
1:00 am
Shots resume.
2:00am
Police announce 61-year-old man died in hospital (later confirmed as Simon Christopher Cole).
6:00 am
Gray fires volley of shots at police helicopter.
12:30 pm
Police confirm eight people dead.
1:00 pm
Anti-terrorist police land by helicopter at Heyward Pt.
1:30 pm
Police move in on Gray.
2:10 pm
Ten officers move towards burnt house.
2:24 pm
Police within 30m of burnt building.
4:10 pm
Small explosion and assault team run to house where gunman believed to be.
4:45 pm
Armed police surround second house in the township.
5:00 pm
Houses on north-eastern side of town evacuated.
5:55 pm
Gray shot by police.
6:30 pm
Gray reported dead.
---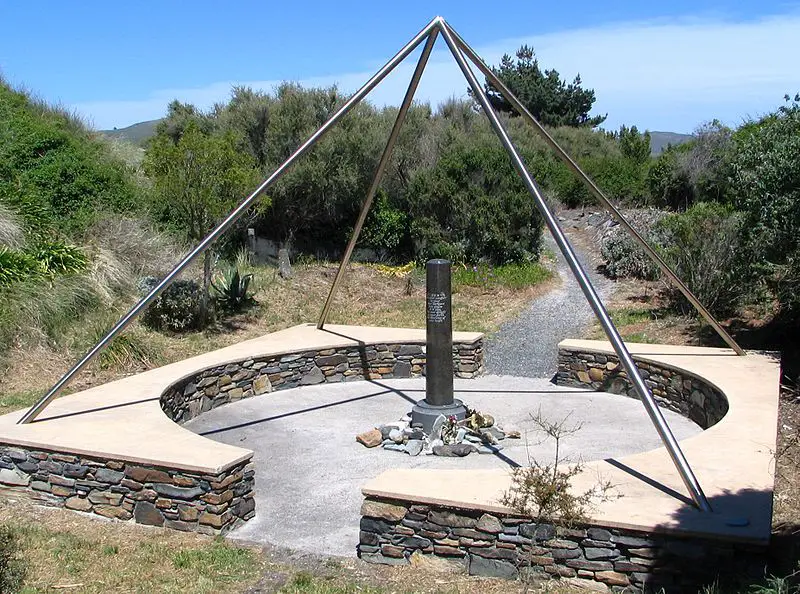 Aramoana massacre memorial