State of Missouri v. Mark Anthony Gill
Case Facts:
The victim, Ralph Lee Lape, Jr., lived alone in rural Cape Girardeau County. During the summer of 2002, Mr. Lape allowed Gill to live in a camper trailer on his property as a favor to a mutual friend.
Mr. Lape spent the Fourth of July holiday weekend at Kentucky Lake, while Gill and a friend, Justin Brown, remained at Mr. Lape's home. During this time, Brown looked through Mr. Lape's personal papers and learned that he had a large amount of money in his bank account.
Brown and Gill decided that they would kill Mr. Lape for his money, and on Saturday, July 6, they began preparations for the killing. They obtained a .22 pistol from Mr. Lape's home and bought a roll of duct tape, and they decided to "get him" in the garage because "once you pull in the garage can't nobody see."
Mr. Lape arrived home from Kentucky Lake on Sunday, July 7, at approximately 5:30 p.m. Gill and Brown, who were waiting in the garage, opened the garage door for him. After Mr. Lape stepped out of his extended cab pickup truck, Gill and Brown "grabbed him," and Gill told Mr. Lape that they "just wanted his money."
Mr. Lape pleaded to Gill, "You don't have to do this…I'll give you what you want. Mark, I ain't done nothing but try to help you." Gill and Brown then bound Mr. Lape with plastic ties and the duct tape. They pushed up the backseat of Mr. Lape's truck and "slid him in." They divided $240 they found in a ziplock bag that Mr. Lape had been carrying. Gill then put shovels in the back of the truck because he "knew what [he] was fixin' to do, [he] was going to hell."
Gill drove the truck south on Interstate 55 as Brown held Mr. Lape down on the floorboard. After finding Mr. Lape's ATM bankcard in the truck, Gill asked him for the pin number, and he told them the number "right off." Gill and Brown drove Mr. Lape approximately 80 miles to a desolate cornfield near Portageville, where they took turns "knocking down corn" and "digging a hole."
While one of them dug the hole, the other sat in the truck and watched Mr. Lape. After digging the hole, they took Mr. Lape out of the truck and removed the duct tape and plastic ties. Ignoring Mr. Lape's pleas for mercy, Gill and Brown pushed him into the hole.
Then one of them pointed the .22 pistol at Mr. Lape and pulled the trigger, but the gun misfired. The trigger was pulled a second time, but there was another misfire. On the third try, the gun fired and shot Mr. Lape in the forehead, killing him. Gill and Brown then "lined him up in the hole" and removed all of his clothing and jewelry.
Before they buried Mr. Lape, Brown "stepped on his head" in order to make it fit in the hole. An autopsy revealed that, in addition to the gunshot wound, Mr. Lape had a skull fracture that was "not caused by the bullet," three separate bruises on his head, bruising in his chest, and one of his ribs was completely broken in two.
After killing Mr. Lape, Gill and Brown changed clothes back at the house and withdrew money from Mr. Lape's bank account with his ATM card. They then drove to St. Louis, withdrew more money, and spent nearly a thousand dollars of the money at strip clubs. After spending the night at the Adam's Mark hotel in St. Louis, Gill and Brown drove back to Mr. Lape's house, stopping along the way to withdraw more money from Mr. Lape's bank account.
Once at the house, Gill and Brown began to dispose of the evidence. They dumped the shovels in a wooded area and burned their clothing and the clothing they had removed from Mr. Lape's body. They threw the gun, Mr. Lape's jewelry, and other evidence that would not burn into the Mississippi River. Then they drove to Paducah, Kentucky, abandoned Mr. Lape's truck in a hospital parking lot, and returned to Mr. Lape's house. When Mr. Lape's family members inquired about his whereabouts, Gill and Brown told them that he was at Kentucky Lake.
Having withdrawn nearly all of the money from Mr. Lape's bank account that was accessible with an ATM card, Gill and Brown used Mr. Lape's computer to transfer $55,000 from another account to the ATM-accessible account. After a friend told Gill that there is no limit in Las Vegas on the amount of money that can be withdrawn from an ATM, Gill and his girlfriend drove there and were married. Gill withdrew approximately $1,600 from Mr. Lape's account while on the trip.
Ultimately, Gill was arrested in New Mexico. He initially denied any involvement in Mr. Lape's disappearance and claimed he had permission to use the ATM card. However, he later confessed to planning and participating in the murder, but claimed it was Brown who shot Mr. Lape.
---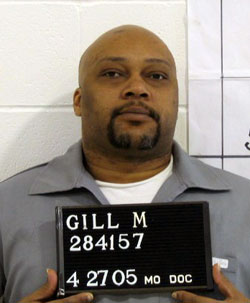 Mark Anthony Gill