Alfredo Galán Sotillo (born April 5, 1978) is a Spanish serial killer who killed six people and wounded three from January 4 - March 18, 2003.
Personal life
Alfredo Galán was born in Puertollano, province of Ciudad Real, Castile-La Mancha, Spain. Galán became class president in high school, but was remembered as unremarkable and introverted. In September 1998, he joined the Spanish Army and became a corporal in the Parachute Regiment of Alcalá de Henares and participated in humanitarian missions in Bosnia. He was sent back to Spain during the Prestige oil spill.
Galán stole a car and was sent to the Gómez Ulla Military Hospital in Madrid. He was diagnosed with neurosis and anxiety and continued drinking. In March 2003, he began working as a security guard at Madrid–Barajas Airport.
Murders
On January 24, 2003, Galán shot 50-year-old Juan Francisco Ledesma in the head in front of his 2-year-old son.
On February 5, the body of 28-year-old airport cleaner Juan Carlos Martín Estacio was found shot in the head with an ace of cups nearby.
On March 7, 2003, 27-year-old Santiago Eduardo Salas was shot in the face by Galán, but survived. Salas's friend, 29-year-old Anahid Castillo Ruperti, was able to escape unharmed. A three of cups was dropped at the scene. It was not originally his intention for playing cards to be his "signature". He only began leaving cards after the media sensationalized the fact that a card had been found by a victim's body.
Aftermath
On July 3, 2003, Galán surrendered at a police station and confessed to being "The Playing Card Killer". It was reported that in some of the murders, Galán had wished his victims good morning and ordered them to kneel before shooting them. He smuggled the gun into Spain by hiding it in a television set.
He was sentenced to 142 years and three months in prison.
---
Alfredo Galán Sotillo, better known as the "Murderer of the deck of cards", is a serial killer convicted to 142 years and three months for six murders and three attempts of homicide. He killed his victims with a Tokarev TT-33 gun he brought to Spain from Bosnia when he was a military, he is famous for his curious way of marking his murders with playing cards.
Early years
Alfredo Galán Sotillo, native from Puertollano, was born on April 5, 1978, he studied the Educación Básica General (Basic general education) in school and later the Bachillerato Unificado Polivalente (high school diploma) in an institute where he was a representative of his class. His teachers remember him as a none remarkable and introverted student.
On September 1998 he joined the army, where he turned into first officer in the Parachutist Brigade of Alcalá de Henares, he participated in two humanitarian missions in Bosnia. In 2003, after the Prestige's catastrophe in Galicia, his unit was moved from Bosnia and sent to clean the oil spill.
After stealing a car, he started to have problems with his superiors. He was later sent to hospital Gómez Ulloa in Madrid where he was diagnosed with neurosis and anxiety, and even though his medication was incompatible with alcohol, he kept drinking, and during March 2003, he was definitively discharged, the same month he started working as a security guard in Barajas' airport, when fights and discussions started he knew his boss wouldn't allow him to stay too long in the army and was already looking for jobs.
Crimes
Galán demonstrated to be a good marksman in his six murders and three attempts. All of his victims were killed at point-blank range, which explains why they didn't react. He always shot them in the head, the nape or the back.
His first victim (February 5, 2003) was a 18 year old man who was waiting for the bus in a station, near Barajas. On his side he left an ace of cups and so he did in all of his other murders. This was the signing that led to his name.
Forensics who intervened in the ninth session of the trial agreed in something; the person who shot the victims did it from a very short distance, almost at a point-blank range. It is showed, in fact, that when you shoot from a point-blank range the gunpowder burns the entrance orifice of the gun. There also are metallic rests coming from the fulminating and, when it touches the bone, produces a loud explosion in the skeletal area. Furthermore, the smoke of detonation stains the area near the wound.
Experts who made the autopsy of Juan Francisco Ledesma, agreed that the bullet had entered through the occipital region -the back part of the head- and came out near the right eye, which killed him instantly. The shot was carried out in direction parallel to the ground. Experts, reaffirmed that the shot could have been carried out with the victim on his knees, details that would have been given by the killer, when he gave in on July, 2003. A notch in the main square of the room, coming from the projectile, confirmed this.
Juan Carlos Martín Estacio was killed with the same modus operandi. He died from a shot in the head, performed by the back and a course parallel to the floor. The murders from Alcalá de Henares were also performed directly. The son of the bar Rojas' owner, Mikel Jiménez Sánchez, died by a shot that entered the temporal area, went out through the left area and embedded in the shoulder.
Juana Dolores Uclés was shot in the superior area of the right eye. As with everybody else, the shot was mortal. A marriage murdered composed by George y Diona Magda, was surprised in a dark passageway. The man was shot first from a lateral of his back. His wife, shocked, turned around and tried to protect herself with her left arm. Alfredo shot her three more times. Two of the projectiles reached her head with a distance of four centimetres. She died two days later. The course of bullets was lightly downwards, as if they were carried out from a high altitude.
Galán Sotillo is 1.90 m. The homicidal weapon is a Tokarev TT-33, caliber 7.62. The convicted man said that he threw it at some garbage dump in Puertollano. Eduardo Salas turned out injured, caused by a shot on his face on March 7, 2003, when he was with a friend, Anahid C, in Viñuelas de Tres Cantos avenue. Suddenly, a tall man approached to them, he pulled out a gun and shot him once in the face. The bullet entered through his right cheek and came out through the back part of his neck. The victim broke down to the floor, bleeding plentifully. Alfredo got closer to the victim's companion with the intention of executing another shot but the Tokarev jammed. The woman kneed and protected her head with her arms. Alfredo threw a Dos de Copas card next to his victim.
On July 3, Alfredo Galán Sotillo gave himself up during the afternoon where he confessed that he was the murderer of the playing cards.
Confession
Alfredo Galán's trial was full of irregularities, due to constant changes in the declarations of the accused. On September 10, he changed his version in front of examining judge in number 10 Magistrate Court of Madrid, exposing the reasons why he had confessed being the murderer; he did it just because a neonazi had threatened him with killing his sisters if he didn't blame himself. He claims that he sold the gun, before the murders, to the group of the aforesaid neonazi. This declaration wasn't considered by the judge.
Besides his confession, a cartridge coming from the gunshot that killed the doorman was found. Clothes wore for crimes were also found. The sudden stop of homicides after his arrest, the identification made by survivors and the fact that he had been in Bosnia, where he supposedly bought the weapon used in murders were all relevant datum provided to trial.
Trial & Sentence
Madrid's Provincial Audience (Audiencia Provincial de Madrid) sentenced ex-military Alfredo Galán to 142 years and 3 months in jail for killing six persons, and three attempts, in the Community of Madrid.
The tribunal accorded to take expected sentences to the limits due to evident disdain for human life exposed by the accused. At any rate, and according to the Spanish law, the "deck of cards murderer" will not serve more than 25 years imprison. To condemn Alfredo Galán, the sentence first starts recognizing "probative value" of confession made by the accused after giving himself up to Puertollano's Local Police on July 3, 2003, he later recognized the facts in front of Examining Judge, but denied them when he declared in number 10 Magistrate Court of Madrid. He only admitted buying the gun and illegally introducing it in Spain.
The weapon was found in his parents' house, despite that he claimed to have sold it to someone he knew on January, 2003. According to Ballistics, projectiles did derive from the aforesaid gun. Court considered that these facts and confession of accused (besides other details that have not been revealed yet), incriminate the prisoner.
Furthermore, judges considered Galán's silence a reaffirmation of his culpability. Sentence does not claim any type of psychiatric pathology in Alfredo Galán, and exempts the State of public liability. The Court based the exemption of the State in the fact that crimes weren't committed in a establishment of state ownership and that the weapon used wasn't the official nor the murders were perpetrated while he was in charge, just as the law requires.
According to the sentence, Galán will have to compensate families of victims, including those who survived, with a total of 609.182 euros for moral damage and injuries. During the trial, a policeman said that Galán always wished his victims a "good morning" and asked them to "please" kneel before shooting them because "education is the first thing in life".
According to the psychistric's inform that examined the now convicted man, Alfredo Galán is "a human predatory that goes out hunting man to humiliate and kill them". Experts assured then that this type of behavior it is only seen in nature, so it should be studied by the social branch, not
psychiatric.
Source: Wikipedia en Español
Marta Morales Urcola - [email protected]
---
Alfredo Galán: the story of a Spanish serial Killer that left a card from a deck next to each of his victims
Blogs.tees.ac.uk
April 29, 2014
Serial killer Alfredo Galán Sotillo faces spending the rest of his life behind bars for gunning down six people in cold blood.
The murderer picked his victims at random and left a playing card on each of their bodies as Celia Alonso reports.
Alfredo Galán Sotillo was born April 5 1978 in Puertollano, Spain.
He was an introvert child, never causing any problems at school and went on to join the Spanish Army in September 1998.
He became the Corporal in the Paratrooper Brigade and later headed to Bosnia to do humanitarian work and was happy helping people who had suffered in the Balkan War.
A turning point came in 2003, when Alfredo Galan was sent with his fellow soldiers to help clean up the Galician coast, which had been polluted following the sinking of the oil tanker Prestige.
Apparently Alfredo Galan was unhappy about doing this environmental work and it was in Galicia, where he committed his first crime – stealing a car, which led him to be chased by his superiors in the army.

In the same year, Alfredo was admitted to a hospital in Madrid, where doctors assessed his mental state. They confirmed that Galán Sotillo suffered neurosis and and anxiety and he was prescribed medication. Unfortunately Alredo would mix this with alcohol, which acted against his medication.
As a result, Alfredo was expelled from the Spanish army, although he did quickly find a job as a security guard at Madrid airport.
Soon after though, Alfredo became a serial murderer – picking his victims at random, as if he was playing a card game. His weapon of choice was a Tokarev gun that he had brought back from Bosnia.
His first victim was an innocent 18-year-old who was just standing at the wrong place at the wrong time – a bus stop in Madrid. After shooting him dead, Alfredo left an "Ace of Cups" card next to the body.
He used the same modus operandi with his second victim, a man called Juan Carlos Martín Estacio, who he shot in the head before leaving a playing card next to the corpse.
Later the serial killer went to Alcala de Henares, perhaps to escape central Madrid, where the media were talking a lot about the enigmatic "Murderer of the Card".
It was here that Alfredo committed his most heinous crimes – the murder of Mikel Jimenez Sanchez and Juana Dolores Uclés, who was shot directly through her eye.
Alfredo then went on to kill Romanian couple George and Doina Magda, shooting George first in the back before shooting his wife at close range, while she cowered, covering her head.
Alfredo then tried to kill a further three people, but his shots missed his intended targets and they survived. Interestingly, the murderer left next to these people who survived, several cards of "2 Cups".
After this Alfredo, perhaps tired of killing or feeling he had achieved his twisted goal, decided to surrender to local police in his hometown of Puertollano. There he confessed to being the famous "Murderer of the Card."
Some days later after pleading guilty, Alfredo continually changed his version of events, at one point saying he had not killed anyone, and claiming that a Nazi had carried out the murders and threatened to kill Alfredo's sisters if he didn't take the blame – a statement which was not given any credibility by the judge.
Alfredo "The Murderer of the Card" was sentenced by the Provincial Court of Madrid to 142 years and three months in prison for six charges of murder and three charges of attempted murder.
---
Spain's 'card deck' killer jailed
BBC.co.uk
March 9, 2005
A Spanish serial killer known for leaving playing cards on the corpses of some of his victims has been given jail sentences totalling 142 years.
Former soldier Alfredo Galan, 26, was convicted of six murders and three attempted murders, in shooting attacks around Madrid in 2003.
His killing spree lasted from January until March before he turned himself in to police in July that year.
Galan, dubbed the "playing card killer" by the Spanish press, may appeal.
Most of his sentences will run concurrently as the maximum jail term under Spanish law is 20 years for non-terrorism cases.
'Polite'
Galan, who served as a Spanish peacekeeper in the Balkans, is reported to have told police he wanted "to know what it felt like to kill". In the event, he had felt only indifference, the court heard.
He had initially confessed to the killings but later withdrew the statement and tried to implicate two other men, claiming he had sold them the murder weapon.
According to a police witness during the trial, Galan always said hello to his victims and asked them if they could "please" kneel down before he shot them, as he thought "politeness is most important in life", El Mundo newspaper reported.
The paper says the court ordered Galan to pay 609,182 euros (£422,983) to his victims' families.
---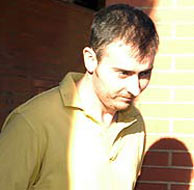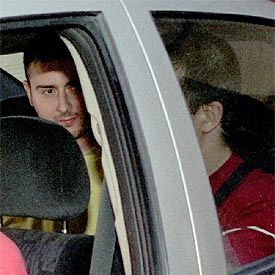 Alfredo Galán Sotillo