National Airlines Flight 2511, registration N8225H, was a Douglas DC-6B aircraft which exploded over Bolivia, North Carolina en route from New York International (Idlewild) Airport, New York City, New York, to Miami, Florida on January 6, 1960. All 34 on board were killed in the accident.
The aircraft had been called into service on short notice when the normal aircraft used for the evening flight to Miami, a Boeing 707 jet identified as Flight 601, was grounded due to a cracked window. Most of the passengers who were to have flown on Flight 601 boarded a Lockheed Electra, registration N5003K; those who could not be accommodated on the Electra were boarded on Flight 2511.
Flight 2511 departed Idlewild over two hours late, at 11:34 PM. The flight was routine until shortly after passing Wilmington, North Carolina. At 2:31 AM Eastern Standard Time, one of the pilots on the flight contacted National Airlines company radio station at Wilmington to pass on a routine progress report. At 2:38 AM, the aircraft suddenly entered a wide descending right turn and crashed 1-1/2 miles north-west of Bolivia.
The airline was informed of the location of Flight 2511 at around 7:00 AM, when Richard Randolph telephoned its dispatch office in Wilmington to advise that there was airplane wreckage in the field near his house. This wreckage was later identified as that of Flight 2511.
During the recovery, it was discovered that the remains of one passenger, Julian A. Frank, a lawyer from New York City, were missing from the accident site. His body was eventually found sixteen miles away at a place called Snow's Marsh west of the Cape Fear River. While autopsies of the crew and remaining passengers showed that all had died due to crash forces, Frank's autopsy showed that he had been fatally injured by a dynamite explosion originating either in his lap or (more likely) immediately under his seat. A number of wires and metal fragments identified as parts of a bomb were found to have embedded themselves in his body, mainly in the arms and legs. Extensive searches of the aircraft fuselage revealed bone and bomb fragments surrounding the seat which had been assigned to Frank on boarding.
Investigators suspected that Frank had taken the bomb aboard the aircraft willingly, and that the bombing was therefore a murder-suicide.The points that led them to believe that Frank was culpable include:
The bomb exploded at 2:38 AM, hours after the original Flight 601 was scheduled to land at Miami. Had the bomb been placed on Flight 2511 by a party not on the aircraft at the time, it should have been set to detonate at a time when Flight 601 would have been in the air.

The aircraft had not been in use for some time before it was called into service to replace the Boeing 707 that had been grounded, and it was therefore unlikely that the bomb was on the aircraft before boarding.

Frank had been under investigation for fraud and embezzlement at the time of his death, and had also taken out large amounts of life insurance shortly before boarding the aircraft.

The explosion was in immediate proximity to Frank, either in his lap or immediately under his seat.
There was, however, other evidence that made it less than certain that Frank was culpable. These include:
On November 16, 1959, less than two months before the crash of Flight 2511, National Airlines Flight 967 disappeared over the Gulf of Mexico. Although the aircraft was lost at sea and the Civil Aeronautics Board could not determine a probable cause for the accident, it was believed that the aircraft had been destroyed by a dynamite bomb. Investigators discovered that a small-time crook named William Taylor had boarded the aircraft on a ticket belonging to Richard Spears, a convicted felon who had befriended Taylor in prison and who had taken out over $100,000.00 worth of life insurance on himself. They hypothesized that Taylor had boarded the aircraft with luggage packed by Spears and, unbeknownst to Taylor, containing a bomb.

Frank's purchase of life insurance before boarding a flight was not at all unusual in 1960. Airports even had vending machines that issued insurance policies good for the duration of the flight.

Frank was a commercial lawyer and was not thought to have the knowledge necessary to build an explosive device.
No charges were laid in the bombing. The investigation officially remains open.
Had the bomb detonated on Flight 601, the Boeing 707 originally scheduled to fly the route, 105 passengers and an unknown number of crew would have been killed. It would also have been the first crash of a Boeing jet in passenger service. (Two accidents had occurred on training flights in 1959).
Wikipedia.org
---
AVIATION: Bombs in the Air
Time.com
January 25, 1960
With the explosive growth of air travel in the 1950s, the air industry has worked ceaselessly and effectively to make flying safer. But despite every safety precaution, despite every improvement in equipment and procedure, there remains one peril that is a nightmare to all airline men: the possibility of someone, acting out of dementia, desperation or despair, planting a bomb aboard an airplane. In the past decade at least eight planes around the world have been so sabotaged —and at least 99 people died as a result. Last week U.S. authorities were deep in investigations of two more possible bombings aloft.
"The Richest Woman."
Piecing together the fragments of a National Airlines DC-6B that crashed last fortnight, killing 34, in North Carolina (TIME, Jan. 18), Civil Aeronautics Board investigators found strong evidence indicating a bomb explosion inside the plane. The wreckage showed that an 8-ft. section near a forward washroom had been blasted outward, as if by an explosion within the plane. A small blue handbag, its bottom blown out, was found near the crash scene. Searching through the passenger list for a possible suspect, the probers turned up the name of one Julian Andrew Frank, 32.
The reason for the investigators' interest in Frank was the discovery that within two months before the crash he had taken out some $900,000 in life and accident insurance, naming his ex-model wife as beneficiary. And as they looked deeper into Frank's affairs, they found that he might well have reason for wanting to die: he was a young man in trouble.
Handsome, wavy-haired Julian Frank was a lawyer. He lived with his beautiful wife and two small children in exurbanite Westport, Conn., commuted to his small office in Manhattan. Fellow commuters recall that he was a first-rate bridge player but a loud, boastful sort of fellow (says one acquaintance: "He gave me the impression of being a young man in a hurry—ambitious, driving, smart"). Others remember that he often talked of dreaming that he would some day die in a plane crash.
Up to last year, Julian Frank had earned about $10,000 a year. Then he seemed to have struck it rich: he bragged of making $14,000 a month, moved out of his $20,000 home into a $45,000 house, talked almost casually of having "dropped $600,000 in the stock market." He also began taking out his huge insurance policies. "If I die," he told friends, "my wife will be the richest woman in the world."
"Several Thousand Dollars."
But Julian Frank had serious problems—and they were closing in on him even as he boarded the Miami-bound National plane that took him to his death. He was being harassed by a bevy of businessmen who claimed he had swindled them. Among the claims: 1) that Frank had operated behind a phony company named J. & P. Factors Inc., whose only address was a mail drop; 2) that he had pocketed $8,025 in fees from a Phoenix firm, then reneged on his promise to raise mortgage money; 3) that he had bilked associates in real-estate deals out of some $40,000; 4) that he had gypped "several thousand dollars" out of businessmen who had retained him to help raise money for some Missouri hospitals. At the time he died, Frank was under investigation by the FBI and the New York District Attorney, and the New York Bar Association was considering disbarment procedures against him.
Lawyer Frank took aboard the National Airlines plane a small blue bag of the sort later found near the crash. His body, washed ashore from the Atlantic at a point about 16 miles from the actual crash scene, was missing a leg and a foot and had been pierced by pieces of metal which, investigators said, did not seem to have been part of the plane itself. Insane as it seemed, if Julian Frank did commit suicide by blowing up himself and his fellow passengers, he had at least a sort of reason: only by making it appear that he had died in an accident and not by suicide could he have hoped that his widow would ever get her insurance money.
"For $500."
In the second case under investigation last week, Federal Bureau of Investigation officials, while revealing few details, said they were working on a theory about the crash of a National Airlines DC-7B that went down with 42 aboard in the Gulf of Mexico last November. The theory: that a Dallas naturopath named Robert Spears, 64, possessor of a long police record that included forgery, fraud, armed robbery and a penitentiary term, may have been involved in the crash. Most interesting fact about Spears, whose name appeared on the flight's passenger manifest: the FBI reported that he had once said "that for $500 he would blow up a hospital."
---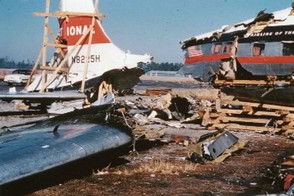 National Airlines Flight 2511 went down in Brunswick County on January 6, 1960, killing all 34 people on board.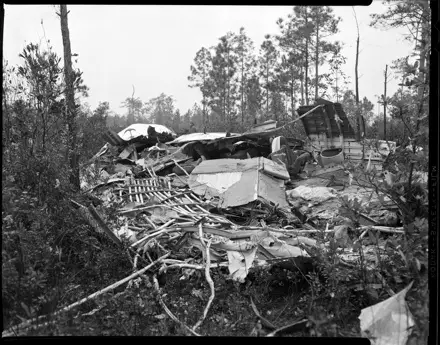 Wreckage of National Airlines Flight 2511, which exploded and crashed January 6, 1960 in Bolivia, NC.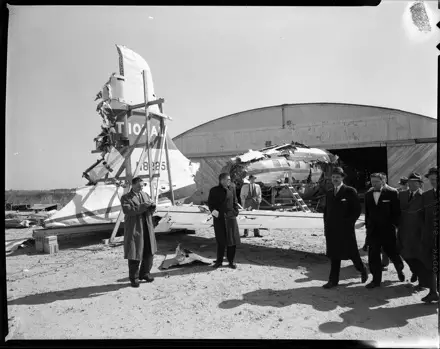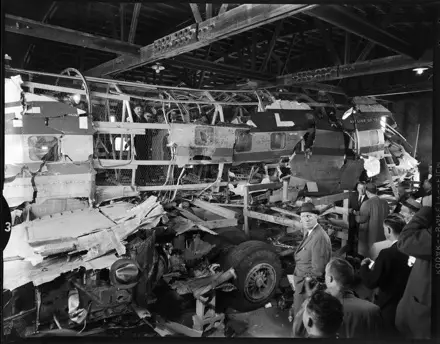 Reassembling the wreckage of National Airlines Flight 2511, which exploded and crashed January 6, 1960 in Bolivia, NC.