Del Fontaine was hanged October 29, 1935 at Wandsworth Prison in London, England, for the murder of 21-year old waitress Hilda Meeks (also reported as being Hilda Weeks) on July 10, 1935. Her mother had been shot and seriously wounded as well.
He had been convicted at Old Bailey the month before for the girl's murder and attempted murder of the mother. The incident occurred at the Meeks' home in South London. Fontaine had been friendly with Miss Meeks during a two-year ring campaign in England.
---
Del Fontaine ne Raymond Henry Bousquet (22 February 1904 - 29 October 1935) was a Canadian boxer who fought between 1925 and 1935. He is most notable within boxing for winning the Canadian middleweight boxing championship in 1926 and again in 1931.
In 1932 he travelled to Britain to continue his boxing career, and began a relationship with Hilda Meeks of Bristol. In 1935, Fontaine was arrested and convicted of the murder of Miss Meeks and was executed at Wandsworth Prison.
Fontaine's boxing style was described as aggressive and crowd-pleasing, but with a poor regard for defence.
Boxing career
French Canadian Fontaine was a resident of Winnipeg, Manitoba, with his first recorded boxing match against Sammy Hudson, a fellow Canadian from Moose Jaw. Fontaine won the bout by knockout in the fifth. Fontaine was unbeaten in his next six matches, including a draw with Jack Reddick, who was at the time Canadian light heavyweight champion.
On 14 August 1925, Fontaine faced Harry Dillon at Regina, Saskatchewan for the vacant Canadian middleweight title. The fight went the distance of ten rounds, and Dillon won the Championship on a points decision.
Despite his first professional defeat, Fontaine returned quickly to his original form, finishing his next four contests undefeated. On 8 May 1926, Fontaine had his second attempt at the Canadian middleweight belt which had become vacant. Fought in Ottawa against Henry Henning, Fontaine won the match and the title in the second round with a technical knockout over his opponent.
From this point, Fontaine attracted a better class of fighter, beginning with his first fight outside Canada, travelling to Philedelphia in a win over experienced American Bobby Marriott. His biggest fight to date came on 16 August 1926 when Welsh fighter Frank Moody travelled from the U.S. to Canada to face Fontaine. The contest went the distance, with Moody victorious. Fontaine finished the year with two bouts in the U.S., a win over Joe Anderson followed by a points loss to Rocky Smith.
The following year Fontaine travelled widely around the U.S. and Canada fighting with mixed results. His most notable fight that year was against Vincent Forgione, facing him twice in two months. After losing to Forgione by points in their first encounter, Fontaine was knocked out for the first time in his professional career when he faced Forgione for their second contest in July 1927. Fontaine continued fighting in North America over the next four years, and at the end of 1931 he faced Ted Moore, regaining the Canadian middleweight title.
In early 1931 Fontaine travelled from Canada to the United Kingdom by cattle boat to further his boxing career. Over the next three years Fontaine faced many of Britain's most successful middleweight boxers, including Billy Bird, Jack Casey, Gipsy Daniels, Tommy Farr, Jack Hyams and Harry Mason.
From his arrival in the U.K., Fontaine's fight record was good with 23 wins, 4 losses and 3 draws, but from November 1933 his form took a terrible reversal with 4 wins, 16 losses and 2 draws. This string of poor results would later be used as Fontaine's defence during his murder trial, with his defence counsel stating he was "punch drunk" and therefore of diminished responsibility.
Murder charge and execution
Murder of Hilda Meeks
Although Fontaine had a wife and children back in Canada, he had begun a two-year relationship with 21 year-old Hilda Meeks whilst living in Britain. Bristol-born Meeks was a one-time West End waitress, with dreams of becoming a dancer. Hilda was described by her friends as "flighty".
On 10 July 1935, she was caught by Fontaine making a date with another man on the telephone. Fontaine, who was known to drink, confronted Meeks, taking the phone from her and challenged the man she was speaking to. Meeks' mother came into the room to protect her daughter and Fontaine pulled a revolver. As Meeks ran into the street, Fontaine fatally shot her, he then fired a second shot into her mother.
When Sam Meeks, Hilda's father, returned home he saw Fontaine carrying his daughter back into the house. Fontaine stated "I've done for her and done for the old woman", showing that he believed he had killed both women, though in fact the mother had survived.
At the trial Fontaine's defence contended that the boxer was suffering from acute depression and was probably "punch drunk". The defence called upon Ted Lewis, a former welterweight champion, who stated "Del shouldn't have been in the ring at all for his last fight. He wasn't in a fit state. ... As a boxer, he has received more punishment than anyone I have ever seen." Sam Meeks countered the claim believing that Fontaine had thrown his later fights. Fontaine was found guilty and sentenced to death by hanging.
Execution
By the time the execution date had been decided, protests had started pleading for a reprieve. A long petition was delivered, but to no avail. On the morning of 29 October 1935 a crowd gathered outside Wandsworth Prison, hymns were sung and politicians made anti-capital punishment speeches. That morning Fontaine was executed.
Fontaine left a note "Hilda Meek broke my heart I spent my last cent on her. She turned me against my own wife." A warden at the prison is quoted as saying "He was the bravest fellow we ever saw go to the scaffold."
Wikipedia.org
---
1935: Del Fontaine, punch drunk boxer
Executedtoday.com
On October 29, 1935, Canadian pugilist Del Fontaine was hanged at Wandsworth Prison, "the bravest fellow we ever saw go to the scaffold."
Winnipeg-born as Raymond Henry Bousquet, Fontaine twice won the Canadian middleweight belt.
But a grueling, 98-fight career took its toll on the man.
By the end — when he had crossed the pond for a couple years traversing the English rings — Del Fontaine was visibly punch-drunk. The onetime champion lost 12 of his last 14 fights.
Punch drunk — scientific name dementia pugilistica — is just the classic diagnosis for "concussed all to hell," afflicted by traumatic brain injury and its mind-altering long-term effects: Depression, violence, mood swings, loss of judgment and impulse control. Those are the kinds of behavior patterns that tend to brush up against the criminal justice system.
The syndrome's popular name suggests its most visible injury, to motor skills — a symptom Fontaine's colleagues in the business could readily diagnose.
"Del shouldn't have been in the ring at all for his last fight. He wasn't in a fit state," fellow prizefighter Ted Lewis testified at Fontaine's trial, recalling a Newcastle bout that ended in a flash on three first-round knockdowns. "As a boxer, he has received more punishment than anyone I have ever seen." The house doctor at a Blackfriars venue Fontaine had appeared at earlier in 1935 said the fighter complained of double vision and sleeplessness, and couldn't walk straight. (London Times, Sep. 17, 1935)
If 1935 was a few decades' shy of our present-day understanding of concussions, it was still well-enough known to those who had experience of the punch-drunk that psychological changes accompanied the physical impairments. Those who knew Del Fontaine knew he wasn't right in the head.
The reason this tribunal had to sit for the humiliating public probe of Fontaine's mental crevasses was that Fontaine had left his wife and kids behind when he crossed the Atlantic. Once he got to the Isles, he took up with an English sweetheart in Bristol.
This Hilda Meek, a West End waitress a decade the junior of her lover, became the object of an obsessional infatuation. In a fit of jealous rage, Fontaine gunned her down (and her mother too, although mom survived) when he caught Meek making a date with another man.
Fontaine was captured, unresisting, dolorously on the scene, and openly admitted his actions. Acquittal on the facts would be a nonstarter; diminished responsibility because of dementia pugilistica was the best defense gambit available.
The highly restrictive legal bar against an insanity defense aced out the legal maneuver: however impulsive and moody a lifetime of concussions had left him, they couldn't be said to have prevented him "knowing right from wrong." Still, his case attracted a fair bit of public sympathy, and when a petition for clemency went nowhere, hundreds of people, including a number of other boxers, turned up at Wandsworth to protest on the morning the punch-drunk Del Fontaine hanged for murder.
---
Boxer sentenced to death
Paul Townsend - Flickr.com
Fontaine, was a French Canadian boxer whose real name was Raymond Henry Bousquet. He had a rather sad ending. He fell in love with 21-year-old Hilda Meek, whose was murdered in what was described as a crime of passion.
The good-looking Fontaine was found guilty of the crime and sentenced to death. The execution in London aroused great emotion. His friends and fellow boxers pleaded for his life, saying a man suffering from depression – and also possibly punch-drunk after 98 fights – was not responsible for his actions. Their efforts failed.
Between the wars, with the fighters often climbing through the ropes for a pittance, backstreet boxing brought a pretence of glamour to working class Bristol.
In the 1920s and 30s, pale, lean boxers, ever grateful for an extra fiver, frantically took on as many boxing bouts as they could find. Medical supervision was minimal. Little Tosh Parker once fought three times a day during the miners' strike.
Some of the better fights were at venues like the prestigious Colston Hall. Others were in more modest boxing halls or transformed pub sheds. Every fight night bulged with fans - and every supporter had his favourite.
Del Fontaine was one - a French Canadian who had come over in a cattle boat with the intention of establishing himself as a fighter. His style in the ring was all-action.
The trouble was that he had little or no defence. He took a battering in almost every contest but invariably grinned at the crowd as he stumbled back, bruised and beaten, to an improvised dressing room.
Del Fontaine wasn't his real name - it was really Raymond Henry Bousquet, a name too long to fit the billboards. But from the bell, his fists flailing, he was marvellous value.
Sadly, even his most loyal fans came to realise that he was on the slide. By 1934, he had lost 12 of his last 14 bouts. Those closest to him suspected that he was becoming punch-drunk.
He was a colourful personality - his dashing looks made him especially popular with Bristol girls. He also liked a drink. Back in Canada, he had a wife and children.
Between fights here, however, he spent more and more time with a pretty 21-year-old waitress, Hilda Meek, born in the city's Winstanley Street. The relationship became increasingly obsessional.
Hilda, described by her friends as flighty, had no wish to be tied down - especial by a moody prizefighter whose face and body were increasingly showing the bruises and effects of his last bout.
One day he heard her making a date with another man. The neurotic Fontaine suddenly pulled out a gun and fired - she died on the spot. Another shot injured her mother.
The West Country sporting public was shocked. At the trial, which as a crime of passion fired the nation, the defence called on welterweight champion Ted Lewis.
He looked across the courtroom at the crumpled, demoralised Fontaine and spluttered emotionally: 'Del shouldn't have been in the ring at all for his last fight. He wasn't in a fit state.
'As a boxer, he has received more punishment than anyone I have ever seen.'
The verdict was inevitable. Not that Hilda's distraught father helped the boxer's case. Sam Meek, of Barton Hill, was questioned about Fontaine's state of mental health. 'Do you realise that he was knocked out seven times recently ?' The reply was bitterly cynical, devoid of any affection: 'I don't know about knock-outs. The last one seemed to me more like a lie-down.'
The implication was that, by then, Del Fontaine, aware that any slender hopes of progressing in the ring had disappeared, was prepared to take a dive. It would have been the ultimate insult to a boxer so often acclaimed by Bristol crowds for his crash-bang approach.
By the time the date for the execution had been decided, the protests had started. They grew in volume as Fontaine's friends pleaded for a reprieve.
There were long lists of names on the petitions, asking for his life to be spared. How could the judiciary send a punch-drunk, deeply depressed man of unsound mind to the gallows?
But it did. Outside the prison gates, on the morning of the execution, religious figures led the hymns. Politicians made intense anti-capital punishment speeches. It made no difference. The prison bell tolled and the weeping crowds, including a few familiar faces from the world of boxing, strolled away.
Del Fontaine left a note. 'Hilda Meek broke my heart I spent my last cent on her. She turned me against my own wife.'
Al Harding, of the well-known local boxing family of Redcliffe - he had persuaded Del to come to the West Country, and another brother, Percy, had been the promoter at the Gem Stadium - cycled to London to see Fontaine in the condemned cell.
For two outwardly tough characters, it had been a tearful experience.
Back in Bristol, amid hoarse cheers and the Woodbine-foggy atmosphere, the boxing shows went on - sluggers searching for unattainable glory.
At the Gem, that popular venue in Broad Weir, the fans continued to argue over the fate of the swarthy French-Canadian they had all taken to their hearts.
From the Gem to the gallows had been a short, poignant journey.
After the hanging, the wardens whispered to visitor Harding: 'He was the bravest bloke we ever saw go to the scaffold.'
It was the human quality Del demonstrated with such unfulfilled and misdirected zeal in the ring.
---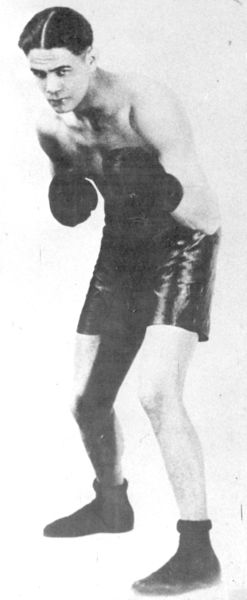 Del Fontaine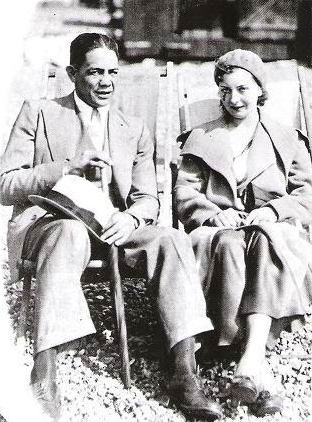 Del Fontaine with Hilda Meeks.