Epperson, Roger D., DOB 5-19-50, was sentenced to death June 20, 1986 in Letcher County for the murder of Tammy Acker.

The murder occurred when Epperson and two accomplices entered the home of a Fleming-Neon, Kentucky physician on the night of August 8, 1985. They choked the man unconscious, and stabbed his daughter, Tammy Acker, to death while robbing him of $1.9 million, handguns and jewelry.

He was arrested in Florida on August 15, 1985. He also received a second death sentence for the murder of Bessie and Edwin Morris in their home in Gray Hawk, Kentucky on June 16, 1985.
---
Roger D. Epperson, along with Benny Hodge, stabbed a female victim 12 times with a butcher knife during a robbery at her father's home in Letcher County in 1985. The victim's body was found with the butcher knife stuck through her chest and imbedded in the floor. Also her father was strangled with an electric cord but he survived. The killer was arrested in Florida.
Victim:
Tammy Acker
*father survived strangulation with electric cord.


---
Supreme Court says state must pay for witnesses in death cases
By Brett Barrouquere - Associated Press Writer
Thu, Jan. 24, 2008
LOUISVILLE, Ky. --The state must pay for witnesses to attend hearings for two death row inmates, the Kentucky Supreme Court ruled Thursday.
The ruling, in the case of Roger Dale Epperson and Benny Lee Hodge, partially reverses a 2005 decision that the state wasn't required to pay the fees.
Epperson and Hodge were condemned to death for the August 1985 robbery and murder of Tammy Acker in the Fleming-Neon community of Letcher County, along the Kentucky-Virginia border.
Hodge sought to bring 23 witnesses to a hearing about whether his attorney at trial failed to present mitigating evidence for jurors to consider before recommending a sentence.
Justice John D. Minton Jr., in a 14-page opinion written for the court, said the state should be required to pay for the witnesses' expenses if the defendant has raised an issue that can't be resolved without a hearing and the out-of-county witnesses' live testimony is necessary for a full presentation of the case.
"A ruling to the contrary would deprive those indigent post-conviction petitioners of their right to present fully their non-frivolous claims to the court," Minton wrote.
Justice Bill Cunningham, joined by Chief Justice Lambert and Justice Will T. Scott, said the trial judge should have the discretion to use affidavits and other procedural aides in determining the need for the witnesses.
Cunningham questioned whether some of the witnesses would be able to provide mitigating evidence because the case went to trial 20 years ago.
"What value any of these state witnesses would have to mitigate, at this late date, such an atrocious crime, committed so long ago, makes me wonder," Cunningham wrote. "This is not to mention the implausibility, if not impossibility, of defense counsel at trial in the distant past - or those called on his or her behalf - now being able to accurately recall why such witnesses were not presented, or even if counsel was ever made aware of them."
Allison Martin, a spokeswoman for the Kentucky attorney general's office, said, "We disagreed with the arguments on appeal, but we are pleased that the court's opinion will allow these cases to move forward and bring closure for the victims' families."
Dawn Jenkins, a spokeswoman for the Department of Public Advocacy, which represents Epperson, said the decision is good news for indigent and poor defendants, particularly those on death row.
"If someone does a really lousy job at trial ... in the past, we've not been able to get witnesses to the hearings," Jenkins said.
Hodge asked Special Judge Eddy Coleman to grant funds to bring 23 witnesses from Tennessee for a hearing. Coleman denied the request. The hearing on the performance of the attorneys for Hodge and Epperson has been on hold until the funding issue was cleared up.
During oral arguments in November, prosecutors argued that defense witnesses must show they cannot afford to travel to the hearing before being reimbursed for expenses.
Minton rejected that argument, saying because prosecution witnesses don't have to meet that requirement, it shouldn't apply to defense witnesses either.
"Out-of-county witnesses called on behalf of indigent post-conviction petitioners are entitled to reimbursement in the same manner as are witnesses for the Commonwealth," Minton wrote for the court.
Epperson and Hodge were convicted in June 1986 in Acker's death. Prosecutors said the pair, along with a third man, Donald Terry Bartley, broke into a physician's home on Aug. 8, 1985, and choked the man unconscious. The three then stabbed Acker to death while stealing $1.9 million, handguns and jewelry, prosecutors said.
Bartley pleaded guilty to his role in the crimes and is serving a life sentence.
Epperson and Hodge received second death sentences in November 1996 for the murders of Bessie and Edwin Morris in their home in Gray Hawk, Ky., on June 16, 1985.
---
Hair doesn't match men convicted of murders
The Associated Press
October 21, 2008
LOUISVILLE — DNA tests from a hair found at the scene of a 1985 double-murder in eastern Kentucky does not match either of the two men on death row for the crime nor does it match the victims in the case.
The test results were returned in January 1999, but not given to defense attorneys for Roger Dale Epperson and Benny Lee Hodge until September. The results are now at the center of efforts by Epperson and Hodge to overturn their death sentences and convictions.
Epperson and Hodge are awaiting execution for the June 1985 robbery and murders of Edwin and Bessie Morris in their home in Gray Hawk in Jackson County.
Attorneys for the two men say the test results should clear their clients. Commonwealth Attorney Gary Gregory, who prosecutes cases in Jackson County, did not immediately return a phone message left Tuesday.
---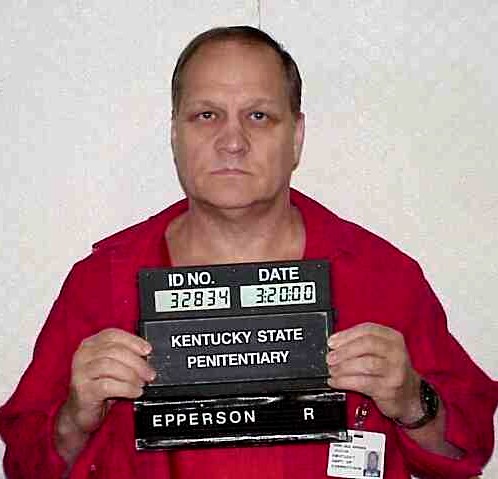 Roger D. Epperson