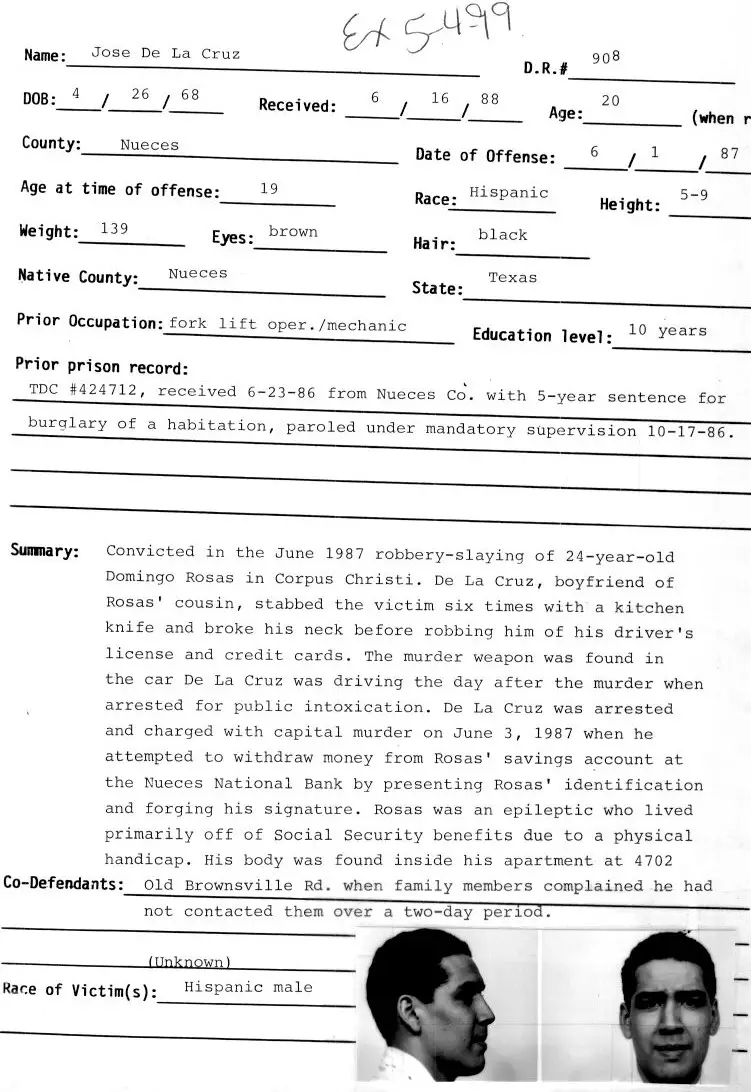 Last Statement:
This offender declined to make a last statement.
Jose DE LA CRUZ
The 175th executed inmate since the death penalty was reinstated in 1976, Jose De La Cruz, declined a plea agreement for 50 years imprisonment and volunteered for the death penalty for the 1988 murder of a partially paralyzed epileptic, Domingo Rosas.
De la Cruz made a comment that he wanted to watch how the judicial system operates when he rejected the plea agreement. When he was proven guilty, he declined any appeals although the decision is automatically appealed to the Texas Court of Criminal Appeals.
On May 29, 1987, de la Cruz, who had been eating and drinking with Rosas, Rosasí sister and brother-in-law earlier in the evening, stabbed and broke Rosasí neck, stole his credit cards, drivers license, television, video recorder, and stereo.
The next night, de la Cruz sold the stolen goods for $80. Later that night, he was arrested for public intoxication when he identified himself as Rosas. He was released from jail the next day before Rosasí body was discovered.
The arresting officer had retrieved a bloody knife from de la Cruzís car that was later tested for Rosasí blood and admitted as evidence.
On June 3, 1987, de la Cruz withdrew $350 from Rosasí savings account at Nueces National Bank where the teller noticed a discrepancy in the signature. The teller also remembered reading about Rosasí murder and reported de la Cruz to the police.
The trial was put on hold when one of the jurors could not stay for the duration of the trial and District Judge Joaquin Villarreal granted a mistrial.
Later, a court reporter spoke with another juror during which the juror revealed that he had already made up his mind about de la Cruzís guilt before hearing the defenseís testimony. The defense attorney asked for another mistrial but was declined as one had already been granted.
Michael Rendon, de la Cruzís brother-in-law, testified that de la Cruz returned the morning after the murder with Miguel Rios, being held for aggravated robbery in connection with the murder of Rosas. Testimony from Riosí family members proved he joined de la Cruz that night but, after the murder. After the trial de la Cruz told reporters that Rios didnít do it.
On June 7, 1988, de la Cruz was convicted of robbery and murder and sentenced to death.
De la Cruz appealed the decision three times even though he had volunteered for the death penalty, which meant he wouldnít appeal the decision. In the appeal process, he claimed that drugs and little family support was his reason for his criminal actions. All appeals were denied.
De la Cruz was 19 years old at the time of the murder. On May 4, 1999, at the age of 31, he was put to death by lethal injection in Huntsville, TX.
---
Jose De La Cruz, 31, 99-05-04, Texas
A parolee who blamed his criminal behavior on inhaling spray paint fumes was executed Tuesday for stabbing and robbing a disabled Corpus Christi man almost a dozen years ago.
Jose De La Cruz, who turned 31 last week, was pronounced dead at 6:23 p.m., 9 minutes after the lethal injection was started.
De La Cruz declined to make a final statement. As the drugs took effect, he took one deep breath and grunted three times before he stopped breathing.
De La Cruz was on parole for burglary when he killed 24-year-old Domingo Rosas, the boyfriend of a cousin. De La Cruz had been released from prison after serving less than 4 months of a 5-year sentence.
De La Cruz, who had an appeal rejected by a federal appeals court more than a year ago, asked that no additional legal maneuvers be taken on his behalf.
"I've already made amends with myself," he said in a recent death row interview. "I'm at total peace with my case. I'm not innocent. That man had every right to live just like I did."
De La Cruz, who was 19 at the time, had been visiting at Rosas' home and drinking with the victim a few evenings before the slaying. He returned early June 1, 1987 and used a knife to kill Rosas and steal a television, video recorder and stereo, which he sold later in the day for about $80.
Authorities said the victim's neck also was broken and it appeared the attack began while he was in his wheelchair.
Rosas had been disabled since the age of 3 when a television antenna pierced his face and entered his brain, leaving him partially paralyzed and mentally impaired.
When he was arrested that night for public intoxication, De La Cruz was carrying the victim's driver's license and credit cards, told officers he was Rosas and eventually was released. He was arrested two days after the killing when he went to Rosas' bank and tried to withdraw money. By that time, authorities knew Rosas had been murdered.
De La Cruz initially denied any involvement in the murder but led detectives to people who bought the stolen items from him. Blood stains on his clothing also matched the blood of the victim.
"There are some cases where there perhaps is a struggle," Nueces County District Attorney Carlos Valdez said. "In this case, there was absolutely no justification for the killing. The victim was in a wheelchair and couldn't even defend himself."
"You could say I was stupid," De La Cruz said in an interview 2 weeks ago. "It's sad it took this.
"I had many opportunities to reform but never took them. I've made a hard struggle to educate myself. I was belligerent, hostile. But since I've come here, I've calmed down a lot. I have grown."
De La Cruz said his addiction to inhaling spray paint, beginning at age 10, got him high and allowed him to fantasize.
"It was mind-altering," he said.
De la Cruz becomes the 11th condemned inmate to be put to death in Texas this year, and the 175th overall since the state resumed capital punishment on Dec. 7, 1982.
(sources: Associated Press & Rick Halperin)


---
Jose De La Cruz stabbed Domingo Rosas to death
The Friday night before the murder De La Cruz was a guest in Rosas' home and played a drinking game called "quarters" with Rosas until early Saturday morning.
After leaving Rosas' home, De La Cruz returned and killed Rosas in order to steal Rosas' television, VCR and stereo, a theft which yielded him approximately $80.
De La Cruz was observed Saturday morning driving around with a television in his car.
Later that day, De La Cruz and his friend Michael Rios tried to sell a television to Michael's uncle, Joe Rios. Joe Rios declined but directed the pair to Ray and Irma Flores, who paid De La Cruz $80 for Rosas' belongings.
Later that night, De La Cruz was arrested for public intoxication. The arresting officer found De La Cruz staggering in the road, near a borrowed car that De La Cruz had run into a ditch. De La Cruz smelled like paint and seemed intoxicated.
The officer placed De La Cruz in the patrol car. Inside the ditched car, the officer discovered a large blood-stained knife and a bottle of medicine prescribed to Rosas.
When the officer returned to the patrol car, De La Cruz volunteered that the knife was his and repeatedly asked whether it would be returned. De La Cruz then announced at his booking that he was Domingo Rosas, the victim.
De La Cruz was released from jail, only to be arrested again a few days later. This time, De La Cruz entered Rosas' bank and attempted to withdraw money using Rosas' bank identification card. The bank, knowing that Rosas was dead, notified the police, and De La Cruz was arrested on suspicion of murder.
After his arrest for Rosas' murder, De La Cruz told his trial counsel that he did not commit the murder, but had delivered the stolen property to a "fence." Counsel explained that the state might be willing to arrange a plea agreement if De La Cruz could recover the stolen property.
Counsel also explained that any deal with the state would be unenforceable unless De La Cruz was being truthful about his role. Thereafter, and without finalizing any plea agreement, De La Cruz led police to some of the stolen property, which was recovered with De La Cruz' fingerprints.
In addition to the stolen television, the state produced overwhelming evidence of De La Cruz' guilt at trial. For example, De La Cruz' clothing and the knife recovered from the ditched car were both stained with type-A blood, the same blood type as Rosas.
Moreover, blood spatters on De La Cruz' pants indicated that the wearer had forcefully stabbed a seated victim. De La Cruz does not raise any issue of actual innocence.