Freedom is Denied to Opera House Killer
The New York Times
June 27, 2004
It was inevitable that tabloid headline writers would call it the "Phantom of the Opera" murder.
In July 1980, Helen Hagnes Muntiks, a violinist in an orchestra performing with the Berlin Ballet at the Metropolitan Opera House, did not return to the orchestra pit after an intermission. Her nude body was later found in a ventilation shaft in the building.
The "phantom" in the internationally publicized case turned out to be Craig S. Crimmins, 21, a Met stagehand. In 1981, a jury convicted him of murder, finding that after trying to rape Ms. Mintiks, 31, in a stairwell, he forced her to the rouf and kicked her into the shaft.
The jurors rejected the defense argument that Manhattan detectives had pressured Mr. Crimmins into falsely admitting he was guilty of the crime. He was sentenced to 20 years to life, making him eligible for parole in 2001.
Twice denied parole, Mr. Crimmins, now 45, is in the Auburn Correctional Facility in Auburn, N.Y., with his next parole hearing scheduled for November.
"I'm sincerely sorry for what I've done, and I wish I could take it back," he said at his last hearing, in 2002. He said nothing about his confession having been coerced, according too transcript of the hearing.
"I was drank," he said. "She slapped me in the face and kneed me is the groin, and I don't know, something snapped in my brain." He maintained that he had "tried to leave her" on the roof, but "she kept jumping up and down" until he gave her "one kick" and she "just slipped, rolled right in" in the shaft.
"If you feel that I ain't been in prison long enough and hit me, aube is," Mr. Crimmins said.
So it was. Noting also that he used heroin in 2001, the parole commissioners said, "Releasing you to the community would make a mockery of the criminal justice system."
---
Craig Crimmins, Phantom of the Metropolitan Opera
By C. J. Sullivan - NYPress.com
Tuesday, November 27, 2001
Growing up on a farm in Canada, Helen Hagnes learned to love the violin, and her parents could see that she had a gift for the notoriously difficult instrument. As Hagnes practiced, she saw herself playing at a huge opera house. The violin would take her away from beautiful yet parochial Canada.
Hagnes earned a scholarship to North Carolina School of the Arts and graduated in 1973. She is now listed on the university's website as one of their missing alumni. After graduating there, Hagnes went on to Europe and studied under master violinists in Switzerland and Italy. She moved back to America and married. She and her sculptor husband settled in New York City. Here her dream of playing classical music professionally came true: she earned a violin seat in the Metropolitan Opera orchestra pit.
That was where the Bronx stepped in and smashed her dreams to the ground, like it has so many others.
On July 23, 1980, Helen Hagnes was 30 and playing violin that night for the Berlin ballet. The ballet being performed was The Idiot. The last scene is of a woman being stabbed to death. After the first act, Hagnes left her seat and went into the back corridors of Lincoln Center. She never told anyone where she was going. When the second act began other musicians noted her empty chair and assumed she had gotten sick.
The next time they heard of Helen Hagnes, she was being taken away in a body bag. She had been choked, beaten and thrown to her death down an airshaft by an unknown assailant, who soon came to be known as "The Phantom of the Opera."
The Hagnes murder created a tabloid stir. Weeks passed and the investigation stalled. Old boyfriends were checked out. All of her fellow employees seemed to have good alibis. Then the detectives caught a break. A Bronx stagehand, Craig Crimmins, 21, broke under questioning. He was arrested for Hagnes' murder.
Crimmins was an Irish Catholic kid from the Mosholu Pkwy. area in the north section of the Bronx. His babyish looks and immature demeanor were a surprise to a city expecting some kind of fiend. Crimmins went for the altar boy look during his trial.
The story came out that on July 23 Crimmins got lit up at work. Booze and pot left him in a staggering state as he wandered around the back corridors of Lincoln Center. There he ran into Hagnes and propositioned her. When she blew him off he beat her, tied her up and threw her down the air shaft, where she died. Crimmins was sentenced to 20-years-to-life and the Phantom of the Opera story died.
A few years back I corresponded with Craig Crimmins when he was at Comstock prison. He wrote with a childlike scrawl, yet the missives were decently written–that may be because the one good thing Crimmins claims he got out of prison was his GED. Since writing me he has been transferred to Ossining. I recently tried to get in touch with him but received no answer. I called his mother, but her phone was disconnected with no further information.
In his correspondence Crimmins never discussed Helen Hagnes or the murder at the Met, but he offered a detailed look into prison life. He sent me a recent photograph, and the once 21-year-old kid who looked 14 now had some gravity to him. Prison put some weight, muscle and facial hair on him; in his early middle age he looks like a fit carpenter or electrician or any other job an Irish kid from the Bronx might hold.
Crimmins: "Right now I'm in the worst prison in the state. Everyday inmates are cutting each other with razor blades, inmates beating up officers, officers beating up inmates. Every single day wild things are happening here. I really don't blame the cons because it's the way they are treated. You treat someone like an animal they will act like one. Could you picture killing someone over a pack of cigarettes? It happens."
He wrote about the tension between blacks and whites in prison. "Prisoners and prisons are very racist. More so with the black population. I've got into a few beefs over the words cracker and white boy myself. Whenever you hear a black person speaking of white people its always cracker this, cracker that… Everything here is run by the black population. For example take something like the TVs. Only black shows are watched…The prison system bends to their every wish. Believe me its no fun if you are white in here."
I asked him how common sexual assault was in prison.
"Rape is very rare. In my years I never saw it happen. That happened more in the old days because there was no trailer visits. It does happen but it is rare. Its not like people on the outside would think. When I first went away I was 21 and looked 14. My biggest fear was that, but like I said I never saw it. I saw many inmates having sex with each other willing. There are more than enough fags to go around."
Crimmins went on to lament the food served in prison.
"I wouldn't give the food here to a dog. If you have to count on prison food you're in trouble. We have commissary twice a month. You can spend $55 on food and $16 on stamps each time. I live off of tuna fish. Plus you can get a 35 lb. Food package from home once a month. If you don't have someone sending you money like most don't you wont be eating good."
What was the worst thing about doing a long bid in a New York state prison?
"The worst thing about prison is not having a life period. Locked in a cell thinking about what's going on in the outside world. Missing your family and friends. Wondering what ex-girlfriends and friends are doing while you are locked in a cell. Wondering if they miss you like you miss them."
Given that Crimmins is a veteran con, how did he see prison change over the course of his incarceration?
"Prison has changed since 1981 because then you didn't have all this razor tag they play now. Back then if you had a razor cut on your face it was because you were marked a rat. Now 80% of the inmates have razor tags on them… It's gonna get a lot worse before it gets better, and a lot of people are gonna die in here and out there before things turn around."
Crimmins had this warning to New Yorkers.
"I believe the crime rate is so low in the city because they are keeping inmates longer. At some point a bad batch is gonna get out and the crime rate will blow sky high. It use to be you did the time the judge gave you and you went home. Now you do the time your judge gave you plus what the parole board gives you. I'll be 41 when I see the parole board and probably 50 when I get out."
Crimmins was not paroled on his first visit to the board. His next shot at freedom is November of 2002.
"They call my sentence 20 years to life. They should call it 20 years to the board. It really doesn't matter if you are good or bad Santa doesn't care."
---
2 psychologists testify Crimmins has verbal learning disabilities
By E. R. Shipp - The New York Times
May 22, 1981
Two psychologists - one who tested Craig S. Crimmins when he was 13 years old and another who tested him earlier this month - testified yesterday that he had a long history of learning disabilities.
Mr. Crimmins, a former stagehand who is now 22 years old, is on trial in State Supreme Court in Manhattan for the murder and attempted rape of Helen Hagnes, a violinist, who was slain at the Metropolitan Opera House last July 23.
The psychologists, Dr. Lenore Migdal and Dr. Estelle Tchack, said the defendant's disabilities manifested themselves in a poor memory, short attention span, frequent confusion, an inability to understand words or ''think deeply'' and attempts to extract himself from difficult situations by readily agreeing with what is told to him.
The defense attorneys, Lawrence Hochheiser and Kenneth J. Aronson, have described Mr. Crimmins as ''highly suggestible'' and have contended that he was coerced by shrewd and manipulative detectives into admitting he had killed the 31-year-old violinist, who was in an orchestra playing at a performance of the Berlin Ballet. Judge to Limit Testimony
While allowing the expert testimony, Acting Justice Richard G. Denzer has indicated that he wants to avoid details of Mr. Crimmins's ''entire emotional life.''
Dr. Migdal evaluated Mr. Crimmins on several occasions between September 1972 and March 1973 when he was a fourth-grade student. She said he had been referred to the Montefiore Hospital Learning Center, where she was then working, because he ''wasn't interested in school.''
During cross-examination, Roger S. Hayes, the prosecutor, reminded Dr. Migdal she had indicated in her original report on Mr. Crimmins that he had been referred to the center because he was ''hostile'' to his teachers and was a ''truant.''
Dr. Migdal said Mr. Crimmins would pretend to understand conversations rather than admit that he did not. ''The only way we could be sure he understood what was said to him was for him to repeat it,'' she said. Of his functioning under stress, she observed: ''If pushed too much, he would agree.'' Dr. Tchack, whose testimony will continue this morning, said her tests showed that Mr. Crimmins is now reading on a fourth-grade level, while spelling on a third-grade level. She said that ''there is almost no difference'' between these results and findings of Dr. Migdal in 1972.
Both psychologists said they had found that Mr. Crimmins is much more agile in tasks ''that did not require much verbal ability.''
---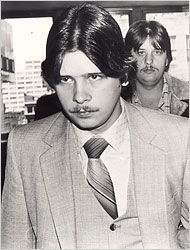 Craig S. Crimmins was convicted of murdering a young violinist, Helen Hagnes, and dumping her body down an air shaft at the Metropolitan Opera in 1980.
(Photo: The New York Times)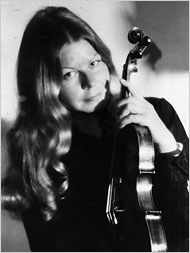 A young violinist, Helen Hagnes, was thrown down an air shaft — nude, bound and gagged — from the rooftop of the Metropolitan Opera House in 1980.
(Photo: The New York Times)
A view down the air shaft where the body of Helen Hagnes was found, from the
rooftop of the Metropolitan Opera House at Lincoln Center.
(Photo: Don Hogan Charles/The New York Times)