Anthony Chebatoris (1898 – 1938), was the only person executed for a capital crime in Michigan since it became a state in 1837.
Chebatoris's first conviction for a crime was in 1918 for armed robbery in Detroit, and in 1927 he was arrested for violating the Dyer Act in Louisville, Kentucky. In 1928, he went to prison at Marquette for armed robbery.
Murder
In 1937, Chebatoris and fellow prison inmate, Jack Gracy, made plans to rob the Chemical State Savings Bank located in downtown Midland, Michigan. On September 29, Gracey entered the bank first with a sawed-off shotgun hiding under his long coat. Chebatoris followed Gracey into the bank.
Gracey approached bank president Clarence Macomber and shoved the shot gun into his ribs. Macomber and Gracey grappled with the weapon. Macomber forced the gun down while trying to push Gracey towards the front of the bank.
Chebatoris, who was standing back from the fight, aimed his revolver at Macomber, wounding him in the shoulder. Paul Bywater, the head teller, came to the front counter to see what the commotion was about. Chebatoris took aim and fired at Bywater, shooting him in the stomach. Chebatoris and Gracy fled the bank in their black two-door Ford.
Meanwhile, when Dr. Frank Hardy, a dentist on the second floor of the bank building heard the gunshots, he grabbed a deer rifle he kept by the window in case of a bank holdup and fired at the getaway car as it sped towards the Benson Street Bridge. One of Hardy's shots hit the driver and the car careened into another parked car along the road.
Chebatoris and Gracey got out of the car and started looking for the shots firing at them. Mistaking Henry Porter, a truck driver from Bay City, as a police officer, Chebatoris fired his gun and seriously wounded him. When Gracy tried to commandeer a truck, Hardy shot him in the head, killing him instantly. Then Chebatoris ran along some railroad tracks and tried to get away by stealing a car, but was stopped by Sheriff Ira Smith.
Trial and execution
Chebatoris was charged with attempted bank robbery, and then murder when Henry Porter died 12 days later from his gunshot wound. His trial was held at Federal Court in Bay City, Judge Arthur C. Tuttle presiding. Chebatoris was found guilty of murder on October 29, 1937, and sentenced to death under the National Bank Robbery Act of 1934.
Since capital punishment in Michigan was abolished in 1846, Governor Frank Murphy tried to get Chebatoris's sentence communted to life imprisonment or move the execution to another state, arguing Michigan had no capital punishment.
However, a loop hole in the law stated that the crime of treason was punishable by execution. After Murphy appealed all the way to President Franklin D. Roosevelt, and Judge Tuttle refused to change the location of the execution, Anthony Chebatoris was hanged at Milan Federal Prison at dawn on July 8, 1938. In 1963, the Michigan Legislature abolished capital punishment for treason.
References
Files of the Midland Daily News, 1937 and 1938; "Butcher's Dozen," by Lawrence Wakefield
Wikipedia.org
---
60 years ago, the end of Anthony Chebatoris' life became a chapteer in the state's past
The Saginaw News
July 13, 1998
The 38-year-old Hatramck man--the only person legally executed in Michigan since it became a state in 1837--was hanged on July 8, 1938, after a jury convicted him of shooting and killing Henry Porter.
Porter was a truck driver whose uniform cap looked like a police officer's and made him a target during a botched bank robbery attempt in Midland.
Chebatoris' execution was not allowed under state law. Capital punishment was outlawed at the time, except for treason. However, his crime fell under federal jurisdicition.
The reason: the Chemical State Savings Bank he attempted to rob was a depository for federal money. Chebatoris became the 1st person executed in the USA under the National Bank Robbery Act.
Decades later, the robbery remains a black day in Midland history.
Gary Skory, executive director of the Midland County Historical Society, said that "anytime you have that dramatic, very unfortunate incident, people are not going to forget it."
Sept. 29, 1937, Chebatoris and 28-year-old cohort Jack Gracey of Detroit, who had met in prison, began a bullet-strewn path that would end with Porter's and Gracey's death and set the state for Chebatoris' date with the gallows.
Chebatoris and Gracey, armed with a sawed-off shotgun and pearl-handled pistol, planned the robbery of the Dow Chemical Co. payroll for months.
Skory said that "what they didn't count on was that Midland may have been a small town but it was not a pushover town."
During the holdup, 1 of the gunmen pointed a shotgun into the ribs of the bank president, C.H. Macomber. Macomber pushed the weapon's barrel down. He was shot in the side.
Bank cashier Paul Bywater, who tried to help Macomber, was shot in the back; the 2 eventually recovered from their injuries.
In the chaos, both bandits jumped in a car and fled down Main Street without any maoney.
They did not get far.
Dr. Frank Hardy, a dentist with an office above the bank, heard the gunfire. Hardy was deputized and kept a deer rifle in his office.
The rifle was insurance in an era when bank robberies were relatively common, said 85-year-old Henry Hart, a cousin of Hardy's.
Hardy fired at least 3 shots, 1 of which smashed through the car's rear window and struck Chebatoris in the arm as the car sped down a street. The car crashed into a parked vehicle at a service station.
Both men jumped out and tried to commandeer a truck.
Hardy took aim again.
Skory said that Hardy "drew a bead and shot over 200 feet." Gracey fell dead from a bullet wound to the head.
Many people lauded Hardy as a hero. The Saginaw Army-Navy Club later gave him a medal for marksmanship; the Midland City Council bestowed a gold medal.
Skory added that "it was somethin Dr. Hardy was nver proud of." Hart said it was not something the family ever discussed.
Chebatoris shot Porter when the 50-year-old truck driver tried to intervene as Chebatoris walked toward a car with a woman in it.
The gunman could not drive the vehicle because it had a gear shifter Chebatoris did not know how to operate. He ran off on to some railraod tracks, and Midland County Sheriff Ira Smith arrested him a short time later.
It was the beginning of the end for the criminal who had spent much of his life in prison.
Chebatoris faced trial before US District Judge Arthur Tuttle in Bay City. US District Attorney John Lehr, who argued for the death penalty, labeled Chebatoris a "brutal" and "sly" killer.
Lehr told the jury of 7 men and 5 women that "this is not time for sympathy. You have the responsibility of protecting innocent American citizens against bandits, gangsters and ruthless beasts."
Defense attorneys James Brooker and Dell Thompson, both from Bay City, never refuted the government's case or called a single witness to rebut testimony. Chebatoris never testified in his defense at the trial.
His attorneys did argue against capital punishment as "a holdover from the Middle Ages."
Nearly a month to the day after the attempted robbery, the jury unanimously found Chebatoris guilty Oct. 28, 1937, of Porter's murder. The jury voted for the death penalty on the 7th ballot.
Judge Tuttle said that "there won't be any hesitancy on my part in imposing the sentence, and I will always know, as long as I live, that no injustice has been done by the sentence."
For security reasons, deputies took Chebatoris to the Saginaw County Jail where guards kept an around-the-clock suicide watch over him. Chebatoris told them they had no reason to stand by.
"You don't have to worry about me killing myself," he said hours after the verdict. "To hell with 'em. Let 'em kill me."
It turns out, they had reason to watch.
Chebatoris attempte dsuicide by slashing his left wrist and throat with a razor blade. Officers wrestled the blade out of his hand. Near death, they rushed him to Saginaw General Hospital.
He recovered.
From the hospital, authorities transferred him to the federal detention farm in Milan, the prison where the U.S. government would build a temporary gallows to execute him.
Michigan voters' 1846 decision to outlaw capital punishment for murder - the 1st English speaking government in the world to make the decision - would not save him.
Gov. Frank Murphy's last minute plea to President Franklin D. Roosevelt to move the execution to another state failed.
The morning of July 8, 1938, was Chebatoris' last.
Chebatoris, an avowed atheist who consumed socialist writings, had ignored a priest who walked with him and chanted prayers in Latin the night before the gunman's execution.
Once he arrived at the gallows, Chebatoris turned to speak to Phil Hanna, the man who brought the hanging equipment to Milan and was known as an expert in its use.

Chebatoris asked Hanna, "are you paid for this?'
Hanna said "No, I am just here to make it easy for you. I am here to give you an easy death, and may God have mercy on your soul."
Chebatoris smiled before a black hood was placed over his head at 5:07 in the morning.
Smith - the same man who arrested the convicted felon immediately following the robbery - pushed with both hands on an iron lever. A trap door sprung open. Chebatoris dropped 9 feet.
Doctors checked his pulse 4 times, then pronounced him dead at 5:21 a.m. 23 witnesses had waited for the news.
Gov. Murphy condemned the execution as "uncivilized." He added that "it's always the poor man who has no money or power who pays with his life, while another criminal may have committed an identical crime, but who is wealthy and powerful and escapes the chair or noose."
Minnie Porter, widow of Henry Porter, did not want to see Chebatoris put to death. She said that "I don't feel that we have the right to say whether people could be killed. It isn't up to us. There is a greater judge."
Smith, a death penalty proponent, had no such qualms about pulling the lever. In a 1968 interview, he said that "I did it for my county. It was my duty."
---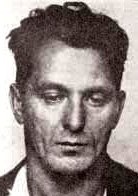 Anthony Chebatoris