Dhananjoy Chatterjee (August 14, 1965 in Kuludihi, West Bengal, India - August 14, 2004 at Alipore Central Jail in Calcutta, India) was a security guard who was executed by hanging for the rape and murder of 14-year-old Hetal Parekh on March 5, 1990 at her apartment residence in Bhowanipur.
Chatterjee, whose mercy plea was rejected on August 4, was kept at Alipore for nearly 14 years. The execution was scheduled on June 25, but it was stayed after his family petitioned the Supreme Court of India, and filed a mercy plea with President Abdul Kalam. The family refused to either attend the execution or claim his body; it was later cremated.
The date of Chatterjee's execution was fixed at a high-level meeting at the office of Jail Minister Biswanath Choudhury. This was the first hanging at Alipore since 1993, when murder convicts, Kartik Sil and Sukumar Burman, were hanged. It was the first execution in India since 1995.
Wikipedia.org
---
Dhananjoy Chatterjee Hanged In Kolkata Jail
Indolink.com
August 14, 2004
Kolkata, (NNN): Dhananjoy Chatterjee, 39, sentenced to death for raping and murdering a 14-year-old girl in Kolkata in 1990, was hanged at dawn at the Alipore Central Jail in Kolkata where he had spent the last 13 years in solitary confinement.
The execution was carried out by 84-year-old hangman Nata Mullick, assisted by his 21-year-old grandson, Prabhat.
It was the country's first execution since 1995.
''The execution of Dhananjoy's death sentence has duly been carried out at the scheduled time (4:30 am). His body has been handed over to Hindu Satkar Samity for cremation as no near relation turned up for taking his body,'' Inspector General of Police (Prisons) Joydev Chakraborty told reporters.
Dhananjoy's family did not collect his body for cremation. None of the family members even attended the execution.
A convoy of police vehicles escorted the ambulance carrying his body to the crematorium, where the Hindu Satkar Samity, a local social welfare organisation had arranged for the last rites.
As per the execution procedure, the body was kept hanging for 30 minutes, before the doctors formally declared Dhananjoy dead.
As per his last wish, Dhananjoy was offered sweets and curd. He was also given a new shirt and pyjamas, which he wore to the gallows.
''Dhananjoy behaved normally. He took a bath by himself inside the cell, offered prayers and walked to the gallows without any help,'' Chakraborty said.
The IGP said Dhananjoy's wish to donate his eyes could not be fulfilled because his family's consent was not received.
Dhananjoy had asked for his kidneys and eyes to be donated after his death.
Dhananjoy, who wrote three letters -- one each to his father, wife and two former jailmates -- was handed over one from his wife, Poornima, before his execution.
Dhananjoy was sentenced to death for raping and murdering Hetal Parekh in her house in Bhowanipore on March 5, 1990.
Human rights organisation Manab Adhikar Surakha Manch and some students of the Bishop's College held a vigil outside the Alipore jail, where the execution took place.
At Dhananjoy's home in village Kuludihi, his family threw stones at jounrnalists trying to speak to them.
It rained heavily in the village all night.
The family heard about Dhananjoy's execution at 6 am on a little transistor radio. Immediately, loud wails were heard from the house.
As per sources Dhananjoy went calmly to the gallows on his birthday with a copy of Bhagavad Gita, one of Hinduism's most sacred texts.
According to prison guards Dhananjoy spent a sleepless night before the execution, and refused food.
In the days leading up to the execution Dhananjoy listened to Hindu devotional songs in his solitary cell, they said.
Demonstrators lit candles, held anti-death penalty banners and sang songs outside the prison but left at the scheduled hour of the execution.
"120 countries abolished death penalty. Why not India?" said a banner. "Abolish death penalty!" said another.
Some protesters sang folk star Pete Seeger's We Shall Overcome during their night-long vigil outside the jail. Human rights activist Sujato Bhadra told the BBC they would begin a "door to door campaign" to abolish death penalty.
President APJ Abdul Kalam rejected a plea for clemency last week and the Supreme Court rejected another appeal on Thursday.
A large police team has been deployed in Dhananjoy's village, where his family had threatened to commit mass suicide if he was executed.
Dhananjoy's lawyers had argued his conviction was based on circumstantial evidence and that DNA testing was not carried out. Most people in West Bengal support the death penalty in this case.
However, some human rights groups said a life sentence would have been a more appropriate punishment.
The death penalty is rarely carried out in India. It is usually reserved for particularly gruesome or politically sensitive cases.
The assassins of country's independence leader, Mahatma Gandhi, and former prime minister, Indira Gandhi, were among those executed in the past 50 years.
---
Children die in copycat hangings
BBC News
Wednesday, 25 August, 2004
At least three children have died while acting out the recent hanging of an Indian convict, reports say.
Other children are reported to have hurt themselves in similar incidents.
Dhananjoy Chatterjee, a security guard, was convicted for the 1990 rape and murder of a school girl who lived in the building where he worked.
His execution in the eastern city of Calcutta on 14 August whipped up a media frenzy with some news outlets covering it in great detail.
Mock trial
A 14-year-old boy in the western city of Bombay (Mumbai) died after he hanged himself by a rope from a ceiling fan at home in an apparent re-enactment of the execution.
"The boy's father told us Prem was a very bright but curious kid and kept asking questions about how Dhananjoy would be hanged," a senior police official told Reuters news agency.
"Dhananjoy was the top news on all TV channels for so many days and Prem would watch very closely," he said.
The Hindu newspaper reported that another 14-year-old boy died in the eastern state of West Bengal over the weekend, also while re-enacting the hanging.
Samiran Tiwari hanged himself with a cycle tube while his parents were away from home, the newspaper said.
In another incident last week, a 12-year-old girl died in West Bengal while trying to show her younger brother how Dhananjoy had been executed.
"I shouldn't have left her home alone especially when she's been talking about the Dhananjoy hanging all the time," the girl's father told The Telegraph newspaper after the incident.
Some other children who tried to re-enact the hanging have been luckier.
Anjan Saha of West Bengal was playing out the execution with his friends in a primary school when the rope gave away, The Hindu reported.
Sheikh Aslam Khan, 12, almost choked to death when his friends "hanged" him from a tree after a mock trial in the same state.
'Easy imitation'
Khan's friends, according to reports, were playing the roles of the executioner, doctor and prison warder.
Psychiatrists say such copycat incidents are often provoked by media overkill, to which children are susceptible.
"Children have a natural curiosity about anything out of the ordinary," psychiatrist Anjali Chhabria told Reuters.
"Also, several newspapers and TV channels had given detailed sketches of execution by hanging, making it easier for the kids to imitate."
Dhananjoy Chatterjee's was the country's first execution since 1995.
---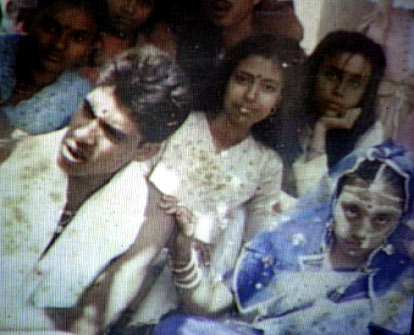 Video grab of Dhananjoy Chatterjee (L) with wife Purnima (R) at their 1989 wedding.
Source: Hindustan Times.