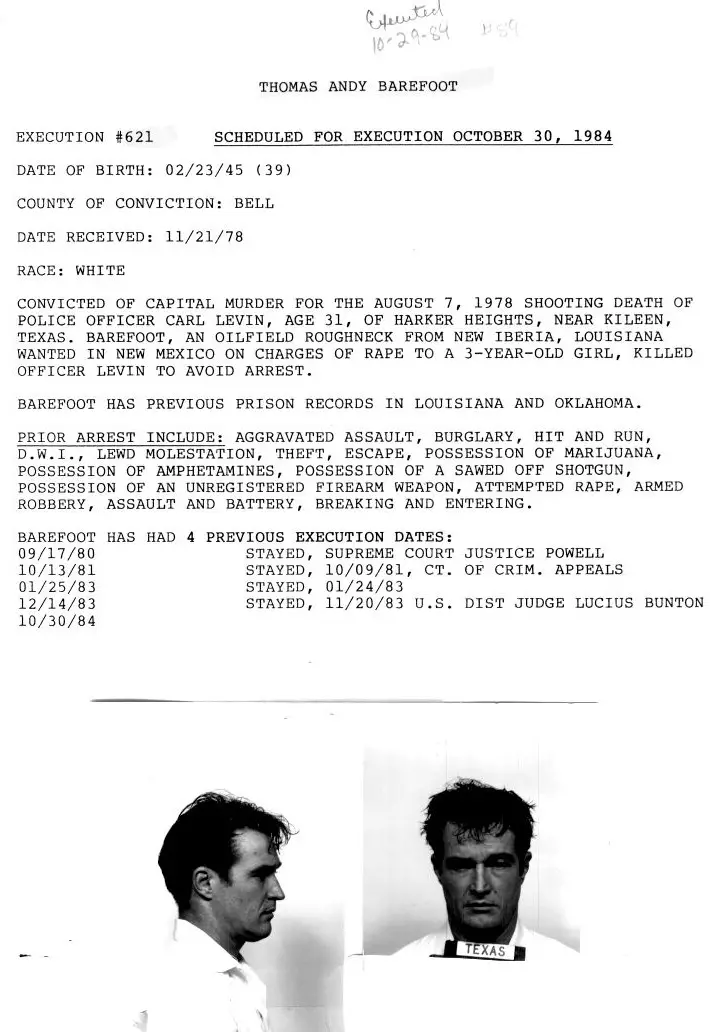 Date of Execution:
October 30, 1984
Offender:
Thomas Barefoot #621
Last Statement:
When asked if he had a last statement, he replied, "Yes, I do.
"I hope that one day we can look back on the evil that we're doing right now like the witches we burned at the stake. I want everybody to know that I hold nothing against them. I forgive them all. I hope everybody I've done anything to will forgive me. I've been praying all day for Carl Levin's wife to drive the bitterness from her heart because that bitterness that's in her heart will send her to Hell just as surely as any other sin. I'm sorry for everything I've ever done to anybody. I hope they'll forgive me.
"Sharon, tell all my friends goodbye. You know who they are: Charles Bass, David Powell…" Then he coughed and nothing else was said.
Thomas Barefoot
At the age of 38, Thomas Andy Barefoot did the unthinkable. He shot a police officer in Harker Heights, Texas, on Aug. 7, 1978. The officer, Carl LeVin, was 31 years old and had a wife and five children.
Barefoot shot Le Vin in the head with a .25 caliber pistol while trying to avoid arrest for the rape of a three year old girl. A manhunt soon began for Barefoot with help from the Killeen and Nolanville Police Departments, Bell County Sheriff's Department, Texas Rangers and the FBI.
Barefoot was soon captured and put on trial. He was later convicted and sentenced to execution by injection. His first appeals were denied, but in Jan. of 1983, just 83 hours before his scheduled execution, Barefoot was granted a stay by the U.S. Supreme Court. He had not exhausted all appeals so a decision like this one usually triggered no complaints. But one month earlier, in December, an almost identical case was brought to the Supreme Court and rejected. The case of Charlie Brooks, another Texas murderer, was not granted a stay even though he had not exhausted all of his appeals. Brooks and an accomplice were involved in the murder of a mechanic, but Brooks was never convicted of being the "trigger man." These two cases sparked many questions about the Supreme Court's capital punishment approach.
At 10:10 a.m. on Oct. 30, 1984, the Supreme Court turned down his final appeal. Barefoot was the 25th prisoner to be executed since the death penalty was reinstated in Texas in 1976.