A week after Dayton Leroy Rogers was convicted of the Molalla Forest Murders, four members of the Ecclesia Athletic Association were convicted, in the same courthouse, of first-degree manslaughter in the beating death of Dayna Lorae Broussard, the 8-year-old daughter of Ecclesia founder Eldridge Broussard.
The victim was taken by Ecclesia adults to Rural Fire District 71 in Clackamas at about midnight Oct. 13, 1988. Paramedics were unable to revive her. Authorities later learned she was beaten hundreds of times with a hose, a pipe and an electrical cord while other children watched.
Eldridge Broussard was not at the Ecclesia's Sandy farmhouse where the beating occurred on the night of Oct. 13. But the strict discipline that he preached as part of the Ecclesia credo frequently resulted in child beatings. Eldridge Broussard himself was frequently whipped and beaten by his father, a Pentecostal minister in the Watts area of Los Angeles.
Originally, Broussard conceived the notion of forming a group to help black and minority families survive in the impoverished Watts neighborhood and to help young people steer away from drugs and crime.
Broussard, who graduated from Pacific University in Forest Grove and had a brief but unsuccessful tryout with the Portland Trail Blazers professional basketball team, returned to Los Angeles in 1975 and began conducting Bible studies with his father. One of his young students was Dayna Grant, who later became his wife and the mother of their five children -- three boys and two girls.
Over the next five years, Broussard and his followers would buy an abandoned Watts bakery building and convert it into the Watts Christian Center. They also bought and renovated an old gymnasium at nearby Will Rogers Park to help train youths for athletics. Broussard had been attracting large crowds while preaching at Will Rogers Park. After preaching his sermon, he would lead his congregation on a run around the park for fun and exercise.
But Broussard was drifting away from his ministry by the late 1970s and early 1980s and was focusing more attention on enriching the bodies, rather than the souls, of his young followers. In 1982, he founded the Ecclesia Athletic Association to, shape group members through intense training and strict discipline so they could resist the temptations of crime and drugs in Watts.
Broussard and his followers hoped to train young athletes for the 1984 Olympic Games in Los Angeles and future Olympic Games. He envisioned Ecclesiatype training programs developing elsewhere in the United States and abroad.
Broussard's group never was endorsed by the Olympic Organizing Committee, although it participated in peripheral Olympic-type programs and events. In April 1987, Broussard and his Ecclesia Athletic Association brought 70 to 100 men, women and children to a Sandy-area farm in an attempt to establish an athletic training camp. Neighbors immediately became suspicious about the group's secretive nature and its regimented lifestyle.
About all the nearby neighbors knew of Ecclesia was what they could see from a distance -- dozens of boys and girls running through the countryside, doing rigorous calisthenics Or working the land. Some of his neighbors complained Broussard and his followers were rude and evasive about the group's intent.
Neighbors complained long and loud to the media, county officials and just about everyone else who would listen.
Two months later, following extensive media coverage of the controversial group and its training camp, Ecclesia officials closed the athletic camp temporarily and several members returned to Los Angeles. In July, 1987, Ecclesia withdrew its request to Clackamas County for permission to set up tent shelters for 100 adults and children at the commune.
But a year after abandoning their Sandy farmhouse headquarters, Ecclesia retmed. For the most part, the group maintalned a relatively low profile and little was heard of the Ecclesia Athletic Association until the night of Oct. 13, 1988, when Dayna Broussard was rushed to Fire District 71 headquarters.
Fifty-three children, some with scars on their backs, subsequently were removed from the Sandy farmhouse by the state Children's Services Division. About half of the children were returned to their parents in Oregon. Several others are living with relatives in Florida and California, and some remain in foster care in CSD custody in Oregon.
Six Ecclesia adults were arrested in connection with Dayna Broussard's death. In October 1988 -- after an extensive investigation-- four of the six adults were indicted by a Clackamas County Grand Jury of first-degree manslaughter.
During the exhaustive three-month trial that followed, jurors heard testimony about other beatings and strict disciplinary action against other Ecclesia children. The jury, on May 12, 1989, convicted Willie K. Chambers, Brian J. Brinson, Constance Zipporah Jackson and Frederick Paul Doolittle of first- degree manslaughter.
All four were sentenced to 20 years in prison by a Clackamas County judge on June 23, 1989.
But the group's problems didn't end there. On April 5, 1990, a federal grand jury in Portland began investigating Ecclesia leaders for possible civil rights violations. The investigation culminated in the Feb. 8, 1991, arrest of Eldridge Broussard and three of his followers on charges of holding Ecclesia children in slavery and conspiring to deny them their civil rights.
Broussard and two others -- Carolyn Van Brunt and Josie Ruth Faust -- were released Feb. 11, pending trial in federal court.
But Eldridge Broussard never made it to trial. The 38-year-old Ecclesia leader was found dead Sept. 5, 1991, in the same Sandy farmhouse where his daughter had been beaten to death three years earlier. A coroner's report indicated Broussard died of complications related to his diabetes.
To the end, Broussard blamed the media and its negative publicity about the Ecclesia Athletic Association for contributing to his daughter's death and to the disintegration of his group
Clakcamas County Sheriffs
---
The Death of Dayna
By Frank Trippett, Alan Ota and John Snell/Portlan - Time.com
October 31, 1988
Launched last year on a farm in Clackamas County, Ore., the Ecclesia Athletic Association camp professed a wholesome purpose. Founder Eldridge J. Broussard Jr., once a basketball star at Pacific University, said Ecclesia, an outgrowth of the Watts Christian Center in Los Angeles, would bring ghetto children into the clean rural setting and train them through a disciplined program of athletics.
In time, however, neighbors noticed that the children, as one observer said, were "like zombies, never talking, never laughing." The neighbors asked the Oregon children's services division to investigate, but to no avail. Last week four adults came to the Clackamas County firehouse with the body of an eight- year-old girl who had died from multiple injuries to the head, chest and limbs. She was Broussard's eight-year-old daughter Dayna.
Chastened authorities who inspected the two-story, four-bedroom Ecclesia house discovered 53 other children, ages three months to 16 years, living in Dickensian horror. Behind the building's curtain covered windows, the children were kept in rooms strewn with sleeping bags but no beds. There was only one working toilet, no refrigerator, and the only food was some tomatoes and a head of lettuce. The youngsters were malnourished, and most had bruises, welts and wounds. "It was Lisa Steinberg times 50," said Bart Wilson, a manager of the Oregon children's services division, alluding to the six-year-old New York City girl beaten to death last year.
According to Donald Welch, director of the Clackamas County juvenile - department, floggings were "systematic." Adult staff members, he said, would deal out up to 800 blows with "paddle, electrical cord or similar device," while other children looked on. Four adults, including two who delivered the dead girl to the firehouse, were charged with first-degree manslaughter and held in lieu of $250,000 bail. The children were placed in the protective custody of juvenile authorities.
Broussard, 35, was in Los Angeles at the time but returned to Oregon last week. After first refusing to comment on the case, he later made a bizarre appearance on the nationally televised Oprah Winfrey Show. Grinning and smiling, smirking and haranguing, Broussard evaded all direct questions while blaming the death of his daughter on "the media." His only display of emotion came when he broke into tears as he complained about the media's treatment of him. His program has been unfairly likened to a cult, he said, and he has been called, in his own phrase, a "new Jim Jones." Broussard denied that children in the house were beaten. They were merely "spanked," he said.
So far, only one parent of the Ecclesia children has expressed a lack of confidence in Broussard or made any effort to return them to their homes. Broussard himself has vowed to make an all-out effort to regain custody of his young wards. Oregon officials are expected to oppose his effort with equal adamancy.
---
Now, Neighbors Recall Doubts on Youth Farm
By Timothy Egan - The New York Times
October 20, 1988
When members of the Ecclesia Athletic Association first moved to a farmhouse near here in the summer of 1987, a neighbor, Kenneth Teuscher, did what he could to assist them in setting up their retreat for ghetto youngsters. He helped them plant a garden and build a fence, even letting them use some of the land on his cattle ranch for tents.
But, Mr. Teuscher recalled in an interview today, he grew suspicious of the group when he saw pit bulls patrolling their 18 acres next to his ranch and found that the boys and girls would never speak unless spoken to.
Now, in the wake of revelations of ritualistic beatings, sparse food and a fatal flogging of an 8-year-old girl inside the Ecclesia farmhouse, Mr. Teuscher is questioning why he never acted on his suspicions. 'I Wish We'd Done Something'
''Right at first people around here were all pretty open-minded about them but as time went on, we got suspicious,'' Mr. Teuscher said. ''Now I wish we'd done something about it.''
On Friday, four adults from the farmhouse brought the body of the dead girl, Dayna Lorae Broussard, to a Clackamas County firehouse. Sheriff's officers arrested the four that night and charged them with manslaughter and then went out to the farmhouse, where they found 53 children who, they said, had been malnourished and beaten. The children slept on the floor of the four-bedroom house, which had no furniture and a single toilet, the deputies said in their report.
Little is known about the Ecclesia association, which was an outgrowth of the Watts Christian Center in Los Angeles that was founded in 1978. What is known is that both groups were founded and led by Eldridge Broussard Jr., the dead girl's father, and that the Oregon commune was billed as an athletic camp for ghetto youngsters.
In interviews today, some people in the area, about 30 miles east of Portland, said the discoveries at the farm have shaken their belief in tolerance and in minding their own business. Others Have Settled in Oregon
The Ecclesia group is not the first to set up a commune in Oregon.
In the early 1980's, the followers of Indian guru Bhagwan Shree Rajneesh took over the Oregon desert town of Antelope and named the community Rajneeshpurum. They disbanded in 1985 after the Federal Government accused their leaders of crimes ranging from attempted murder to fraud and immigration violations.
Last spring, followers of the Indian guru, Sant Thakar Singh, announced plans to set up a commune and school in the Umpqua River Valley in southern Oregon. The plan has yet to win full local government approval.
Although Mr. Broussard has strenuously denied that his group is a cult, some of the residents here now say that papers filed by the Ecclesia organization with Clackamas County in the summer of 1987 should have tipped off authorities about the nature of the group.
Included in the papers was an application form for prospective members of the group. On it, an applicant promises to ''put all of my ambitions, desires, past and future commitments, relations, expectation, gifts, and assets under the total control of Eldridge Broussard Jr.'' Strict Scrutiny Permitted
The applicant also signs a statement certifying that ''all of my decisions -financial, social, recreational, educational, dietary and any not mentioned above - must pass his scrutiny and obtain his approval.''
''Coming on the heels of Rajneeshpurum, a lot of families were concerned with this group,'' said Dominic Mancini, Clackamas County planning director. ''But you can't deny somebody a land use permit just because they're out of the mainstream. I guess Oregonians have always felt somewhat independent and open to groups on the fringe.''
Those who have lived near the group's headquarters in Watts spoke of initial concerns about the group but said these were soon calmed. 'Kept to Themselves'
''They kept to themselves, but they always said hello, were very friendly and the children always seemed very well behaved and well kept,'' said Bonnie Bailey, a saleswoman at Bailey Realty next door to the Ecclesia center.
Estelle Van Meter, the founder of Concerned Citizens for Better Community, a senior citizens social service center located a block from the Ecclesia building, said she was concerned about the association's strong desire for privacy. But she said that was put to rest by an open house and yard sale the group sponsored.
Ecclesia seemed to move out of Oregon in the late summer of 1987. It withdrew its application for a summer youth camp and most of the kids left. Mr. Broussard remained on the property with a few other adults and two of his pit bulls, Mr. Teuscher said. The farmhouse was empty until recently. Then neighbors began to notice late night activity on the property, although they never saw the children doing any athletic routines.
The police and child welfare officials say they did not know the property had been reopened until they were alerted to the death of the girl on Friday.
Capt. Pat Detloff, chief of detectives for Clackamas County, said that he thought law enforcement officials dealing with Rajneeshpurum had left a clear message that cults that engage in criminal acts would not be tolerated in Oregon.
''This makes me wonder,'' he said.
---

The victim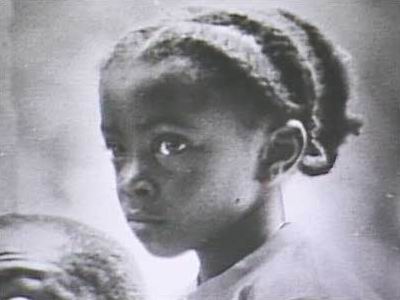 8 year old Dayna Broussard