Brisbon, Henry
The first two victims credited to Henry Brisbon were James Schmidt, a Chicago businessman, and his fiancee, Dorothy Cerny, both 25. While traveling on Highway 57, in Cook County, on the night of June 3, 1973, Schmidt and Cerny were stopped by a gang of four men, dragged from their vehicle and forced to lie down on the grassy shoulder of the road.
Brisbon was identified as the triggerman who killed them both with close-range shotgun blasts as they lay helpless on the ground. Conviction on a charge of double murder earned Brisbon a sentence of 1,000 to 3,000 years, but the prison term was less impressive than it sounded. Actually, Brisbon could have been paroled in just eleven years, but he was not content to wait.
On October 19, 1978, he used a sharpened soup ladle to stab inmate Ronald Morgan at the Statesville penitentiary, striking without apparent motive. While awaiting trial for that murder, Brisbon took part in a 1979 riot and was transferred to the maximum security lockup at Menard.
Brisbon was convicted of Morgan's murder on January 22, 1982, and a month later he was sentenced to die. Leaving the courtroom after pronouncement of sentence, Brisbon told his guards, "You'll never get me. I'll kill again. Then you'll have another long trial. And then I'll do it again."
As good as his word, Brisbon tried it again on February 15, 1983. Slipping out of handcuffs and breaking away from a guard on death row, he used a piece of sharpened heavy-gauge wire to stab convicted killers William Jones and John Wayne Gacy. (Neither man was seriously injured.) At this writing, Brisbon is awaiting execution -- and, undoubtedly, preparing for his next attempt at homicide.
Michael Newton - An Encyclopedia of Modern Serial Killers - Hunting Humans
---
The Death Penalty: I Didn't Like Nobody, Henry Brisbon, Jr.
Time.com
Monday, Jan. 24, 1983
On the night of June 3, 1973, a Chevrolet Caprice, driven by a woman, was forced off Interstate 57 in southern Cook County, Ill., by a car carrying four men. One of them pointed a 12-gauge pump shotgun at her, ordered her to strip and then to climb through a barbed-wire fence at the side of the road. As she begged for her life, her assailant thrust the shotgun barrel into her vagina and fired. After watching her agonies for several minutes, he finished her off with a blast to the throat. Less than an hour later, the marauding motorists stopped another car and told the man and woman inside it to get out and lie down on the shoulder of the road. The couple pleaded for mercy, saying that they were engaged to be married in six months. The man with the shotgun said, "Kiss your last kiss," then shot both of them in the back, killing them. The total take from three murders and two robberies: $54, two watches, an engagement ring and a wedding band.
The man ultimately convicted of the "I-57 murders" now sits confined in the Menard Condemned Unit, the official name for death row in the Illinois prison system. Yet Henry Brisbon Jr., 28, does not face execution for those three killings nearly ten years ago. Illinois' death penalty was invalidated in 1972 and was not restored until 1977, the year that Brisbon was finally brought to trial. At that time, the judge sentenced him to a term of 1,000 to 3,000 years in prison. It took Brisbon less than one year to kill again, this time stabbing a fellow inmate at Stateville Correctional Center with the sharpened handle of a soup ladle. At the trial for this murder, Will County State's Attorney Edward Petka described Brisbon as "a very, very terrible human being, a walking testimonial for the death penalty." The jury agreed.
Brisbon's eleven months on death row have been quiet, compared with his Stateville years, when he took part in 15 attacks on inmates and guards, instigated at least one prison riot, trashed a courtroom during a trial and hit a warden with a broom handle. "I'm no bad dude," he says, "just an antisocial individual." The third of 13 children, Brisbon thinks that his upbringing by a strict black Muslim father made him different: "I was taught to be a racist and not like whites. As I grew up, I decided I didn't like nobody."
Brisbon has 90 well-supervised minutes each day outside his small (7 ft. 7 in. by 5 ft. 10 in.) cell. He works out with weights, keeping his 155 lbs. (on a 5-ft 9-in. frame) in shape. He complains about his confinement: "Can't take two steps in this cage. It's inhuman. And that dull-ass color blue on the walls in no way brightens my life." He has devised a novel idea about judicial reform: "All this talk about victims' rights and restitution gets me. What about my family? I'm a victim of a crooked criminal system. Isn't my family entitled to something?" The shadow of the death penalty does not faze him: "I don't see that happening to me. What would killing me solve? Isn't that just another murder? If I got to die, it's going to be of natural causes." The state of Illinois thinks otherwise. Says Michael Ficaro, who prosecuted the I-57 case: "On the day he dies in the chair at Stateville, I plan to be there to see that it's done. Nobody I've heard of deserves the death penalty more than Henry Brisbon."
---
Henry Brisbon
"You'll never get me. I'll kill again. Then you'll have another long trial. And then I'll do it again."
Henry thinks he's figured out the system
Victims : 3 so far, more to come apparently.
Henry Brisbon is, quite basically, a criminal. To start out with he was just a thief, but he was a heartless thief, as he showed on the night he began his killing career.
It was June 3, 1973. A young couple, James Schmidt and his fiancee, Dorothy Cerny, both 25, were driving along Highway 57 in Cook County when they were stopped by four men. They were dragged from their car and forced to lay face down on the side of the road. Then, for little apparent reason, Henry Brisbon walked up to the two and blew the backs of their heads off with his shotgun from close range.
When the gang were arrested it didn't take the others long to sell-out Brisbon as a murderer, as thieves tend to be a untrustworthy bunch. He was convicted of both murders, and sentenced to a huge 1,000 years. With not much chance of being released, Brisbon seemed to give up hope.
On October 19, 1978, Brisbon released a bit more anger. With seemingly no provocation he stabbed another inmate, Ronald Morgan, with a sharpened soup ladle. The frenzied attack left Morgan very dead, and Brisbon had another murder charge to deal with.
While awaiting trial for the last murder, Brisbon took part in a rather violent prison riot, and because of this he was moved to a maximum security facility in Menard.
Brisbon was found guilty of Morgan's murder and was sentenced to death in February, 1982. As he left the court room he claimed that he would kill again, and he would keep killing so the court would have to keep putting off his executions while he sat new trials. A pretty good idea really, I don't know why someone didn't think of it sooner.
Just a few days after being placed on death row Brisbon tried to carry out his word. He slipped out of his handcuffs and, with a sharpened piece of wire, he stabbed two other convicted killers. They were William Jones and, probably the most famous killer in Chicago, John Wayne Gacy. Unfortunately Brisbon did nothing more than slightly injure the two, but at least he made an effort. Since then Brisbon has been pretty quiet, but give him time, and maybe he'll make it four.
The Wacky World of Murder
---
SEX: M RACE: B TYPE: T MOTIVE: CE/PC
MO: Killed two in robbery, one in prison.
DISPOSITION: 1,000-3,000 years, 1973; condemned, 1982.
---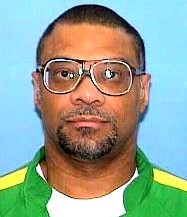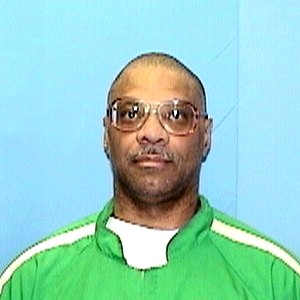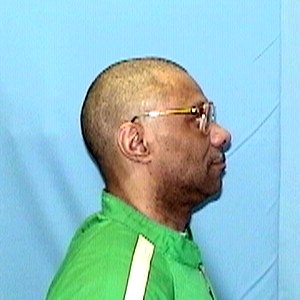 Henry Brisbon prison photos