Madani Bouhouche (June 14, 1952 - November 22, 2005) was a former Belgian gendarme with the Belgian Gendarmerie, convicted in 1995 for various crimes, including two murders.
Life and career
Madani "Dany" Bouhouche was born in Brussels, son of an Algerian father and Belgian mother. He started his police career with the Bijzondere Opsporings Brigade (BOB), a special investigative branch of the Gendarmerie, the former military police of Belgium.
Soon after joining the BOB, Bouhouche would develop illegal activities with other gendarmes of the BOB. One of them, Robert Beijer, would later setup a private detective bureau with Bouhouche in 1983, the Agence de Recherches et d'Informations.
Arrests and trials
Bouhouche was first arrested in January 1986, becoming a suspect of the murder of Juan Mendez, a FN weapons engineer and sales manager for Latin America. Bouhouche would be released in November 1988 though. After a diamond dealer in Antwerp was murdered in 1989, Bouhouche would again be arrested.
Bouhouche will be convicted of this murder in 1995, receiving a 20-year sentence. His accomplish, Robert Beijer, would receive fourteen years. In that trial they will also be convicted for murdering a security guard in 1982. The trial took more than five months, and was one of the longest in Belgian history.
Some people have claimed that Bouhouche and Beijer were part of the Nijvel gang, but both have always denied this.
Post-parole life and death
On September 15, 2000, Bouhouche was freed on parole, having already spent fourteen years in prison. He moved to the French Pyrenees, living isolated in the small city of Fougax-et-Barrineuf, being responsible for a rental accomodation of an old friend of his, Alain Weykamp. He would die there in November 2005, when a tree fell on him while he was doing some brush work.
The French police knew nothing of his criminal past, and would allow his body to be cremated. Bouhouche's death only became known in Belgium when the investigative team of the Nijvel gang checked up on what happend to previously suspected people.
After his death, an investigative team looked through the home where Bouhouche lived, finding a Remington riot gun. Because the Nijvel gang also used riot guns, a ballastic test was performed. Weapon experts concluded in June 2006 that the Remington riot gun was not used in the Nijvel gang attacks.
Wikipedia.org


---
Secrets untold
Expatica.com
06/01/2006
Violent Belgian criminal Madani Bouhouche was recently beheaded in an accidental death, but will investigations finally link him to 28 killings committed by the infamous Gang of Nijvel in the 1980s? Aaron Gray-Block reports.
News broke this week that one of Belgium's most famous criminals died a violent death in the French Pyrenees on 22 November 2005 possibility taking his secrets to the grave.
Former state policeman Madani Bouhouche, 53, was beheaded after a large clump of wood flew off a tree he was cutting with a chainsaw. His death is not considered suspicious, Jumet judiciary spokesman Eddy Vos said.
The accident took place near the French city of Foix and Bouhouche's body was found by a female neighbour. His body was cremated in the presence of a few family members.
And yet it was not until shortly before Christmas that the Belgian judiciary became aware of Bouhouche's death. The discovery was made by a search of the population register.
However, his death has now presented the Belgian judiciary an opportunity to conduct further investigations at the farmhouse into the Gang of Nijvel, which was involved in the killing of 28 people at the start of 1980s.
The extreme-right Bouhouche was long suspected, but never convicted, of withholding information about the gang, infamous for violent attacks and robberies in large shopping stores in an apparent attempt to destabilise the Belgian state.
A violent past
Together with his inseparable companion and former state police officer, Robert 'Bob' Beijer, Bouhouche was suspected of some of the most infamous crimes in the 1980s.
Bouhouche and Beijer faced trial in 1994 for a series of crimes committed between 1981 and 1989.
Bouhouche maintained his silence, but was found guilty of handling stolen weapons. The weapons were stolen from the Special Intervention Squadron in 1982.
He was also convicted of the manslaughter of Libyan diamond dealer Ali Suleiman in Antwerp on 2 September 1989.
Suleiman died during an argument with Bouhouche and Beijer who were then amateur private detectives in his Antwerp office. Both men kept silent about the matter.
They also refused to talk about the disappearance in 1982 of Francis Zwarts, a security officer of Belgian airline Sabena. Zwarts disappeared with a shipment of gold and bonds he was transporting. His body was never found.
Brussels Court sentenced Bouhouche in January 1995 to 20 years jail. Beijer got 14 years.
However, Bouhouche was never found guilty of the murder of Juan Mendez, an engineer with weapons maker FN in Herstal on 7 January 1986. He was also acquitted of an attack against state police major Herman Vernaillen in October 1981.
Gang of Nijvel
Despite his convictions, rumours in the 1980s and 1990s persistently linked Bouhouche and Beijer to the Gang of Nijvel.
However, no proof was ever found and instead, Bouhouche 'passed' a lie detector test. A DNA comparison also yielded nothing.
He was released on parole in September 2000 after serving 11 years of his 20-year jail term (including the six years Bouhouche spent in pre-trial remand detention).
Bouhouche then closed himself off to the world and to the casual eye, led a hermit's life in the mountains.
Shortly after his release, Bouhouche moved with his girlfriend to the French Pyrenees, where they lived on a remote, simple farm near the city of Foix. He farmed goats, bred dogs and made cheese. In the past year, he lived there alone.
In response to Bouhouche's death, Jumet judiciary officials travelled to France on 1 January to search the farm for clues linked to inquiries into the Gang of Nijvel.
Judiciary spokesman Vos said investigators were looking for weapons or documents and were prepared to conduct a very thorough investigation.
---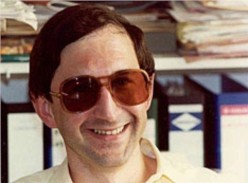 Madani Bouhouche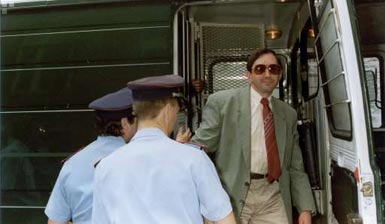 Madani Bouhouche