BAZE, RALPH, DOB 7-1-55, was sentenced to death February 4, 1994 in Rowan County for the murder of two police officers.
On January 30, 1992 a Powell County Deputy, Arthur Briscoe, went to Baze's home regarding warrants from Ohio. He returned with Sheriff Steve Bennett. Baze, using an assault rifle, killed the two police officers. Baze was arrested the same day in Estill County.
Víctims:
Sheriff Steve Bennett
Deputy Arthur Briscoe


---
Ralph Baze is a convicted murderer who sued the Kentucky State Department of Corrections along with fellow inmate Thomas Clyde Bowling Jr. to challenge their impending execution. He and Bowling sued on the grounds that execution by lethal injection under the "cocktail" prescribed by Kentucky law constitutes cruel and unusual punishment in violation of the 8th Amendment. Baze's court case was Baze v. Rees.
Baze had been scheduled for execution on 25 September 2007 but, on 12 September, was issued a stay of execution by the Kentucky Supreme Court. The United States Supreme Court agreed to hear his appeal. On April 16, 2008 the Court affirmed the Kentucky Supreme Court's decision that the injection protocol does not violate the Eighth Amendment.
Baze does not dispute that he shot and killed Powell County, Kentucky Sheriff Steve Bennett and Deputy Arthur Briscoe in 1992 as they attempted to serve an arrest warrant on him, but claims that the shootings were self-defense.
Baze is incarcerated in Kentucky State Penitentiary in Eddyville, Kentucky.
Wikipedia.org
---
Ralph Baze, Jr. was convicted of the 1992 murders of Sheriff Steven Bennett and Deputy Sheriff Arthur Briscoe, whom he shot in the back when they attempted to arrest him pursuant to an outstanding Ohio multiple-felony arrest warrant.
Ralph Baze lived in Powell County, Kentucky, in a mountain hollow known as Little Hardwick's Creek, with his wife. Some of his other relatives lived on another ridge of the same mountain.
His cabin was at the end of gravel road, heavily wooded on both sides, approximately 1,000 feet up the mountain, in a small clearing that made maneuvering a vehicle very difficult.
By January 1992, the time of the shootings, Baze was a twice-convicted felon and was wanted in Ohio for felonious assault of a police officer, jumping bail, receiving stolen property, and flagrant non-support.
On January 15, 1992, authorities from the Lucas County Sheriff's Office in Toledo, Ohio notified the Powell County authorities that they wished to extradite Baze on the felony counts.
At that time, Baze was in Ohio, and his wife, Becky Baze, informed the police that she did not know where he was when they came to arrest her husband in mid-January. She then phoned Baze to warn him that the police were looking for him.
Baze left Ohio for Michigan, where he bought a SKS assault rifle and ammunition, which he ultimately used to kill the two police officers. Baze returned to his brother-in-law's house in nearby Bath County, Kentucky, on January 28 and decided to move to Florida.
He returned to his cabin on January 30 with his wife, and his siblings-in-law, Wesley and Sophie McCarty, intending to hold a yard sale to lighten their load and then to leave for Florida that evening.
Deputy Sheriff Briscoe heard that Baze was back in town and proceeded to Baze's cabin to arrest him. When Briscoe arrived, Baze was inside; however, he could hear Briscoe announce his intention to Becky to arrest her husband.
While Briscoe returned to his cruiser, Baze left the cabin through a trapdoor in the bedroom floor, retrieved his SKS assault rifle from behind the cabin, and then walked around the cabin to inform Briscoe that he would not allow himself to be arrested.
Wesley McCarty intervened to avoid a confrontation, during which Briscoe put his hand on or near his holster. Becky grabbed Briscoe's arm, and Baze used the opportunity to leave the immediate area. Briscoe then left in his cruiser to recruit additional officers to effect the arrest.
Baze used the interim to gather his personal belongings, and 98 rounds of ammunition, and went uphill into the woods. He later told the Louisville Courier-Journal that he circled around to hide behind a stump behind the spot where the police would have to leave their cars.
Deputy Briscoe arrived back first, followed by Sheriff Bennett. Both got out of their cruisers with their guns out and they came together on the rear driver's side of Bennett's cruiser.
Baze's wife Becky was yelling at them from the porch of the cabin, so that when they turned to engage her, they had their backs to the woods where Baze was hiding. All agree that at that moment gunfire began.
Baze testified that he moved out from behind a large stump and brush pile, unarmed, intending to surrender, but that Briscoe shot him in the leg with a pistol. Wesley and Sophie McCarty supported Baze's version by testifying that Baze stood up without a gun.
In contrast, Baze's son-in-law, Greg Profitt, who was also at the house, testified that Baze shot first, but he admitted that he could not distinguish between rifle and pistol fire. Becky Baze also testified that Baze shot first, causing Bennett to turn his head back to his right to see where the gunfire was coming from.
The policemen who were driving up the road to lend support testified that the first 6-10 shots they heard were rifle fire. Briscoe and Bennett then turned to face the woods and took cover behind the police cruiser on the driver's side, with Briscoe shooting over the hood and Bennett over the trunk.
For reasons that are unclear, Bennett moved around the rear of the cruiser and opened the back passenger door as if to get into the back seat, in fact crossing directly into Baze's line of fire. Thereupon, Baze shot him three times in the back.
Baze then started to walk down the hill towards Briscoe, who continued to shoot at Baze over the hood of the police cruiser until he ran out of ammunition, and Baze was too close to give him time to reload.
Briscoe then turned to attempt to escape and, after he had gone about ten feet, Baze shot him twice in the back. Wesley McCarty described Briscoe as "staggering away" before he fell on his face.
Baze then approached the fallen officer and, allegedly thinking that he might be reaching for his gun, shot Briscoe in the head at pointblank range. Baze then picked up the weapons and ammunition and fled on foot to adjoining Estill County.
He surrendered without incident at 8 p.m. that evening at the home of the former Estill County Sheriff, where he received his Miranda warnings.
Upon overhearing a query over the radio as to whether the arresting officer had the correct suspect, Baze responded: "You tell them that you got the right man. I'm the one that killed them son-ofa-bitches."
Baze was tried in Rowan County, convicted, and sentenced to death in February 1994 for shooting the officers.


---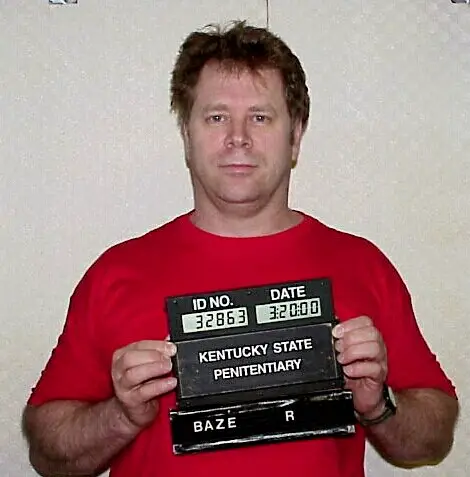 Ralph Baze Jr.