The Thomas Murders
On 16 February, 1994, financial dealers Eugene and Gene Thomas, father and son, were found shot to death in their offices at the Invincible Building on The Terrace in Wellington.
The main suspect was John Barlow who was seen leaving the building around the time the murders occurred. Barlow contacted the media before his arrest to publicize his claims of innocence. He said he had seen the bodies and left immediately, telling no-one for fear of being blamed.
Barlow was arrested and charged with both murders. Police found that the diary on Eugene Thomas's desk had a page torn out for the day of the murders. Through a documents expert it was established that the missing page had recorded an appointment with Barlow at 5.30pm.
Barlow gave different accounts of what he had seen and heard on the day of the murders. In one account he said Gene Thomas asked him to return later and he left. In the second, he said he heard a gunshot when he was leaving and on his way home, decided to come back and investigate. He found Gene and Eugene dead and left the crime scene.
The first trial began in 1995. The main piece of police evidence was Barlow's CZ27 pistol, silencer and .32 ammunition. This had been recovered from the Happy Valley rubbish tip, after police had found a receipt in Barlow's belongings for the tip dated one day after the murders. The pistol had a .22 calibre barrel but the Thomases had been shot with a .32 barrel. It was established that the pistol was designed to take a .32 barrel but this was not found.
Evidence was also introduced that Barlow had told to a friend he had found the bodies when he turned up for the meeting. He said he had earlier lent Eugene Thomas the pistol and found it lying next to him. Panicking that the murder weapon would be traced to him, he decided to get rid of it.
At the first and second trial the defense pointed to lack of motive even though Barlow was known to have a large loan with the Thomases' business and was in financial hardship. Because the .32 barrel was never found, it was not conclusively established that Barlow's pistol was the murder weapon. The defense also provided expert testimony that the bullets found in the bodies could not have been fired from the pistol. Both trials ended in hung juries.
A third trial took place in October 1995. New evidence from the prosecution was introduced, which negated the defense's contention that the bullets could not have been fired from the pistol. The new study and testimony said the CZ27 pistol could have fired the fatal shots and the bullets found at the tip were the same type as the bullets in the bodies. This was strongly contested by the defense.
John Barlow was found guilty of both murders. Later the Court of Appeal upheld the verdict, feeling confident in the third jury's decision.
Barlow is serving mandatory life with no parole until he has served at least 14 years.
Crime.co.nz
---
Barlow loses final murder appeal
Nzherald.co.nz
Thursday Jul 9, 2009
Convicted double murderer John Barlow has lost his final bid to have his convictions overturned, after the Privy Council in London ruled against his appeal yesterday.
The five law lords who heard Barlow's appeal announced that while he had an arguable case, on the evidence he was properly convicted by the jury.
"The board accordingly concludes ... that, while the introduction of the misleading evidence ... was indeed a miscarriage, no substantial miscarriage of justice actually occurred," the judgment said.
Barlow's lawyer, Greg King, appealed to the council in February to have the murder convictions quashed.
Mr King rubbished FBI forensic evidence that led a jury to send his client to prison.
After twice going through trials that ended in hung juries, Barlow was jailed for the murder of Wellington father and son Eugene and Gene Thomas in 1994.
Mr King's first victory was for the law lords to hear the petition for special leave to appeal, and to consider evidence the New Zealand Court of Appeal would not hear when it denied Barlow an appeal in March last year.
Mr King told the law lords that crucial evidence relating to the weapon and bullets that killed the Thomases had been falsely linked to Barlow, a former antiques dealer, who is serving a minimum term of 14 years' jail in Rimutaka Prison, Upper Hutt.
Mr King said evidence given by FBI agent Charles Peters had been flawed and that had unduly influenced the jury at Barlow's third trial, after the juries at the two previous trials had failed to reach a verdict.
The tests have since been discredited worldwide for providing a high number of false matches.
The Crown case in all three trials hinged on proving that Barlow's CZ27 pistol, and related bullets and a silencer, was the murder weapon.
Mr King would not comment on the Privy Council's verdict. He said he would comment after reading the full ruling.
---
Gun views keep double murderer behind bars
By Isaac Davison - Nzherald.co.nz
Friday Apr 3, 2009
Double-murderer John Barlow has lost a chance of parole because of his "manipulative" personality and insistence on his right to own guns.
The Parole Board refused to release Barlow after a psychological assessment described the 63-year-old as a controlling figure.
The board said he also had a "completely inappropriate attitude to guns".
But Barlow's wife Angela believes the decision is political and that her husband has unjustly been denied release because of a hardline climate on bail and parole offenders.
The assessment by psychologist Dr Nick Wilson said Barlow had been well-behaved in prison and was at a low risk of re-offending.
But the board said his comments about the importance of firearms were "breathtaking" and "of considerable concern".
The board concluded that Barlow had a sense of entitlement with regard to protecting himself, and could exercise this entitlement in "easily imagined circumstances."
Barlow was serving a life sentence for the execution-style shootings of Wellington father and son Eugene and Gene Thomas in 1994.
He has spent 14 years in Rimutaka prison.
Around the time of his trial Barlow told police that Americans who had firearms for protection hardly ever used them and "hardly anyone was ever shot".
He admitted lending weapons to others "for their protection", and classed that breach of the law as on the same level as speeding.
His bail was revoked because two firearms were found hidden in his house, despite him being required to surrender firearms. The guns were hidden in the insulation in the ceiling and inside a grandfather clock.
He was described as using "florid and extravagant language" in referring to having had two guns for protection against people who might be threatening to him.
Barlow denies killing the Thomases, and is awaiting a decision from the Privy Council in London on an appeal lodged in February.
A parole hearing in November was adjourned to allow for further psychological testing.
The subsequent psychological report said Barlow had "a superficial elitist interpersonal style that is usually characterised by an internal strong focus and entitlement beliefs."
He had denied having a manipulative personality, but the board felt his controlling nature could prevent any dangerous behaviour after his release from being revealed.
"Given his intelligence and quite dominant personality, there would seem to us to be no real chance of anyone within his close vicinity alerting the appropriate authorities if an unsafe situation were to arise following release."
The board acknowledged the "outstanding" support of Angela Barlow, who had visited him in prison once a week for more than 14 years.
But it described her as "uncritical" of her husband, and said it was not convinced she would speak up if difficulties arose after his release.
Angela Barlow had told the board the question of her alerting the police was "irrelevant", but it was concerned Barlow's controlling personality would quieten her.
Angela Barlow told the Herald last night she was "shocked and devastated" by the board's decision.
"The political climate has made it very difficult for him. Right now people are hard on bail, hard on parole. They are letting the wrong people out, and keeping in someone who deserves to be out."
She rejected the board's descriptions of his interest in guns and manipulative personality.
"It is absolutely made up. He had guns but that was just because he collected everything. The comments about his attitude - I have been married to him for 39 years and he is not like that to me. It offends me."
The Parole Board also took into account strong opposition from the victims' families to Barlow's release. Letters from the families said his double killing continued to cause deep distress and damage.
But the board said it supported reintegrative leave for Barlow, as he was in the reintegrative phase of his sentence.
"Release to work and graduated home leaves will be appropriate in a safe planned way at this time."
Barlow was drug-free, kept himself busy in prison and was well-behaved.
---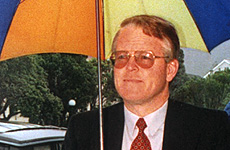 John Barlow arrives at his trial in 1995
(Photo Martin Hunter)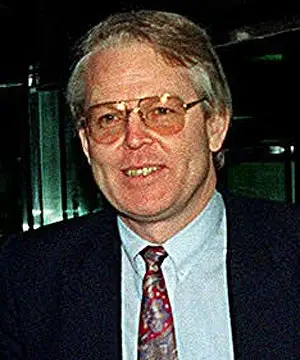 John Barlow