Alex Baranyi and David Anderson, a pair of high-school dropouts from hell, 17, have been charged as adults with four counts of murder for the senseless slayings of a Bellevue, Washington family of four. The two boys are accused of killing Rose and William Wilson and their daughters, Kimberly, 20, and Julia, 17.
Court papers show that Baranyi confessed to the killings after his arrest. The first to die was Kimberly who was strangled in a Bellevue park early January 4, 1997. Then her parents and younger sister were bludgeoned and stabbed to death in their nearby home the same day. In November, both teens dropped out of the Off Campus School, an alternative high school program in Bellevue. Before that, they attended Bellevue High.
---
Alex Baranyi, 17
David Anderson, 17
In Bellevue, Wash., a comfortable Seattle suburb, it's easy to miss the pockets of despair amid the prosperity. Yet the likes of Alex Baranyi are more common than some would admit. Baranyi, now 18, whose parents had separated when he was 8, had been taken to Pennsylvania by his father, Alex Sr., a software consultant, then sent back to Washington to live with his mother, Patricia, an educational assistant. Last November, Baranyi and his best friend, David Anderson, 18, who had left home and moved in with friends, dropped out of high school. At night they hung out with other kids at a local bowling alley and at a Denny's, where they would sit drinking coffee and killing time.
The void in their lives was filled with fantasy games. In recent years, Baranyi and Anderson had become followers of so-called goth—for gothic—subculture, in which devotees dress in black and wear white makeup to give themselves a spectral look. Baranyi was also a fan of Highlander, a TV series about an immortal sword-wielding hero; he owned a sword collection himself and talked often of death. "Sometimes I thought he might be sort of suicidal," says Dawn Kindschi, 17, an acquaintance who had filed a complaint against Baranyi last year after he allegedly beat her.
Despite his antisocial appearance, that was Baranyi's only serious brush with the law—until this year. On Jan. 5 the body of Kimberly Ann Wilson, 20, was found in a Bellevue park. She had been clubbed with a baseball bat and strangled. When police went to the Wilson home to deliver the news, they found Kim's parents, William, 52, and Rose, 46, and her sister Julia, 17, bludgeoned and stabbed to death.
Acting on a tip, police brought Baranyi in for questioning. He allegedly confessed to murdering Kim, a friend of Anderson's, then to killing her family in the belief they might have known she was meeting them. Later, authorities arrested Anderson as a partner in the crime. The choice of Kim Wilson as victim may have been arbitrary. Police say Baranyi told them he simply wanted to kill someone because he was "in a rut." According to King County prosecutor Norm Maleng, evidence suggests that Baranyi and Anderson, who will go on trial in October, had committed the murders "for the sheer experience of killing." To Kevin Wulff, principal at Bellevue High, the local outcry over the slayings is a case of too little, too late. "We ignore [these kids] and hope they go away," says Wulff, "and then we are horrified when they commit these crimes."
---
Gothic Murders
By Gary Boynton
CimeMagazine.com
On 4 January 1997, two boys were playing in a park in Bellevue, Wash., an upscale suburb east of Seattle, when they spotted what they thought was a pile of clothes concealed by shrubs about five feet off a trail. When the boys returned to the park the next morning they soon realized what they had seen was a body. They ran home; one of their mothers called the Bellevue Police Department.
At 11:30 a.m., Bellevue detectives responded to the scene, where they found the body of a young woman, dressed in blue jeans, a white T-shirt and "waffle-stomper" boots. Although she did not appear disheveled, as if she had been involved in a struggle, there was a cord wrapped around her neck, with which she obviously had been strangled.
Identification on the body indicated that the victim was Kimberly Wilson, age 20, and that she lived only a few blocks from the park.
After securing and processing the crime scene, Det. Jeff Gomes, an investigator from the King County Medical Examiner's Office, and Senior Prosecutor Patti Eakes proceeded to the victim's home. Gomes, although he'd been a cop for 23 years, was dreading informing Wilson's family of her death as he knocked on the front door of the white, two-story, wood-frame house.
Even though there were three cars parked in front, and the outside Christmas lights were on, the inside of the house appeared dark. When no one answered, Gomes went to a sliding-glass door on the side of the house. Finding it unlocked, he opened it, leaned into the house and called out. Again receiving no reply, Gomes drew his gun and stepped inside.
What he found upstairs was unlike anything the veteran detective had ever seen. Blood was spattered on walls and ceilings. In the master bedroom, the body of a middle-aged woman was lying in her bed, where she evidently had been attacked. Her head had been crushed by repeated blows from a heavy, blunt object, and her throat had through-and-through stab wounds. Near the foot of another bed in the same room, lay the body of a middle-aged man. Heavy blows, too, had crushed his skull, and he, too, had suffered numerous penetrating stab wounds to the face, neck, and head.
Just down the hall, in another bedroom, lay the body of a teenage girl. Unlike the other two victims, she had apparently been able to struggle against her attacker. She had defensive injuries to her hands (stabbing and slashing wounds) and her arms (bone broken by blunt impact). She, too, had been beaten repeatedly in the face and head, and her throat and head bore numerous stab wounds.
Interviews with neighbors soon identified the victims as Kim Wilson's 17-year-old sister, Julia, and their parents, William and Rose Wilson. William worked as an accountant for a steel firm in nearby Kirkland, where he was reportedly well-liked by his co-workers and described by his boss as "eager, very loyal, a good employee." Rose worked as an accounting supervisor at the University of Washington Library, where colleagues described her as "friendly and outgoing."
Julia was a senior at Bellevue High School, where she was recalled as "a sweet, shy young girl." She had a close circle of friends and was said to have been excited about her recent acceptance to Central Washington University.
Kimberly, who had graduated from the same high school in 1995, was described as having a "strong-willed, independent streak, marching to the beat of a different drummer." She had joined AmeriCorps, President Clinton's national service program, and had recently been in San Diego for basic training, before coming home for the holidays.
According to a high school counselor, Kimberly had her share of typical teenager-parent clashes. "There was tension in the household during her last couple of years in high school," the counselor said. In fact, Bellevue Police had been called to the Wilson home less than a week before, Dec. 28, 1996, on a domestic disturbance call, stemming from a dispute between Kimberly and her parents.
The Woodbridge neighborhood was terrified by the grisly murders, especially because the police did not have any motive or any suspects. Autopsies revealed that Kimberly had indeed been strangled with the rope found around her neck. She had also been kicked or stomped on with enough force to break three of her ribs and to injure her kidneys and spleen. There was no evidence of sexual assault.
William, Rose, and Julia Wilson had all been stabbed in the neck and beaten on their heads. No weapons were found in the house or yard.
As detectives continued to interview family, friends and acquaintances of the Wilson family, they learned that some of Kimberly's friends were into the "Gothic" lifestyle, which focuses on gloom and death. Goths dress in dark clothing and wear dark makeup and many of them are into role-playing games in which they pretend to be vampires, ghosts, witches, or fallen angels. For many, it is just innocent fun, but for others, particularly those with mental or emotional problems, the Gothic obsession with the dark side of life can lead to suicide or even murder.
Although Kimberly Wilson was not a Goth herself, several of her friends were part of such a group who liked to hang out late at night at the Denny's Restaurant in Bellevue's Eastgate neighborhood, not far from the Wilson family home. This "Saturday Night Denny's Club" liked to talk about role-playing games and their underlying themes of eroticism and death. For most of them, it was a fun way to rebel and establish their identities, but a few of these Goths and Goth-wannabes seemed to take things a lot more seriously.
Detectives learned that two fringe members of the "Saturday Night Denny's Club," Alex Baranyi and his best friend, David Anderson, both 17, had often talked about committing murder. Their friends just sloughed it off as idle ravings.
Investigators contacted Baranyi and Anderson at their residences. Both youths claimed to have been together playing video games at Baranyi's home all night long on the night of the murders. Because the police were looking for a distinctive shoe-tread pattern discovered at the scene, each was questioned about their shoes. Baranyi showed the detectives a pair of brown work boots, which he claimed were his only pair of shoes.
Detectives sought to confirm the statements of Baranyi and Anderson. They learned that witnesses at the home where Baranyi lived disputed their claims that they stayed home on the night of the murder. Police also learned from another friend of Baranyi's that Baranyi had a pair of boots with tread similar to the one that had left a blood impression at the crime scene. Bloody footprints found in the Wilson residence indicated there were at least two individuals involved in the murders.
Detectives again spoke with Baranyi five days after the murder. After he was advised of his Miranda rights, acknowledged that he understood them, and waved them, he told the detectives that he and an accomplice, whom he refused to name, murdered all of the Wilsons.
According to Baranyi, he first strangled Kimberly to death in the park. Then, he said, he realized that she might have told her family that she was intending to meet him that night, so he decided to kill them. He went to her house with a baseball bat and a combat knife. Once inside, he entered the parents' bedroom and beat the sleeping Rose Wilson with the bat. William Wilson woke up and attempted to intercede, but Baranyi stabbed and beat him to death, before finishing Mrs. Wilson off with his knife. He then went down the hall and did the same to Julia. Before leaving the house, he took a telephone, a CD player and a VCR. He then returned home.
Later in the interview, Baranyi acknowledged that he did not act alone. He said that he had an accomplice who beat Kimberly Wilson while he strangled her, and who accompanied him to the Wilson residence to kill her family. He steadfastly refused to name his accomplice, but did tell the detectives that David Anderson was the only person he had ever really liked.
Baranyi told detectives that he had been planning to murder someone for over a year, because he was "in a rut" and felt that he was becoming "decadent."
Baranyi's confession contained numerous details about the crime scene and the manner of the victims' deaths that could only have been known by the murderers. For example, he described in detail the way in which the ligature around Kimberly's neck had been tied, and the location of each body in the Wilson house.
The night after Baranyi's confession, detectives re-interviewed Anderson. After waiving his rights, Anderson claimed that he had lied to the detectives when he earlier told them that he was with Baranyi at the time of the murders. He now claimed that he had not remained at Baranyi's residence on the night of Jan. 3 and the morning of Jan. 4. Instead, he said, he spent the night driving alone in a truck that belonged to his girlfriend's father. He said that he spent hours driving aimlessly around the freeways between Seattle and Bellevue.
Anderson told detectives that he knew that Baranyi had been planning to murder the Wilsons. He also said that Baranyi had no relationship with Kimberly, and, as far as he knew, had never been to her house. Anderson said the only thing that Kim and Baranyi had in common was that they were both friends of his.
The three people who lived in the same house as Baranyi contradicted Anderson's version of events. According to these witnesses, they saw Baranyi and Anderson leave that residence together at approximately 10:30 p.m. on Jan. 3. According to one of these witnesses, Baranyi was carrying something long in the sleeve of his trench coat. She said that she had remained awake until 3 a.m. the next morning and that neither Baranyi nor Anderson returned to the house during that time. But, another witness described seeing the pair, dressed completely in black, returning to the residence at around 3:30 a.m. on the morning of Jan. 4.
According to the three housemates, when Baranyi and Anderson left the residence on the night of the murders, they drove off in a small, black pickup truck with a canopy on the back. This description matched the truck that Anderson claimed to have driven around in that night.
Anderson's girlfriend confirmed that Anderson had her father's truck during that period of time. But she said that Anderson had told her he had simply sat in a park in the truck that night and early morning, and she noticed that very little gas had been used in the truck during that time. A distance of approximately eight blocks separates the park where Kimberly's body was found from the house where her family was murdered.
During their interviews with Baranyi and Anderson, detectives obtained written permission to search their residences. The search of Baranyi's house produced the Wilson's telephone, CD player and VCR. Human blood was found on the VCR; DNA tests confirmed that it matched William Wilson's genetic profile. Baranyi's fingerprint was found on the CD player.
Police also recovered a pair of bloody shoelaces from a trashcan in Baranyi's bedroom. DNA tests revealed that the blood on the shoelaces was consistent with William Wilson's.
At Anderson's residence, police seized a pair of brown-and-black boots from his bedroom. Anderson's girlfriend, who was living with him, and his brothers confirmed that the boots belonged to Anderson. Numerous bloodstains were found on the boots. DNA tests were performed and the blood was determined to display the genetic profiles of both William and Julia Wilson. Experts determined that some of the stains were consistent with Anderson having been within several feet of Julia when her blood spattered on the boots.
During their investigation, detectives interviewed numerous acquaintances of Baranyi and Anderson. They learned the two were close friends. Many witnesses described them as inseparable and said that Anderson appeared to be Baranyi's only friend. They shared a common interest in the Gothic lifestyle, dressing in all black clothing, sometimes with black trench coats. A neighbor jokingly referred to them as "The Blues Brothers." The two of them enjoyed playing Dungeons and Dragons and other role-playing games, and had a mutual interest in swords and knives.
Friends said that Baranyi wore his hair in a ponytail to emulate the star of the "Highlander" television show, which features a sword-wielding superhero. Witnesses said that Baranyi, whom they described variously as quiet, weird, or antisocial, had dropped out of Bellevue's alternative high school a couple months before the murders and was known to hang around Bellevue High School, where Anderson and Julia Wilson were students during that time. It was also learned that Baranyi had been kicked out of a couple of role-playing groups for carrying the games too far.
Acquaintances of the suspects also told detectives that Baranyi and Anderson had been discussing a plan to kill the Wilsons for more than a year. According to one witness, he had a conversation with Anderson in late 1995 during which Anderson discussed a plan to kill the Wilsons and showed him a bat and knives that would be the murder weapons.
According to another witness, Baranyi and Anderson had compiled a "hit list" of potential murder victims. This list included Kimberly Wilson.
Detectives also learned from a friend of Kimberly that Kimberly had become aware of Anderson's plan to commit a murder. Kimberly spoke with her friend about this plan and said that she intended to confront Anderson and attempt to dissuade him from pursuing it further.
A number of witnesses told detectives that the two suspects owned a collection of knives and swords. Several acquaintances described seeing Anderson, before the murders, with a large, fixed-blade knife with "brass knuckles" on its handle. Despite repeated searches of both suspects' residences, this knife was never found.
Detectives impounded the truck that Anderson admitted was in his possession on the night of the murders. In it were a cut part of a black T-shirt, with the sleeves, and a piece of rope. A similar portion of a cut T-shirt had been recovered from Julia's bedroom. Baranyi told detectives that he had fashioned headgear from a black T-shirt, which he wore into the Wilson house, and which, he said, he had lost there. The rope found in the truck was indistinguishable from that used to strangle Kimberly.
A pair of wool socks was also found in the truck. The owner of the truck told detectives that he usually kept several extra socks in the truck. Baranyi told investigators that he wore socks on his hands during the murders in the Wilson residence.
Criminalists from the Washington State Patrol Crime Laboratory found blood on the passenger compartment floor mat of the truck. Although they were able to confirm that it was blood using a presumptive test, further DNA tests were unsuccessful in matching it to any particular person or persons.
During his interview with detectives, Anderson stated that he had not seen or spoken with Kimberly for almost a year. However, police discovered that Anderson's pager number was written on small piece of paper in her bedroom. They also found a promissory note, signed by Anderson and dated June 1996. The note promised that Kimberly would be paid $500 by September 1996. This money was apparently a debt incurred by Anderson during the course of the previous two years. Anderson had told several people that he was angry that Kimberly insisted that he owed her money and was pursuing payment. He told at least one person that he was considering killing Kimberly because of this debt.
A number of photographs of Anderson had been found in Kimberly's bedroom and detectives learned that Anderson and Kimberly had dated on-and-off for several years. Shortly before the time of her death, Kimberly had disclosed her homosexuality to several close friends. Anderson complained to a friend that Kimberly refused to have sex with him. On that occasion, and in several subsequent conversations with this friend, Anderson declared his intent to kill Kimberly. He described a scenario in which Baranyi would entice Kimberly to accompany him somewhere and then Anderson would strangle or stab her to death.
Even though Baranyi continued to refuse to name his partner in the Wilson murders, prosecutors felt that they had enough physical and circumstantial evidence to convict Anderson along with him. Anderson was arrested, but continued to deny his involvement in the killings.
Although both defendants were 17 at the time of the murders, they were charged with first-degree murder as adults. Prosecutors planned to try them together. The trial began in October 1998, but jury selection was soon halted when the Washington State Supreme Court made a ruling that made it easier for defendants to offer a diminished-mental-capacity defense.
In light of the new ruling, Baranyi's attorneys re-filed a motion to allow the expert testimony of a San Diego-based psychologist, who had diagnosed Baranyi as suffering from bipolar disorder, also know as manic depression, which is characterized by moods alternating between extreme excitability and withdrawal.
King County Superior Court Judge Michael Spearman ruled that under the new guidelines, Baranyi was entitled to pursue a diminished-capacity defense, and that in order to do so fairly, he and Anderson should be tried separately. Spearman also ruled that Baranyi's confession was admissible, but that any references to an accomplice must be edited out, in order not to prejudice the case against Anderson. Believing that such a redacted version would wrongly give jurors the impression that Baranyi committed the murders alone, prosecutors decided not to use the confession at all.
Prosecutors resumed presenting their case against Baranyi, linking him with Anderson, whom they believed had instigated the plan to kill Kimberly.
In order to link the two to the murders of Rose, William and Julia Wilson, they presented the testimony of medical examiners indicating that these victims were killed with a sword and a baseball bat, raising the possibility of more than one attacker.
Numerous friends and acquaintances of Baranyi and Anderson testified that the two youths were best friends and that they frequently acted out Gothic fantasies by roll-playing games such as "Dungeons and Dragons."
Other witnesses recalled how Baranyi and Anderson had often talked about their desire to commit murder with baseball bats and knives.
To bolster the claim that Baranyi's mental capacity had been diminished by his bipolar disorder at the time of the murders, the defense put psychologist Karen Froming on the stand. Her testimony turned out to be among the most chilling of the trial.
According to Dr. Froming, Baranyi had never felt better about himself and his prospects than he did at the time right before the killings. The day before the slayings, his boss at a Seattle construction company had complimented his work ethic and given him a raise. But just as it looked like his life was turning around, he got the word from his best friend, David Anderson, that "the plan" was on. The plan was to kill Kimberly Wilson.
According to Froming, Baranyi had been in a deep depression for months and had told his mother that he was considering suicide. He had no plans for the future and found little personal satisfaction outside of work. During this period of despair, Baranyi became more and more emotionally dependent upon his only friend, David Anderson, for whom he would do anything.
Froming testified that Baranyi told her that during the slayings he felt like "he was watching himself," and didn't think it was real. The psychologist speculated that Baranyi was incapable of differentiating between role-playing fantasies of swords and sorcerers and the actual killings. She also said that Baranyi had told her that Anderson had beaten William and Rose Wilson with an aluminum baseball bat, but that he himself had attacked Julia and strangled Kimberly.
Baranyi's parents sat in the courtroom as Froming testified. His father fidgeted, while his mother worked quietly on her needlework, an embroidery of the 23rd Psalm.
Three weeks after the trial began, the jury quickly found Alex Baranyi guilty of all four counts of aggravated first-degree murder. Baranyi swallowed hard when the verdicts were announced, but otherwise showed no reaction.
Two months later, Baranyi was sentenced to four consecutive life terms, without possibility of parole. Relatives of the Wilson family, who had sat through all the trial, sat quietly in the courtroom as Judge Spearman announced the life sentences.
When asked if he had anything to say, Baranyi replied, "No, I don't think so."
One week after Baranyi was put away for life, Anderson went on trial for his part in the murders. Prosecutors painted a picture of a charming, manipulative young man, bent on revenge.
According to Deputy Prosecutor Patti Eakes, Kimberly Wilson had once had a crush on Anderson, even though he was three years younger. She thought he was cute and fun. Anderson, according to Eakes, thought that Kimberly was awkward, unattractive and lucky to know him, but he did let her associate with him and was not above borrowing money from her.
Eakes told the jury that Anderson was outraged when Kimberly insisted that he repay her the money she had loaned him. "He was furious that she asked him to pay this money and he was filled with hate. He not only wanted to destroy her, but wanted to destroy everything associated with her. He wanted to destroy her entire family."
Although much of the case against Anderson paralleled the case against Baranyi, there were significant differences. Baranyi had confessed to the murders and discussed them in detail with Dr. Froming, whereas Anderson still denied any involvement in the killings, blaming them all on Baranyi. This made it necessary for the prosecution to rely more on physical evidence.
Four days into the trial, Anderson requested a new lawyer. He claimed that his attorney, Michael Kolker, was not providing a good defense and was ignoring his client's suggestions about how to cross-examine witnesses. Judge Spearman denied Anderson's request for new council.
More than a month into the trial, a juror was dismissed for making the comment, "He's guilty" in jest to a fellow juror.
Several new witnesses testified against Anderson. A fellow inmate claimed that Anderson had confessed to him that he killed Kimberly and had been present when a friend killed her family. Even more damning, a friend of Anderson's testified that Anderson had invited him to join in the murder plot, even showing him knives and baseball bats and later saying, "We're going to take the Wilsons out."
An ex-girlfriend of Anderson's testified that he had always had "a marked fascination with knives," often carrying a combat knife in a nylon shoulder sheath under his clothes. He had also told her that a baseball bat would make a good weapon.
The defense presented Anderson's former high-school sweetheart. She defended him, portraying his behavior as normal and not at all alarming to her. She told the jury that she liked knives, too, and that she and Anderson often went to a knife shop together to look at the merchandise,
Forensic scientist Kim Duddy testified that there were more than 100 bloody footprints found in the Wilson home. Although police had confiscated a pair of blood-spattered boots from Anderson's house, Duddy had to admit under cross-examination that she was not able to match them to any of the footprints.
Despite all the damaging testimony against Anderson, one juror held out against conviction, resulting in a hung jury. Prosecutors would have to retry the case.
Anderson fired his lawyers and faced his second murder trial with a new defense team more to his liking. It began almost a year to the day after proceedings had first begun against him and Baranyi. For the most part, the second trial was a carbon copy of the first, with one notable exception. Rather than trying to pin the murders exclusively on Baranyi, Anderson's lawyers now claimed that there had been a second person involved, but it was not Anderson.
The jury had no great difficulty reaching a verdict this time, deciding in six hours that Anderson was guilty on all four counts of aggravated first-degree murder. As the verdict was read, Anderson sat straight-backed and expressionless. His parents wept.
Like Baranyi, Anderson was sentenced to four consecutive life terms, without possibility of parole.
---
Existential Murder: The Nietzsche Syndrome
By Katherine Ramsland - Trutv.com
Games
Alex Baranyi had decided that he would one day kill someone, but that's because, as a psychologist later said, he was addicted to role-playing games. He had no plans to actually act on that idea. But his best friend, David Anderson, realized that when he formed a murder plan against a former girlfriend, Alex was the perfect person to do it with him. From the evidence gathered after the fact, it seems that Anderson initiated the quadruple homicide, targeted the victims, and decided what they were going to do.
It took place on January 3, 1997, in Bellevue, Washington. The two high-school dropouts, both 17, lured Kim Wilson, 20, into a park to murder her. They then entered her father's home and massacred Bill Wilson, his wife, and his other daughter. Their activities were documented in their trial transcripts, the Seattle Times, and a book, Deadly Secrets, written by reporter Putsata Reang.
They knew Kim, so it was easy to get her out into a local park at night. Apparently they then adopted their roles from the role-playing game Dungeons & Dragons (Baranyi was "Slicer Thunderclap"), and one or both of them strangled her to death, stomped on her ribs, and left her there. Baranyi later told this version of events and took credit for the other murders.
He said that in the Wilson home, he had used a baseball bat to beat Mrs. Wilson to death in her bed. She never awakened (though he later pierced her neck several times with a long knife), but Mr. Wilson woke up and struggled with Baranyi, so he stabbed the man until he slumped next to the bed. Then Baranyi looked for Kim's younger sister, Julia. He stabbed her to death as she attempted to defend herself. One of them left a large, clear imprint of a stomper boot on Bill Wilson's shirt. A blood and print match later implicated Anderson, as did the blood on his shoelaces.
As with Leopold and Loeb, and Parker and Tulloch, when the heat was on, one of them broke down under pressure. However, despite the evidence of Anderson's involvement, Baranyi did not implicate him. He claimed that he had been astounded that they had really set out to murder someone, but he had done it for a person he would not name. Nevertheless, based on physical evidence, Anderson was arrested and several of his friends admitted to the police that he had often talked about murdering someone, including a family.
Both were tried and convicted of premeditated aggravated murder. From the evidence, it seems that the trigger may have been Kim asking Anderson for money that he owed her. And he was about to turn 18, the prosecution theory went, so he had acted while still a juvenile.
Psychologists appeared as expert witnesses in Baranyi's trial. For the defense, Dr. Karen Froming explained that he suffered from bipolar disorder and from low self-esteem, such that he would form an attachment to someone else and might do anything to keep that attachment alive. His abandonment by his parents had affected his ability to feel good about himself, and in addition to that, he had a genetic legacy of depression.
Together the boys had developed an elaborate fantasy life involving swordplay, wizards and dragons. Dr. Froming believed that Baranyi had been following Anderson's directions when he had killed the Wilson family. She did not think he had the capability of forming premeditated intent.
And yet in his fantasy journal, it's clear that Baranyi equated murder with a deified state: "I have done the unspeakable. Death and killing neither worries or scares me... Within our hands we hold the flame of life. I have done the unspeakable. I have become a god..." In line with Goldberg's theory, he also wrote how his life had been one insult after another. His ego had been torn down "until only emptiness filled me... when I became empty, I filled that space with pain, anger, hated and evil."
The rebuttal witness for the prosecution was Dr. Robert Wheeler. He had administered the same psychological battery of assessment tests as Dr. Froming but derived a different interpretation: antisocial personality disorder, which involved being impulsive, aggressive, and lacking in empathy or remorse. He said that Baranyi knew what he was doing—had even admitted as much—and was not suffering from any form of diminished capacity.
No psychological defense was offered for Anderson, because his defense attorneys throughout several trials relied on a lack of physical evidence to prove he was not part of the deadly scheme. In the end, both boys lost and were convicted.And such acts, with their godlike aftermath, are not limited to males. One male/female team, enveloped in nihilistic ideas, went after children.
---
Bellevue family's killer gets life in prison
By Elaine Porterfield - Seattle Post-Intelligencer
Saturday, January 8, 2000
The final resolution to a Bellevue murder spree came yesterday as a judge sentenced David Anderson to life in prison without parole for slaying a family of four.
Before a packed courtroom, King County Superior Court Judge Jeffery Ramsdell briefly stared down from the bench at Anderson, 20, before speaking.
"A jury unilaterally convicted you for four . . . brutal and senseless murders," Ramsdell said. "I will resist the temptation to unnecessarily belabor this and say anything more."
With that, Ramsdell handed down the sentence.
Relatives of the victims -- Bill, Rose, Kimberly and Julia Wilson -- attended the sentencing, but declined to make any remarks to the judge. Anderson, a slim figure, also remained silent, although he, too, had the right to address the court.
Anderson was convicted Dec. 17 after two trials. The first time, a jury split 11-1 in favor of conviction. In November 1998, his friend and partner in the slayings, Alex Baranyi, was also convicted of four counts of aggravated murder.
Baranyi, who confessed, is also serving a life sentence without possibility of release. He gave little motive for the killings, except to say he was in a rut and that he and his friend wanted to experience something "truly phenomenal."
Prosecutors say Anderson had talked for years about committing a murder before the Wilsons were slain, and on numerous occasions specifically discussed killing that particular family and stealing their property.
Both men were 17 at the time of the slayings in January 1997, too young for prosecutors to seek the death penalty.
Prosecutors say Anderson and Baranyi strangled Kim Wilson, 20, at a Woodridge-neighborhood park in south Bellevue and dumped her body in bushes. They then crept into her family's nearby home with knives and a baseball bat, police say, where they beat and stabbed her parents, Bill and Rose, and her 17-year-old sister, Julia.
The weapons were never found.
Deputy Prosecutor Jeff Baird has called the slayings "somewhere between murder and genocide."
His co-counsel, Patricia Eakes, was reflective after the sentencing. Memories of the case will never leave her, she said, because she was with police when the bodies of Bill, Rose and Julia were discovered.
Eakes and the officers had gone to the home to inform them that Kimberly's body had been found.
"I've never discovered bodies before," she said. "It's just difficult to describe how I feel about everything. It was such a shock. We thought we were going to the home to notify them of the death of their daughter. It was like a bad dream."
Anderson's second trial lasted three months. Eakes said earlier she believes they did a better job presenting evidence to the jury.
The defense maintained that Anderson had nothing to do with the murders, arguing that boots stained with the blood of Julia and Bill Wilson may have been planted in his bedroom by the real killer.
Pete Connick, one of Anderson's attorneys, said he has already filed an appeal in the case, based on numerous unsuccessful defense motions seeking a new trial.
"We believe there are some pretty serious issues," Connick said, giving no details.
Anderson's parents, Leslie and Bruce Anderson, attended the sentencing, but left the courtroom grim and silent. They were present nearly every time their son was in court.
Both are convinced he was wrongly convicted, Connick said.
"No question about it, he's innocent," he said.
---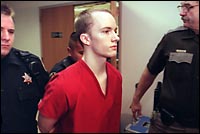 David Anderson, 20, is escorted out of King County Superior Court after being sentenced to life for the murder of a family in Bellevue in 1997. Wanda J. Benvenutti/P-I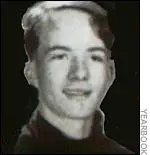 David Anderson Alex Baranyi Jr.