Azad Abdullah – white, age 25
Sentenced to death in Ada County, Idaho
By: A jury
Date of crime: 10/5/2003
Prosecution's case/defense response: Abdullah drugged his wife, tied a plastic bag around her head to suffocate her, and then set their house on fire. Four children, who were sleeping in the house when Abdullah set the fire, escaped. The prosecution presented evidence that included burns on Abdullah's arms and that Abdullah purchased gas cans identical to the ones used in the fire the day before the fire. The defense contested guilt by claiming Abdullah was out of town when the fire started, but in closing arguments admitted he was in town at the time of the fire.
Prosecutor(s): Pat Owen, Shawna Dunn
Defense lawyer(s): Kim Toryanski, Mitch Toryanski
AJS.org
---
Abdullah charged in wife's slaying
Police say man set home ablaze to cover up crime
Patrick Orr, The Idaho Statesman, Boise, Idaho
October 19th, 2002
Boise police arrested Azad Abdullah on Friday on charges of killing his wife, Angie, saying he was in Boise in the early hours of Oct. 5 and killed his wife before setting their home on fire.
Police Chief Don Pierce characterized Angie Abdullah's death as a domestic homicide, saying the couple had a troubled marriage and that Angie Abdullah was actively seeking a divorce from Azad, 25. Police suspect Azad set their home on fire to cover up the crime when he was supposed to be in Salt Lake City.
"Evidence collected and analyzed at the (home) placed Abdullah at the residence with the ability, opportunity and motive to commit the crime," Pierce said.
Three Abdullah children as well as a 10-year-old family friend, were sleeping in the home at the time of the fire. But the children escaped without injury, in part because of the heroics of a neighbor. The charges against Azad Abdullah include first-degree murder.
Pierce said police suspect one child -the couple's 19-month-old son- may have been removed from the house before the fire.
Azad Abdullah was booked on Friday into the Ada County Jail, where he is being held without bond. He will be arraigned Monday.
Because Angle Abdullah was a prominent member of the Boise Muslim community and because of recent vandalism at the Boise mosque, there had been speculation in the local Islamic community that the murder might be a hate crime.
But Pierce stressed Friday there was never any evidence of that and said he hoped Friday's arrest of the victim's husband might quell such speculation.
"The citizens of Boise can rest assured that we are not confronting a hate or fear atmosphere, but rather experiencing another tragic family dispute that resuited in the death of Angie Abdullah," Pierce said.
Family members of Angie Abdullah said late Friday they were distraught about Azad's arrest and were too emotional to comment. But they did release a statement that said they did not believe her killing was a hate crime.
"The family of Angie Abdullah would like the community to know that from the beginning of this horrible ordeal, we did not think that was the case," they wrote. "We wish to thank the Boise fire and police department for the countless hours of work that have brought this investigation to a close."
Members of Azad Abdullah's family are in Boise but were unavailable for comment Friday.
Pierce laid out his department's case against Azad Abdullah in a news conference Friday afternoon. He said a significant amount of evidence had been compiled by the Boise, Salt Lake City and West Val ley, Utah, police departments over the past two weeks and led to Azad Abdullah's arrest Friday. While Pierce declined to offer many details about the evidence, he did say:
> Video, eyewitness accounts and records of financial purchas es indicate Abdullah was actually in Idaho and Boise around the time of the house fire. Abdullah had said he was in Salt Lake City on a shop ping trip. Pierce said Abdullah bought gas in Mountain Home and was seen there driving his maroon 1990 Dodge Caravan about the time of the fire. Pierce wouldn't say whether it was before or after the home was set on fire.
> Azad Abdullah may have suffered burns on his body in connection with the fire.
> Evidence showed Ab dullah bought gas cans and other undisclosed items while in Salt Lake City before the fire. Gas cans were found at the fire scene.
> A cause of death has not been established, Pierce said, but in vestigators found a plastic bag un der Angle Abdullah's head in the burned home.
Detectives have taken hair, skin and a DNA sample from Azad Ab dullah and are still awaiting the re sults of some forensic tests from Angie Abdullah's autopsy, Pierce said.
Even though there were no out ward signs of a struggle, investigators took the DNA sample to have something to compare if the forensic tests reveal such evidence on Angie Abdullah's body, Pierce said.
Pierce said that the couple had been arguing about financial matters and property that Angie Abdullah was actively pursuing a divorce before her death.
The fire was set about 2 a.m. Oct, 5, destroying the Abdullahs' west Boise home on Siesta Way.
While four children were in the home when it was set on fire, the 19-month-old boy was found later in the back yard wrapped in bedclothes. Pierce declined to say how police suspect the boy ended up in the back yard. The two older children escaped unharmed on their own, and the infant was rescued by a neighbor.
Neighbors said 9-year-old Alyssa Abdullah, accompanied by the 10-year-old-girl, alerted them to the fire. Neighbor Ed Kerschensteiner then kicked in a door found the couple's 3-week-old infant and raced out of the burning home.
Angie Abdullah apparently was killed in a bedroom where her body was found. Investigators said it was not her bedroom, but they would not say which bedroom it was.
There were no signs of forced entry into the house or of a struggle. Investigators determined that gas was used as an accelerant in the garage, where the fire began and in other parts of the house destroyed by the fire.
Police said Azad Abdullah initially told them he and his 5-year-old son, Redear, were on a weekend trip to Salt Lake City when the fire occured. Father and son returned to Boise late Oct. 5.
Both Azad and Angie Abdullah had children from previous marriages. Family members understand that Abdullah's first wife died several years ago.
An arrest warrant for Azad was issued Friday after probable cause was found by Magistrate Judge Kevin Swain, Ada County Prosecutor Greg Bower said.
Pierce devlined to say friday where the Abdullahs' children were staying.
---
Jury finds Azad Abdullah guilty of murder
Andrea Dearden - Idaho's NewsChannel 7
Monday, November 22, 2004
BOISE – An Ada County jury has found Azad Abdullah guilty of first-degree murder, attempted murder, arson and felony child endangerment.

The jury began deliberating the case Thursday afternoon. It took them about seven hours to reach a verdict in the nearly two-month long trial.

Abdullah, 27, was accused of killing his wife, Angie, on Oct. 5, 2002, then setting their home on fire to cover up evidence of the crime. Four children, including the couple's two sons, managed to escape unharmed.

Abdullah did not show much emotion as the Fourth District Judge Cheri Copsey read the verdict, staring down most of the time during the proceeding.

The courtroom was full of family members on both side of this case, waiting to hear the jury's decision.

Defense attorneys told NewsChannel 7 Abdullah is very, very disappointed by the verdicts. His family says they are disappointed by the process.

"There's been a lot of bias going on, but we've been pretty upset by the whole, the way the judge conducted herself and how bias she was compared, what she did with his attorneys and how she favored the prosecution," said Zuheir Abdullah, Azad's brother.

Prosecutors refused to comment on their victory, saying only they are now focused on the sentencing phase. They are asking jurors to sentence Abdullah to death for first-degree murder.

The jury will only decide the sentence for murder. It will be up to the judge to sentence Abdullah on the other five charges.

This is the second case in the last month where a jury will make a life or death decision. Under a new Idaho law enacted earlier this year, juries, not judges, must issue a death sentence.

Erick Virgil Hall is now on Idaho's death row after being found guilty of murdering flight attendant Lynn Henneman. His was the first capital murder case to be tried under the new law.

During the trial, Prosecutors claimed Abdullah lied about being in Salt Lake City for a shopping trip, and had in fact, returned to Boise early in the morning of Oct. 5, 2002, and suffocated Angie with a plastic bag, then he tried to cover up the crime by setting their home on fire. Four kids who were sleeping inside the home got out unharmed.

Abdullah told police investigators he was not in Boise the night his wife died. But his story changed in court Thursday when defense attorney Mitch Toryanski admitted Abdullah had lied about his whereabouts on the night of Angie's death and that he was in Boise Oct. 5th.

The sentencing phase of the trial got underway at 3:30 p.m.

Prosecutors and defense attorney will present evidence and testimony that focus on the aggravating factors in this case.

It will then be up to the jury to decide if Abdullah showed utter disregard for human life and should be put to death, or serve a lesser sentence in prison.
---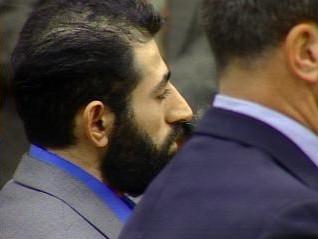 Azad Abdullah