Florence Ransom was attractive and middle-aged and had been having an affair with Lawrence Fisher of Piddington, near Bicester. In early 1940 she moved in with her lover who had left his wife, Dorothy, and nineteen-year-old daughter, Freda. Fisher's wife and daughter moved to the village of Matfield, about seven miles from Tonbridge in Kent.
On the afternoon of 9th July Ransom, carrying a shotgun wrapped in brown paper, went to the cottage where her lover's family lived and enticed Dorothy and Freda into the garden. She shot them both. As she reloaded the shotgun the maid, Charlotte Saunders, ran into the garden and was also shot by the woman. As Ransom fled, she dropped one of her leather gloves and this was soon traced to her. A witness had noticed a woman who had been behaving suspiciously outside the cottage. The stranger had later caught the 4.25pm train to London.
At Ransom's trial at the Old Bailey in November 1940 she appeared charged with three counts of murder. She was found guilty and was sentenced to death. Florence Ransom was later adjudged to be insane and was transferred to Broadmoor.
Murder-UK.com
---
People with guns
The woman with the gun is, of course, a rarity. Even in American crime films the gangster's moll seems to have no part to play beyond looking pretty and aiding and abetting. She does not shoot her way out herself.
There are many records of women who have used firearms in unpremeditated murder, but I can recall only one notable trial where a woman deliberately went out seeking her victims with a gun and she was eventually adjudged insane.
The trial was not well known because it occurred at the height of the invasion scare in 1940, and bizarre as the details were there was more important news for the tiny newspapers of the time.
The story begins some time before war broke out when a married couple, Mr. and Mrs. Fisher, who lived at Twickenham, fell out. They went their own ways, and each began living with a lover. Mrs. Fisher's companion, a foreigner, is of no importance to the case, and indeed was hardly mentioned at the trial. Mr. Fisher fell in love with a young widow, Florence Iris Ouida Ransom. She was quite well off and owned a farm in Oxfordshire.
Perhaps for reasons of discretion Fisher did not spend much time there. He took a cottage at Matfield, near Tonbridge, Kent, and there Mrs. Ransom was in the habit of staying at weekends.
Possibly through the dangers of invasion and bombs the couple abandoned this practice early in 1940 and Mr. Fisher went openly to live at his mistress' farm. Mrs. Fisher, with a daughter aged nineteen, became the tenant of the Kent cottage, the arrangement evidently being a perfectly friendly one, for since the couple had sorted out their matrimonial troubles to their own satisfaction they had been on good terms with one another. In fact, as soon as the blitz started Mr. Fisher often travelled down to the cottage to assure himself that all was well. He also provided money so that a housekeeper could be engaged.
These visits apparently aroused the jealousy of Mrs. Ransom. On July 8 she borrowed a gun from her brother, ostensibly to shoot rabbits, and took the train to London.
No one knows exactly what her movements were from the time she got on the train at Aylesbury until she arrived back at the farm late the same night, except that a railway porter made a rather unsatisfactory identification of her leaving Tonbridge Station from which a bus could be taken to Matfield, and a taxi driver thought he saw her taking the London train late in the afternoon.
But during that day death struck the cottage. Shots in that area, crammed with troops manning the first defence lines and training continually, went quite unnoticed, and the time of the attack remains unknown beyond the vague estimate obtainable from examination of the corpses later on.
While preparing tea for four people Mrs. Fisher and her daughter had been shot in the back and the housekeeper had half her skull blown off while standing or fleeing through an adjacent coppice. The house was in terrific disorder, but nothing of value was missing.
How the assailant, clearly on friendly terms as the evidence of the tea things indicated, had contrived to load and reload several times, still managing to kill the victims by shots from the rear, is a mystery. There must have been many seconds between each shot, and the housekeeper, who had been attacked last and at very close range, would have had minutes in which to escape.
The most valuable clue left in the cottage of death was a woman's white leather glove. It was proved to be the property of Mrs. Ransom.
Her defence at her Old Bailey trial in November 1940 was that for the whole of the day of the crime her mind had been a complete bknk. This so familiar excuse when evidence is damning was, I think, on this occasion probably true.
Mrs. Ransom had a record of mental instability and had been a voluntary patient on a number of occasions. Her appearance in the dock confirmed this view. She was a physically beautiful woman with red hair, healthy-looking, but with a strange brooding look in her eyes that betokened madness. Nevertheless she endured hours of cross-examination without turning a hair.
Mr. Justice Tucker, in the absence of medical evidence proving her insanity, had to sentence her to death, but she was soon afterwards pronounced insane and was sent to Broadmoor.
"The Guilty and the Innocent", by William Bixley
---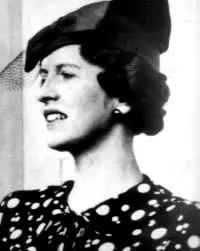 Florence Ransom